The Houston Rockets Went All-In on Smallball and It Might Just Work
Credit:
Bill Baptist/NBAE via Getty Images. Pictured: James Harden and Russell Westbrook
The Houston Rockets have officially taken smallball to the extreme … and it's worked. They've won of six of their past eight games since trading center Clint Capela, and they're now the fourth favorite to win the NBA title (10-1 odds at PointsBet).
Their grand experiment, which might just be the final all-in move left in GM Daryl Morey's bag of tricks, will get another big test on Saturday against a Boston Celtics team that's equally as scorching (11-2 in the past month).
Is Houston's recent play truly sustainable, and, more importantly, is this version of the Rockets truly a title contender? NBA gurus Rob Perez and Matt Moore dig in.
---
ROB PEREZ: "You know what kind of plan never fails? No plan. No plan at all. You know why? Because life cannot be planned."
It's what Ki-taek tells his son the night of the flood in Parasite. Beaten down by the pressures of life and the inevitability of demise, the sentiment of defeat is impossible to ignore. Subsequently, in the most desperate of times, he suggests the best course of action is to proceed without planning, as life is often unexpected and improvisation is the only method suitable to overcome such obstacles.
While socio-economic disparities and the game of basketball vary greatly in terms of importance, I couldn't help but draw comparisons from this quote to Mike D'Antoni and the Houston Rockets. They weren't at the breaking point just yet, but right after the calendar turned to 2020, this franchise appeared, on the surface, to be on the brink of a meltdown. Losers of four straight, three of which came at home in soul-draining fashion, Houston plummeted in the Western Conference standings.
---
Love betting the NBA? Check out PointsBet, which is giving you $25 FREE just for signing up for an account.
---
The Rockets liquidated all of their assets, including several years of first-round draft picks, to flip Chris Paul for Russell Westbrook. At one point in December, Westbrook had made 152 of 381 field goal attempts during the season (39.8%), tying his career-low shooting percentage from his 2009 rookie season.
The main source of this inefficiency was from the 3-point line, where at that same point he converted 21.5% of his attempts, 0.6% lower than his career low in 2010. If James Harden wasn't going to perform at Wilt Chamberlain levels, it just felt like there was no way this team could beat anybody in the playoffs four out of seven times.
But that's when everything changed.
Since Jan. 18, in 13 games played, Westbrook has attempted only 22 three-pointers. At the beginning of this sample size, there was a five-game period in which he shot a grand total of two 3s and still managed to average 34.4 points per contest. He has been nothing short of sensational, and most importantly, efficient.
The front office stepped in and started drawing Monopoly chance cards of veteran swingmen — signing DeMarre Carroll, Jeff Green. They traded their only center who has an NBA 2K stamina rating above 12 and turned him into Robert Covington, adding even more 3-and-D options to a roster already drowning in them.
Without any knowledge of the internal discussions had by the Rockets' front office, it was clear that they were pivoting to an unprecedented version of smallball warfare. Smallball is not an original idea by any stretch of the imagination: D'Antoni incubated its infancy with the '7 seconds or less' Phoenix Suns teams and paved the way for Mike Woodson's New York Knicks to be Patient Zero of the "surround one center with four 3-point sharpshooters and just launch" offense.
The Golden State Warriors' infamous "death lineup" responsible for hoisting two championship banners to the rafters featured 6-foot-6 Draymond Green at center. It's all been done before and by D'Antoni specifically, but the mutation of this strain is unlike anything we've ever seen. There is no "inside out" style, like we see with Steve Kerr's pace-and-space, death machine offense. In just one month, the Rockets have transformed the game of basketball into a math equation dominated by volume, isolation, open space and exploitation of mismatches.
You're kidding yourself if you think this strategy of gameplay is what the Rockets intended when they made the blockbuster trade with Oklahoma City this summer. It was the final roll of the dice in the NBA casino with no more cash withdrawals or advances available. And guess what? It worked. Not because it was some meticulous concoction brewed in Daryl Morey's dungeon of analytics during the summer, but because sometimes the best way to succeed in the NBA is with no plan at all.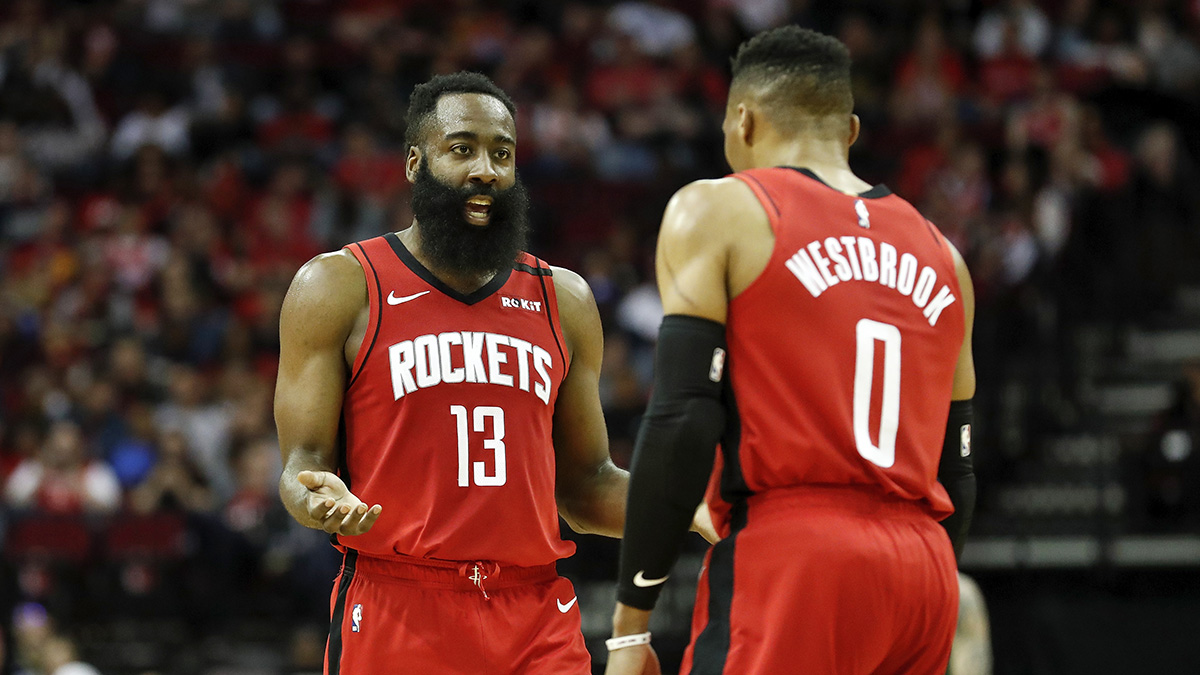 MATT MOORE: Everything in the modern NBA is perimeter-oriented, everything is pick and roll. The league has shifted not only in skill set but in philosophy and fundamentals.
But even with that being the case, Houston is wagering that no team is equipped to accomplish all the things you must do to win their math battle of high-percentage 2s at the rim and a barrage of 3-point attempts. To do that you need to:
Have a post-up player who can exploit their switching defense not just as a threat, but consistently. You have to post up and attempt 20-25 shots, and you need to be able to make 15 of those 25 shots in order to keep up with their offense.
Have a guard capable of making that entry pass, a skill that has eroded over the past 10 years to the point of hilarity. Many guards struggle with basic post entry, and that's before you recognize the struggles of many bigs to seal their man effectively.
Be willing to abandon your typical offense, which is mostly guard-focused, pick-and-roll-generated, and hammer the mismatch constantly. This is a challenge for everyone. No one wants to admit that their best way of doing things isn't better than the other team. No one wants to get away from "their game." And superstar guards don't want to stand on the perimeter while their bigs work a mismatch. The disruption seems like a capitulation and risks not involving everyone.
The reason this is likely the most effective approach to beat the Rockets is it undermines the entire system on which their smallball gambit has been placed. Their defense has been susceptible all season and is still just 13th since adding Robert Covington. If you hit them and make that style of play untenable, they have no alternatives. It undermines their entire approach.
However, very few centers can actually do this, consistently, and the Rockets make it hard on teams.
In the below clip, Enes Kanter tries to go to work on PJ Tucker, but Tucker is just too strong and disciplined, forcing a fadeaway.
Again, with Kanter, a traditional post-up big, this time he gets Westbrook on him… but the Rockets are one of the best deflection teams in the league, and their help comes with active hands.
Deandre Ayton has no shot because of Harden's swiping hands and the help defense from the backside.
Rebounding isn't a big advantage, either. Houston is giving up 13.7 second-chance points per 100 possessions since the trade, which is just slightly above their mark for the entire season. Teams are just not dominating the Rockets on the glass in any meaningful way.
Unless you have an elite big who can hit soft shots from short-range but not right at the rim AND pass to open shooters by feeling the double come, you're not going to punish the Rockets for smallball. Now, of course, the one guy who fits that category is Nikola Jokic with Denver. The Rockets and Nuggets are done with their season series, so we won't know how that matchup plays out, but it's definitely one to keep in the back of your head once we get a clearer picture of the playoff draw.
The other real weapon, obviously, is LeBron James. Anthony Davis isn't a great post-up threat and isn't a great passer, either. James is posting up at his highest rate in the past three seasons and can work those matchups effectively if he chooses to.
But the math is difficult, even if you find ways to hurt Houston on defense. Houston has so much spacing now that defenses are in impossible positions, constantly.
A lot of credit has been given to Westbrook for "carrying" the Rockets under the new system, but Harden is still wreaking havoc. In the below clip, Harden gets a secondary assist. Watch how much attention is drawn to him, which opens up things:
And again, the attention Harden warrants leads to a Westbrook cut to draw a foul:
And if you stay home, Harden's got you on an island:
Look at how much space the Rockets have here for Eric Gordon, who is able to slide into the space as the defense is collapsing:
The big problem, no pun intended, is that no one on the perimeter can check Harden and Westbrook (and to a lesser degree, Eric Gordon). That lack of perimeter contain is OK against most teams… because most teams have a center, so the player defending him can help over to rim protect. Houston's isn't just spacing the floor; it's spacing to the corner every time.
The question I keep being asked about the Rockets: "Is this sustainable?" And the answer in the regular season is absolutely. But in the playoffs, it will not come easy. There will be doubles with more systematic rotations. Injuries and cold shooting streaks will effect things.
If you find ways to attack them inside, you have to do so at a sustainable rate of 55% or better to counter-act their shooting. If you find ways to manage their offense, you have to keep up on the other end.
Doing both is going to be a challenge, and that's why the Rockets are absolutely a title contender (their current odds at PointsBet are 10-1, fourth-best in the league, behind the Bucks, Clippers and Lakers). But to truly have a chance to dethrone the Big 3, they'll have to find the right series of matchups, and more importantly, get a playoff version of James Harden and Russell Westbrook that matches their regular season exploits.
How would you rate this article?