Perez: The Houston Rockets Are Brewing Up Something Sneaky
Credit:
USA TODAY Sports. Pictured: Daryl Morey
The Houston Rockets traded Ryan Anderson's terrible contract and De'Anthony Melton to the Phoenix Sunday for Marquese Chriss and Brandon Knight.
It's the kind of moves that makes you wonder: What in the heck is Rockets GM Daryl Morey up to now?
Shedding Anderson's hefty salary gives Morey much more flexibility to make the moves necessary to chase the Warriors.
What are the Houston Rockets up to?
Every time Daryl Morey is involved in a transaction, I get weird vibes — like when someone I thought I was dating sends the "Hey, I'm not feeling well … can we reschedule?" text. Then you wake up the next morning and you see that person in the background of someone's Instagram story dancing on tables in the club.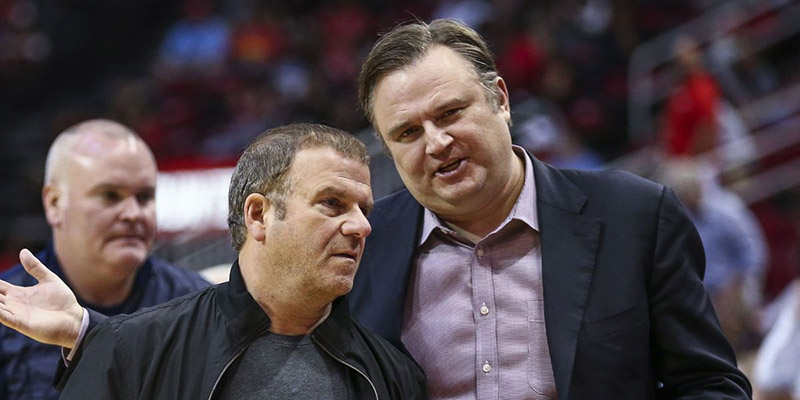 Let's be honest, Morey has been dancing on tables ever since he fleeced the Oklahoma City Thunder for James Harden.
That's not always a good thing …
… but the fact remains the man is always playing the field, thinking ahead, and every move he makes is part of an elaborate plot without expiration.
In the wee hours of Thursday evening, on the one-year anniversary of Kyrie Irving getting traded out of nowhere to the Boston Celtics, we were blessed with another random Woj Bomb:
It feels as if the Rockets have been trying to trade Ryan Anderson from the moment they signed him.
At first glance, you would have figured a lights-out 3-point-shooting power forward is a match made in heaven for Mike D'Antoni, but it never worked.
Since signing a colossal four-year, $80 million contract with the Rockets in the summer of 2016, Anderson posted the two least efficient seasons of his career (13.5 and 12.6 PER).
He had a +0.2 box score plus-minus on a team that won 65 regular season games. How is that possible? You have to actually try to be that bad at defense.
D'Antoni eventually closed the door on his playing time like Warden Norton throwing Andy Dufresne into The Hole at Shawshank State Prison, and Anderson, coincidentally, was not seen or heard from again until he was involved in a transaction near the Mexican border.
Replacing him on the Rockets roster are Brandon Knight and Marquese Chriss.
It's always nice seeing Knight's name in the news. After his soul got dunked into another dimension by DeAndre Jordan, you want to remember he's actually good at basketball and isn't just walking around the underworld looking for his body harvested somewhere in the membrane of poster purgatory.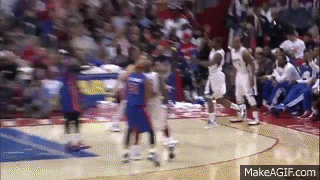 But this version of Brandon Knight is a Monopoly Chance card for Houston.
With Knight coming off a torn ACL, nobody will know if he's still the smooth-shooting, "get you a bucket whenever you damn well need" guard he's proven to be throughout his career — or just another "what could have been if he didn't get hurt so much" guy.
But when the team acquiring him already has Chris Paul, James Harden, Carmelo Anthony and Eric Gordon on the roster, Knight should seamlessly fit in as the reserve point guard at the bare minimum.
As for Marquese Chriss, this is going to be interesting…
So what's next? What are the NBA schemers up to?
Remember: Morey doesn't grow trees, he plants seeds.
By finding a suitor for Anderson's monstrous contract, the Rockets just saved themselves ~$3 million in cap space after you add Knight's 2018-19 contract ($14.6 million) with Chriss' ($3.2 million).
Their luxury-tax bill just dropped by 28% from $20.4M to $14.7M…
And the last time I checked: Trevor Ariza, one of the most important players on the Rockets' 65-win team last season, signed a one-year, $15 million contract with the Suns as an unrestricted free agent this summer.
What if … just saying … what if Morey told Ariza to go get his bag from the Suns, make sure you commit for only one year, and try his best to get waived before the March deadline? Morey would then scoop him up with the space created in this deal announced last night, unless he uses it on someone else first.
Is it a wild conspiracy theory that Morey has had this plan since Day 1 and Ariza is one of his many pawns? Yes.
A few issues here: Nobody is trading any assets for a one-year, $15 million Ariza rental unless it's a multi-team affair involving a championship contender.
Also, Ariza is under contract for the entire season and doesn't have "trade me" Kyrie Irving talent.
What he does have is the leverage of the Suns being in the gutter of the Western Conference standings.
At some point, the Suns are just going to say "f*** it" and run out all their young draft picks for 35 minutes a game.
Between Devin Booker, DeAndre Ayton, Mikal Bridges, Dragan Bender, Josh Jackson, and TJ Warren, this roster is stacked with guys who can be franchise-foundation players for a long time and need to spread their wings as much as possible.
Subsequently, Ariza and Anderson would head to the bench, and it just makes too much sense for Phoenix to waive Ariza, save a couple million dollars in a buyout negotiation and let him sign elsewhere as they #TryonForZion.
But if this theory fails to materialize, Morey still has cards to play.
He has Knight's very tradeable contract and a first-round draft pick to sweeten the pot.
If Knight is able to return and prove he's still the fringe All-Star he was a couple years ago before the injuries and #TheSuns, what's stopping Morey for spinning this into much-needed "perimeter swingmen please lord somebody help us with Durant in the playoffs" support?
Kent Bazemore, DeMarre Carroll, James Johnson, Iman Shumpert, Jon Leuer, Terrence Ross and Tony Snell just to name a few — are all players whose contracts line up with Knight's AND could be on the trading block this year as their current teams look to restructure for the future.
We could sit here all day and speculate, honestly that's really all there is to do during NBA August, but in the end — let's all come to terms on the hypothesis that Morey is up to something behind that suspiciously immersed avatar…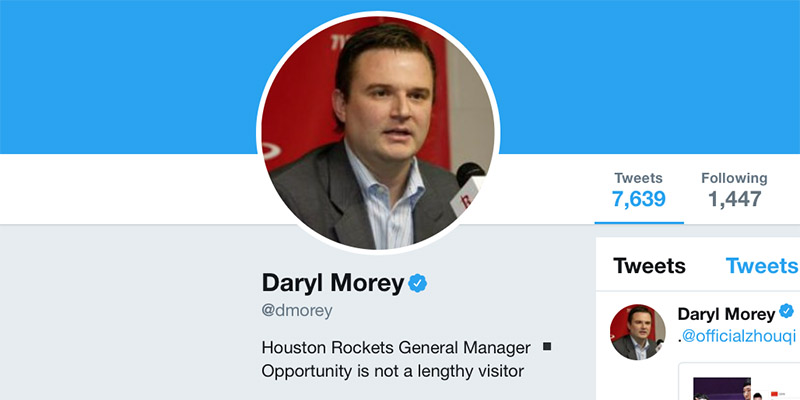 He knows it's going to take something supernatural to defeat the Warriors in the playoffs, and to make it happen, he is not going to sit on his hands waiting for the stars to align.
Instead, he'll be busy tip-toeing in the shadows, spinning random deals in the middle of the night, trying to create his own luck.
How would you rate this article?