The Miami Heat Have Defied the Odds. Here's How to Bet Them in the NBA Finals.
Credit:
Getty Images/ Matt Roembke of Action Network. Pictured: Jimmy Butler #22 of the Miami Heat.
A lot of people are still trying to figure out this Miami Heat team.
Well, in their defense, the Heat are immensely different now compared to the team we saw in the regular season and the Play-In Tournament, where they famously trailed the Chicago Bulls with three minutes remaining.
Since then, they've had an improbable run taking out the Milwaukee Bucks, New York Knicks and Boston Celtics in five, six, and seven games, respectively. (Honestly, the Bulls got the closest to ending the Heat's season, which is hilarious to think about.)
So how do we bet this unpredictable team in the NBA Finals against the top-seeded Denver Nuggets? Here are the trends to keep track of when betting on the Heat.
The Underdog Story Continues
The Heat have taken the underdog narrative to another level in this run and we can expect that to continue in the Finals. In the playoffs, they are 11-3 against the spread and 9-5 outright as underdogs.
They opened as 8.5-point underdogs in Game 1 of this series, and in that spot they are 5-1 against the spread and 4-2 outright when they are at least 8.5-point dogs, according to Bet Labs.
Every other playoff team is 1-9 in that spot, with the one win coming from the the Philadelphia 76ers in Game 1 against the Celtics in Round 2. That's it.
The Heat Thrive on 3-point Shooting
The Nuggets rank second in playoff 3-point shooting (38.6%) behind the Heat, who are first (39%). There was a dip in the Knicks series, but the Heat were lights out from deep against the two Eastern Conference favorites. Their 3-point percentage went from 45% in Round 1 to 30.6% in Round 2 to 43.4% in the Conference finals.
The Nuggets have allowed 10 makes and 29 3-point attempts per game in the playoffs — but played against the Minnesota Timberwolves, Phoenix Suns and Los Angeles Lakers. The Lakers and Suns were last in 3-point attempts per game in the playoffs because they focused more on getting shots in the midrange and at the rim. The T-Wolves ranked 12th among playoff teams and shot just 34.8% on their 3s.
The Heat are middle of the road at 33.6 attempts per game in the playoffs. They attempted 29.2 3s per game against the Celtics, but 38.2 against the Knicks and 34.2 against the Bucks. They've been reacting to what defenses are allowing, and Boston was the best close-out team they've faced in their run. I expect the Heat to spread the Nuggets out more than any other opponent has in the playoffs, and if they continue hitting timely 3s, that bends the dynamic of the series.
Gabe Vincent, Caleb Martin and Duncan Robinson all shot around 50% from beyond the arc against the Celtics. Maybe that won't continue (at this point who knows with this Heat team), but those are the three players to track regarding 3-point overs, along with Max Strus, who took the second-most 3-point attempts.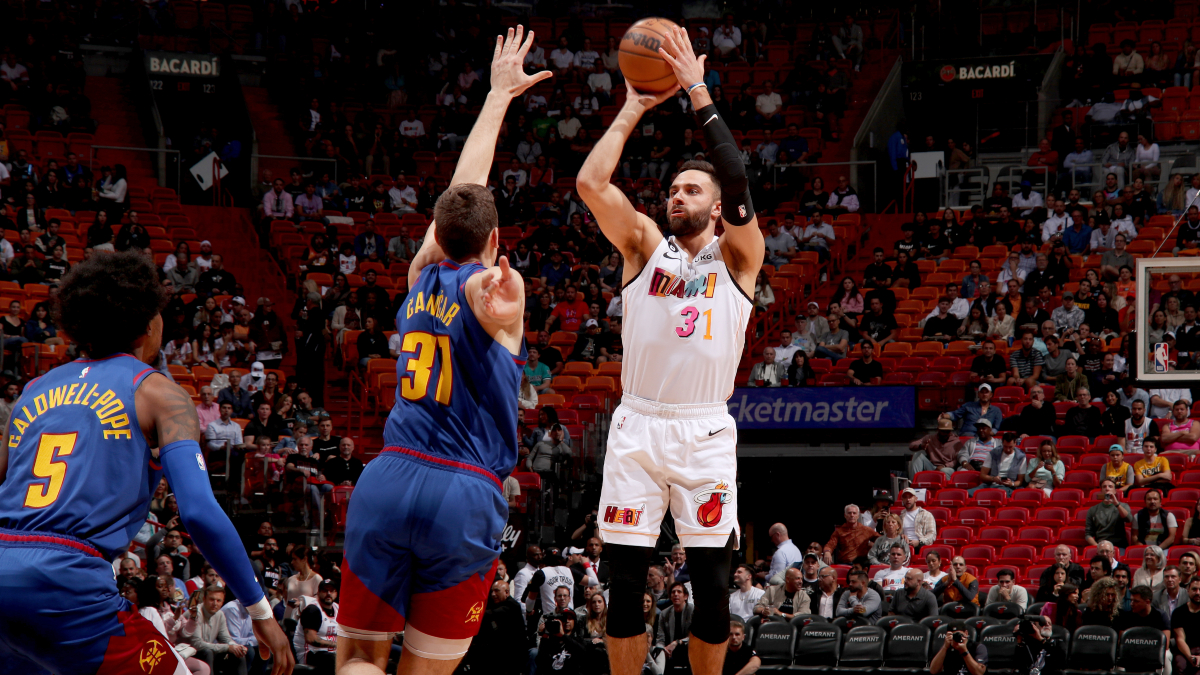 Strus is always capable of having a hot shooting game. He's hit at least four 3-pointers in a game twice and at least three five times in the playoffs, All but one of those games were in the Knicks series, where even then, he shot 35.4%, but the requisite volume is there more often than not, at least.
To a lesser degree, I would keep an eye on Kyle Lowry and Jimmy Butler as well.
Surviving the Rebounding Battle
The Heat were out-rebounded in every series they've played in the playoffs: they were -5 in rebounding against Boston, -9 against Milwaukee, and -31 (!!) against the Knicks. Don't expect them to win the rebounding battle overall against the Nuggets.
Of note, however, is that Bam Adebayo leads the playoffs in total box-outs with 85 (78 defensive), second is Nikola Jokić at 45, and third is Kevin Love at 42, according to NBA Advanced Stats. Against the Bucks, the Heat were -14 in offensive boards, -5 against the Knicks, and -12 against Boston.
Adebayo will be active on Jokic. Maybe Jokic doesn't get 14.5 rebounds per game as he did against the Lakers, but that doesn't mean Adebayo will rebound above his average of 9.2 boards per contest either, since other guards swoop in off his box-outs, which is the point.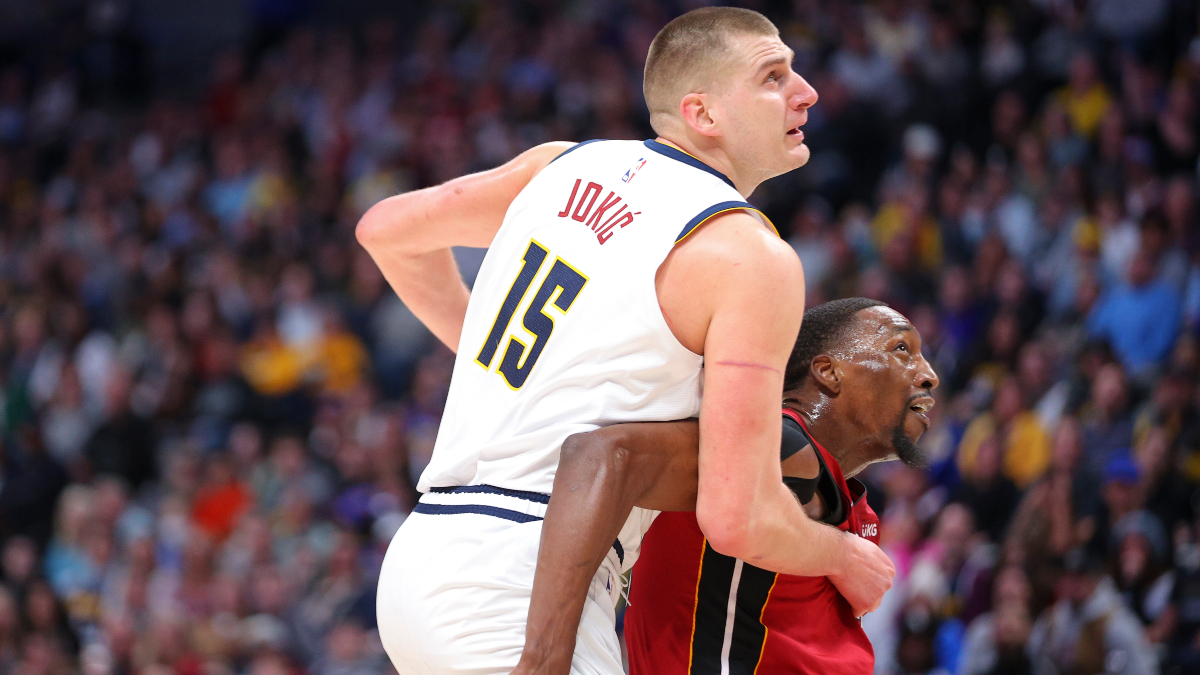 The Nuggets also have Michael Porter Jr. (9.3 boards per game vs. L.A.), who can get double-digit boards in a series against the Heat the way Jayson Tatum did in the conference finals. Porter will often be the second-tallest player on the floor in this series after Jokic and can match Adebayo's rebounding — he had a 15.1 rebound-percentage against the Lakers, while Adebayo was 14.8 against Boston.
Adebayo's rebound prop hovers around eight or nine, and I'd wait to see how Game 1 unfolds before firmly picking a side. Adebayo is listed at 8.5 with the juice (-140) on the over. He should hit some overs, in theory, because with the Jokic matchup, you can't afford to constantly switch and have Adebayo out on the perimeter and leave the Joker in the paint with smaller players.
But Miami has gotten here by unconventional means, so why get declarative now?
Caleb Martin grabbed 6.4 boards per contest against the Celtics and hit some overs, but is listed at +115 to go over 7.5. (Knee-jerk feels like an under, doesn't it?) Martin got 15 rebounds in Game 6 against the Celtics and 10 in Game 7. He's been benefiting from Adebayo box-outs, but doing it against Al Horford is different than doing it against Jokic. I'd wait and see on that one, too.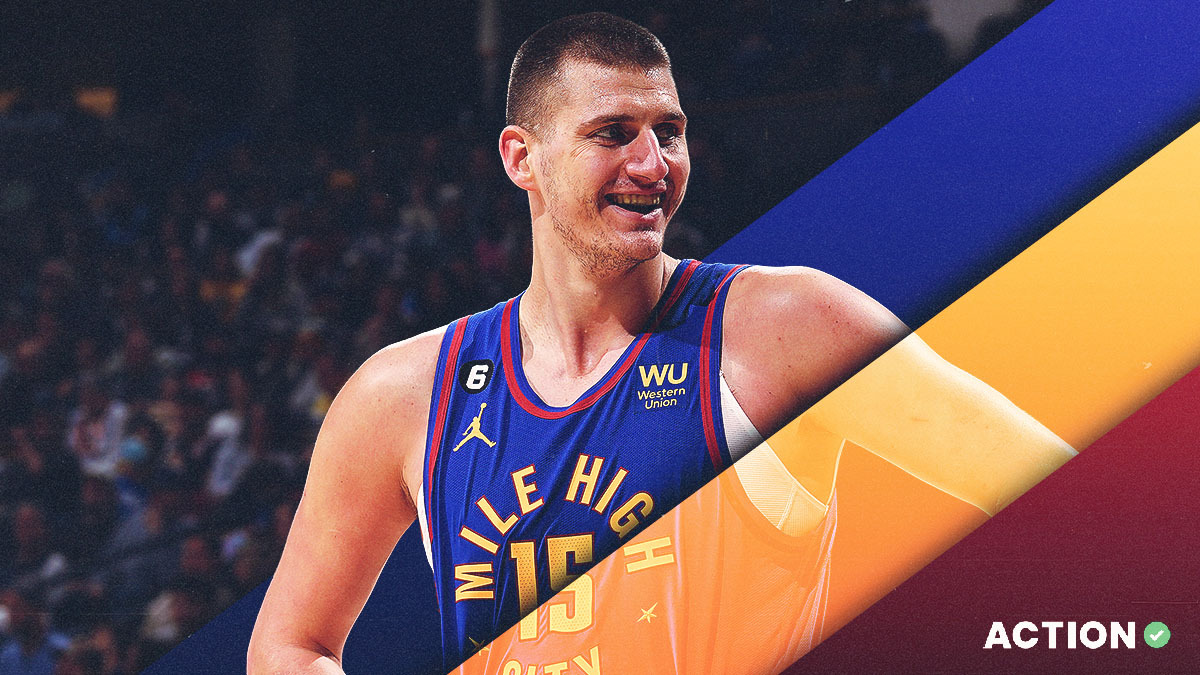 How to Bet the Nuggets in the NBA Finals
How to Bet the Heat in the NBA Finals
I'm leaning heavily on betting player props in this series, especially for the three players who have been most impactful for the Heat during this playoff run.
Jimmy Butler: His points prop has hovered around 27-29 for the playoffs, and it starts Game 1 at 27.5 (o-105/u-125) at DraftKings. His over/under was 28.5 for Game 7, and he finished with 28, his third straight under. He had 29 in Game 4, albeit unspectacularly, just getting over — one of two points overs he had against the Celtics, with the other his 35-point performance in Game 1.
Butler is empirically more efficient on two or more days of rest (52.6%) than one(46.7%) — the scoring average is nearly identical. Butler will have two days of rest heading into these Finals, and between all but Games 3 and 4 at home. He's been great in Game 1s: He had 35-11-3 with three steals against the Bucks, 25-11-4 with two steals against the Knicks, and 35-5-7 against the Celtics, with six steals.
If Butler has it going, it wont just be the points that add up, it's also rebounds or assists (sometimes both). In 10 games where he's had 27 points or more, he added at least 12 combined rebounds and assists seven times. His prop is listed at 40.5 points, rebounds and assists for Game 1, a number he's gone over nine times of 17 playoff games this season. If you want to bet an over, Butler's combos props have been more reliable than his points since his ankle sprain against the Knicks in Game 1, which is why his points prop is down to 27.5 after flirting with 30 earlier in the playoffs.
On defense, Butler gets steals and blocks (stocks) when he's truly locked in. He's -160 to go over 1.5 steals, which he's done in 12 of his 17 playoff games, and is more often than not a lock. His stocks get better value — over 2.5 is +110 for Game 1. Steals alone aren't great value, but a reliable parlay leg. I expect him to go over the steals and blocks combination multiple times in the series, though.
He hit over 2.5 stocks three times against Boston, twice against Milwaukee and twice against New York. Over 0.5 blocks straight up is +125. Butler has 11 blocks in his 17 playoff games, but beware, he's had two blocks four times, and at least one block just seven times. Steals as a parlay leg feels the most comfortable, even as the Nuggets have averaged a league-low 10.3 turnovers per game.
---
Caleb Martin: Martin is for real, and if he is capable of doing what he did against the Celtics, his production should carry over against the Nuggets. The biggest variant is his shooting. He has 57/44/82 shooting splits for the playoffs and finished with 60/49/88 shooting splits in the Celtics series. He's averaging 14.1 points, 5.7 rebounds, and 0.8 steals per game in the playoffs, and got up to 19.3 points, 6.4 rebounds, and 0.9 steals per game in the Celtics series. He started the last two games, and he might stay in the lineup going forward — he'll see a heavy minutes load either way.
Here are Martin's props for Game 1:
Points: 16.5
Rebounds: 7.5
Points, Rebounds and Assists: 24.5
Points and Rebounds: 23.5
3-Pointers 2.5 (!!)
Stocks: 1.1
He's largely unpredictable going into the Nuggets series on how he'll fare. The over on his points prop (-110) is the most intriguing. He's topped that number in four of his past six, including the two starts, and it's probably the most reliable here.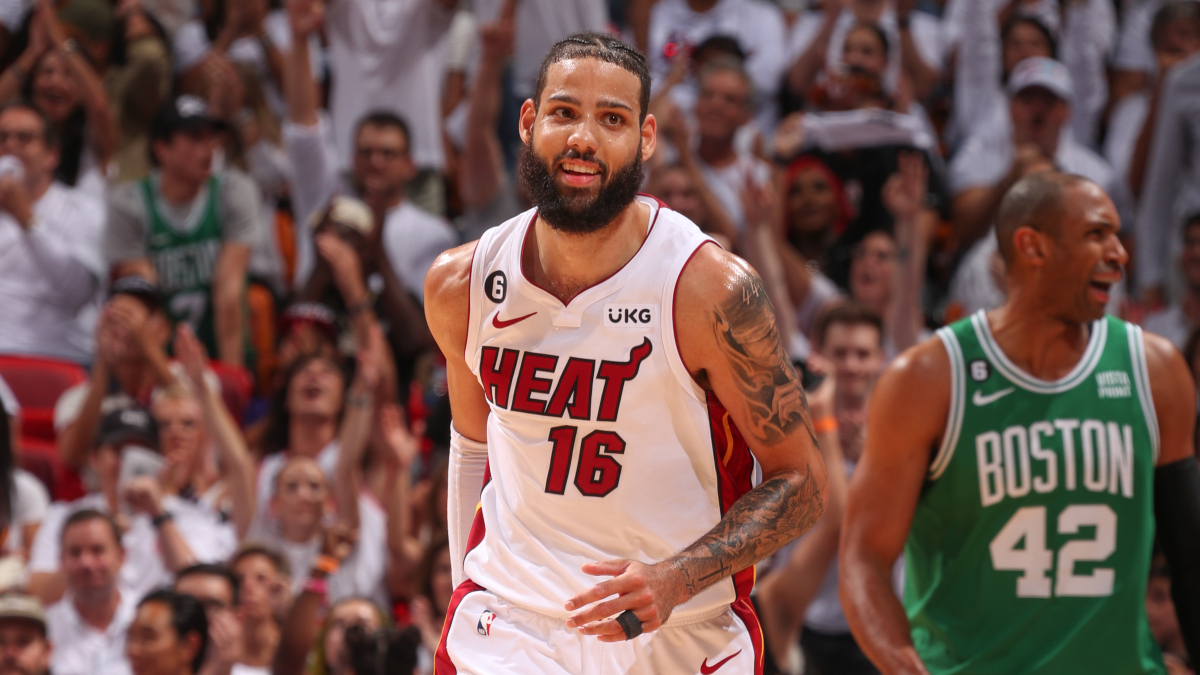 Aaron Gordon and Kentavious Caldwell-Pope will likely guard Butler and Martin, so if you like the over on points, you may also like the over on 2.5 3-pointers at +125 — it's a tad high for me, though he's hit four in each of his last two and in 5-of-7, so I may talk myself into it.
The rebounds feel like an under at first glance, but he's gone over as a starter both times against the Celtics, and over 23.5 points and rebounds as a combo seems feasible so long as he'll see around 40 minutes a third straight time, and going forward.
---
Bam Adebayo: We went over his rebounds earlier, so here, it'll be about everything else. He's been under on points for five straight games and is listed at 16.5 before Game 1. Jokic and or Gordon will likely give him the mid-range jump shot. The key question is: Will Adebayo make quick decisions? When he's decisive, he has a better offensive impact.
In games against Joker, he's gotten 19-plus in three straight and 20-plus in four of seven. He can get offense in this series, but it's not going to be easy. Adebayo's assists are always tantalizing (listed at 3.5 with the over at +100) and the Heat will use him as a hub to activate their blazing hot 3-point shooting, so it's not a bad shot to take even though he's only gone over in 8-of-18 playoff games. He's never finished with exactly four assists, meaning he's gotten five or more eight times in the playoffs, and four times against Boston. So if you're going over 3.5, you can give 5+ assists prop a look at better than +200 odds.
His points, rebounds and assists prop is listed at 29.5. He has finished at exactly 29 in each of the past two games and hasn't gone over this prop since Game 2 against the Celtics. Before these last five games, Adebayo had gone over this combo in four of five games. But he hasn't rebounded well against Jokic in totality, getting 10 or more boards in just three of his previous eight games. This doesn't feel like it goes over a ton without Adebayo hovering in the high teens in points with regularity this season. The points and assists are usually around 20 — 20.5 for Game 1, at -105, feels like an over we should see.
Regarding stocks, the numbers are 0.5 each and 1.5 total. None have a ton of value, standing between -150 and -225. He's at 1.0 steals and 0.6 blocks per game in the playoffs. He went over 1.5 stocks in four of the five games against Milwaukee, two of the six games against the Knicks and three of the seven games against Boston.
At over 1.5 steals, Bam will be at +180 territory — he's done that five times in the playoffs, but only twice since the Bucks series, and the Nuggets don't turn it over a lot. He hasn't had a multi-block game in the playoffs, and has had one in 11 games in the playoffs. I'd like to wait and see on Adebayo, but for now, I'm most intrigued by his assists and points.
How would you rate this article?
This site contains commercial content. We may be compensated for the links provided on this page. The content on this page is for informational purposes only. Action Network makes no representation or warranty as to the accuracy of the information given or the outcome of any game or event.