How to Bet NBA Games With Looming COVID Cancellations & Postponements
Credit:
Jesse D. Garrabrant/NBAE via Getty Images. Pictured: A general view of the NBA basketball used during a game between the Charlotte Hornets and the Philadelphia 76ers at the Wells Fargo Center.
The Coronavirus pandemic has impacted every area of our lives, and the NBA is no exception.
First and foremost, these players are human beings dealing with a deadly virus along with quarantine, isolation, and pandemic protocols, like many of us. And as the absences pile up, it's become increasingly difficult to keep track of everything on a daily basis.
The purpose of this guide is to help you bet on the NBA with confidence as the league and sportsbooks continue to adjust.
This is not an explainer on which teams to bet on or which players matter most to the spread. This whole thing is fluid, and as we've already seen, entire groups of players can go missing due to health protocols.
Think of this as one-stop checklist before you decide to be on a game that might be impacted by mass DNPs.
Why are things getting so complicated?
NBA Health and Safety Protocols
The NBA was prepared to have an occasional player miss time after contracting the virus and outlined careful rules to quarantine players in close contact with anyone who's tested positive. That might include a teammate who shared a meal or played a hotel video game, an opponent who had a quick post-game conversation, or other obvious configurations.
The goal is to prevent a massive COVID outbreaks across the league. It makes sense. But it also means cases often will not be isolated. One case could cause a handful of teammates to go into isolation too, and perhaps some opponents.
We've already witnessed multiple teams with rosters stripped to only the legal eight-player minimum, and these protocols will typically isolate such players for seven days. The NBA will adjust as the year goes, but this isn't going anywhere.
The Ever-Changing Schedule
With rosters constantly in flux, we're going to get some postponements. Again, they're already happening, and they'll continue.
It's going to get more complicated, not less. Postponed games have to be played at some point. This is already a condensed pandemic schedule with little margin for error.
One postponed game dominoes to the next, and each postponement affects multiple teams on down the line. That will inevitably mean even more back-to-backs or four-days-in-five-games situations down the road.
In the soccer world, they call that fixture congestion. It's coming, and it's only going to get worse.
Standard Player Injury Management
Don't forget, these players are coming off of their strangest offseason ever. Some of them barely got any time off after a long, grueling playoff run in the bubble.
Others were off way too long and didn't have access to facilities to stay in proper shape. All of that will lead to injuries, maybe even more than a typical season.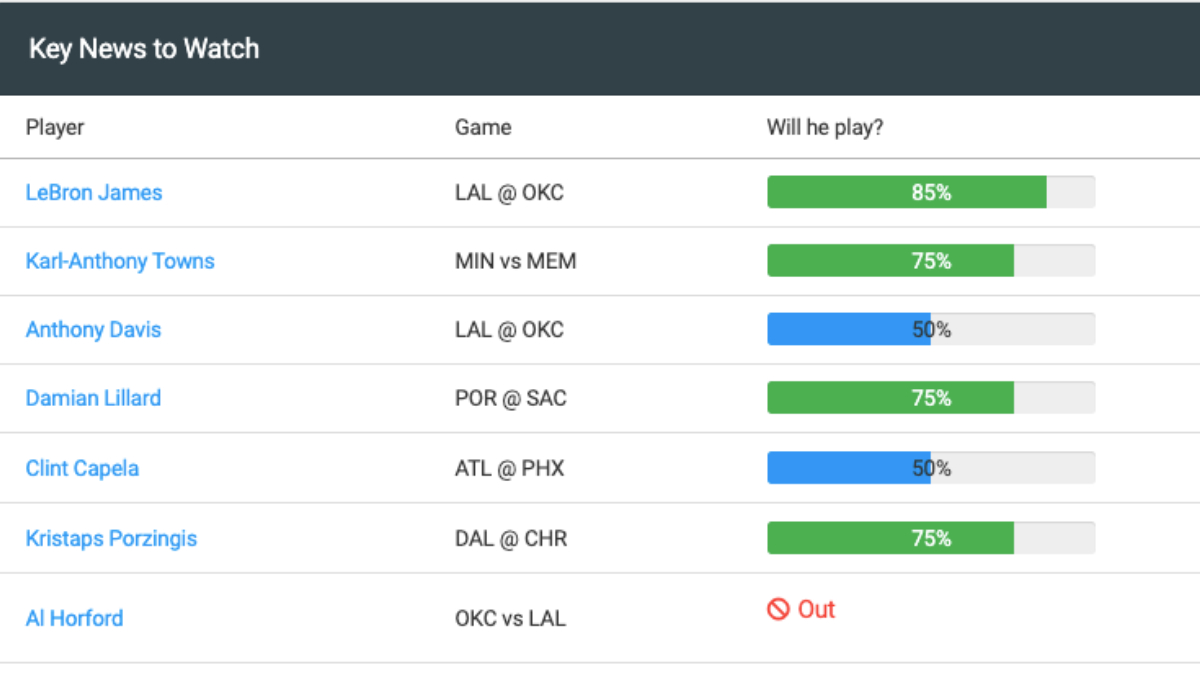 Add in load management along with mental health days and it's just going to be a funky season with late scratches and unpredictable lineups. This is something our experts track daily down to the percentage chance that a player will suit up.
So that's why things are weird. But if you still want to bet on the NBA anyway, here are some things to consider in the approach.
What edges should I be considering?
Who/What is Missing?
If a player is out, what does that player typically do? Does he take a lot of shots? Is he a lead creator? Is he a primary wing defender or a rim protector? How many minutes does he normally play?
All of those things matter, because all of those things will now have to be done by someone else. The FantasyLabs On/Off tool is a great resource to use when trying to quantify the impact a player being on or off the floor.
If the team is missing its primary initiator, the offense will likely suffer to some degree. If a big man is out, the opponent has more chances to rack up a rebounds or score more easily at the rim.
Do you best to understand what's missing on the floor, and how it changes the outlook of your bet.
Who is Filling in for What's Missing?
This is where you can play props to your advantage and utilize the features of the Action Labs prop tool.
If you're betting props, look to play overs on teammates who will soak up extra minutes. If a 20-point scorer is out, that means more shots for his teammates. If the starting point guard is sidelined, look for the over on an assist prop for the backup point guard or secondary ball handler.
Props are about minutes and volume as much as anything else. More playing time typically means more opportunity, and so does higher usage.
Consider the Team's Depth
This is never a one-for-one swap. The next man up may fill the starting lineup, but who will fill in for the backup's minutes since that player is now the starter?
Every absence has a domino effect, and that cascading effect will only increase as things add up. Depth is not just sixth and seventh man. Sometimes a key bench player can fill in admirably in a starting role but there's no man further down the bench to soak up those backup minutes, and now that team's bench unit will get roasted. Maybe that's a second quarter play.
Don't mistake depth as a one-for-one swap. Consider the cascading effect.
It's a weird season. Every team will have players coming and going, resting, sitting out injured, and so on. Be sure to consider these things for the opponent too. Advantages go both ways.
Is There a Free Roll Opportunity?
Postponed games typically mean refunded bets. Sometimes that can set up an opportunity for you to play a free roll for a potentially advantageous situation.
Say it's noon and news breaks that four players on a team will enter COVID protocol and be out a week.
Suddenly that shorthanded team — let's call them the Philadelphia 76ers — looks unlikely to have enough players that day, and the game seems likely to be postponed. These 76ers are sitting as five-point underdogs, but all the stars are out and there are only a few end-of-bench guys left. Surely, the game will not be played.
You freeze, and so do the books. But the smart bettor places a wager on the opponent. The game will probably get postponed anyway, and if it does, you get your money back.
But if a player is unexpectedly available — let's call him Mike Scott — suddenly the game is back on with Philly's third string guys playing and the 76ers are at +15, and you're sitting on a -5 wager with a huge edge.
Look for an opportunity to get in a free roll wager where you'll either play an edge in your favor or get your bet refunded.
---
Check out our free NBA odds page, which automatically surfaces the best line for every game. Subscribe to our new NBA Insiders tool at Action Labs to beat the market with our cutting edge player projections, injury news and betting thresholds.
---
If You Like a Spot, Grab the Opening Line Instead of Waiting
Lines are constantly shifting. Sure, it will give you more information if you wait to place your bet right before tip off, but guess who else gets all that information? The books, and their advantage is growing faster than yours.
If you like a spot, grab it before the line shifts and removes value (you can see how lines are moving across multiple books here).
That might mean betting the night before or first thing in the morning, before the news comes out, and it means anticipating the day's news instead of reacting. You won't always get it right, and things are especially unpredictable this year, but that's part of the gamble.
Be willing to grab a piece you like early, and be willing to pay to get off a spot that goes bad later, if you need to. Sometimes it's better to eat a small loss than cross your fingers and hope you don't lose a big one.
If Something Smells Fishy, Try to Figure Out Why
Remember, the books always know more than you. If a line just doesn't make sense, there's a pretty good chance you haven't just outsmarted everyone at Vegas and figured something out no one else happened to notice.
Try to pinpoint what is being overlooked. If a team should be favored by more, what player might be due for a rest day? Is the team coming off a back-to-back or heavy travel? If you know a star tweaked their ankle last game, check the line for a hint on whether the books think he'll play.
You'll never catch up to all the information the books have, but you can use their lines against them by reading between the lines and interpreting the missing information.
How would you rate this article?