Is the Warriors' Dynasty Over? Debating Both Sides of Franchise's Future
Credit:
Keith Birmingham/MediaNews Group/Pasadena Star-News via Getty Images. Pictured: Stephen Curry #30 of the Golden State Warriors wipes his face during Game 3 of the Western Conference semifinals against the Los Angeles Lakers.
With the Golden State Warriors' loss to the Los Angeles Lakers Friday night, the Warriors have finally fell in a Western Conference playoff series for the first time under Steve Kerr. In a season they made the playoffs, they are headed home before June for the first time since 2014.
The Warriors also failed to win a road playoff game for the first time under Kerr.
Both are testaments to their long and storied run of greatness: four titles, five conference championships, two MVPs for Steph Curry, the greatest regular-season record in league history and reshaping how people thought about basketball.
The question now, understandably, is what's next?
I'm of two minds on the subject, so we're going to engage in a little internal dialogue.
ME: OK, so the Athletic has already published the post-mortem on the Warriors, and none of it is that surprising. You should read the whole thing, but here are the key points:
There's significant interest in retaining Draymond Green on a multi-year deal. Green has a player option for this summer.
There's a lot of concern that Bob Myers will not be in charge of basketball operations, potentially by his own choice. Myers leaving would influence Green's decision.
It would also influence Klay Thompson's decision on whether to sign an extension under what's assumed to be a pay reduction in future seasons.
Jordan Poole is the guy no one is sure will return on the players' side.
So, it sounds very much like all parties want to run it back, with the possible exception of Myers. But the team is extremely cap-strapped and facing even harsher penalties financially under the new CBA.
Whether it's moving Poole for some random solid veteran or veteran combination, moving Kevon Looney — who may have legitimately been the third-best Warrior in these playoffs — trading Jonathan Kuminga to try and retool the bench, or other moves, it's clear there's no "end of an era" happening unless negotiations turn sideways.
And that's understandable. The Warriors had a down year. I was on their preseason win total under based on the hangover from the championship and the fact they went to Asia during the preseason.
Teams that have overseas preseason trips tend to hit their unders if the win total is above 50. (The Bucks were an exception this year.)
The Warriors couldn't win road games, almost to an inexplicable, mystical degree. They were the worst defending champion in NBA history in terms of road record.
It was a bad year for teams on the road in general in the West, but the Warriors went well beyond.
They mired in mediocrity until a late-season push; Curry, Green and Andrew Wiggins all missed time.
In the playoffs, they faced a young, fast Kings team that pushed them to their limit, and the result was playing every other day for two weeks. It wore them out.
But next year, they can retool and maybe manage minutes better, get better performances from the stars, better health and finish with a better seed to allow them to receive an easier path in the postseason.
There's no reason to overreact.
ALSO ME: Sure! Why react? You just got bounced by a seventh seed and a longtime rival who hit them with guys like D'Angelo Russell, Rui Hachimura and Lonnie Walker IV. Meanwhile, you had to basically play Curry to the bone every night just to be competitive. No need to take that seriously.
Here's a big and significant question: what makes you think the core is going to go back and have better seasons?
Thompson shot 40% from 3 this season, great. But he struggled in the playoffs. That's especially true late in the series vs. the Lakers, as he went 7-of-27 in the final three games of the series.
His defense was what was most striking in terms of decline. The Lakers got away with playing Russell and Walker in this series, in part because Thompson could neither shut them down nor challenge them on the offensive end.
Green has always been the impact guy. Good numbers or bad numbers, the Warriors win their minutes with Draymond. These playoffs were the first where the Warriors lost their minutes with Green, finishing with a -1.5 net rating.
Teams are no longer daring Green to hurt them offensively; they're ignoring him outright a lot of the time.
Green had some great performances in these playoffs and in the Lakers series, including Game 5 to force a Game 6. But while his defense remains elite, his offense is declining.
What if the defense starts to fall a bit, too, especially after what would be a monster payday this summer?
Then there's Poole. Who wants him right now? He was unplayable for most of the playoffs; he never had his moment like in the 2022 run.
He's also on a monster contract. Who's offering up good assets for him?
This all comes after the preseason punch that Green gave Poole, which is still spoken of in traumatic tones by Warriors writers. It shook their culture, and while the Warriors managed to salvage their season, they never thrived.
Golden State didn't splinter, but they didn't bond either. They just stayed there, drifting lightly attached.
So, if the core isn't going to get better, you need reinforcements. "Strength in Numbers," so to speak.
But those aren't coming. The chance for that was the James Wiseman pick, and it was such a colossal failure they didn't even get good assets back for him.
The Warriors used to have a wide margin for error with their bench. On the (very rare) nights where Curry or Thompson didn't have it, or the starters were struggling with a matchup, Andre Iguodala, Shaun Livingston and later David West would come in and provide a spark to set off a run.
Those days are gone.
How exactly is this team going to come back next year and be better?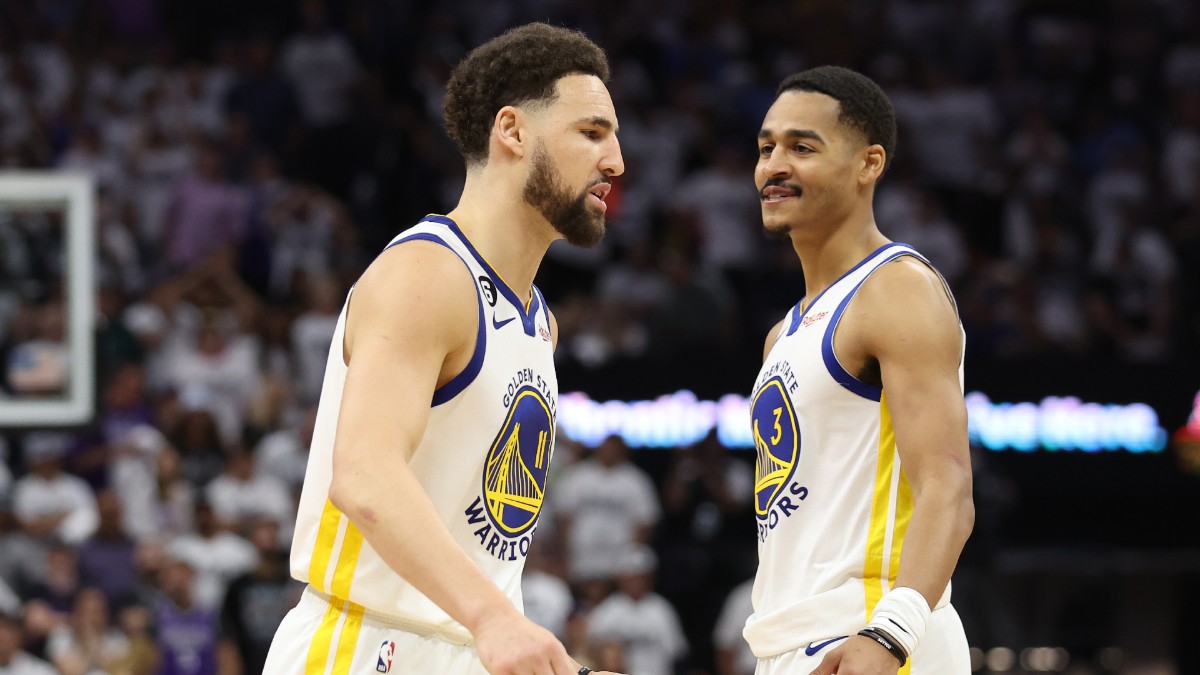 ME: That assumes that there's a linear path here, and oftentimes there isn't. The Warriors don't have to make up lost ground from this year; they just need to wipe clean a bad season. Teams get to have bad seasons, even the Warriors.
The West isn't going anywhere.
The Nuggets won the conference with the fewest games we've seen in over a decade. The Suns imploded and have their own big questions to answer. The Clippers can never stay healthy.
The Lakers got the Warriors this time, but LeBron James is slowing down — despite his marvelous Game 6 — and Father Time is undefeated.
That same warning may be true of the Warriors, but they have a few years on LeBron.
Meanwhile, Curry is still Curry. He was still amazing this season, and still led the league in 3s per game.
Thompson led in total made 3s. Green is still an incredible, all-time defender and a great floor general. Poole has room for growth. Wiggins can move past the personal issues that shortened his season and interrupted his conditioning and flow.
And we've seen the Warriors find quality deep-rotation guys over and over.
Maybe Kuminga and Moses Moody make a leap this summer.
Maybe they find some bargain bin guys in free agency.
Maybe a team decides to take a gamble on Poole or Looney and offers up a bevy of assets.
ALSO ME: Yeah, and maybe Curry misses significant time next season like he has the last four. Curry played 63 of 66 games in the shortened 2021 season.
Outside of that, he hasn't played in 70 games since 2017, six years ago. He needs nights off, and the Warriors couldn't afford to give him any late this year.
The Warriors lost their minutes without Curry in the regular season. They've lost those minutes since 2018. But now they're not winning the minutes with him on-court by as much, so he has to play more to make up the difference and buffer the damage.
That's not great for a guy at his age, with his injuries and with the mileage on him.
The reality is the Warriors were good enough last year in a weak conference that saw the Suns implode vs. Dallas and then caught a Boston team that wasn't ready for the moment.
But "good enough" was no longer enough this year.
ME: Maybe, and maybe next year will be tougher, but when you have Curry, you have a shot. A longer offseason might put some juice back in the veterans. Thompson had a great season and a rough end, after all.
And more than anything, there's not a better path here. Green isn't as valuable to any team that doesn't have Curry; Green knows that, it's why he wants to remain with the Warriors. He knows the meal ticket.
But the Warriors also aren't as good without Green. There's no way to replace his combination of intensity, fire, leadership, intelligence, tenacity and skill. It's just not possible.
There isn't a good solution here. They can try and trim the luxury tax for Joe Lacob, but their best path is to keep the core, take some flier on some young guys — or veterans — and hope the margins improve.
That's all the Warriors really need: the margins to improve.
ALSO ME: Maybe, but running it back without Myers won't be the same.
And this thing has been together for a decade now. That's a long time for any group of players to be together.
Poole might get thrown under the bus and traded as the solution. But it's hard to argue you should trade a player at his absolute nadir in terms of value.
Trading Wiggins would be bolder and riskier, but might honestly be the best way to try and find multiple pieces to hold up the core.
That's what you're committing to: finding ways to hold up the core as it gets worse instead of maximizing the remaining years of peak Curry.
And if Curry drops off? Even a little? The result would be catastrophic in terms of team success vs. team payroll.
ME: Yeah, but at some point, the established formula is too much of a moneymaker to deviate from. Keep generating those Splash Brothers dollars and hope that you can find another gap like 2022 to squeeze in another title, potentially passing or matching LeBron.
ALSO ME: I guess we're about to find out just how committed to being Light Years Ahead Warriors owner Lacob is.
How would you rate this article?
This site contains commercial content. We may be compensated for the links provided on this page. The content on this page is for informational purposes only. Action Network makes no representation or warranty as to the accuracy of the information given or the outcome of any game or event.