5 Lessons and Betting Takeaways From the James Harden-Ben Simmons Trade
Credit:
David Dow/NBAE via Getty Images. Pictured: Ben Simmons (left) James Harden.
The Brooklyn Nets and Philadelphia 76ers agreed to arguably the biggest blockbuster in NBA trade deadline history Thursday.
The Ben Simmons saga is over; he's with the Nets. The James Harden drama is over; he's with the Sixers.
Now in the fallout, we look for what we learned, and how to bet into this new NBA reality in the East.
1. The Nets Are STILL the Favorites!?
Some day I will understand the faith sportsbooks have in the Nets. I don't care what their liability is, the fact that Brooklyn is currently eighth in the East and still the title favorite after trading a former MVP and All-Star in exchange for Seth Curry, Andre Drummond and a player who has not played basketball in eight months and has no set timetable for return is madness.
Kevin Durant matters. He's the best player on the floor in every matchup with the possible exception of Milwaukee. The Nets were 27-15 when Durant went down on Jan. 15. There's no timetable for his return but assuming he's back sometime in March, the Nets should be fine for the playoffs or at least be able to get out of the play-in.
However, the bar between that and the favorite, across the board, is stark.
The Nets frontcourt is a mishmash that lacks rim protection. Drummond helps with that, but teams will put Irving and Drummond in pick and roll every time they're on the floor.
Simmons certainly helps the defense, and Seth Curry provides another shooter. But the Nets are still better built to try and outscore teams, but they lost part of the three-headed scoring monster.
There are ways this scenario plays out great for Brooklyn. If Simmons elects to operate as a pick-and-roll big, a passer off the short roll, like a hyper-athletic version of Draymond Green, then it could be incredible. There is also absolutely zero reason — none, whatsoever — to believe that Simmons will want to change how he plays.
Simmons sees himself as a point guard, and will want the ball in his hands. Durant needs the ball in hands. Irving wants and needs the ball in his hands.
The Nets have a ridiculous amount of shooters, especially if Joe Harris comes back this season. Irving, Durant, Harris, Curry, and Patty Mills are all elite. But of course you can only play so many on the floor together.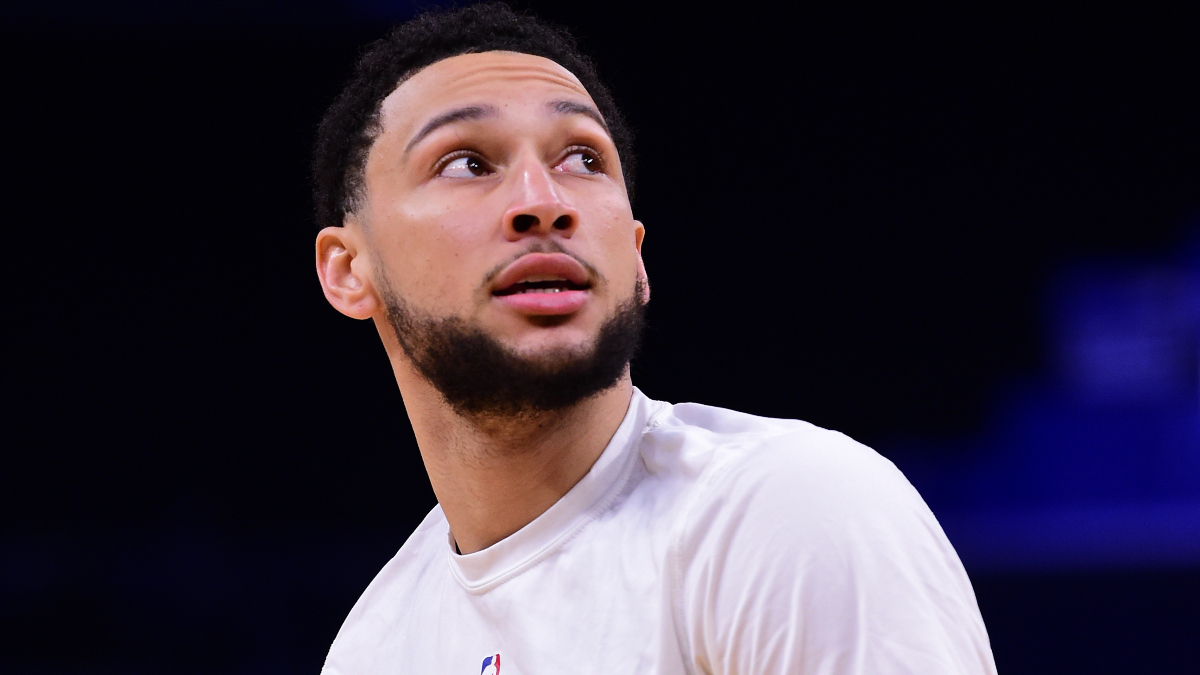 Simmons is a monster in transition and there will be incredible highlights of him stealing the ball, running the floor and dishing to Irving and Durant for transition 3s. The athleticism injection is significant. The Nets are 18th in the league per possession in transition this season.
Simmons creates turnovers, which generate high-percentage transition looks, and at his size and speed he can absolutely scream end to end and make passes. Even if he can't score on his own, Simmons was 91st percentile in scoring, including passes in transition last season.
The issue is in the halfcourt, and the same problem that started this whole mess remains. Teams are going to ignore Simmons as a shooter and clog the lane. If he plays the dunker spot, they will again ignore him. You can counter with two shooters in Harris/Curry/Mills but now you're back to not having any rim protection.
The Nets will likely play Blake Griffin at the five and continue their defensive scheme of switch-all. Simmons is arguably the best switch defender in the league. Durant can switch 1-4. Switching helps Irving by not forcing him to chase players around screens.
However, the good playoff teams will figure out that they can attack Irving and Griffin. If they play Drummond instead of Griffin, they will have to drop against pick and rolls and Irving will get torched.
The Nets' title odds moved from +250 to above +400 at most books after the move. This may not be the floor for their price; if Durant is out a few more weeks the Nets may move into likely play-in team territory and at that point the books will have to account for the possibility they're eliminated in the play-in tournament.
That said, getting the Nets with Kevin Durant and Kyrie Irving at 4-1 when they've been +250 is objectively good value if you put their title chances above 20%. If nothing else, it may be worth waiting to see just what happens with Simmons and if he returns this season and what Durant' situation is, even if that means losing the 4-1 or better figure now.
2. Which Version of Harden the Sixers Get Matters
Did the Sixers trade for James Harden who played in Brooklyn last year? Or the one who shot 41% from the field and 32% from behind the arc this season while laboring and struggling to draw fouls?
Did the Sixers get a version of Harden who sees his window for a title closing and needs to make the most of his situation after squandering so much good will? Or a version of Harden who, after the pandemic and significant rule changes, is chugging along out of shape?
You can believe Harden's high usage and minutes load in Houston took years off his career, but that still wouldn't explain a sudden drop-off from top-five player in the league and perennial MVP candidate to a relative non-factor on some nights. So you're left to make your own determinations about what Harden really is right now. We won't know until we see it.
However, it won't surprise me in in the slightest to see a motivated Harden, free of the nonsense that accompanies the Brooklyn Nets Basketball Branding Experience Brought To You By Boardroom And Kyrie's Third Eye, looking to win.
It's now I'll share a story. Harden's proclivity for nightlife adventures is no secret. However, the Rockets cancelled shootaround one morning in the 2018 playoffs and Mike D'Antoni joked that a lot of the members of his team were "late risers," suggesting that the players had gone out the night before.
You would assume in this situation that Harden was likely one of the ones missing. On the way out of the Toyota Center I very much accidentally found myself going up a stairwell instead of taking the elevator, which passed by the Rockets' weight room, only to see Harden working up a sweat with several players.
I asked around and apparently, at least most of the time, Harden would choose to come in even when shootaround or practice was cancelled.
I mention this one-off, anecdotal, probably-means-nothing story only to relate to you this: Harden loves basketball, and he cares about it. That was likely a major part of the split in Brooklyn.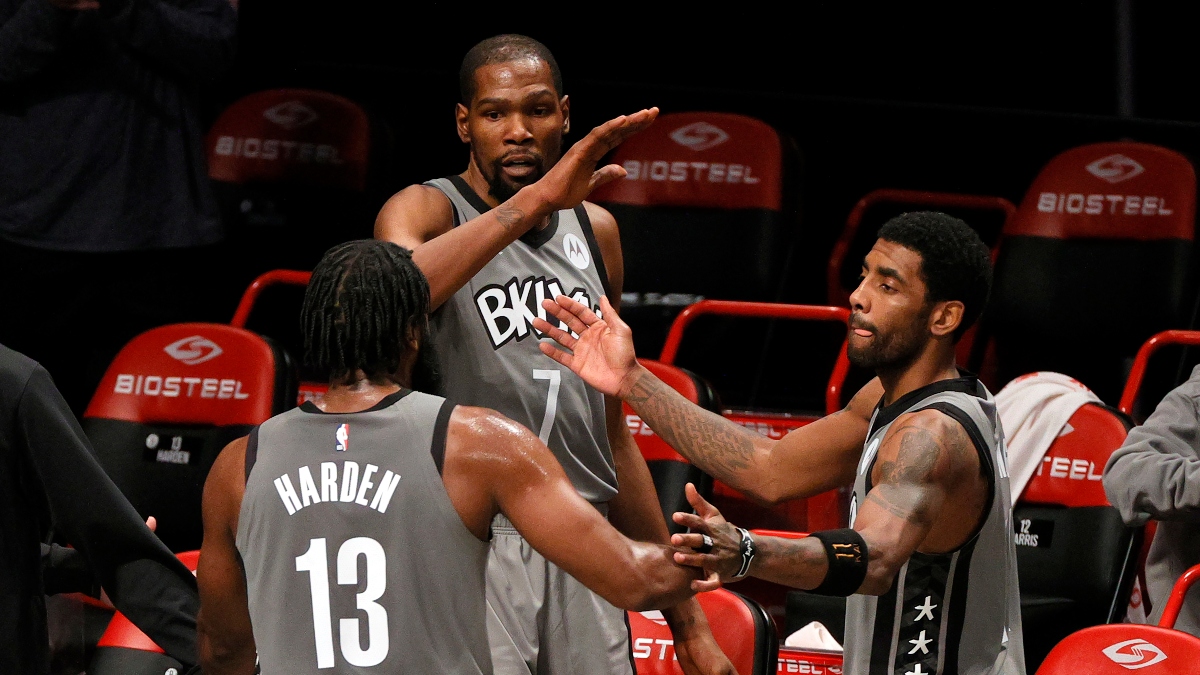 From the beginning, the Nets with KD and Kyrie were trying to redefine things, from the fact that those two chose Brooklyn without meeting with the front office, to their selecting a first-time coach who has described himself as more of a consultant while KD and Kyrie plotted offense on livestreams, to Kyrie's constant discussion of basketball as his "art."
There are reports that Harden wanted the offense catered to him. Harden has clashed with every costar he's ever had, from Dwight Howard to Chris Paul to Irving. Maybe the same will be true for Harden and Embiid and they eventually split acrimoniously as well, though you can bet Embiid will be the star to win that battle when the time comes.
But at the core of it, Harden does care about championships, something the Nets seemed to take for granted. They are so talented, how can they not win?
Harden opted for a regular basketball team trying to do what regular great teams do: Win titles, instead of remaking power structures and broadening chakras or whatever.
(Note: Irving is free to approach his career this way. He's insanely talented, and he already has the title that Harden does not.)
If Harden commits himself, if he carries a chip on his shoulder and focuses on what he can do to maximize Embiid through his talents? The Sixers will be scary.
That said, I'm not rushing to buy the Sixers just yet, for a few reasons.
3. Philly's Cracks in the Veneer
Having the MVP favorite and a former MVP is not a bad thing. But more and more the NBA playoffs have become about defensive versatility. Defense might not win championships, but single-dimensional defenses doom championship runs.
Last postseason the Sixers were abused by Trae Young because Embiid has to play drop coverage due to his size. All those floaters you remember from Young? That's a result of the 76ers playing drop.
With Harden and without Simmons, the Sixers lose a great defender and add a poor one. Harden has a penchant for giving up on plays early and for getting caught off-ball. If you challenge him on-ball, and if he's engaged, he can be a decent defender. But Harden's not chasing you around screens.
Teams like Miami and Milwaukee will absolutely target him and put him in as many situations where he has to to put that hard work in as possible, all the while punishing Embiid for having to drop.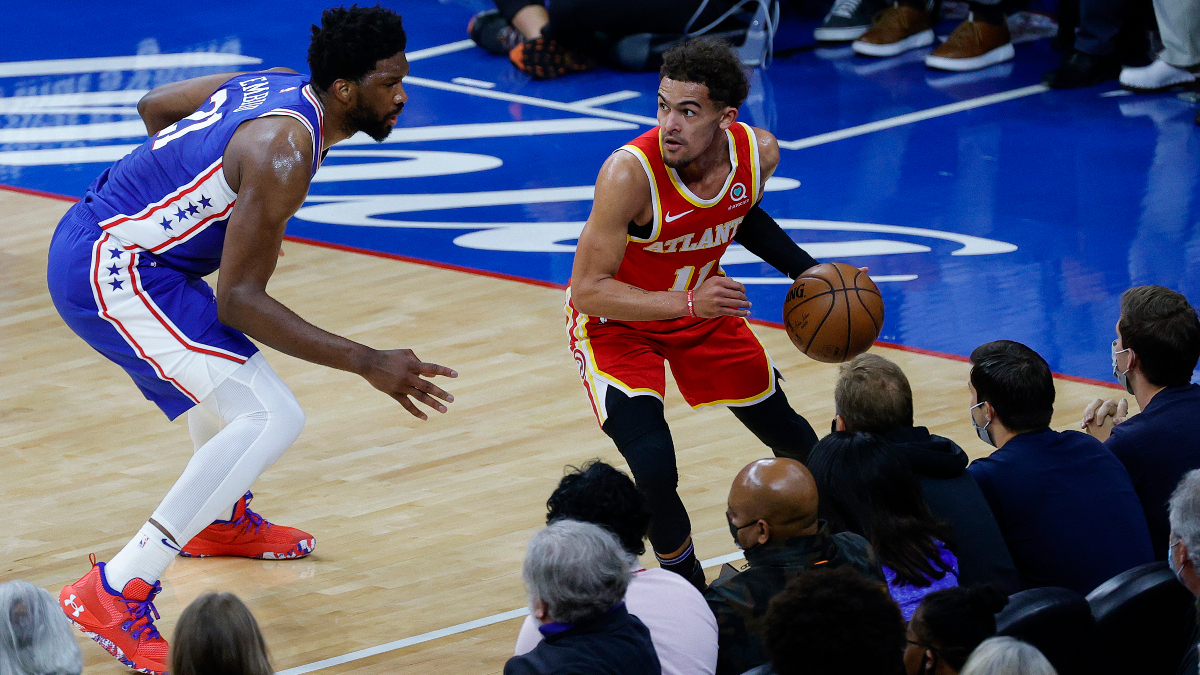 Philly moved to the No. 2 spot in the East odds at +240 to win the conference after the trade at FanDuel. That's too short. They are also +650 to win the title. Embiid was one Kawhi Leonard four-bouncer from making the conference finals in 2019, and ran into a bad matchup vs. the Hawks last year.
Still, Miami's defensive intelligence, muscle, and grit will pose problems. The Bucks have routinely beaten the Sixers when healthy and Philly will have a hard time keeping up with 3-point shooting. Philly already was a bottom-10 team in 3's made per 100 possessions and lost Curry. Harden certainly will put them up, but the Sixers are still light on the shooting side.
As it stands, there's a good chance the Sixers are dogs in most series matchups past the first round, whether against Brooklyn or Milwaukee, offering a better opportunity down the road to bet them.
For now, it's better to sit and wait to see exactly what version of Harden they get, and if Doc Rivers can find a lineup with the right balance of offense and defense, not to mention if they can keep Embiid healthy a full season.
4. Don't EVER Doubt Daryl Morey
Look, I get the backlash when it comes to revering general managers, especially MIT graduate, analytics-forward executives. However, you need to recognize that Daryl Morey has been absolutely owning building NBA teams since 2006.
For 16 years he's built contender after contender. He didn't build the Sixers — a former employee under Morey, Sam Hinkie did — but no one is better at winning transactions and managing decisions.
Morey has taken an absolute trucking in the public sphere over the Simmons trade saga.
"How can he really be asking for multiple stars and/or picks?! No one is giving anything significant up for Simmons." That was the refrain.
The most likely outcome had to be that eventually Morey would relent on his demands and trade Simmons for a good, if unspectacular package of players, and certainly not for a former MVP multi-time All-Star.
And yet, here we are.
I have to tell you, I'm livid I didn't see this coming. The moment, the second, the heartbeat where I read that Harden wouldn't be signing an extension with the Nets, we should have seen this coming — the connections between Harden, Morey and Sixers CEO Tad Brown, the noncommittal comments and play from Harden, the confidence Morey continued to exude at every turn. Not seeing it, honestly, was a massive oversight.
But the next time you think Daryl Morey is out of options, and a new owner who is spending-averse hasn't taken over, just remember this. Morey's teams haven't won a championship, you can attach whatever stigma you want to that. But no one gets more from organizational advantage, move by move, than Morey.
5. Brooklyn Has a Lot to Prove (And Doesn't Seem to Care)
How the Nets respond to this entire situation will be fascinating. Irving is not going to change his mind and suddenly get vaccinated. It's possible that New York City lifts the vaccination mandate, which will allow him to return to Barclays home games, but bear in mind another variant wave could send him right back out the door.
Harden walked on them. He effectively quit on them, between their concern over his injury status and behavior on the team. Yet the Nets without Harden and Durant have not played with pluck or professionalism. They are made up of rookies trying to find their way in this league and getting waxed night after night while the veterans mostly go through the motions.
(Poor Blake Griffin.)
Even when a team's star players are out you usually see, in the great teams, their organizational strength and team concepts shine through. Miami has missed Jimmy Butler, Bam Adebayo and Kyle Lowry for huge chunks of the season, they haven't missed a beat.
The Bucks have been without their key guys for much of the season and Brook Lopez the entire season; they remain competitive. Denver is the sixth seed in the West despite missing at least two and often three starters this season.
The Nets, meanwhile, are basically pulp without two of their stars.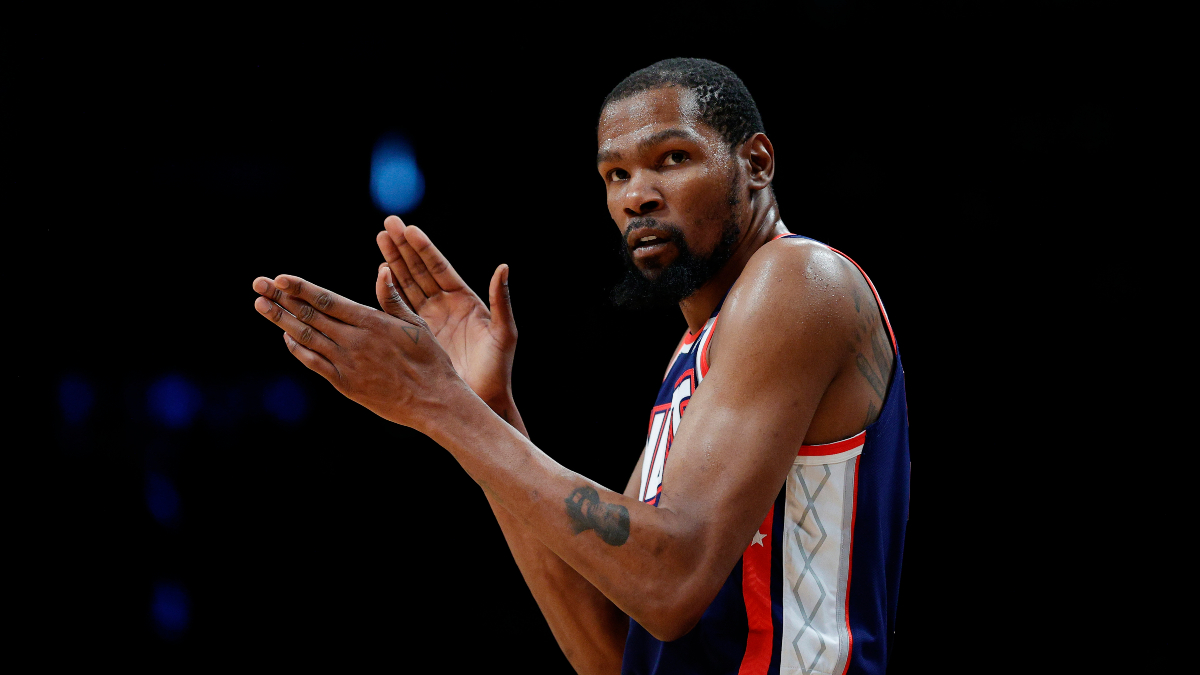 Does Irving take this personal and decide to show Harden how good he is? There are no questions about Durant, he was playing some of the best basketball of his career before his injury and he'll come back with the same excellence.
But who sets the tone for this team? Who rallies them? The mild-mannered coach who has been described as a consultant? The general manager who traded half the roster (including first-time All-Star Jarrett Allen I might add) at the whims of his stars?
Durant is a champion and a leader, the game's finest. But more and more it seems that what was billed as a partnership in building something new is just a flawed and imbalanced roster, even after the trade, which he has to hold together.
Who embraces Simmons and gets him to buy in? Who sets the table for Curry, a phenomenal shooter?
The Nets' entire ethos was literally just "get three of the best 10 guys and it'll work itself out." Now we get to find out who exactly is going to be the one to turn the ingredients into a meal.
How would you rate this article?
This site contains commercial content. We may be compensated for the links provided on this page. The content on this page is for informational purposes only. Action Network makes no representation or warranty as to the accuracy of the information given or the outcome of any game or event.