Monday NBA Playoffs Odds, Picks & Predictions: Jazz vs. Nuggets Game 1 (August 17)
Credit:
Getty Images. Pictured: Rudy Gobert, Nikola Jokic
The Denver Nuggets are a 4.5-point favorite over the Utah Jazz in Game 1 of their first-round series.
Reed Wallach likes the Nuggets at -4 or better, despite their injuries that have piled up, and their series price at -230 or better.
Get his full breakdown of Nuggets vs. Jazz Game 1 below.
NBA Odds: Jazz vs. Nuggets Game 1
Odds as of Sunday evening and via BetMGM. Get up to a $500 risk-free bet at BetMGM today or see more offers and reviews for the best online sportsbooks.
---
The 3-6 matchup in the West features two teams trending in different directions.
Michael Porter Jr. has emerged as a budding superstar for the Denver Nuggets in his first extended run of games while the Utah Jazz are down their best wing scorer, Bojan Bogdanovic, and have been floundering since the restart.
Denver opened this series as a -182 favorite (implied probability of 64.5%), but that was quickly bet up to higher than -200 (66.7%). Now with the news that Mike Conley Jr. will be leaving the bubble for the birth of his son, the Nuggets are -278 (73.5%) at DraftKings as of writing.
Denver swept the regular-season series against Utah, which concluded with a thrilling double-overtime victory inside the bubble on Aug. 8. That was Jamal Murray's first game back from a hamstring injury, but he didn't need much time to ease in: He scored 23 points, grabbed 12 rebounds and dished out eight assists in 39 minutes en route to the Nugs covering as 1-point underdogs.
Let's take a closer look at both teams before making our pick.
Utah Jazz
The pre-bubble Jazz were better on both ends of the floor with a +2.5 net rating, but they're -3.7 since the restart. However, it's not the starters who have been at fault, it's the bench unit.
Utah's starting unit has played five games together (84 minutes) and was more than 19 points better in the seeding games. It's when the Jazz fielded the reserves that they slipped up. Now without Conley for at least the start of this series, Utah will have to try and scrap more time with minus players.
Jordan Clarkson has been a net negative in the bubble and Rayjon Tucker does not seem ready to carry a unit off the bench. Emmanuel Mudiay has looked unplayable for most of the seeding games, as the club is 31 points worse when he's played in more than 90 minutes (granted most are with deep bench guys).
Utah's starters can hang tough with Denver's — maybe even out-gun the Nuggets for a series. But if the bench unit is going to leave the Jazz hanging, especially against a deep opponent, they'll be in serious trouble. They'll also be without Ed Davis, who is out for "a few weeks" with a knee injury. While he played only 36 minutes in the bubble, it adds to their depth concerns.
Despite losing their most dangerous 3-point shooter, the Jazz are shooting more 3s than ever before, attempting 47% of their shots from beyond the arc (third-most in the bubble). And while their 35.6% shooting rate is only middle of the pack, the Nuggets have been roasted from beyond the arc since the restart, allowing opponents to shoot higher than 44% from 3 — about 9% worse than the rest of the season.
If Utah is going to continue relying on the 3 and Denver is going to allow opponents to get hot, there is a path for Quinn Snyder's club to turn that into wins, especially when resident shot-hunter Clarkson is in line for more playing time.
Denver Nuggets
MPJ has taken the bubble by storm, no other way to say it. His stat line is absurd: He's averaging of 22 points and 8 boards on 55/42/93 slashes. If he can keep up this production through the postseason, Denver becomes a dark horse to challenge the two L.A. teams in a playoff series.
The Nuggets will have to get through Utah first, though, and Porter is likely going to draw the Jazz's best defender, Royce O'Neale, who is going to hunt Porter across the hardwood and make his life hell. That'll be the most fun matchup to follow during this series.
While the Nuggets' offense has excelled, improving their top-five pre-bubble offense by four points, their defense has been concerning. They've posted the worst defensive rating since the restart, allowing more than 121 points per 100 possessions.
The club does have Murray back, but is still missing wings Gary Harris and Will Barton. Those two losses sting, but multiple players have stepped up in addition to Porter.
P.J. Dozier has become a solid rotation piece even though his net rating isn't so pretty (12 points worse when he is on the floor). And guard Monte Morris has helped run the second unit well. I'm not sure the postseason is for Bol Bol, as his defense is likely too much of a liability, but he is a wildcard Mike Malone could deploy in certain bursts.
While these games may turn into shootouts, its clear that the Nuggets' bench unit can keep up the output while they hope for some regression from their opponent's 3-point shooting.
In the teams' first bubble matchup, Utah hoisted 55 3s to Denver's 37. Utah made 13 more and Denver was still able to win by two points in 2OT. The Nuggets' offense is potent, and they aren't live-or-die from 3 — it's their defense that needs to pick up the slack.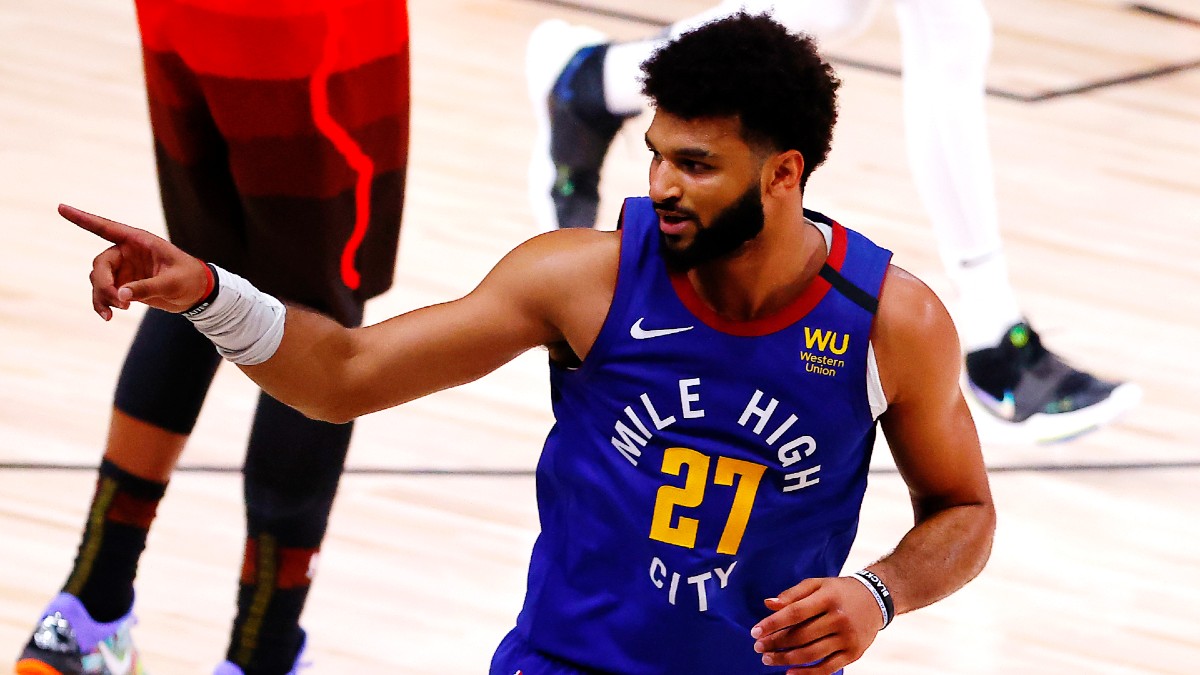 Betting Analysis & Pick
At first glance, I thought this series was going to be a competitive yet fairly clean win for Denver. On second glance, Utah has the capability to expose some of Denver's issues (mainly on the perimeter) to steal the series.
That said, the Nuggets' second unit is going to overpower the Jazz and push too far ahead. That was true before Conley left the bubble. Now with no Conley, who is playing very well, the Jazz are simply outmanned.
Nikola Jokic has had his way against Rudy Gobert this season, averaging 29 points, 12 rebounds and 9 assists in three matchups. Jokic should continue his strong play throughout this series, and with the return of Murray, Jokic has another weapon to find on the perimeter.
If Harris and Barton can make it back during the series, that's even more help.
I really liked the Nuggets to win the series at -182 and saw value in them all the way up to -230. Without Conley for at least Games 1 and 2, I do think Denver navigates this series, even if it's not a sweep.
I was able to grab the Nuggets -3 at open for Game 1, but since the Conley news, they've climbed to -4.5, which I would not advise playing. If the line trickles down to 4, though, Denver is a play for me.
I do have a live angle for the second half, though.
The numbers are somewhat murky with benches being emptied at the end of games, but Denver's offense has seen a near 10-point jump per 100 possessions in the second half of bubble games while Utah has had a net rating of nearly even in the first half sink down to -7.1 in the second half. It's tough to put too much stock into that given the situations for both teams, but in the regular season, the Nuggets were more than three points better per 100 possessions in the second half of games. Utah was about the same.
If the Nuggets are down at half, I will likely be adding a second-half play if I can get them for a full-game spread inside of -3.
The Pick: Denver -4 if you can get it. Check our NBA live odds page for the best lines.
[Bet the Nuggets now at BetMGM and get a $500 INSTANT deposit match]
How would you rate this article?