Wob: Latest Jimmy Butler Drama Makes Clear He'll Stop at Nothing to Get Traded
Credit:
Troy Taormina-USA TODAY Sports. Pictured: Jimmy Butler
According to reports, Jimmy Butler raised hell at the Minnesota Timberwolves' practice on Wednesday.
Butler went so far as to beat the starters, which included Karl-Anthony Towns and Andrew Wiggins, with a squad full of third-stringers.
This latest bit of drama out of Minnesota shows Butler is intent on getting traded before his contract expires in nine months.
It was such a nice, quiet day on the internet. We almost made it through one whole day without the NBA being unnecessarily dramatic, but then Woj unleashed his arsenal of nuclear warheads into the blogosphere:
Jimmy Butler allegedly raised hell like something we would see from the WWE attitude era:
And just when you think it couldn't get any better, NBA Insider Amin Elhassan reported a rumor on The Jump that Jimmy Butler joined up with the third-stringers during a practice scrimmage and beat the opposing team with Andrew Wiggins and Karl-Anthony Towns on it.
UPDATE: Jimmy spoke with ESPN's Rachel Nichols on SportsCenter about what went down at practice today, confirming a lot of the rumors to be true….
Furthermore, he spoke on whether the chaotic situation with the Timberwolves is "fixable." His answer?
Per Chris Haynes of Yahoo! Sports:
At one point, Butler found himself guarding Towns in the post and when the big man received the entry pass, Butler yelled, "He can't do [expletive] against me!" and Towns ended up kicking the ball out, league sources said.
This was later confirmed by Butler during the second part of his interview with Nichols:
For us innocent bystanders craving NBA drama, this is just too good. But if you're a Minnesota Timberwolves fan or someone involved with the organization, the situation has reached DEFCON 1 status.
Butler has gone full Joker from The Dark Knight and is walking away from the Timberwolves practice facility today like Heath Ledger out of the hospital: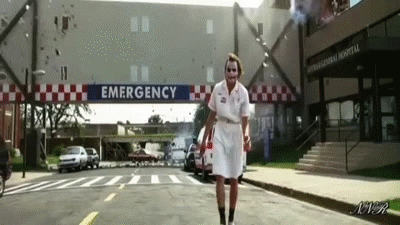 And now the Joker is building an army:
This is an unprecedented situation because Jimmy has a TON of leverage.
These reports today suggest to me he's going to do anything he can to get out. The Wolves' most important assets are Towns and Wiggins.
If I wanted out as badly as it seems Jimmy does, I would attack what's most precious to them. Going full Kobe on the franchise's stars at practice is Step 1. You know what else I'd do? I'd call the media and tell them to get their butts to Minnesota because I'm about to turn this gym into the Dream Team Monte Carlo practice, have some stuff to say, and I want my agenda to own the news for an entire afternoon.
Needless to say: ALL of this was achieved. This is an absolute clinic Butler and his agent are putting on.
With Thibodeau reigning as the President of Basketball Operations — not just the coach, not the GM, the PRESIDENT — there is no reset button.
If the day comes when owner Glen Taylor wants to make a change and replace the franchise's leader, he will have to clean out the entire front office, as Thibodeau was hired to build it at his discretion.
The moment the Wolves agreed to terms with Towns on his mega $190 million extension was the moment they made themselves vulnerable to scorched-earth Jimmy…
…and for Minnesota: there is not a fire hydrant in sight.