Jimmy Butler vs. Giannis Antetokounmpo Props | Bucks vs. Heat Game 5 Bets
Credit:
Eric Espada/NBAE via Getty Images. Pictured: Giannis Antetokounmpo #34 of the Milwaukee Bucks, Jimmy Butler #22 of the Miami Heat during the 2023 NBA Playoffs.
Giannis Antetokounmpo and Jimmy Butler have had monster performances in closeout games.
Which player has more betting value with the series on the line for the Bucks tonight?
Bryan Fonseca looks at the history of both players ahead of Heat vs Bucks Game 5.
Be honest. Did you think the Miami Heat would be up 3-1 over the Milwaukee Bucks? Because I didn't — and I've watched more Heat games this season than most. They're frustrating, they're inconsistent, they unpredictable … but they have Jimmy ******* Butler.
The legend of 'Playoff Jimmy' is real no matter what he says. It's not just this series, or last year's playoffs, or the 2020 Bubble Run — it also goes back to his series against the Toronto Raptors in his only playoff run with the Philadelphia 76ers four years ago, and there were flashes with the Chicago Bulls even prior to that.
Giannis Antetokounmpo and his Milwaukee Bucks have their collective backs against the wall against a team viewed as a lame duck No. 8 seed that whimpered out of the Play-In Tournament, and needed a heroic performance (from guess who) to escape missing the playoffs entirely.
Both stars have a decorated playoff history; let's see who's worth backing in the elimination Game 5 and potentially beyond.
Butler and Antetokounmpo in Closeout Games
Both Butler and Antetokounmpo have played in a healthy about of elimination games. The recent history on each side might surprise you. Here's the 2022 tale of the tape.
The Heat had four closeout games last year. Butler didn't suit up for the first one because they simply didn't need him against the Atlanta Hawks — oh yeah, and he had a knee injury.
In Round 2, the Heat led the 76ers 3-2 going into Philly — Butler ended the Sixers season in the second round (as Philly fans are accustomed to seeing) with 32 points in a 99-90 game. He also had eight rounds and four assists and shot 13-of-29 from the field, 2-of-6 from deep, and 4-of-6 on free throws.
His magnum opus, which still might be even after last night's 56-point effort, came in the Eastern Conference finals. Like LeBron James 10 years prior, against the Boston Celtics in a road Game 6, an injured Butler — limited to 27 points in the previous three games combined — exploded for 47 points on 16-of-29 shooting, 4-of-8 from deep and a perfect 11-of-11 on free throws.
In the Game 7 loss, which came down to his missed 3-pointer, Butler scored 35 points on 13-of-24 shooting, including 8-of-11 from the foul line. Butler averaged 38 points in closeout games last season on 51/39/82 shooting splits — two road wins, and one home loss. He also had 8.7 rebounds per game — all games of eight or nine — and six total steals, including the four from Game 6.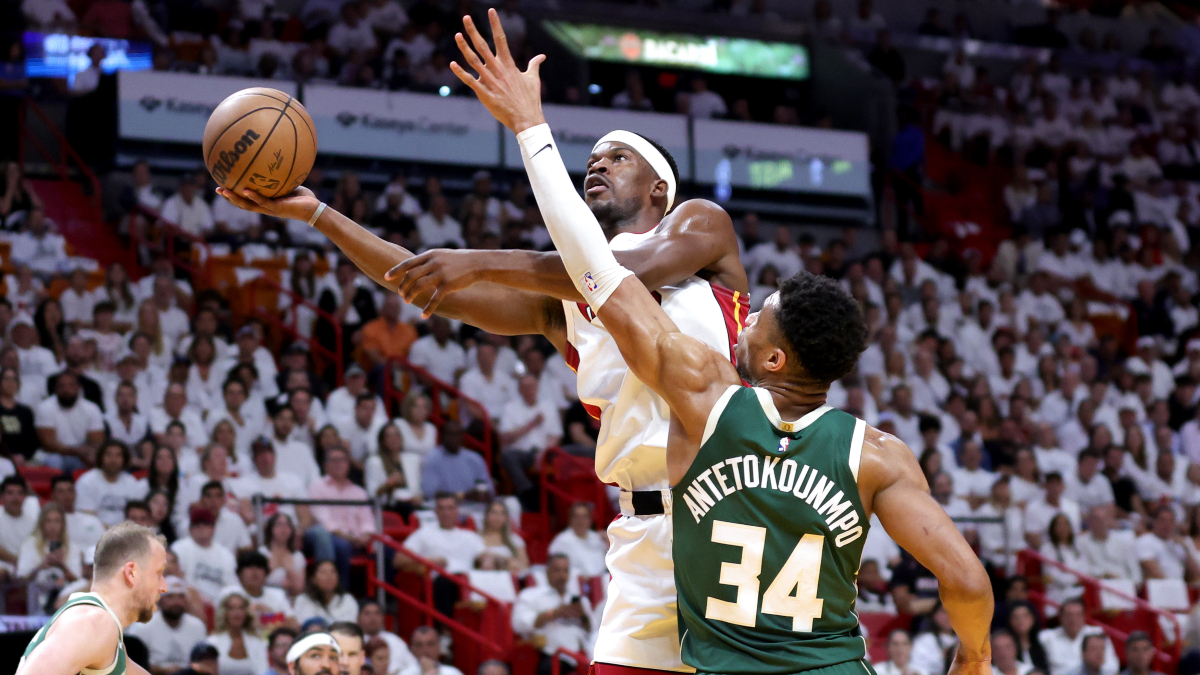 Giannis also had three closeout games last season. The first was up 3-1 on the Chicago Bulls in Round 1 where The Greek Freak (The Nigerian Nightmare is a better nickname, but whatever) recorded 33-9-3 on 11-of-15 shooting and 11-of-14 free throw makes.
In Round 2, the Bucks led 3-2 with a home opportunity to close out the Celtics. Giannis was a one-man team, erupting for 44-20-6, but didn't get much from his teammates, losing 108-95, forcing a Game 7. He also shot 14-of-30, good, but less so for him, including 2-of-3 3-point makes. He also hit a near-perfect 14-of-15 on free throws.
But in Game 7, the Celtics stomped out Milwaukee, 109-81 and held Giannis to 25 points on 26 attempts, with 20 rebounds and nine assists. (He quietly had 18 turnovers in the last three games of the series, including 11 in the two elimination games.)
The sheer numbers look better than the actual performances, but his team just looked uncharacteristically overwhelmed more often than usual.
In three elimination games: Giannis averaged 34 points on 49/38/83 shooting splits. The 38% from beyond the arc came on just eight attempts, and the field goal percentage dropped to 42.9% in the two Boston games.
Now, let's quickly round-up other recent notables.
Antetokounmpo in Milwaukee's 2021 NBA championship run:
20-12-15 against the Heat in Round 1 when up 3-0.
30-17-3 against the Nets in Round 2 when down 3-2.
40-13-5 against the Nets in Game 7 to win.
50-14-2 against the Suns in Game 6 to win the title.
Averaged 35-14-6.3 in closeout games on 59/23/78 shooting.
Butler in Miami's 2020 NBA Finals run:
6-3-2 against the Pacers in Round 1 when up 3-0.
17-5-2 against the Bucks in Round 2 when up 3-0.
17-10-6 against the Bucks in Round 2 when up 3-1.
17-8-8 against the Celtics in Round 3 when up 3-1.
22-2-8 against the Celtics in Round 3 to win the east.
35-12-11 against the Lakers when down 3-1 in the finals.
12-7-8 in the closeout blowout loss when down 3-2.
Averaged about 18-7-6 in closeout games on 48/25/89 shooting.
The 2020 Heat run was a team-driven thing, if you recall, and the narrative became about Butler in the Finals, magnified when Bam Adebayo and Goran Dragić got injured in Game 1. The Heat's best player in Round 1 was Dragić, Butler in Round 2, Adebayo in the Conference finals, and Butler in the NBA Finals.)
Other notable closeout notes:
Butler and Antetokounmpo started against each other throughout Round 1 of the 2015 Eastern Conference first-round series between the Bulls and Bucks. Butler averaged about 25-6-4 with 2.5 steals and nearly one block per game on 48/41/79 shooting in a 4-2 series win. A raw, second-year Giannis logged 11.5/7/3 and shot 36.6% from the field. Butler won Most Improved Player that season.
Butler averaged 22-7-6 in the 76ers-Raptors 2019 Eastern Conference semifinals, carrying an injured Joel Embiid, a disappearing Ben Simmons and a non-existent Tobias Harris within a shot from taking down the eventual champions. To force a Game 6, Butler put up 25-6-8 on 9-of-10 shooting and 7-of-7 on free throws, plus two steals and zero fouls. In Game 7, Butler was held to 16 points on 5-of-14 shooting.
In the 2019 Eastern Conference finals against the Raptors, Antetokounmpo had 24-6-6 in Game 5 and 21-11-4 in Game 6 losses to the Raptors, a series in which he averaged about 23-14-6-3-1 — but the Bucks squandered a 2-0 series lead to lose in six. The series before, he closed out the Kyrie Irving-led Celtics with 20-8-8 while up 3-1.
When down 3-2 in Round 1 to the Raptors in 2017, Antetokounmpo posted 34 points, nine rebounds, two steals and two blocks on 13-of-23 shooting in a 3-point loss, though, he only made 7-of-13 free throws.
Butler vs Antetokounmpo Player Props
Butler's averaging 36.5 points on 60% shooting. Maybe he'll cool off for a game, but even if you think he'll go off his Points + Rebounds + Assists prop might be the move.
In Game 5, Butler's points prop is 29.5, but his combo is 41.5. When Butler has it going, usually the rebounds and or assists are above average, making that a better play than straight up points on some occasions. The 56 points he had in Game 4 were accompanied by nine boards. The 35 points he scored in Game 1 also came with 11 assists. Betting the combo prop adds more security in case you get a well-rounded game.
For Antetokounmpo, it's similar regarding PTS+ REB+ AST combos, though his number is the highest on the board. I also like his rebounding prop, which is set at 11.5. He's the best rebounder in this series, has multiple 20-board efforts in closeout games, and has gone over 11.5 in 35 of his 63 regular season games (55%).
The Heat out-rebounded Milwaukee 47-46 largely because of their fourth-quarter hustle, which including above average glass performances from Butler, Caleb Martin and Kevin Love, most notably. Giannis should start hitting this over in Game 5 — if he doesn't, they're in trouble.
How would you rate this article?
This site contains commercial content. We may be compensated for the links provided on this page. The content on this page is for informational purposes only. Action Network makes no representation or warranty as to the accuracy of the information given or the outcome of any game or event.