Wob: How to Correctly Judge Joel Embiid vs. Andre Drummond — and All Basketball Feuds
Credit:
John Geliebter-USA TODAY Sports. Pictured: Philadelphia 76ers center Joel Embiid (21), Detroit Pistons center Andre Drummond (0).
The longstanding beef between Joel Embiid and Andre Drummond rages on after another meeting Saturday night.
Let's create a scoring system to judge who is winning this on- and off-court battle between the two dominant big men.
If you actually opened this article, you probably already know about the Joel Embiid vs. Andre Drummond rivalry. The game can't go a minute without the two of them trying to embarrass each other in some form.
While there is no doubt they respect each other as competitors and belong to the same "true big man" fraternity — an endangered species in today's NBA — a simmering rivalry finally boiled over after what transpired following Saturday's Pistons/76ers contest.
We'll get to that in a minute, but it had me thinking: Who is actually winning this battle? And how should we judge it?
Behold: The NBA Scwarboard, a universal utility to determine the winner of any individual basketball conflict.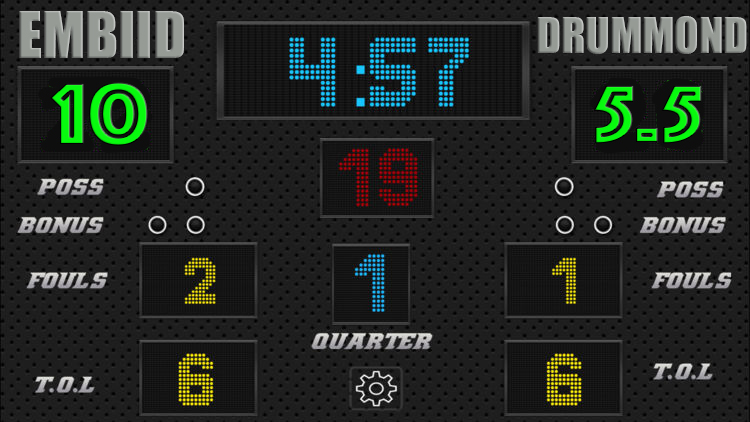 Here is how the points are assigned and how past, present, and future beefs will be judged:
5 points
For the player who ever receives a regular season or Finals MVP trophy
4 points
For every head-to-head playoff series win
3 points
For every time one player either posterizes or reverse posterizes (block at rim) the other
For every time one player crosses up the other and makes him fall
2 points
For every time one player gets the other ejected from the game
1 point
For every regular season head-to-head victory
For every social media owning delivered
For every time you personally foul your rival out of the game
0.5 points
For every head-to-head individual box score statistic (PTS/REB/AST/STL/BLK) between the players
---
Let's get down to business…
Embiid holds a 4-to-1 wins advantage over Drummond in their five head-to-head matchups.
Score update:
Embiid: 4
Drummond: 1
In regards to individual statistics when their two teams play each other, Embiid leads in:
Points (30.0 vs. 12.0)
Blocks (1.2 vs. 1.0)
And Drummond leads in:
Rebounds (11.6 vs. 11.2)
Assists (3.0 vs. 1.6)
Steals (2.6 vs. 0.6)
Score update:
Embiid: 5
Drummond: 2.5
In their first match up of the season, the 76ers star morphed into his flopping alter ego 'Troell Embiid' and triggered Drummond into getting himself ejected.
Score update:
Embiid: 7
Drummond 2.5
When we scour the internet for any digital footprints of getting owned, it may surprise you to learn Drummond actually has the advantage despite Embiid's Saturday avalanche:
Drummond's counter punches:
Score update:
Embiid: 9
Drummond: 5.5
And then there was the time Embiid drew Drummond's sixth foul and directed him off the court
Score update:
Embiid: 10
Drummond: 5.5
Embiid's got the lead for now, but all it takes is one good soul-harvesting dunk by Dre, him posting the video to Twitter with a clown face/coffin emoji, and he's right back in it.
The best part about all of this is we only have to wait until Dec. 7 for the rematch in Philadelphia — oh and by the way, they play each other again in Detroit three days later.
All of this disrespect is going to escalate at some point. It has to.
We haven't even mentioned Ben Simmons and Blake Griffin going at it like Menelaus and Paris fighting over Helen Kendall Jenner of Troy.
Zaza is lurking in the shadows too? This is a legitimate WWE pay-per-view card.
I'm not going to suggest any further course of action by the players or fan bases because I don't want to get fired, but I will say this — if the two don't make peace soon … the pungent, beguiling scent of malice is going to be in the Detroit air on Dec. 10.
How would you rate this article?