Kawhi to the Raptors? Toronto Now the Unexpected Favorite to Land Leonard
Credit:
Soobum Im-USA TODAY Sports. Pictured: Kawhi Leonard
The Toronto Raptors (+250 betting odds) are now the favorite to land Spurs forward Kawhi Leonard this offseason.
The Los Angeles Lakers (+300) and San Antonio Spurs (+450) are the next most likely NBA franchises to have Leonard on the roster to start the season.
The odds movement could mean nothing: Before the draft, we saw something similar with the Kawhi and the Suns.
Kawhi Leonard trade prop odds are on the move.
Mysteriously on Thursday morning, Toronto shifted to be the favorite to land the All-Star Spur.
The full odds rundown (a $100 bet on +250 odds would win you $250, as an example):
Raptors: +250
Lakers: +300
Spurs: +450
Clippers: +700
Celtics: +800
76ers: +800
Rockets: +1000
Suns: +1000
Knicks: +1200
Kings: +2000
Cavaliers: +2500
Heat: +3300
Trail Blazers: +3300
Toronto was casually mentioned as a landing spot for Kawhi by Zach Lowe on his ESPN podcast last week, but it was more as a hypothetical option. The Raptors have continued to be discussed in speculation based on their need to shake up the roster after yet another disappointing playoff run, their available picks (all their own) and the presence of a star salary to send back in either Kyle Lowry or DeMar DeRozan.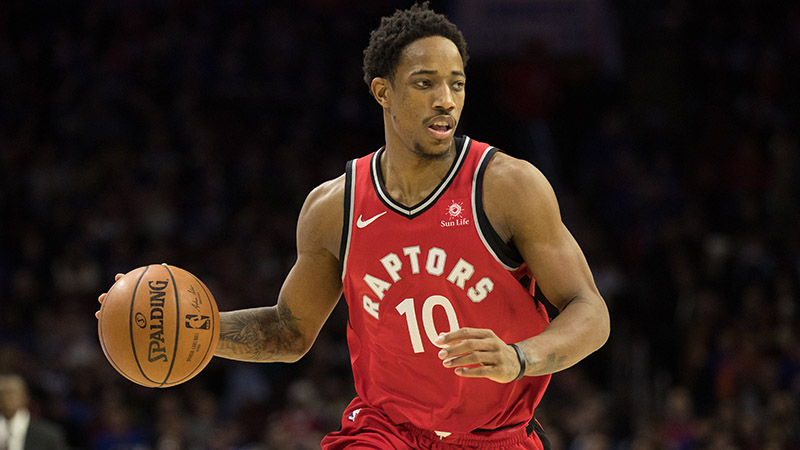 Bill Streicher-USA TODAY Sports. Pictured: DeMar DeRozan
The Spurs trading Leonard for DeRozan along with picks and young assets would be quite the plot twist. It would send Leonard East and hurt the Lakers in that respect, opening the door for Toronto to talk him into re-signing next summer. Plus, DeRozan is still in his prime and showed better playmaking skills than ever.
It would also be doubling down on the Spurs' chosen approach of grind-it-out mid-range basketball with LaMarcus Aldridge. The Spurs' spacing would be nearly nonexistent.
Also, the Raptors would have to attach other assets — OG Anunoby would likely be a sticking point much the same way Brandon Ingram is with the Lakers — just to have a chance at re-signing Leonard, who would scuttle the Raptors for a long time if he walks. But if the picks weren't terribly exposed, it would enable a faster cap-clearing for Masai Ujiri to spark a rebuild.
One thing to keep in mind with all of this: The week before the draft, the Suns' odds to snag Kawhi spiked. There were rumblings around the league about a potential deal, which seemed to indicate that something was afoot. Nothing came of it. Leonard is not now, nor will he likely ever be, a Phoenix Sun.
In general, odds move more based on action coming in than on internal intel. If a bettor who has shown sharp knowledge before puts a wager down on one side, oddsmakers take note. It doesn't mean the bet is guaranteed to win; it just means the books respect the bettor enough to adjust the numbers.
Additionally, the fact that it moved at multiple shops may only be books adjusting their odds relative to the market.
It's enough to keep an eye on things and definitely indicates something happened to spark the movement. There's just no clear signal — at least yet — that it was based on real trade movement.
How would you rate this article?