Kawhi to the Raptors: How Much Does Trade Change Eastern Conference Race?
Credit:
Soobum Im-USA TODAY Sports. Pictured: Kawhi Leonard
The Raptors' trade for Kawhi Leonard improves their ceiling, but Toronto's 4-1 odds to win the East feel a little short for a team with a shaky playoff identity.
The Celtics (4-5) deserve to be the odds-on favorite to win the East and their early win total of 58.5 seems soft.
Looking for a longshot? The Pacers and Bucks (both 18-1 to win the East) aren't all that far away from the new-look Raptors or 76ers.
So, that happened fast.
Kawhi Leonard is headed to the Raptors in a four-player deal centered upon DeMar DeRozan, according to multiple reports, and the long Kawhi saga in San Antonio is over and a new one begins with The North. This deal is fascinating for all sides. Let's break down what this means for the Eastern Conference championship futures bets, courtesy of the Westgate Las Vegas SuperBook.
---
Toronto Raptors
Current Odds: 4-1
Former Odds: 7-1
Raptors team president Masai Ujiri did a pretty great job here. After the Raptors lost to the Cavaliers in 2017, Ujiri felt like he had to double down. He re-signed Serge Ibaka and Kyle Lowry, but put them on short-term, big-money deals. Those contracts were set to coincide with the expiration of DeRozan's deal, enabling a potential rebuild. Then last season happened. The Raptors were different. They were better. They were more balanced and more efficient and less reliant on DeRozan.
The end result was the same, a pitiful, disheartening sweep to LeBron James. The center could not hold. Changes had to be made. So they let Dwane Casey go. And now, Ujiri has done what he always does in these situations: he's split the difference.
In Denver, when forced to trade Carmelo Anthony, he acquired movable players on short-term deals and picks. If that team had struggled, he could have cleared the decks for a true rebuild. Instead, the Nuggets wound up making the playoffs twice before the rise of the Warriors scuttled the team, and Ujiri left for a better position with Toronto.
When he took over the Raptors, he moved Rudy Gay in what looked like a potential start to a rebuild, but the combo of DeRozan and Lowry took off in what became the most successful stretch in franchise history.
Download The Action Network App to get real-time odds and track all of your bets.
Now he's done the same. If this works out, Ujiri might have put the pieces together for a Finals run with Leonard as the tip of the spear without having to give up any of Toronto's key young players such as OG Anunoby or Pascal Siakam. They maintain great bench depth (although losing Jakob Poeltl hurts).
If the Raptors make a Finals appearance, it will be the first in franchise history and a great season. If that convinces Leonard to re-sign, the Raptors will have extended their window in the East indefinitely, all with LeBron James now playing under the Warriors' thumb in California.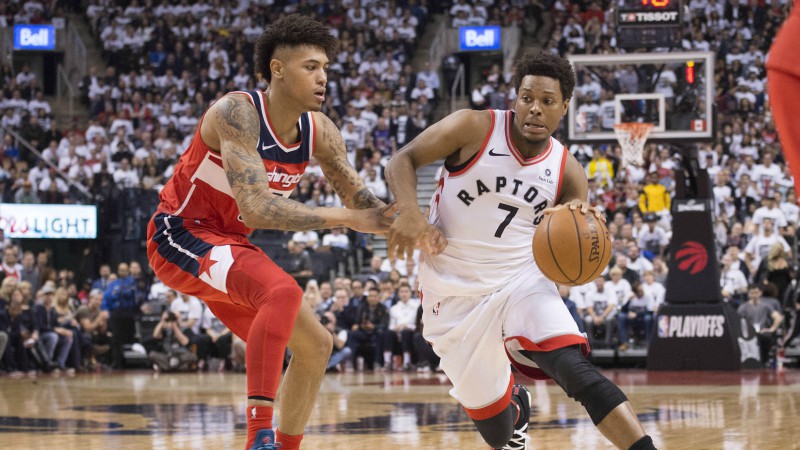 Nick Turchiaro-USA TODAY Sports. Pictured: Kyle Lowry
If Leonard leaves? The Raptors are still in a great position. They lose their 2019 pick, most likely, given its top-20 protection. Toronto can then pivot to a hard rebuild, and look to package Lowry and some young talent for a first-rounder if need be. If the whole thing blows up, the Raptors keep their pick and lose two second-rounders the next year, and they likely flip Leonard at the deadline for something small in return. They have outs.
Now, as far as those 4-1 odds … go slowly. Toronto has the best bench, but Ibaka was a disaster in the playoffs for the most part and Lowry showed signs of slippage. He recovered with good numbers later in the year, but there are indications that age is catching up with him at 32.
And don't forget about Leonard's injury risk. I'm not entirely sold that the injury was as big of a concern as it has been made out to be. This reeks of Kawhi's uncle/agent trying to use the injury as a means to get him out of San Antonio. But there's enough smoke to believe that Leonard could have lingering issues.
Toronto's playoff identity is still shaky. You have a first-time head coach trying to deal with an All-Star in Lowry who just saw his best friend traded, and a star in Leonard who's notoriously difficult to reach and reportedly is outright against playing in Toronto.
On top of all that, the Celtics have a phalanx of defenders to throw at Leonard ("LeBron Stopper" Marcus Morris, Jaylen Brown and Jayson Tatum). The Sixers have Ben Simmons and Dario Saric.
Sign up for The Action Network's daily newsletter to the best sports betting content delivered into your inbox each morning.
There's upside here, and if Leonard gets to Toronto, realizes he really likes it and embraces the situation, the Raptors could take off. Leonard is basically DeRozan, just way better in every way. Leonard is a better isolation scorer, a better playmaker, a better defender, better in the open floor. If he fits, the Raptors could cook.
But at 4-1, there's honestly not enough payoff. Their early win total has them at 58 wins, and given the wide range of outcomes for a perilous trade, the under is a hard take.
---
Boston Celtics
Current Odds: 4-5
Former Odds: 5-8
Getting worse-than-even odds on the Celtics to win the East feels tough when Leonard just got sent to a division rival. But remember: The Celtics are adding two All-Stars in Kyrie Irving and Gordon Hayward to a team that was one win away from the Finals and was the No. 1 seed for most of the season.
Boston has the ability to match up with the Raptors, and Toronto's best guard (Lowry) isn't as good (due to age) as Boston's (Kyrie).

Pictured: Jayson Tatum and Jaylen Brown: Photo credit: Greg M. Cooper-USA TODAY Sports
The Celtics can switch more easily with their guards and wings and punish switches on the other end. Lowry against big wings who can score such as Tatum, or Al Horford, is a disaster.
Boston, meanwhile, will be happy to put Irving on Ibaka or Jonas Valanciunas and dare Toronto to win with those guys.
The Celtics deserve to be the favorites, and their 58.5 early win total still seems soft.
---
Philadelphia 76ers
Current Odds: 5-2
Former Odds: 2-1
This is not the one, either. The Sixers' upside remains tremendous. Joel Embiid will be better, Simmons will be better. But it cannot be overstated how much this team lets its mouth get ahead of itself. The Sixers went on that late-season winning streak behind Marco Belinelli's shooting and started to buy into their hype after beating Miami in a series that was closer than it seemed.
Boston didn't just handle them; the Celtics tore them to pieces. Embiid in particular really struggled with Horford. Simmons' lack of a jump shot won't be resolved in a single season, and every team will scheme against the Sixers the way Boston did in that series.
With the injury concerns about Embiid, not knowing what Markelle Fultz is going to look like and an inconsistent bench that lost two key veteran contributors in Belinelli and Ersan Ilyasova, this isn't the number to get them at.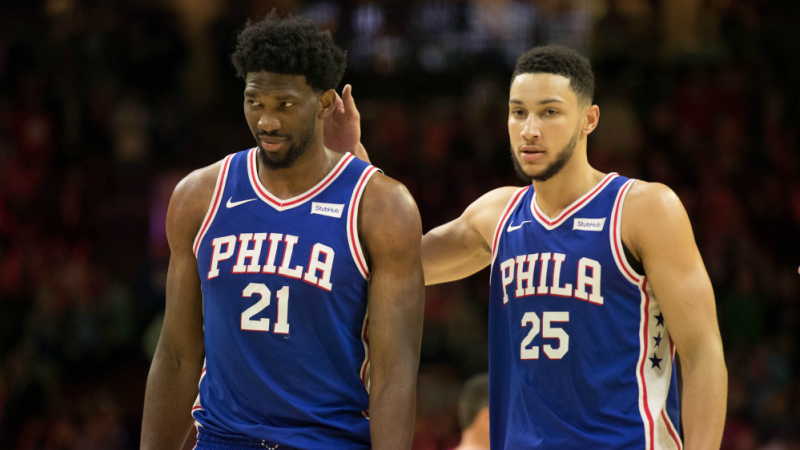 Bill Streicher-USA TODAY Sports. Pictured: Joel Embiid and Ben Simmons
---
THE LONGSHOTS
Indiana Pacers and Milwaukee Bucks
Current odds: 18-1
This number is pretty great. The Bucks have an awesome coach in Mike Budenholzer, who suffered from the same malady that plagued Casey: couldn't beat LeBron. But with a roster that is now underrated when you evaluate career-long skill level, and the best player in the Eastern Conference, Giannis Antetokounmpo, this is a great number to invest in the Bucks. Budenholzer is three years removed from coaching a Hawks team that finished first in the East.
The Pacers put up the best fight vs. LeBron & Co. last season. They had the Cavs more on their heels and on the brink than Boston did. Victor Oladipo should be even better, and they bolstered their bench with shooting from Doug McDermott and playmaking from Tyreke Evans.
Indiana winning the East would be wild, but if you're looking for a longshot, neither of these teams is that far away from the new Kawhi Raptors or Philly.