A Plea to the New York Knicks: Go Get Kenny Atkinson
Credit:
Mitchell Leff/Getty Images. Pictured: Head coach Kenny Atkinson and the Brooklyn Nets have mutually agreed to part ways.
Kenny Atkinson just got the "it's not you, it's me" excuse from the Brooklyn Nets — the easy way out, zero closure explanation used to end a relationship one party is no longer interested in.
Without having any prior knowledge of the Nets' internal front office discussions, you have to think Saturday morning's news came as a shock to Atkinson.
How could it not?
In 2016, he took over a Nets team that had just gone 38-44 and 21-61 in the two previous seasons. It wasn't just the record either. At the time, this franchise had withdrawn every ATM cash advance available to it, ran up debt on its credit cards, liquidated its 401K, and taken the kid's college funds to the poker table in hopes of hitting it big.
Every asset they had for the next decade was called to arms and included in the notorious "the city is under new management" trade which brought Kevin Garnett, Paul Pierce, and Jason Terry to Brooklyn from the Boston Celtics. It completely failed. I mean it Davey Scatino and Ramsey Sports & Outdoors from The Sopranos failed, and on top of paying the NBA mafia back for their impulsive decisions — the Nets were stuck not only without good players, but a without a real future.
---
Love betting the NBA? Check out PointsBet, where Action Network users can access an exclusive promotion to get a 200% deposit match (deposit $50, bet with $150). No strings attached. No rollover required.
---
Enter General Manager Sean Marks, who within two 20-62 and 28-54 seasons, had the Nets roster restocked with valuable young players, draft assets, and hope. Atkinson spearheaded the revolution, extracting maximum effort out of his players every single night. It didn't even matter if they won or lost during the 2016-2018 seasons, you knew they had something cooking.
It made me jealous, honestly, that my favorite team's biggest rival could swing and miss so laughably and yet recover so quickly. Within two years, the Nets were back in the playoffs with a roster of players that a random person walking the streets of Manhattan couldn't identify. Atkinson had a system and style the players believed in, which leads to today's news.
How did this happen? The public statements provide no clarity:
I am extremely grateful to Kenny Atkinson for what he's done for our franchise over the years. If we did not have him, we would not be where we are with promising young guys still improving. All the best Kenny.

— Joe Tsai (@joetsai1999) March 7, 2020
Remember when Durant gave his Nets introductory press conference?
I was doing a lot of YouTube research on Kenny Atkinson, and watching interviews and seeing how he talked about the game. And I really liked his approach to his craft as a coach, and that's what drew me in pretty quickly … I guess [Atkinson] always had the leg up … From when he walked in the room in free agency, it's a different vibe, it's a different aura. He's going to help all of us get better, including coaches. Already, we've had great conversations.
So if there were sentiments he had "lost the locker room", you know exactly who everyone is going to run and blame for ruining the chemistry the Nets had built over the past four seasons …
The Brooklyn Nets and Kenny Atkinson have mutually agreed to part ways. I'm told the decision was made yesterday and that "some of the players wanted him gone."
▪️
Let me make something clear: Kenny Atkinson is the… https://t.co/kMgcOT9Tvz

— Anthony Puccio (@APOOCH) March 7, 2020
… Kyrie Irving.
While he will certainly bear the burden of jokes on Twitter, going through seven different head coaches now in nine NBA seasons, it's not fair to do so without context or knowledge of what actually happened. There could have actually been a divide in the locker room, as reported, or, for all we know, this could have been an agency power play by Kevin Durant's business partner Rich Kleinman to get Mark Jackson into the position of power upon KD's return.
Just last month Kleinman praised Jackson in an interview with SNY's Ian Begley:
Jackson is, to me, just one of those unique individuals that knows how to lead people, that knows how to inspire people. He's got a personality that demands a certain level of attention. And I think it's unfair that he hasn't gotten a shot in the league, but I'm confident that he will.
The truth will leak at some point because wherever there is smoke, there's fire — especially in today's NBA. Former key Nets players, who were essential to the franchise's turnaround, are already reacting as if there is more to be known behind the curtain:
But that's a conversation for another day.
So what's next for Atkinson? He is well-respected across the league, will be in extremely high-demand once he's free to negotiate with other teams, and has a track record of success.
Before leading the Nets' turnaround, he was an assistant coach on Mike Budenholzer's Hawks teams, which not only won 60 games at one-point during a four-year playoff run with him on the staff, but competed against LeBron James in the Eastern Conference Finals.
Before that? Mike D'Antoni's New York Knicks. Remember that fun, young, small-ball, nothing-to-lose Knicks roster from 2010 (you know, Danillo Gallinari, Timofey Mozgov, Landry Fields, Shawne Williams, Raymond Felton, etc.) before they traded the everything for Carmelo Anthony? The one that had people considering Amare Stoudemire as an MVP candidate for half of a season? Those were Atkinson's Knicks.
Everywhere he goes, he makes the most of nothing — whether it's his name at the top of the masthead or not.
Which brings me to my plea, not just for myself but on behalf of many distraught Knicks fans out there: Bring Kenny Atkinson home and make him the next head coach of the franchise.
With all due respect to Mike Miller and his accomplishments with the 2020 team thus far (you always know something negative is coming after 'with all due respect'), Atkinson is in another class when it comes to being the face of a rebuild. Knicks fans would surely love to see Miller remain with the Knicks franchise in some capacity, maybe as the lead assistant or consultant of some kind, but Atkinson is the man for this job … not some big-name agency suit like Tom Thibodeau or Mark Jackson. There is a time and place for these types of coaches, and at the peak of a rebuild is certainly not it.
Ever since Mike Woodson and the franchise parted ways, the Knicks have participated in this circle of life where they hire a big name to be their coach or lead the front office, the first year is a honeymoon, the second year the team shows no signs of improvement, the big name leaves the organization and cashes in a severance check so large that they can retire on-the-spot or just go to ESPN/TNT to do TV until they get bored, and the process repeats itself.
Jeff Hornacek, David Fizdale, Derek Fisher, Phil Jackson, Leon Rose, Penny Hardaway, Steve Francis, Tracy McGrady, Stephon Marbury, Amare Stoudemire, Joakim Noah … see a trend here? Why are the Knicks ALWAYS former stars' last stop? Why are the Knicks always five years too late?
The Knicks can't get out of their own way, and while it starts and ends at the top with ownership who, to its credit, is willing to buy its way out of every problem — throwing money at things does only that: it ends problems, it doesn't fix the root.
This is their opportunity to change that. To be two steps ahead instead of four behind for once.
Atkinson has not only proved he doesn't need nine digits in his bank account to be successful, he has already done it for these same Knicks! This roster, as currently constructed, isn't winning a title for many, many, many years.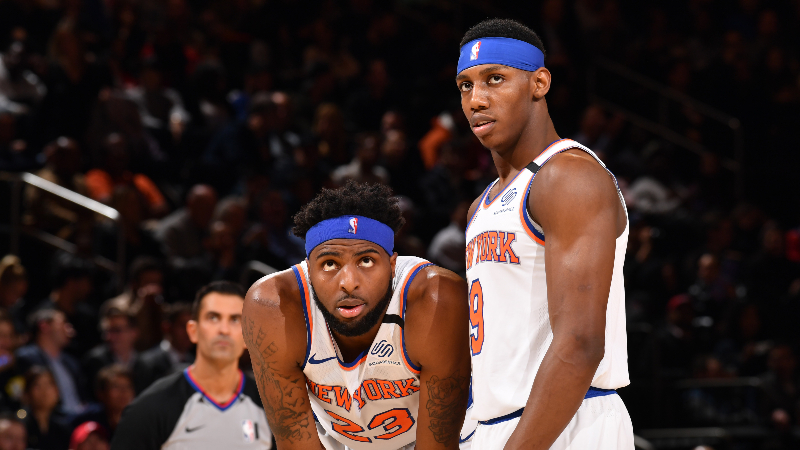 The four potential cornerstone pieces of the franchise's future (RJ Barrett, Mitchell Robinson, Kevin Knox, Frank Ntilikina) are all 21 years old or younger. The team has seven first-round draft picks coming in the next four seasons and a salary cap devoid of any long-term liabilities or albatross holds. There is no better buy-low opportunity in the NBA right now.
The rest of the world loves to laugh at the Knicks for their repeated transgressions, but in all honestly, the franchise's flexibility is in a place that the fans have been begging for since the exit of Anthony. They're playing the long game for once instead of dumping out a giant duffle bag of cash to the first washed All-Star they see and letting him do snow angels in it. The coaching hire needs to reflect this renovation sentiment.
But this is the Dolan's Knicks we're talking about. Keyword: Dolan. If something makes too much sense to happen, it's only a matter of time until they mess it up. Who knows how this will all play out, but if they're are able to acquire Atkinson's services — maybe Kyrie and KD would have actually helped New York turn things around after all.
How would you rate this article?