What Game 3 Odds Would Be If Kevin Durant, Klay Thompson Both Play
Credit:
Photo credit: Wendell Cruz-USA TODAY Sports. Pictured: Klay Thompson and Kevin Durant
The statuses of Klay Thompson and Kevin Durant are both uncertain heading into Game 3 of the NBA Finals.
Does the current Warriors -6 spread already account for that? If so, what are books projecting? Where would the line be if both played?
We talked to Ed Salmons, Race and Sports Assistant Manager at Westgate Las Vegas SuperBook, to get his thoughts.
The Warriors have closed as 2-point underdogs the first two games of the NBA Finals. But then in Game 3, with a lot of injury news still unconfirmed, they opened at -5.5 and have already moved to -6 for Wednesday night's game as of writing (see live odds here).
With all of the uncertainty, it's fair to question exactly what's going into that opening line. Are sportsbooks expecting Klay Thompson to suit up and be his usual self? What about Kevin Durant, who has yet to practice with the team but hasn't been ruled out for a Game 3 return?
To get a sense of the betting market, we reached out to Ed Salmons, the Race and Sports Assistant Manager at Westgate Las Vegas SuperBook, to ask a couple of questions. Let's run through how he answered three key questions we asked, then analyze each.
On If Klay Thompson's Injury Is Factored into Odds
The Action Network: "Was the opening number of -5.5 assuming Klay Thompson would play in Game 3?"
Ed Salmons: "The line is based on Klay Thompson playing, but it's hard to believe he's 100% and [will] be able to cut and do all the things he's normally capable of."
Analysis: The metrics with and without Klay Thompson have been counterintuitive all season long.
During the regular season, the Warriors were 3.1 points worse with Klay playing vs. on the bench. They obviously shot the ball better, but their offensive rebound rate and foul rate both dropped significantly. That's probably not on Klay, but the stats in the playoffs are also interesting.
During the playoffs as a whole, here's how the Warriors have fared:
Warriors with Klay on court: +1.1 Net Rating
Warriors with Klay off court: +17.1 Net Rating
During the Finals, they've posted a -3.6 Net Rating with him on the floor vs. a -3.8 mark with him on the bench.
That likely understates Klay's importance to this Game 3, however, as his absence — or possible limitations — would be felt more when the Warriors' bad bench players are moved into playing against Raptors starters.
Further, Klay is often tasked with keeping bench units afloat, which drags down his plus-minus numbers. For reference, the unit of Quinn Cook-Shaun Livingston-Klay-Jonas Jerebko-Jordan Bell have posted a -27.8 Net Rating in 37 minutes in the playoffs. When the Warriors starters have been off the floor — and that includes Klay, even if he's often the statistical sacrificial lamb — bad things have happened.
On What Odds Would Be with Thompson and Kevin Durant
TAN: "Where would this line have opened if we knew both Klay and Kevin Durant were playing?"
Salmons: "If both KD and Klay were 100%, the line would be closer to 8.5/9, but even if they are playing they won't be fully healthy, so I don't think we'll see that for the rest of the playoffs."
Analysis: This gets to the crux of the question for betting Game 3.
Put simply: A bet on either side is a bet on the status and health of both Klay and Durant. If Durant is out and Klay is limited, there's likely value on the Raptors at +6; if both play, it'll likely move a bit higher.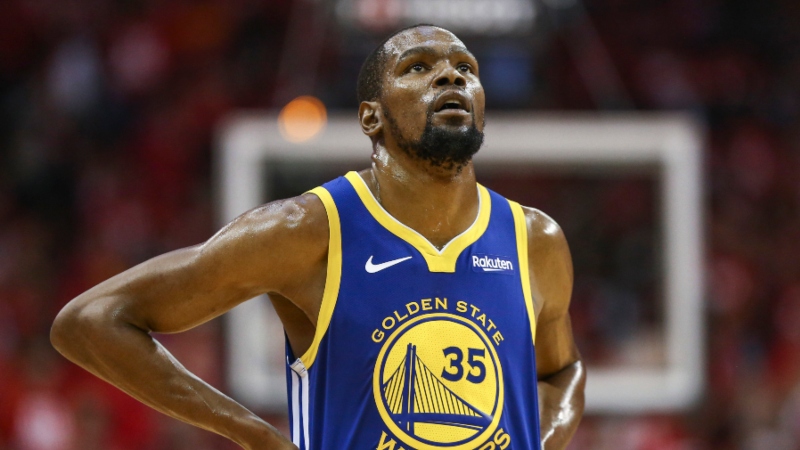 The most popular debate on social media right now is Durant's importance to this team; we've written about it ad nauseam as well. Those who thought he was incredibly important were validated in Game 1, but then those who thought his value was overrated were validated in Game 2.
It's obviously not a black and white issue.
Yes, he would be more valuable on another team. But he's also uniquely valuable in this series, in which the Warriors are playing probably the best defensive team they've faced in the playoffs over their reign. In a world where Stephen Curry was put in a box-and-1 in an NBA Finals game — which speaks to Klay's importance, too — Durant is certainly valuable, even if it's just limiting the minutes of the bench guys.
But even that undersells the value of a healthy Durant against these Raptors. And it's not just offensively, either: He's likely the best defensive option given his athleticism and length on Kawhi Leonard, who is already shouldering an enormous offensive load.
On the Uncertainty around Durant
Salmons: "I can't imagine Durant is playing Wednesday, and I'm surprised the line is this high and maybe someone knows something about KD being able to play."
Analysis: As of now, we don't know anything about Durant, other than head coach Steve Kerr said Durant would need a full practice before he played in a game.
We'll know whether he practiced on Tuesday, but by that point, the value could be gone in the spread.
How would you rate this article?