Wob: My 7 Stages of Grief After the Porzingis Trade
Credit:
Brad Penner-USA TODAY Sports. Pictured: A fan holds up a sign referencing now former New York Knicks player Kristaps Porzingis before the first round of the 2017 NBA Draft.
January 31, 2019 will go down as one of the most shocking days in Knicks history as fans were blindsided by Kristaps Porzingis' trade to the Dallas Mavericks.
Rob Perez takes us through the highs and lows he experienced during one of the wildest trades in Knicks history.
Stage 1: SHOCK
I remember it like it was yesterday.
NBA Draft night 2017. News drops out of the clouds like the riders of the apocalypse that the New York Knicks … my New York Knicks … were on the verge of trading 7'3" phenom, savior of the Mecca, and leader of the rebellion against years of apathy and irrelevance, to the Phoenix Suns for bag of Cheetos, Josh Jackson and some Funyuns considerations.
All because Porzingis and Phil Jackson's Cold War had supposedly reached a point of no return after he skipped his season exit interview, or so we were told. Who knows, honestly, but this is all par for the course when you're talking about this team.
I have been a die-hard Knicks fans since the early 90's — the glory days of John Starks walking across the floor at Market Square Arena to dap up Spike Lee before going back home for Game 7 — I wasn't going to let the best thing happen to this franchise in a long time just go away for nothing.
So my former employer and I had an idea.
So original, I know. Well guess what? They didn't trade Porzingis, so I'm going to tell everyone for the remainder of time that this actually worked.
Stage 2: DENIAL
Speaking of 'time', Draft Night 2017 was a different era for the New York Knicks. Carmelo Anthony was on the verge of being traded. They were drowning in mediocrity with no buoy in sight.
They, ironically, drafted Frank Ntilikina instead of Dennis Smith Jr. No matter what the Knicks did, said, or traded for, as long as Porzingis was on the team, all roads led somewhere.
We didn't even know where, and it didn't matter because that's what we believed: somewhere was better than nowhere. He was that good — that a glimmer of light at the end of the tunnel was still blinding.
I alluded to this in my apology to the city of Philadelphia, but it rings true now more than ever. In 2017, we could all agree if you have one of five players on your team (LeBron, Durant, Curry, Harden, Davis) you had a legitimate chance to win the NBA Championship. The players in waiting to join this exclusive club, were Giannis Antetokounmpo, Kawhi Leonard, Porzingis, Karl-Anthony Towns, and Joel Embiid.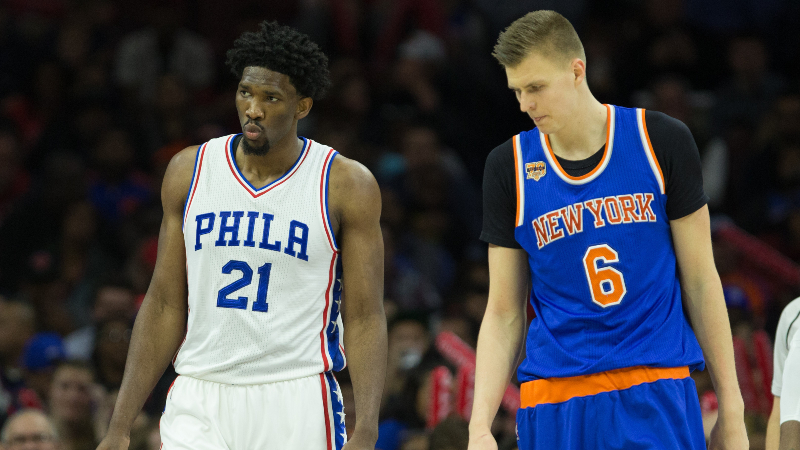 For two years, Knicks fans and 76ers fans fought trench warfare to get our respective weapons to the superstar plateau first. Knicks fans couldn't help but feel like we were in the lead. Embiid had played fewer games than Greg Oden three years into his career. Your precious process was laughable to us as long as we had a healthy Porzingis.
They took Jahlil Okafor instead of him, we were in a position to unleash hell for the rest of eternity. It made me cocky as hell despite the Knicks not winning shit. The 76ers catching Ls every night, Embiid always being hurt, and this #TrustTheProcess movement was all we needed. Porzingis was what Embiid was supposed to be.
But then everything changed.
Stage 3: ANGER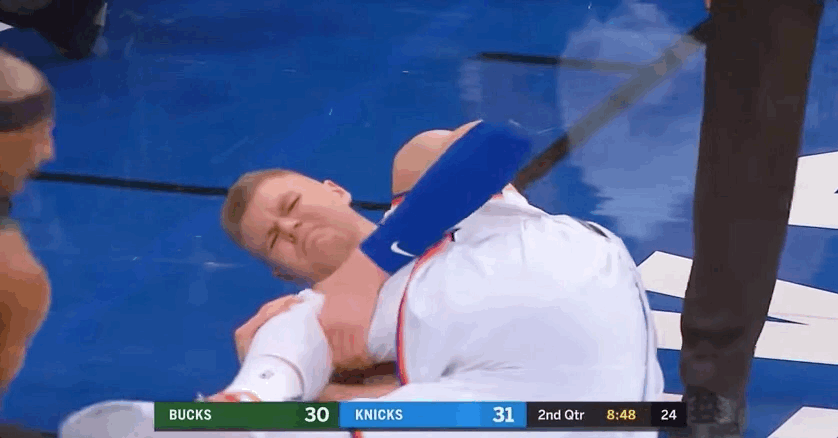 All of the memories, all the hope, all the mixtapes, all the memes fueling our engines through the losses — poof. Gone.
As Kristaps' lengthy recovery began, there was nothing to do but watch every Luka Doncic stepback/Zion Williamson dunk and hope the lottery balls fell our way to pair these generational superstars with Porzingis when he returned.
That same dream continued to this very day, until Woj went full Varys from Game of Thrones and transcribed his little birds' message to the world:
At first glance, this smelled funky. Let's start by addressing who was probably in the room of this meeting (complete guess, no actual information here)
Kristaps Porzingis
Janis Porzingis (his brother/agent)
Steve Mills (Knicks President)
Scott Perry (Knicks GM)
David Fizdale
Who would inform Woj of the details of this closed door meeting?
Stage 4: BARGAINING
When you read that Porzingis "left the Knicks with the impression that he prefers to be traded" without any additional information provided at the time, you comprehend this as something similar to the trade demand Rich Paul just executed with Anthony Davis, but a little more cryptically so that they don't have to pay the $50,000 fine.
On the surface, it seemed like a ridiculous power play by Porzingis' representation to get him back on-the-court, whether with the Knicks or somewhere else, so that he could prove Kristaps was 100% healthy and cash in that max extension he would surely get this summer from someone.
But here's the thing, Porzingis has almost zero leverage to demand a trade. Unlike Davis, Kristaps is headed into restricted free agency where any offer sheet he signs can be matched by the team he's currently under contract with. Or, he could do the unthinkable…
Take the $4.4 million qualifying offer, leave nine figures on the table and bet on himself that he can prove he's still worth a max contract in 2020 when he'll be permitted to enter free agency completely unrestricted.
Porzingis' camp may have felt like they weren't going to get the big rookie extension if he didn't play, I don't know — I'm just hypothesizing here stick with me.
But then within an hour of the meeting news…
Wait a second blockbuster trades just don't happen out-of-nowhere.
Stage 5: DEPRESSION
Now vivid memories of the Knicks propaganda machine are beginning to circle like vultures.
Who actually leaked this?
Did the meeting even happen?
Rumor news rarely has no agenda behind it. Have we been bamboozled by the Knicks yet again? Have they been shopping Porzingis this entire time and wanted to make it look like he's the villain in all this? Was he the bad guy the entire time? Was this mutual? Every piece of news feels like it has sources with an agenda behind it.
I don't know what to believe or who to be mad at, and we're never going to know the truth. The Knicks have been operating at this level of KGB secrecy for decades. And honestly, it doesn't matter. It's not a rumor anymore because the trade is done.
So what now?
Stage 6: TESTING
Here's the good news for Knicks fans:
The books are clean. Hardaway Jr. and Courtney Lee's contracts, which have plagued the Knicks since the ink dried, are gone. The team will now have TWO max slots open to offer free agents this summer. The Kevin Durant/Kyrie Irving dream is alive.
All of those Dennis Smith Jr. dunks we had to watch and be jealous of are now going to happen inside Madison Square Garden in a home uniform. With nothing to lose, this man is going to put on a damn show.
The Knicks not only clear the books, they acquire a treasure chest of future picks
I mean, there's even technically a way for Porzingis to get back to New York if he really wanted:
Porzingis gets traded
Porzingis clears for cap space Durant
Porzingis takes qualifying offer from Mavs
Porzingis unrestricted free agent summer 2020
Porzingis re-signs with Knicks
Porzingis-Durant-Kyrie
Let us have this, man. It's still not over yet, technically, and what's the worst thing that happens: Kyrie and Durant don't sign? Then the trade is Dennis Smith Jr./2 first rounders/FULL salary cap cleansing for Porzingis who is threatening to take the qualifying offer even after the trade. Now that I think about it — it's not the end of the world.
It just always hurts getting dumped.
Stage 7: ACCEPTANCE
In all seriousness, though, We won't be able to judge who won this deal until the end of free agency this summer or whenever Kristaps' qualifying offer season expires, if he elects that route.
Either way, a couple two things are for sure:
The Mavericks are betting everything on Porzingis
The Knicks are betting everything on the summer of 2019
Both teams are all-in, but for basketball fans in New York, pray to God the decision today isn't a repeat of 2010 — or it will be Tobias Harris with his face on the World's Most Famous Arena for the next half decade.
How would you rate this article?