Moore: After Two Months, What Do We Really Know About the Lakers?
Credit:
Richard Mackson-USA TODAY Sports. Pictured: Los Angeles Lakers center Tyson Chandler (5), forward LeBron James (23) and forward Brandon Ingram (14).
The Lakers haven't played 25 games yet, but have made a season's worth of changes on both ends of the floor.
Matt Moore analyzes how the Lakers are evolving and what they could look like down the road.
We're a quarter of the way through the season and the Los Angeles Lakers are at once a complete mystery and very much the team we thought they were. There is no cohesive mission statement to be made about this team.
They are like mist, you can see them, but you can't grasp them to determine their exact makeup. I feel comfortable saying the following:
They are a good team, in that they are above average. Both their win-loss record and net rating reflect this.
They are a flawed team, and when they look bad, they look truly bad.
They have improved in areas where they started terribly and worsened where they started off well.
They have talent, but maybe not the most that their biggest fans would claim they do, which is normal. The issue is about the future and trying to determine what that looks like with their young pieces.
The veteran additions have, for the most part, been pretty good.
They may have serious issues with playoff matchups, but we are also a long way from that.
With that, let's try and make sense of a fascinating and bizarre Lakers team.
---
>> Sign up for The Action Network's daily newsletter to get the smartest NBA conversation delivered into your inbox each day.
---
LAKERS WIN PROFILE
Overall: 14-9
Vs. teams under .500: 8-4
Home record: 9-4
Division record: 3-0
Best wins: Nuggets, Jazz, Blazers (2X), Pacers
Worst losses: Magic (2X), Spurs
Those factors above are the ones I look the most at for trying to determine a playoff team. You win your home games, win your division games, win your games vs. bad teams, and you're going to make the playoffs.
The Lakers check off most of these boxes. Their most concerning number is their record vs. teams under .500, which speaks to their inconsistent nature.
But the teams they've lost to have also been teams like the Spurs and Rockets who should wind up over .500 by the end of the season, though the Magic may cancel that out.
The trick is you want single-digit losses to teams under .500. Since 2003, only nine teams have lost fewer than 10 games to teams under .500 and missed the playoffs. It's a tried and true recipe.
Entering Wednesday's games, the Lakers are two games back of the No. 1 spot in the Western conference after their horrendous start. While they are tied for the most home losses among the Western Conference's top-eight, they're still well above .500. That division mark also matters, especially if they wind up competing with the Clippers (and dare we say, Kings?) for seeding.
Their quality wins, particularly the two wins vs. the Trail Blazers after a disappointing opener, are promising. Their bad losses aren't really that bad; the Magic present a matchup issue and are a tough team if you let them hang.
All in all, I have to tell you, the Lakers are probably ahead of where we'd think they'd be at this point, given how tough their early season schedule was. They rebounded by not only winning games they should but doing so at a high level.
Tale of two teams
Here's the 10,000-foot view of the Lakers.
In October, they were super fast, super loose, with a tremendous offense and a horrible defense. They lost more games than they won. Then, after losing to the Raptors on Nov. 4, they changed things. They slowed things down, with their pace dropping from 106 before that game to 102 after, and they completely flipped the script.
Their defensive rating improved by 10 points from that point forward. They signed center Tyson Chandler, and that helped, but the numbers across the board with and without Chandler improved. Either way, it completely changed the identity of the team.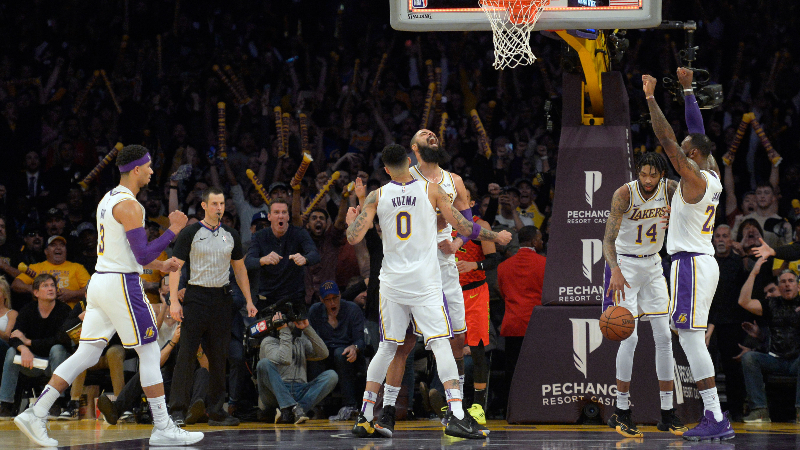 The offense also fell off the cliff.
They went from seventh in offense and 23rd in defense in the first month to 24th in offense and third in defense in November. They completely flipped their team identity, and that, combined with an incredibly easier schedule, essentially righted their season.
They actually produce more points per 100 possessions in fastbreak offense in losses than they do in wins. They're actually 17th in transition points per possession via Synergy Sports. They are, inherently, not a great transition team. They are great playing slow and grinding teams to dust. Who knew?
So the question now is, who can they be and who will they be? Will they fall back into old habits and try and push the ball as Luke Walton has prioritized? Will they adopt a, dare we say, gritty approach? Was this run smoke and mirrors vs. mediocre offenses? Who are they?
We still don't have those answers and they're going to determine a lot about L.A. going forward. If October was just early season struggles before they found themselves, then good times are ahead.
If November is the blip and they slide backward, they're going to be a team that can win or lose on any given night. The team is trending in the right direction, but you can also see all this as part of the issues that led to the famous reported berating from Magic Johnson about the offense.
Walton's pace-forward approach cost them defense and the team didn't have enough offense to compensate. Can their defense be so good as to allow their weak offense to give them just enough?
The elephant in the King's throne room 
LeBron James and Brandon Ingram are not playing well together. James scores more, assists more, rebounds more, and shoots better with Ingram on the bench.
Ingram's numbers are even more startling. He scores 33 points per 100 possessions with LeBron on the bench, compared to 19 points per 100 possessions with James on the floor.
That's to be expected with LeBron's high usage, except that Ingram shoots 55% with James on the bench compared to 44% alongside him, and 75% on 3s with James on the bench compared to 19% when they share the floor.
But hey, there are always adaptation issues and how the team performs is what matters. Except…
Net rating James-Ingram together: +0.1
Net rating James without Ingram: +4.5
Net rating Ingram without James: +10.9
There have been understandable moments of frustration from Ingram here and there. Playing with James means surrendering the ball almost completely and you're tasked with spreading the floor often. Ingram is impatient, insistent even, in how he plays, despite his efficiency not nearly living up to his athletic potential.
Ingram has shot just 36% on assist attempts off passes from James. James is averaging 0.7 assists per game to Ingram, the same number he's averaging to Lonzo Ball who is not billed as a shooter. To put that field goal percentage mark in context, Ingram is shooting 52% on all other shots that he takes.
Ingram has played angry for much of the year. Not just with his random explosion in the fight against Houston, but when he attacks he's often seemingly furious.
Ingram is in many ways proving to be an awkward fit in ways similar to how Dion Waiters was next to LeBron that first season back in Cleveland (although Ingram, doesn't have Waiters' particular attitude).
Next to James you want a player who can hit the spot-up shot quickly; Ingram is shooting 30.8% on catch-and-shoot shots this season, 21st percentile. You want guys who can cut and make things happen without the ball; Ingram has just 12 attempts off cuts this season.
He's most comfortable working with the ball in mid-range, that's where his game is at right now. He has moments where his ability to glide to the rim with his length shines:
And he's improving as a player working to get through contact and finish.
His playmaking shows promise, he just doesn't do stuff like this as often as you'd like:
But he's still slight and prone to being stonewalled.
He also tends to just lose his defensive assignment periodically for inexplicable reasons:
It's still early (and that has to be repeated often). But eventually, this is something that will have to be reckoned with. LeBron is on a four-year deal. The pressure to win will mount. Maybe they figure it out this year. If they don't, however, Ingram could be the one used to dangle in trade talks for another star.
However, my questions about Ingram from the summer remain, and the biggest one is crucial for any team looking at him as a centerpiece in a star deal: What exactly is Brandon Ingram great at?
Hart foundation 
In 2009, the Blazers were on the rise; a young, exciting team with hyped-up young talent in Brandon Roy and Greg Oden. What got lost, though, was how good LaMarcus Aldridge had become under the radar. Aldridge would go on to have the best career of the three, in part due to his ability to stay on the floor with injuries, but also because he was legitimately good.
That's Josh Hart. In the shadow of Ball who must be good because he's too big to fail and Brandon Ingram who is the player with the highest perceived ceiling (not to mention Kyle Kuzma), Hart has actually been the most impactful of the young players. He fits next to James perfectly; the Lakers have a plus-8.6 net rating with Hart next to James.
That number drops to a negative, minus-1.5, with James on the floor without Hart. Those differentials get even more extreme when the pairing is James and Lonzo Ball with and without Hart.
Hart plays hard, gives great effort on the defensive end, is springy and smooth, can shoot and runs the floor. He's the prototype of what you want with James.
He makes a real effort to disrupt plays and it translates to transition points, which remains a core element of what the Lakers want:
He's also a confident shooter, something you have to have on a team like this with so many creators. You need guys with confident triggers and good percentages:
It is entirely possible that the Lakers' best lineup is LeBron-Hart-Ingram-Kuzma-(Center), forgoing a point guard entirely. It puts multiple shooter-playmakers with better defense. Hart's the most promising part of this young season for them.
Twin towers
JaVale McGee has worked out about as well as anyone could have expected. Tyson Chandler has been just flat-out phenomenal. The Lakers' rim protection has been excellent.
McGee chases blocks less now, and chooses his spots better than he did when he was a space cadet in his early seasons. (The narrative that his only issues were the silly plays that wound up on "Shaqtin' a Fool" is false. He chased blocks like a kitten batting at a laser pointer.)
He maintains the space to prevent the lob to Mason Plumlee here and then rises up and annihilates this shot:
Chandler just remains such a presence. He's got just six blocks in 13 minutes, which is proof that blocks are wildly overrated as an indicator of defense at the rim.
Tyson Chandler comes up above the 3-point line almost to halfcourt to defend on this pick and roll, and he manages to stay with Damian Lillard and without blocking it, just his presence without fouling bothers Lillard:
Opponents are shooting 13-of-33 vs. Chandler at the rim this season; McGee's defensive numbers at the rim are similar.
One interesting note, though: JaVale McGee's defensive rating in October when the Lakers were awful defensively was 101.2. In November, when they went through that defensive revolution? It was 106.2, and 9.3 points worse than their defensive rating when he was on the bench.
That's a weird, and concerning trend.
Checking in with the King
I wrote on LeBron's MVP candidacy earlier this week. James is having a pretty standard late-career LeBron season. He's scoring the most points per game he has since 2010, but much of that is pace; it's the 10th-most points per 100 possessions he's scored in his career. His 3-point shooting has stabilized, he's shooting 36% or better for the third season in a row.
It's his lowest assist rate season since 2014, which makes sense when you see how badly most of the rest of the Lakers are shooting. It's a pretty normal rebounding season.
And he still very much does not care on defense most of the time. For the season, the team's defense has been basically the same with him on the bench as it has been with him on the floor. You see moments where he blocks something and it's an annihilation.
But there are also moments where he is not staying with shooters, over helping, and just doesn't bother to close out. There have been promising signs over the past month. Where his effort level is during the dog days in January and February is another question.
James has been open about how his defensive effort is part of his energy management, and that's understandable. But the fact that he's no longer an overwhelming defensive force does take away some of his impact.
LeBron is still LeBron, as well:
And that's kind of where we're at. It's not an exceptional LeBron year so far. It's not a worrisome LeBron year either. It's just a pretty normal LeBron year, which is always good, even if he's not noticeably better than he was in Cleveland the past two seasons.
The Lonzo Ball confusion 
You ever have something you just don't get that everyone else seems to understand?
Like a band that everyone loves that you don't dislike, but you also don't understand why people like it. Or a restaurant everyone raves about, and it's just fine, maybe a little overpriced. You're just baffled by the reaction to something you find mediocre.
That's me with Lonzo Ball.
It's not that there aren't good things. Ball's IQ does pop. He's a phenomenal rebounder. He's really good at the rim this season showing stuff like this:
They're also using stuff like this, having Ball set a high pick for LeBron, which winds up just causing mayhem:
But he's 33rd percentile shooting off the dribble at 37.8%. He's 22nd percentile on spot-ups, shooting 29% (41% eFG). His assists are predictably down — he is playing with LeBron after all.
But if he's not a guy who will rack up assists, where is his impact? The idea was that Ball would be a guy whose impact was felt in the plus-minus, that just by having his size, skill and IQ on the floor, the Lakers would be better.
That hasn't been the case. Often when you use these stats, and someone disagrees with them, it's about lack of context. That's why you have to find as many splits and variations as you can.
The Lakers are a minus-1.7 in net rating with Ball on the floor.
They are a +6.8 with him on the bench.
Their offense is worse by 3.3 points, their defense is worse by more than four points per 100 possessions.
OK, so it's who he plays with, right? Nope. LeBron has a better net rating with Ball on the bench. Same for Hart, Kuzma, McGee, Ingram, KCP, Chandler, and Stephenson. Those numbers are consistent from October to November, as well. No player has had the team's performance improve with Ball on the floor.
Additionally, in the combinations where he has a positive net rating, it's always small, by less than two points per 100 possessions. There aren't any real combos that pop.
OK, the box score doesn't pop, the impact stats don't pop, but what about his defense? Thats the go-to for his supporters to rave about. Well, not only is the Lakers' defensive rating with Ball on the floor as stated above, but he's 45th percentile defensively in individual defense per Synergy Sports. Opponents are shooting 52% with him on the floor this season and 48% with him on the bench.
The one area he is great is help defense. He has quick hands and such a good feel that he can cause mayhem and turnovers. The problem is what he gives up in open catch-and-shoot situations as a result.
Again, there are good plays. The issue is in how we talk about Ball. He's a young point guard working on figuring things out who can't shoot and who is adapting to a much lower usage rate next to a great player.
However, what you can't say, what there is no evidence for, is that he is a positive impact player for the Lakers. Maybe that changes. He was coming off a major injury for most of the early season and has looked more confident as time has gone on.
However, it's also important we stop overreacting to the inherent up and down nature of his game.
Ball shot 41% in October, and everyone who believes in his shot crowed. Well, he's 13-of-51 since. Ball will have good shooting months, he's not a zero at all times. Overall, though, we have way more evidence of his shot being an overall negative.
Ball isn't holding the Lakers back, or a problem that has to be solved. They don't need to trade him. However, if we're going to have an honest conversation about the Lakers, no matter how nice his fanciest passes are, we have to start realizing he's not an impact player for this team, at least not yet.
The upside is real
And yet, what if that changes? What if Ingram gets more comfortable with James? What if Hart continues to grow? What if Walton figures out more of their lineup issues?
The best thing about this season so far is how even for being an inconsistent and in many ways flawed, team, the Lakers are still pretty good. Their strength of schedule is abominable; after a tough start, they've faced the 22nd-ranked strength of schedule, league-wide, per Basketball-Reference. But they've also won in those games. That matters. As I said earlier, beating teams you should is a big deal.
The Lakers aren't a great team yet, but there are signs, there are flashes. Progress may not be linear, but it can be consistent over time.
The Lakers are trending in the right direction, and given how wild the difference in preseason prognostications were, from a title contender to possibly missing the playoffs, the outcome so far has been more positive than negative even if, as it always is with the Lakers, the successes are always overstated.