Wob: What's at Stake in Thursday's Lakers vs. Bucks Clash
Credit:
USA TODAY Sports. Pictured: Los Angeles Lakers forward LeBron James (23), Milwaukee Bucks Giannis Antetokounmpo (34).
In lead up to perhaps the biggest game so far of the 2019-20 season, Rob Perez (@WorldWideWob) breaks down exactly what's at stake for these teams, Giannis Antetokounmpo, LeBron James, Anthony Davis and more…
Basketball Royalty Succession
It happens only a few times in our lifetime — that moment when you know you just witnessed a passing of the torch.
Basketball royalty succession: when Magic Johnson retired Larry Bird and the Celtics dynasty for good, when Michael Jordan finally beat Magic in the Finals, when Kobe Bryant hit MJ with the patented post fadeaway, when LeBron James slapped the floor in isolation against Bryant in the All-Star game.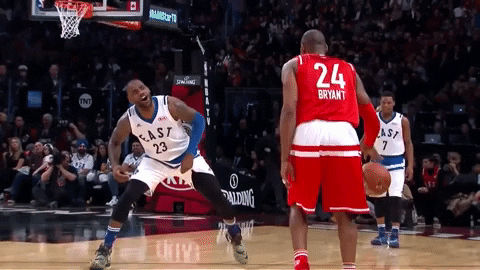 It doesn't necessarily have to be in the playoffs — it could be a dunk; a buzzer-beater; a chase-down block; a taunt; hell, even a postgame press conference. There are no rules — it's like love; you will know it when you see it. We all will.
With reigning Most Valuable Player Giannis Antetokounmpo charging up his basketball power like Godzilla before he unleashed nuclear Armageddon on Ghidorah while heading for yet another MVP award, we are rapidly approaching a torch pass juncture. The GIF we will share for the rest of time to illustrate when the NBA became Giannis' league.
But here's the difference between Thursday night's clash of the titans vs. years past: LeBron is still, somehow, in his prime with washedness nowhere in sight. A legitimate MVP contender himself.
If Giannis is going to stake his claim as the rightful heir to the consensus-best-player-in-the-world throne tonight, he is going to have to beat James at his very best and single-handedly take the crown off his head. A tall task, but one that if completed will be talked about forever.
The League's Best Team (So Far)
Other than the Knicks, no team hangs banners for regular-season wins. Unless it makes Mike Breen scream BANG twice or ends Wes Johnson's career on the spot, nobody speaks of these contests when it's time to discuss and determine superstar legacies.
However, when the Lakers undoubtedly prove they are the best team in the NBA — for the first time in nearly a decade — it's a big deal for no other reason than it's the Lakers. For nearly two months now, you can't go on social media without seeing a tweet in the neighborhood of "NBA ratings are down, the league is doomed."
Well, here's what every out-of-context tweeter failed to mention in their hypothesis: The NBA national television schedule is absolutely stacked with Los Angeles Lakers games in primetime moving forward, a national television schedule that no longer has to compete with NFL Thursday Night Football. It is going to feel like they are on every damn day by April. People will complain, and yet they will still watch every second.
Regarding the game vs. Milwaukee, if the Lakers lose, it doesn't really affect this prediction. However, if they win, every talk show on Earth will be leading with the Lakers that night, the following morning and probably for the rest of the season pending any sort of major injury or suspension to LeBron.
The narrative as the league's best team is at stake, and that narrative could be worth billions to the NBA if the Lakers are the ones to claim it.
The MVP Race
It has been a long time since we've had an MVP race with this many legitimate contenders. Luka Doncic, James Harden, Anthony Davis, LeBron James and Giannis Antetokounmpo can and might possibly will all receive first-place votes when it's time to submit the ballots in April. As for the final three names in that sentence, they get the opportunity to control the narrative against each other only twice all season.
April is a long way away, and despite the 'what have you done for me lately' recency bias having infected the mindsets of the 2019 human race like a biblical plague of Egypt, you can guaran-damn-tee whatever goes down at Fiserv Forum on Thursday will be remembered with equal value to anything that occurs for the remainder of the season. The magnitude of this game is that strong.
Also, since the MVP is a subjective, narrative-driven award, let's not forget one of the most vital factors for contenders to separate themselves from the field: the "holy shit" play. Similar to the succession discussed earlier, all MVP winners from the past two decades have one thing in common — a "holy shit, that's the MVP" moment.
Westbrook breaking Oscar's triple-double record. Shaq's 61-point, 23-rebound game. Steph Curry pulling from Norman, Oklahoma to win the game. They happen every year, and while LeBron/Giannis don't need to complete them against each other for it to apply — unlike in their war for the superstar supremacy crown — there is no better platform for it to be done than Bucks vs. Lakers.
NBA Finals Home Court
Hear me out. The Bucks and Lakers don't meet again until March 6. It will be the second and final meeting of the season.
In the event both teams finish with the same exact record and either Los Angeles or Milwaukee wins both matchups, the victor will have home-court advantage in a hypothetical Finals series.
The chances of an identical record happening AND both squads making it to the Finals are slim, but if the stars align — it will be this game we talk about as the crucial first step in fulfilling whatever prophecy awaits us.
The Chase For 74-8
rips shot of house tequila
If the Lakers leave Milwaukee with a W, they will be 25-4.
Closing out the season 57-4…
rips second shot of house tequila
…would eclipse the NBA's greatest regular-season team achievement of all-time: a 73-9 record which every single person on Earth swore would never be beaten again after witnessing what the 2016 Warriors had to go through to get it.
It's still way too early to seriously have this conversation.
rips third shot of house tequila
It's still way too early to seriously have this conversation.
How would you rate this article?