Wob: LeBron Stopped Breaking the Free-Throw Rules and Everything Changed … For Now
Credit:
John Glaser-USA TODAY Sports. Pictured: LeBron James
While LeBron James has never been a savant at the free-throw line, his near-75% career mark hasn't raised too many red flags.
But his recent struggles, ignited by some lane-violation shenanigans, have raised the question: Can you teach an old dog new tricks?
It is no secret LeBron James has had issues sustaining success at the free throw line throughout his time in the NBA.
He's experimented with various methods of approach physically, technically, and mentally to no avail. If you haven't already, I encourage you to read Tom Haberstroh's ESPN: The Magazine piece on LeBron's struggle and the steps he took to remedy "the yips" during the 2016-17 campaign for further context.
Now, the term "remedy" is being used loosely here — as LeBron's current career free throw percentage sits at 73.8%. A number not poor enough for opponents to consider a "Hack-a-Shaq" strategy and a report card grade not nearly impressive enough to magnet onto the refrigerator.
It is just a number we live with because he's so damn good and can make up for his inefficiencies at the charity stripe in every other aspect of the game.
But in the 2018 Eastern Conference Semifinals — it happened.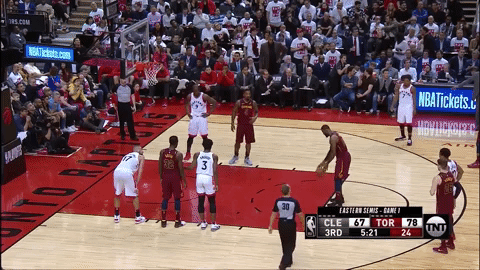 The lane violation.
LeBron had been falling forward and over the line at a noticeable rate. It's not anything unprecedented, a ton of players do this, but the difference here was that LeBron was doing it consistently before the ball reached the hoop — a clear violation per the NBA's rulebook:
The free throw shooter may not cross the plane of the free throw line until the ball touches the basket ring, backboard, or the free throw ends.
Despite the officials finally pulling LeBron over for this infraction, he got away with nothing more than a warning as he continued to commit violations, without penalty, throughout the Finals (illustrated by reddit user u/canadian1987):
As the current season began and the Lakers completed their first 18 contests, LeBron's free throw percentage was right on par with his career mark at 73.9% (102 made, 138 attempted).
However, during the 17th game, back in Cleveland for the first time since leaving the Cavaliers, James' habitual line-stepping was literally and figuratively broadcast to the world, as I pointed out the 11 lane violations committed that night.
ok so i, like many of you, am curious abt LeBron's erratic free throw shooting form this season (75% YTD though!)

it stood out to me tonight more than anytime this season

i went through all 12 (+1) of his attempts vs CLE, and you can see just how all over the place he really is pic.twitter.com/52Ogm0vYPo

— James Wobden (@WorldWideWob) November 22, 2018
What transpired next was a plot twist nobody saw coming. Just two nights later, in the same Quicken Loans Arena where LeBron had committed his 11 acts of sin, the Houston Rockets squared off against the Cleveland Cavaliers.
In the third quarter, their superstar and the reigning league MVP, James Harden, went to the line for two free throws and had his momentum carry him over the foul line almost identical to LeBron's process.
To the complete shock of Harden and everyone else representing the Rockets, he was assessed two straight lane violations and his free throw conversions were taken away.
Rockets fans were rightfully pissed off. Why was their guy penalized for this and not LeBron?
Four days after the Cleveland game, LeBron returned home to face the Orlando Magic. Like he has 9,495 times throughout his career, James attempted a free throw …
You'll notice here during the first of LeBron's two free throws, he steps over line again, misses, and no violation is assessed. Crew Chief Ken Mauer approaches him, acts like he's fixing something on the court with his shoe, and whispers something to James that solicits a reaction of arm-raising, inquiry, and possibly irritation.
As a part of my investigation, I reached out to the National Basketball Referee Association to confirm my belief that Mauer was warning LeBron about falling over the line and he would be enforcing the violation if it happened again. Unfortunately, I never received a response.
Could what Mauer said to LeBron have been about something completely unrelated? Sure. Without a statement from the NBRA, there's no way for me to prove any other theory wrong as I was not standing there at the foul line with the two.
But from that moment on, everything changed.
All of a sudden, LeBron wasn't falling over the line anymore and his form immediately regressed to being unconditionally inconsistent:
Since the Ken Mauer conversation, LeBron has not committed a single lane violation through my interpretation of the rule — or had one actually called by the officials.
Abiding by the law has come with a price.
After the confrontation, LeBron has attempted 73 free throws in 10 games and made only 44 of them. That's 60.2%, a 13.7 percentage-point drop from his average through the first 18.
Is 73 free throws a relatively small sample size? Yeah, it can certainly be argued that way considering how many he's going to end up shooting by the end of 2018-19 (he's averaged 618.9 per regular season coming into this year).
Until then, the Achilles' heel of the world's best basketball player has been irritated once again. Throughout the years, he's found ways to make free throws at just a high enough percentage to fly under the liability radar.
But he's never had a nemesis to account for, and now he does: the rules.