The Vote Is In: The Los Angeles Clippers Will Win the NBA Championship
Credit:
Maddie Meyer/Getty Images. Pictured: Kawhi Leonard #2 of the LA Clippers before a game at TD Garden.
There are plenty of NBA title contenders in this new age of duos, but there's only one true pick to win the 2020 NBA Championship.
Rob Perez (WorldWideWob) explains why this is the year for the LA Clippers to finally get over the hump.
We made it through Super Tuesday, one of the most important days on the calendar in regards to the democratic process of electing a presidential nominee.
While I, like many of you, plan on fulfilling my civic duty of voting when the time arrives, I recently submitted a different ballot — the 2020 NBA Champion: Los Angeles Clippers.
9-year champion prediction streak on the line.
I'm ready to make it official.

——
𝐂𝐥𝐢𝐩𝐩𝐞𝐫𝐬 𝐛𝐞𝐚𝐭 𝐁𝐮𝐜𝐤𝐬 𝐢𝐧 𝐅𝐢𝐧𝐚𝐥𝐬™

– @WorldWideWob, Saturday, February 29th, 12:38 AM EST.

— Rob Perez (@WorldWideWob) February 29, 2020

I've seen everything I need to see with the trade deadline in the rearview mirror and the buyout/free agency market about to close for playoff rosters — this is the time to explain myself. I've essentially narrowed it down to four factors.
Star Power
It's been named "The Season of Duos" — the Big 3 era and the age of super teams is in the past as star players have resorted to a tag team strategy to blaze their path of glory.
Every legitimate championship contender has one: LeBron James & Anthony Davis, James Harden & Russell Westbrook, Nikola Jokic & Jamal Murray, Giannis Antetokounmpo & Khris Middleton, Kemba Walker & Jayson Tatum, Ben Simmons & Joel Embiid, Pascal Siakam & Kyle Lowry and, of course, Kawhi Leonard & Paul George.
---
Love betting the NBA? Check out PointsBet, where Action Network users can access an exclusive promotion to get a 200% deposit match (deposit $50, bet with $150). No strings attached. No rollover required.
---
The NBA postseason is structured to be the antithesis of March Madness, which known for its parity, single elimination, sudden death, Cinderella, anarchy-encouraged environment. Intentional or not, the NBA's seven game series is designed to prevent any upsets or flukes — as the best team is always going to win, regardless of what number seed they are.
You can't be "upset" four out of seven times — they're just better than you — because if it quacks like a duck, walks like a duck … guess what? It's a duck.
As a result, when the championship is on the line, the NBA often features the best players on the biggest stage. It should be no surprise that Leonard and George are at the forefront of the conversation — they have both proved, in very different ways, just how successful they are at their craft.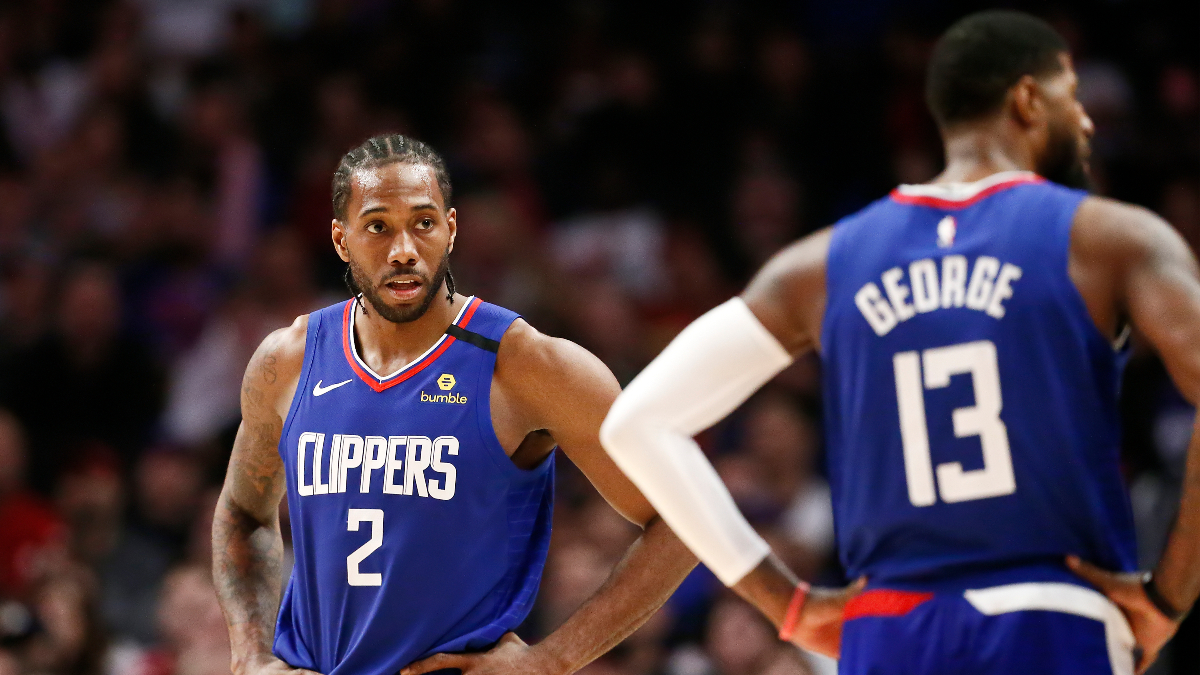 They close big games like their salary is commission-based by the win and they've been doing it for a decade straight with only one season-long interruption each.
We could sit here and debate all day who has the best duo, but for this conversation alone, I can't name one duo where both players have a proven track record of deep playoff success and durability like these two.
I can feel Lakers fans clenching their fists as they read that hypothesis. Nobody is trying to undermine the firepower of their fully-armed and operational LeBron/AD battle station, however, the Clippers have a duo that the Lakers simply do not.
Team Depth
That's right, depth; a word that is usually deemed irrelevant when the calendar turns to May, rotations shorten and per game minute averages increase north of 40 for starters. But not this season, not for the LA Clippers.
It's not just their deep bench that gives them the edge — hell, the Nuggets had 11 guys last year who could have started for any team in the league last season and that only got them to a Game 7 in Round 2 — it's the additional duos LA has on their roster that makes them different. Montrezl Harrell and Lou Williams are having career years, to the degree which they may ultimately share the Sixth Man of the Year Award.
When other teams go to their benches to buy their stars a couple minutes of rest, the Clippers are doing the same while simultaneously sending out a phalanx of buckets.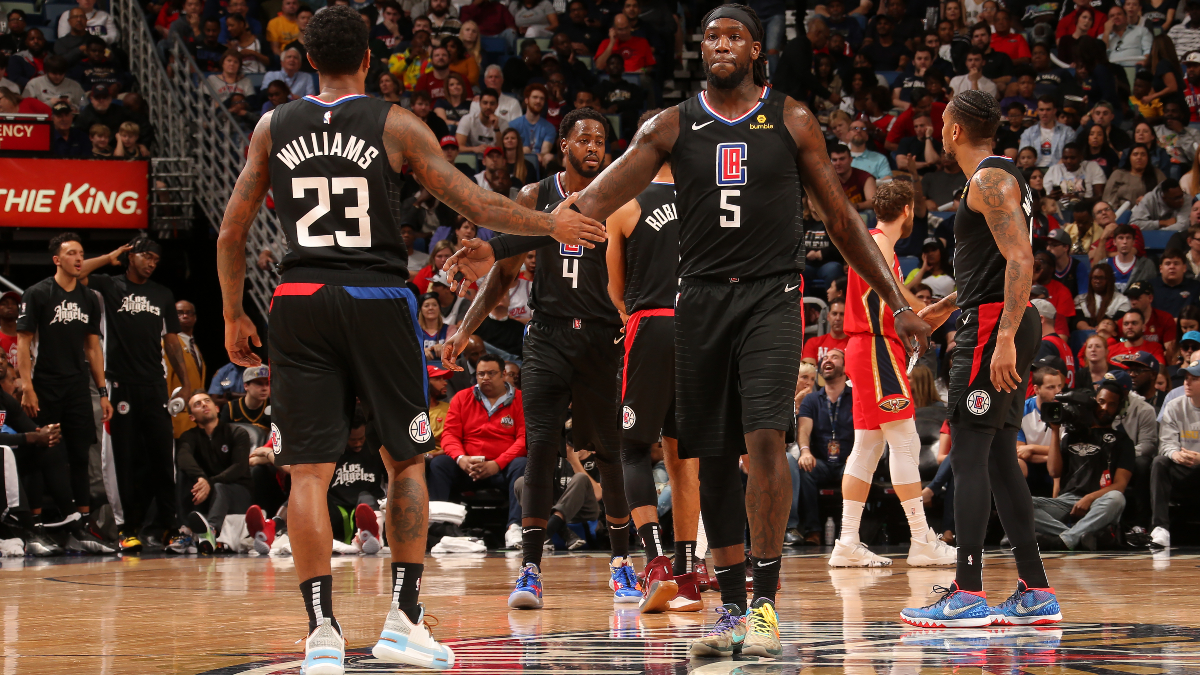 Also, let's not act like real-life hoops is NBA 2K where you can press pause, scroll down to settings, and turn off injuries and fatigue. They're going to happen and they're going to happen to the biggest stars who we many just assume are invincible physical specimen.
The Clippers did not play a single game this season with their full roster until the end of February, Leonard and George sit out if they so much as have gas, and yet — they just keep winning. And why do we think that is?
Because whenever this team needs a blood transfusion, everyone on their bench is O-negative.
A cavalry of Landry Shamet, Marcus Morris, Reggie Jackson, JaMychal Green, Patrick Patterson, Lou Williams, and Montrezl Harrell waiting in the trees to storm the battlefield is an advantage that no other team in the league has.
Even if shit hits the fan and one of the two stars go down, the Clippers have proven the ability to make up for it seamlessly with proven replacements. Their safety net protecting against the grind and collateral damage of playoff basketball is just massive, there is no other way to put it.
Closing Time
The whole analytics vs. eye test argument is always so funny to me because it's impossible to comprehend one without the other. Like far-wing politics, you can't go two minutes scrolling your Twitter timeline without seeing some radical "you never played basketball, nerd" or "the numbers prove otherwise, facts matter" comment incorporating unconditional love/hate into the explanation.
While I, personally, lean to the eye test to form my opinions and use analytics to prove whether my eyes deceive me or not — none of this matters May and June. The NBA playoffs are a completely different sport than the regular season, fast breaks are limited, pace slows to a crawl, defensive effort grows exponentially, and the game is played in the half court.
Every day ending in Y, it seems like a contest finishes with an announcer asking "that's the best shot they could get?" when the game is on the line and someone launches a contested 20-footer off the wrong leg.
Why can't anyone ever get an open look? Because it's the playoffs! To win tight games, it is a prerequisite that you have players on your team who can make extremely difficult shots in the most strenuous of situations.
Plays, sets, formations, philosophies … all those things you worked on throughout the season … they don't matter when you catch the ball outside the paint and have your back turned to the rim with eight seconds left on the shot clock.
The retort to this is often "well, if you had been more efficient with your X's and O's before the fourth quarter you wouldn't have been in this position in the first place!"
I promise you it's just not that easy. You go to your stars and say, "Save us."

That's the difference between the Clippers and these other teams — heroes get remembered, but legends never die. Kawhi will live forever.
Playing Style
The NBA in 2020 is the Audubon — an expressway for high-speed offenses to unleash their version of 'pace and space' without much resistance.
As alluded to above, once the playoffs start — this highway will be filled with a giant pothole in the form of the Clippers. When they run their closing lineup out there — Leonard, George, Williams/Patrick Beverley, Morris, and Harrell — they're good enough to lock up El Chapo.
This legion of defensive immortals will force every opponent into a half court crawl identical to what we saw with the Harassic Park defense in Toronto last season, dominated by athleticism, fundamentals, long wingspans, successfully switching all screens because every player has the ability to guard positions 1-5, and sheer terror at the rim.
There is not a single star who is immune from being funneled into the paint and trapped by this resistance. Every member of the opposition will be required to play at the Clippers' preferred style, simply because they have the personnel to make such demands, so take everything you learned from October-April and throw it out the window.
The Clippers were assembled for the way postseason basketball is played — on both ends of the floor. They have the guys to take and make the onerous shots, and they have the guys to make sure the other team doesn't. They will deliver death by paper cuts to everyone they face, and scoring 100 points will once again mean something significant … like it's the law.
How would you rate this article?