Mega NBA Betting, DFS Guide: Angles for Every Tuesday Game
What happens when the two worst ATS teams in the league face off? Well, one of them will cover … probably. I can guarantee the public will think it's the New Cavs, and I may agree with them after seeing what they did to my Celtics.
(I already used that painting yesterday, but when you create a masterpiece, you gotta show it off.)
We have six games tonight, and we're pencil diving into the deep end for each one. Time to make the big bucks. — Mark Gallant
All info as of Tuesday morning. Check back during the day and keep an eye on our Twitter handle for any updates.
If there's a specific matchup you want to jump to, click the quick links below. For live spreads and bet percentages, check out this page. Follow the latest injury info on our industry-leading news feed. To get access to our premium betting tools, subscribe here.
MIA-TOR | ATL-MIL | HOU-MIN | CLE-OKC | SAC-DAL | SAS-DEN
---
MIAMI HEAT AT TORONTO RAPTORS (-8) | O/U: 204.5
7 p.m. ET
What the metrics say: Miami broke out of a brutal five-game losing streak on Friday with a home win vs. the Bucks. It was an ugly offensive affair that ended 91-85, and the Heat produced just 92.8 points per 100 possessions. They've played the Raptors just once this year, and it was a very similar game: Miami won 90-89, and they held Toronto to just 94.7 points/100. Despite the last game, the Heat are struggling of late, ranking 21st over the past 10 games with a -2.8 net rating. They are better on the road this season, but the Raps are especially dominant at home, ranking first in the league with a +12.0 net rating. Further, the Raps are rolling right now, ranking even ahead of the Jazz with a massive +13.5 net rating over the past 10 games. The Heat are a feisty, well-coached team, but the Raps are clearly the superior squad on a night-to-night basis. — Bryan Mears

What I'm watching for: Fascinating matchup. Miami is killer off dribble hand-offs, and that's an area where Toronto's smaller guards struggle defensively. Jonas Valanciunas vs. Hassan Whiteside is also a great battle, especially with how Valanciunas is shooting the 3-pointer this season (40%).
Miami's length and versatility could pose serious issues for the Raptors, so this could turn into another DeMar DeRozan show. — Matt Moore
DFS nugget: The Raptors' recent dominance has had a negative impact on Kyle Lowry from a fantasy perspective. He's averaged fewer than 26 minutes per game over his last five contests, which has resulted in just 28.6 DraftKings points per game over that time frame. That said, he could represent a nice value today against the Heat if Miami can keep the game competitive. Lowry's salary has dipped all the way down to $7,200. He has historically exceeded salary-based expectations by an average of 2.09 points with a comparable salary. — Matt LaMarca
Betting market: Though the Heat have received just 35% of bets, more than 50% of dollars have helped move them from +8 to +7.5. We've tracked bet signals on both sides, though, so it looks like eight is an important number in the eyes of handicappers. — Mark Gallant
Trend No. 1 to know: Toronto has won and covered five straight. In the past 10 years, teams that have covered five or more games in a row and are favored in their next contest have gone 146-179-9 (45%) against the spread. — John Ewing
Trend No. 2 to know: The under has gone 33-22-1 (60%) in Heat games this season, the highest under win rate for any team in the league. Over the past four seasons, the under has hit at a clip of 56.3 percent for Miami, which is also the best win rate in that span. When Miami has been on the road during that span, that jumps to 62 percent.  — Evan Abrams
Trend No. 3 to know: Over the past two seasons, the Heat are 44-26 (62.9%)  ATS on the road, including 38-19 (66.7%) ATS as a road underdog. — Evan Abrams
---
ATLANTA HAWKS AT MILWAUKEE BUCKS (-7.5) | O/U: 207.5
8 p.m. ET
DFS nugget: Giannis Antetokounmpo appears to be in an elite spot today against the Hawks. Atlanta has been one of the worst defensive teams in the league this season, ranking just 26th in defensive efficiency. The Bucks' implied team total of 107.8 doesn't jump off the page, but it represents an increase of more than three points when compared to their season average (104.4). The Hawks have been particularly weak against opposing SFs, resulting in an Opponent Plus/Minus of +4.31 for Giannis. He's extremely appealing on DraftKings, where he also has a Bargain Rating of 98 percent. — Matt LaMarca
What I'm watching for: Milwaukee is ripe for a bounce back after facing the Heat on "Dwyane Wade Is Back!" night. The Hawks are competitive, though. Keep an eye on John Collins. John Henson gets lost chasing rotations, which opens up opportunities for bigs like Collins. Eric Bledsoe should feast on the Hawks' inattentiveness, especially on cuts. Giannis will Giannis. — Matt Moore
What the metrics say: The Bucks have now played 10 games without Jason Kidd, and numbers don't bode well for the former head coach. Since he left, the Bucks own the fourth-best net rating in the league (+9.9), and they've been the league's best defense during that span, holding opponents to just 97.7 points/100. I mean, look at their top-four lineups in minutes played over the past 10 games:
This was always an incredibly talented team, and interim coach Joe Prunty now has them playing schemes that fit their players. Milwaukee is on a 8-2 run currently, and 538 now gives them a 97 percent chance of making the playoffs after being on the bubble with Kidd. The Bucks are currently up on the 76ers in the standings, but they're projected for one win less. That would put them in the No. 6 seed and give them a first-round date against LeBron and the Cavs. It's not unreasonable for the Bucks to push hard through the rest of the season and sneak into home-court advantage in the inaugural round. — Bryan Mears
Trend to know: Betting against bad teams (.333 win percentage or worse, like the Hawks) is usually a 50-50 proposition at this point of the season (50.5% cover rate from February-April over the past five seasons). But it becomes much more profitable (55.7% ATS) to fade bad teams when they're coming off straight-up and ATS wins, like the Hawks are. — Evan Abrams
---
HOUSTON ROCKETS (-3.5) AT MINNESOTA TIMBERWOLVES | O/U: 222.5
8 p.m. ET
What I'm watching for: Tonight's main event, a way more interesting matchup than Cavs-Thunder. Minnesota doesn't have the 3-point shooting to keep up with Houston, and their defense is bad. This is a really important test for Minnesota. The Wolves have to be able to beat teams that can shoot from the outside because they're going to see a lot of them in the playoffs.
The Rockets will keep Chris Paul on Jeff Teague and Tyus Jones; Jones may give him some trouble on the other end. They'll likely put Harden on Andrew Wiggins and move Trevor Ariza, Luc Mbah a Moute, or P.J. Tucker on Jimmy Butler. With how Harden attacks the rim, expect Wiggins to find holes in transition. However — and this is key — this can't be a game where the Wolves are getting shredded but Wiggins has a huge night. They need balance. — Matt Moore
What the metrics say: These are two of the three best offenses in the league, and they're especially dominant in the half court. They've played just once this year, and it was a lopsided affair in favor of the Rockets at home 113-98. Houston scored at will, posting a 122.8 Offensive Rating, although you wouldn't have realized it watching Harden, who went 3-of-15 and had just 10 points on a massive 40.6 percent usage rate. Thus is the problem with trying to beat Houston: Even in an off game from Harden, a CP3-Capela pick-and-roll can be devastating. Minnesota has had severe home/away splits in the Karl-Anthony Towns era, and that's continued this season. The Wolves have posted a +7.2 net rating (fourth in the league) in Minnesota versus a -0.6 mark (12th) on the road. If the Wolves can get out in transition at home — that's Houston's Achilles heel on defense this season — they can certainly hold their own against one of the league's best. — Bryan Mears
DFS nugget: Harden has struggled a bit recently by his lofty standards, but it hasn't been due to a lack of opportunities. While he's posted a usage rate of at least 37.8 percent in each of his past four games, Harden has been hampered by a combination of tough matchups and blowouts. As a result, his salary has decreased across the industry, which puts him in consideration for the top overall play of the day. The only concern is the possibility of Jimmy Butler guarding him on defense. Butler has graded out fifth-best wing defender this season per Defensive Real Plus/Minus (DRPM). — Matt LaMarca
Trend No. 1 to know: As coach of the Timberwolves, Tom Thibodeau is 20-8-1 against the first-half spread when facing teams with an offensive efficiency of 110 or higher. When Minnesota is listed as the underdog, they are 16-6-1 in that spot. — Evan Abrams
Trend No. 2 to know: During second halves this season, the Rockets rank second in offensive efficiency and fifth in PPG, but because the over/unders have been set so high (108.3 avg) that hasn't resulted in second-half totals going over for Houston. In fact, it's just the opposite: The under is 35-18-2 against the second-half total (66%) in Rockets games this season — the highest percentage in the NBA. When Houston is on the road, that number balloons to 73.1% (19-7-1). — Evan Abrams
---
CLEVELAND CAVALIERS AT OKLAHOMA CITY THUNDER (-2.5) | O/U: 222.5
8 p.m. ET | TNT
What the metrics say: I don't think many people were expecting that type of performance so quickly from the new-look Cavs. They demolished an excellent Celtics team in Boston, and they did it without any time to develop chemistry. The starting lineup of George Hill-JR Smith-Cedi Osman-LeBron-Tristan Thompson did most of the damage, scoring at a rate of 126.4 points/100 and allowing just 93.0 in 18 minutes together. The bench unit with shooters everywhere and Larry Nance at center also performed well, scoring 121.0 points/100. They caught Boston by surprise, and they'll have a tough test in this one against a Thunder squad that ranks fifth in defensive efficiency and third in the half court. The Cavs looked better in Game 1, but they'll need to prove it for more than just a couple minutes. — Bryan Mears
What I'm watching for: Man, not having Andre Roberson hurts the Thunder badly here. They'll try to crowd LeBron, and Russell Westbrook isn't a bad ISO matchup defensively on switches. But can they match the Cavs' bench? Cleveland's reserves, at least theoretically, are pretty tough now. You have shotmakers and defenders in Rodney Hood and Jordan Clarkson, and better balance overall. – Matt Moore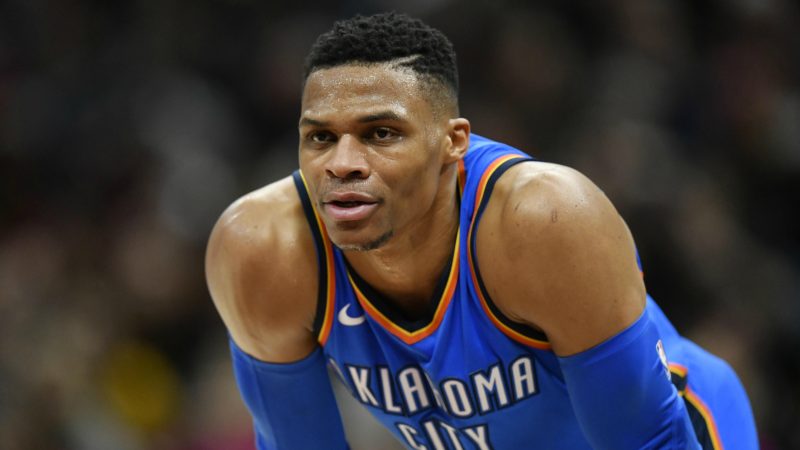 DFS nugget: We know about the dominance of LeBron James, but one player who's making a name for himself in Cleveland is Cedi Osman. He figures to be a larger part of the Cavs' rotation down the stretch, playing approximately 29.5 minutes in their last game. Osman has averaged 0.84 fantasy points per minute over the past month, and his $4,100 salary on FanDuel results in a Bargain Rating of 95 percent. — Matt LaMarca
Trend No. 1 to know: The Cavs had lost and failed to cover in eight straight games on national TV but ended the streak with a win/cover against the Wolves last Wednesday and then a win/cover again in Boston on Sunday. Since LeBron returned to Cleveland, the Cavs are now 51-28 SU and 47-32 ATS (59%) in regular-season games on national television. — John Ewing
Trend No. 2 to know: Over the past two seasons, the Cavs are 5-18 ATS (21.7%) on the road against the Western Conference, with an ATS margin of -10.4 PPG. Including their loss at Golden State on Christmas Day, the Cavs have dropped five straight ATS in this spot. — Evan Abrams
---
SACRAMENTO KINGS AT DALLAS MAVERICKS (-6.5)  | O/U: 206
8:30 p.m. ET
What the metrics say: The battle of the snails. These teams both rank in the bottom-five in pace this season, and the two previous meetings went for just 181 and 205 points. The Kings have been truly atrocious on the road this year, evidenced by their league-worst -11.2 net rating, whereas the Mavs have been about average in Dallas. One surprising fact about the Kings is that they're actually the second-best 3-point shooting team in the NBA this year, averaging 38.8 percent from deep. That's particularly incredible considering they often like to play two bigs, which hurts spacing. The problem is that they rarely take them given their offensive scheme. The lineups of late with Fox, Bogdanovic, and Cauley-Stein have posted excellent effective field goal percentage marks, which is something for Kings fans to look forward to. Other than that, this is not an exciting game to watch. — Bryan Mears
DFS nugget: The Mavs have allowed the sixth-highest Plus/Minus to the PG position on FanDuel this season, which is a bit surprising considering their slow pace. That's good news for De'Aaron Fox, who has played approximately 34 minutes per game since the team shipped George Hill off to Cleveland. He's averaged 0.86 fantasy points per minute over the past month, and his $6,000 salary on FanDuel comes with a Bargain Rating of 90 percent. — Matt LaMarca
What I'm watching for: After this game is completed, please send every recorded broadcast of it into the sun. In the meantime, I think Fox will have a massive finish to his season. He's going to get the minutes he needs, and him vs. Dennis Smith Jr. will make this depressing chuckfest a lot of fun. – Matt Moore
Betting market: Nothing's doing on the spread for this game, but a high percentage of dollars has moved the total. Bets are split 50/50, but the over is getting 85% of dollars so far, moving the total from 204 to 205.5/206 around the market. — Mark Gallant
Trend to know: Two awful teams (less than a 33 percent win rate): Check
Same Conference: Check
February, March, or April: Check
In short, neither team will be super motivated to win this game. In these spots this late in the season, it's been profitable to fade the team getting more than 50% of the betting tickets:
Past 5 seasons: 16-9-2 ATS (64%)
Past 10 seasons: 48-35-2 ATS (57.8%) — Evan Abrams
---
SAN ANTONIO SPURS AT DENVER NUGGETS (-6)  | O/U: 207
10:30 p.m. ET | TNT
What I'm watching for: San Antonio has no one. No Kawhi Leonard, no LaMarcus Aldridge, no Rudy Gay, and don't be surprised if others get some rest. And yet the Spurs almost knocked off the Jazz last night, leading by 10 in the fourth. Keep a really close eye on Jamal Murray. He had what was called "chest soreness" and was pulled from practice on Tuesday morning.
Expect the Nuggets' first-half ATS record (22-33-1) to stabilize with the addition of Devin Harris. Emmanuel Mudiay's play brought Denver down lot early in games. – Matt Moore
What the metrics say: Going into Monday's game, the Spurs had scored 106.4 points/100 and allowed 104.4 with Aldridge and Leonard off the floor versus 109.4 and 97.1 with them on. The offensive numbers are perhaps a bit surprising, and that's definitely a testament to Pop. The lineups with a core of Dejounte Murray-Danny Green-Davis Bertans-Pau Gasol have been surprisingly awesome, dominating on both ends of the floor. That said, it's hard to bet on a team with 37-year-old Pau as the core offensive piece on a road B2B in Denver. More on that situation below. — Bryan Mears
Betting market: Sharp bettors have been jumping on the short-handed Spurs this afternoon. At 11 AM eastern, there was a steam move triggered at 5Dimes. At 1 PM, there was another move triggered by CRIS (Bookmaker.) And finally, at 2 PM, there was a third move on the Spurs triggered at ABC that has helped push them down to +5.5 across the market after opening at +7. — Mark Gallant
DFS nugget: The Spurs figure to be one of the most popular team targets today given their current injury situation. That includes Pau Gasol, who dominated for 50 fantasy points last night in an extremely tough matchup against the Utah Jazz. He's been one of the Spurs' focal points all season with Leonard,  Aldridge, and Rudy Gay off the floor, averaging 1.17 fantasy points per minute while seeing a usage bump of 2.6 percent. On paper, it's an awesome situation, but there's always risk in rostering an older member of the Spurs playing in a late game. Keep the burning money GIF handy just in case. — Matt LaMarca
Trend No. 1 to know: The Spurs on a back-to-back over the past decade:
As favorites: 67-49-5 ATS
As underdogs: 26-27 ATS — John Ewing
Trend No. 2 to know: Teams on a back-to-back in Denver have gone 79-97-5 ATS (45%) since 2005. A $100 bettor would be down $2,105, which makes Denver the second-least profitable place to play on short rest in our database. — John Ewing
Top photo via David Richard-USA TODAY Sports
How would you rate this article?