Were the Miami Heat an NBA Bubble Fluke? Why You Should Fade Them in the 2021 Playoffs
Credit:
Abbie Parr/Getty Images. Pictured: Jimmy Butler.
The NBA is the most predictable of the four major sports. We generally know the teams who are title contenders before the season, and more often than not, those are usually the teams we see competing to win a championship in at the end of the season. The 2019-20 Miami Heat were a surprise that no one saw coming.
After finishing the regular season 44-29, fifth in the Eastern Conference, the Heat were downright dominant in the postseason. They swept the Indiana Pacers, disposed of the reigning back-to-back MVP Giannis Antetokounmpo and his Milwaukee Bucks in just five games and defeated the Boston Celtics on their way to the NBA Finals. Although they were defeated in six games by the LeBron James, Anthony Davis and Los Angeles Lakers, their postseason performance provided hope for many that the Heat were a force to be reckoned with and a championship contender for this season and beyond. 
With a five-time All-Star in Jimmy Butler, emerging young talent in Bam Adebayo, Tyler Herro, Duncan Robinson and Kendrick Nunn, along with veterans like Goran Dragic and Andre Iguodala, there's a lot to like about this team. Add one of the best head coaches in the league in Eric Spoelstra, it's easy to see why expectations were sky high for this team coming off last season, and oddsmakers subsequently set the Heat with the sixth-highest odds to win the 2020-21 NBA Title at +1600.
To put this in perspective, that's higher than the Philadelphia 76ers (+2500), Denver Nuggets (+1800), Utah Jazz (+4000) and Phoenix Suns (+4000). 
Coming back to earth
Unfortunately for the Heat, they haven't met those expectations, and the circumstances surrounding their performance in the bubble has left many, including an anonymous scout from a Western Conference team, wondering if this team was a fluke.
Like the three other conference finalists who played deep into the bubble (Los Angeles Lakers, Denver Nuggets, and Boston Celtics), the Heat have had a rough start to the season. Although they've struggled with injuries and absences related to COVID-19, as a whole this team just hasn't been good when they've been on the court together. Unlike the Heat,  the Lakers, Nuggets and the Celtics to a certain extent have shown us glimpses of what made them great last season.
It's tough to say that about the 20-21 Miami Heat.
With just nine games remaining in the regular season the Heat are seventh in the Eastern Conference, sitting at 33-30 on the year with a Pythagorean Expectation of just 29-33. After 63 games, I'm not a buying this team as a contender or a team that can make a postseason run. 
Despite ranking sixth in Defensive Rating, allowing opposing teams to score 110.2 points per 100 possessions, the Heat have a Net Rating of just 0.8 (20th) primarily because of their 24th ranked Offensive Rating which is scoring just 109.4 points per 100 possessions this season. They have the worst Offensive Rating of any of the 12 Eastern Conference postseason contenders and are only ranked above the Detroit Pistons, Cleveland Cavaliers and Orlando Magic in the entire conference. 
If you're looking for a historical precedent, below are the all of the teams without a top-10 offense to make the NBA Finals since 1976. There's only been one team who's made the NBA Finals with an Offensive Rating  that ranked less than 19th: the 1999 New York Knicks who also played during a shortened season due to the NBA Lockout. The Knicks also had a top five defense. Can the Heat be the second team?
I'm personally not buying it but it's clear that the Heat have their work cut out for them if they hope to make it back to the Finals.
Offensive issues
Jimmy Butler and Bam Adebayo continue to be high impact players but the supporting cast has regressed or disappeared altogether. The Heat are just 18th in eFG% (53.8%), but given the presence of Butler and Adebayo, this team is fourth in field goal percentage at the rim (67.8%), which is the only area of the floor in which this team is shooting above average.
The Heat are just 21st in mid-range shooting percentage (40.6%) and 28th in three point shooting percentage (35.2%). This is a major drop-off for a team who was second in three-point shooting percentage a year ago (38.6%).
Jae Crowder who was the ideal three-and-D wing for this team, shooting 44.5% from three on 6.4 attempts per game, departed for Phoenix in free agency for three years and $29 million. Although his departure wasn't expected to make such a huge impact, the Heat haven't been able to replace his production, and it's clear they would have been better off resigning Crowder over Meyers Leonard for $10 million, Avery Bradley for $5.5 million and Moe Harkless for $3.6 million.
None of these players are currently with the team. Harkless was Crowder's direct replacement but averaged just 1.4 points and 1.2 rebounds and spent most of his tenure with the Heat injured as did Bradley who dealt with health and safety protocols and a calf strain.
Unwilling to give up major pieces for veteran Toronto Raptors point guard Kyle Lowry, the Heat acquired two-time All Star Victor Oladipo at the trade deadline in exchange for Avery Bradley, Kelly Olynyk and a 2022 pick swap. That didn't play out as expected, as Oladipo is currently out indefinitely with a knee injury.
It's tough to imagine him playing again this season with his free agency on the horizon, but in the event he does play, it feels like blind faith to expect him to make a real impact. Although he could be a threat driving to the lane, in four games with the Heat, Oladipo averaged just 12 points, 3.5 assists and 3.5 rebounds. He shot 37.2% from the field, 23.5% from three-point range in addition to 3.5 turnovers per game.
Since returning from his knee injury in 2019-2020, he's shown nothing that would convince us he could return to his All-Star form, and based on his time in Houston and Indiana this season, it's possible that whoever signs him in free agency could be buying a lemon. 
Shooting Regression
Duncan Robinson is still one of the league's premier shooters that you have to account fo,r but he has regressed from shooting 44.6% from three-point range to shooting 40.2%. For much of last season, teams viewed him as a guy who they could leave open.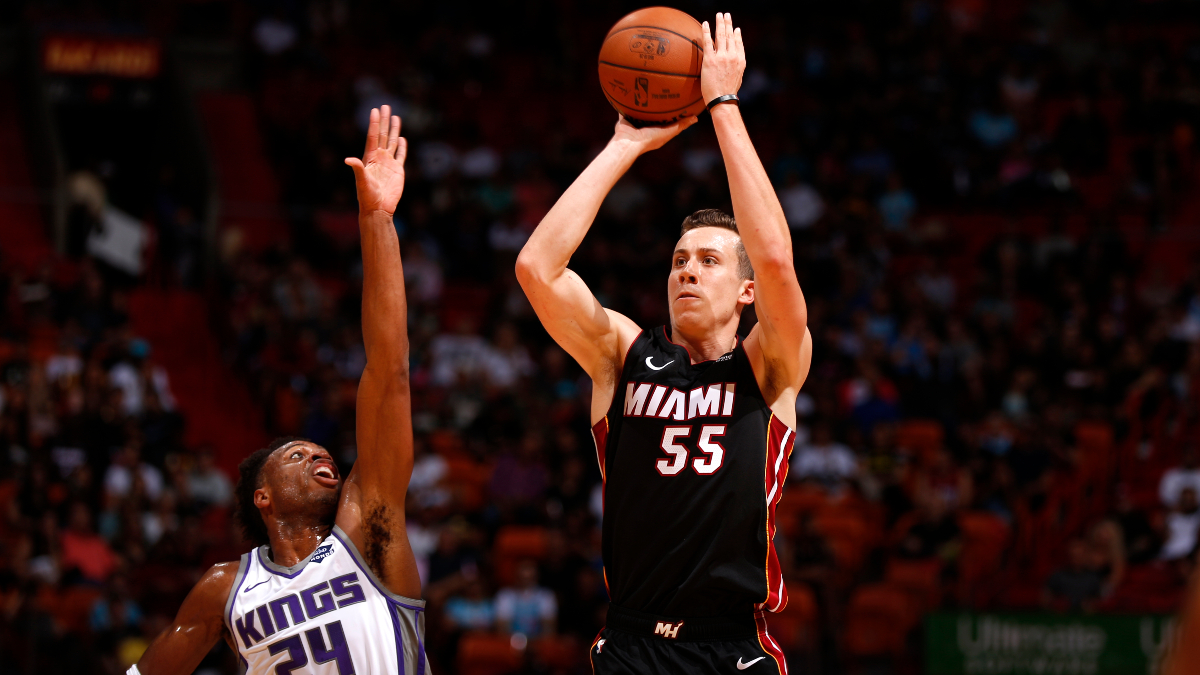 This season he's targeted, scouted and accounted for on nearly every possession. Nonetheless, he's subsequently gone from fourth in three-point shooting percentage to 44th. With Robinson regressing, it's clearly made this offense much less efficient.
Butler has never been a great three-point shooter. but his shooting has regressed from 24.4% to 21.1%. Tyler Herro was red-hot in the bubble, and the Heat were understandably reluctant to trade him at the deadline given his potential.
However, the version of him we saw during his rookie season and in the bubble is long gone as he suffers through the dreaded sophomore slump. He's seen his three-point shooting percentages regress from 38.9% during the 2020 regular season and 37.5% in the playoffs to just 34.4% this season. 
To make matters worse, Herro, along with Goran Dragic, are both below league average of 57.2% in True Shooting percentage. The Heat did bring in Trevor Ariza after trading Leonard, which has helped slightly, but they still aren't a great shooting team.
Robinson and Kendrick Nunn are the only two Heat players who are shooting above league average from three this season. With Dragic no longer looking like the 2014 version of himself from his days with the Phoenix Suns as the did in last year's bubble, overcoming the shooting regression from everyone on this roster has been tough to overcome. 
The saving grace for this offense is their seventh-ranked free throw rate (20.4%), and much of that can be attributed to Butler and Adebayo who are shooting 8.0 and 5.8 free throws a game this season. While this team does get to the line frequently, they have two major problems in addition to their poor shooting. The Heat are 21st in turnover percentage with 14.6% percent of their possessions ending in a turnover.
They also are one of the worst offensive rebounding teams in the league this season, rebounding just 22.3% percent of their misses, 29th among NBA teams in their non garbage time minutes according to Cleaning the Glass.
It's no coincidence the Heat are dead last in field goal attempts at 83.5 and second chance points at 10.1 per game this season. Although the 2019-20 Los Angeles Lakers were just 11th in Offensive Rating (111.7) and 22nd in three-point shooting percentage (35.3), the Lakers could make up for their shooting deficiencies by crashing the offensive boards, rebounding their misses and generating more possessions for their team as they were sixth in Offensive Rebound Rate (28.3%).
Miami's rebounding struggles also extend to the defensive end of the floor, where they're just 20th in Defensive Rebound rate, grabbing 72.8% of opponent misses. On average, opposing teams are taking 85.5 field goal attempts per game, that's two more field goal attempts per game which automatically puts them at a disadvantage.
Performance
Given the struggles on the offensive end of the floor, this is not a team that will run away and hide from anyone. They're just 13-15 in 10-point games, so this is a team that's more likely to get blown out, as opposed to beating opposing teams by double digits. To put this in perspective, here is how other teams within the conference have performed in 10-point games. 
Brooklyn Nets: 20-10
Philadelphia 76ers: 21-11
Milwaukee Bucks: 26-11
New York Knicks: 22-13
Atlanta Hawks: 21-14
Boston Celtics: 15-10
Charlotte Hornets: 12-21
Indiana Pacers: 13-14
Washington Wizards: 11-20
Toronto Raptors: 17-14
Since this team isn't going to blow teams out, the Heat are a team that finds themselves in a ton of close games. They've played 34 clutch games this season, sixth highest among NBA teams. The NBA defines clutch as the last five minutes of a game in which the point differential is five or less.
Despite having a legitimate closer in Jimmy Butler, the Heat are just 18-16 in these games with a Net Rating of -7.1 Offensive Rating of 95.3 and a Defensive Rating of 102.4. 
For as much as this team has struggled to shoot throughout this season, they're even worse in the clutch. The Heat are shooting 37.5% from the field in the clutch, 29th among NBA teams. They're also not hitting their threes either, as they're shooting 22.9%. Only the San Antonio Spurs are worse. 
Conclusion
Overall, I'm not very high on the Miami Heat this season. This is a team which has made its living beating bad teams, as they're 20-10 against teams below .500 and just 13-20 against teams .500 and above.
Three of their wins against teams above .500 came against the Knicks during a time in which New York also struggled to score, two of them came against the Lakers without LeBron James and Anthony Davis, and one came against a bad Blazers team that's over performing their point differential.
The Heat are seen as a team that can challenge the the top-tier teams in the Nets, 76ers and Bucks, but I don't see it. Although I picked the Miami Heat to defeat the Boston Celtics and go to the NBA finals last season, this is not the same team.  Their defense will keep them in games, but their offense won't, and three-point shooting is more important than ever in today's NBA.
The Heat put up Offensive Ratings of 118.9, 120.9, 120.6 and 105.4 in four wins against the Bucks in last year's Eastern Conference semifinals. Of course, their series-clinching win game in a game in which Giannis Antetokounmpo sat out due to injury.
Regardless of how much playoff basketball slows down and defense takes precedent, the Heat aren't going to win many playoff games with an Offensive Rating of 105.4. We haven't seen much from this team that suggests they can hang offensively with some of the mid-tier teams in the East, let alone the Nets, 76ers and Bucks.
If this team could generate more possessions on the offensive end of the floor by winning the rebounding battle, their defense would be enough for them to be a tough out. However, that's also an area in which they struggle this season.
After playing deep into the bubble, losing Jae Crowder without picking up suitable replacements, it's clear we're seeing a hangover from last season that I don't think they can recover from. I personally believe there are other teams throughout the Eastern Conference with a higher ceiling than the Heat, and thus they'll be a team I'll be looking to fade in the postseason.
How would you rate this article?
This site contains commercial content. We may be compensated for the links provided on this page. The content on this page is for informational purposes only. Action Network makes no representation or warranty as to the accuracy of the information given or the outcome of any game or event.