Confident Milwaukee Bucks Filed Trademark for "Bucks in Six" Ahead of NBA Finals Game 6
Credit:
Photo by Andrew D. Bernstein/NBAE via Getty Images. Pictured: Giannis Antetokounmpo
How confident were the Milwaukee Bucks that they would win Game 6 of the NBA Finals?
Confident enough that the day before the game they filed to obtain two trademarks: "Bucks in Six" and "Bucks in 6."
The Bucks, of course, did prevail 105-98, to win the series in six, after being down two games to the Phoenix Suns. When it was over, the team was ready, offering a "Bucks in 6" NBA Champions shirt to fans on their website.
The author of the "Bucks in Six" phrase is former Bucks player Brandon Jennings, who in 2013 predicted that the team would be the Miami Heat loaded up with LeBron, D-Wade, Chris Bosh and Ray Allen. Milwaukee lost in four.
Even still, the Bucks started their own "Bucks In Six" Twitter feed, which they picked up using again, and, at the time, say they made gear with Bucks in Six, which establishes that they have used the trademark in commerce, a key step in actually being awarded the trademark.
Calls placed to Bucks officials were not immediately returned.
While Jennings is the originator of the phrase, he never made any claim he would be the owner, nor could he be.
"He couldn't use 'Bucks in Six' for himself because he has no claim to the word 'Bucks,'" said Josh Gerben of Gerben Law, a trademark attorney who discovered the filing on Friday morning.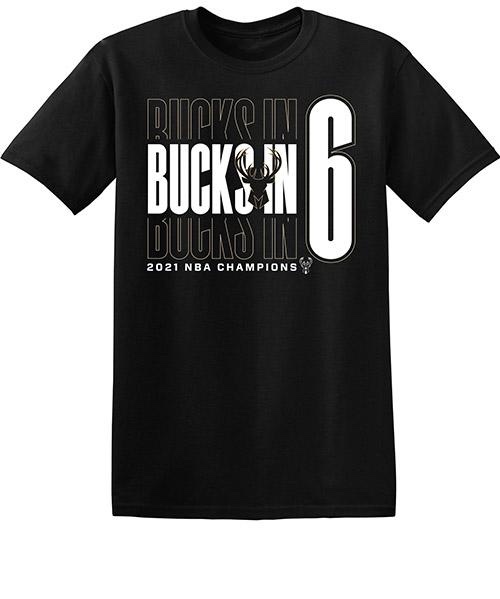 It worked out for the Bucks, unlike the New England Patriots.
Three days before the Patriots won a game against the Chargers in 2008 to advance to the Super Bowl, its ownership, The Kraft Group, filed for trademarks in preparation for being able to capitalize off Patriots' perfect season if they had won the Super Bowl. The company filed to trademark "Road To Perfection," "19-0" and "Perfect Season."
Despite losing to the New York Giants, the Patriots continued with their quest for the trademarks, getting the "Perfect Season" one in December 2016.
While it might not be them, they could still cash in on others. That's what happened when the Los Angeles Lakers failed to win their third straight NBA title in 1989. Ahead of the season, Lakers coach Pat Riley trademarked "Three-Peat." 
Riley made an undisclosed amount of money on the mark by licensing it to the Bulls in 1993 and 1996, to the Yankees in 2000 and to the Lakers in 2002. 
There was more controversy in that filing since it didn't have a team name in it. Riley never claimed he invented the phrase. Lakers players Byron Scott and Wes Matthews, whose son played for the Lakers this past season, have both asserted that they did, but never thought to trademark it.
How would you rate this article?