Moore: Giannis or Harden? How to Find NBA MVP Betting Value
Credit:
USA TODAY Sports. Pictured: Milwaukee Bucks Giannis Antetokounmpo forward (34), Houston Rockets guard James Harden (13).
Giannis Antetokounmpo is still favored (-300) to take home the 2018-19 MVP award with James Harden (+250) not far behind.
With just a few games left in the season, Matt Moore analyzes the voting process and grades the betting value of both candidates.
I have watched every single possession, I have broken down every metric. I know every strength and every flaw of the two NBA MVP leaders, Giannis Antetokounmpo and James Harden.
I have broken down their respective cases in detail and weighed in on who I think should win the award.
But forget all that. Let's make some money.
Who has the best value for MVP?
James Harden: +250
Giannis Antetokounmpo: -300
This race is going to be extremely close. I'm expecting more of a first-place split than we saw in 2017 when Russell Westbrook carried 68% of the first-place votes. I think this winds up being much closer to a 50-50 split. Paul George's slide from serious consideration helps Antetokounmpo a lot.
George was in the running for Defensive Player of the Year (as is Antetokounmpo) and so they were sharing the same kind of model of complete, two-way players on small-market teams.
From where we stand on Saturday, April 6, there's better value on Harden here, but I honestly think this might finally be in a place where the vote itself is a stay-away, after much better values on both players throughout the season.
Who Votes?
The voting bloc is made up of a combination of beat writers, national broadcasters, national writers, and an online fan vote that counts for one vote. The league overhauled its voting contingent the past few years, eliminating team employees, so no more total-homer votes from local broadcasters. To balance that, they attempt to draw one voter from each NBA market.
The beat writer for the major newspaper in each market typically gets a vote. This creates complications in places like Houston where the Chronicle has a policy that its writers cannot vote for awards. It remains to be seen if the Athletic or another local outlet has been given a Harden vote.
It's important to note how that affects the process. Beat writers have such a hectic lifestyle built around travel and covering a team and its internal dynamics, that finding time to dig into the Bucks' net rating, or how James Harden's shooting efficiency and usage is difficult.
The voters conduct due diligence and will read columns from prominent voices, but will also value their ability to judge for themselves. Much of this dynamic is where the "narrative vote" that's discussed so much comes from.
What is the Narrative of the Vote?
The narrative vote essentially means a vote built on the story of the season. Now, in the past that was a human-interest driven story. Derrick Rose, the Chicago kid who came from nothing and stormed the stage in 2011 is a great example of the narrative vote.
That traditional concept of the narrative vote is more difficult in the social media age because of the abundance of both advanced metrics and video clips, and the distribution of those elements on social media.
As a bettor, the reason you want to consider this is that it can swing either way on these two candidates. Harden's scoring exploits bring a narrative all their own. He carried an injured Rockets team (even though they struggled when healthy) up from 14th in the West (even though they were only three games out of second place at the time) into contention for the No. 2 seed. That's a powerful narrative for the beard.
Giannis would be a first-time winner in the league's best story, the upstart, small-market Bucks, who have the league's best record.
The lean on narrative voters is towards Harden for a few reasons.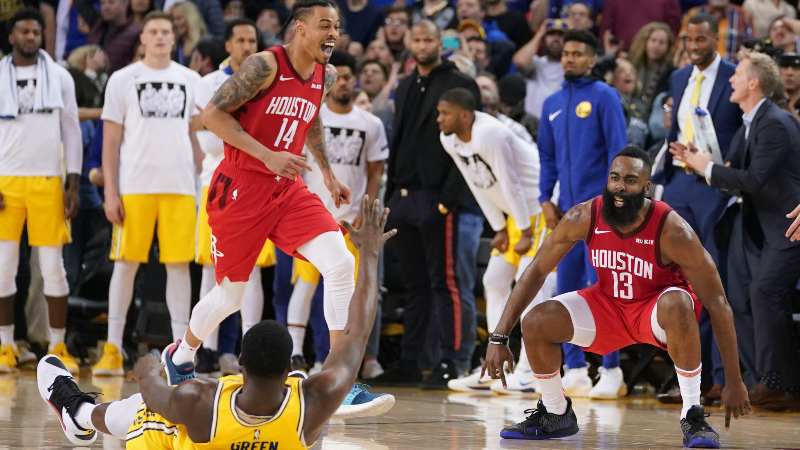 One, those voters are more likely to be traditional beat writers, old-school journalists who pursue stories over analysis. (This is neither a good nor bad thing, both are important in the media ecosystem.) Those writers are also more likely to speak and ask players about who they would vote for.
Harden gets buckets. Players love buckets.
DeMar DeRozan, Kobe Bryant, Allen Iverson, guys who get a ton of shots up and drop huge point totals get more respect from other players than more complete players. In turn, that attitude will get passed to beat writers and that will impact things.
Second, narrative voters tend to value burden carried over excellence. "Harden carried a team with a bunch of G-Leaguers without Clint Capela and Chris Paul." It is irrelevant that Eric Gordon and P.J. Tucker are definably not G-Leaguers and that Paul and Capela weren't injured for the tougher parts of the Rockets schedule, nor that often times Harden was carrying them with huge scoring performances in narrow wins over bad teams.
It's "if he didn't scored 60, they would lose." That's more impactful with narrative voters than sustained boring excellence.
Finally, narrative voters tend to be those with perceptions on history and the future of the league. The idea that "Giannis is going to win one even if he doesn't win this one" will soothe fears about overlooking a more worthy candidate.
The Analyst Bloc
Contrasted with the narrative voter is the analyst section. These are writers who live on League Pass, who are intricately woven into the fabric of the long regular season. Those voters are also typically analytics-forward voters who value defense.
It's a wide swath of voters, but it also may not lean one way or another in this particular vote. Antetokounmpo's team-centric metrics blow Harden away, but Harden's individual scoring accolades and big-picture catch-all metrics like VORP and Win Shares are consistently in his favor.
The point is that while the narrative vote should lean Harden, the analyst vote may be more split.
Recency Concerns
I find it unlikely that the game last Tuesday between the Rockets and Bucks, a comfortable Bucks win in which Harden struggled, was the deciding factor for many voters.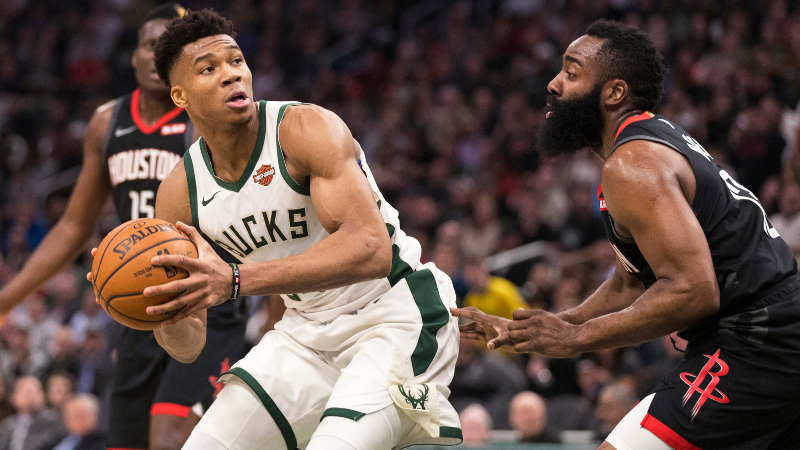 But couple that matchup with Thursday night's performance in which Antetokounmpo dominated Joel Embiid with several highlight blocks along with 45 points, 10 rebounds, and five assists. A game in which the Bucks clinched the No. 1 seed and homecourt throughout the playoffs against the No. 3 seed in the East.
Antetokounmpo needed one of those statement games, and he got it.
These late-season performances really matter. Westbrook clinching the triple-double average while hitting the game-winner in Denver in 2017 was a huge moment and a boost to his candidacy that shifted more than a few voters to his side.
It is ironic since this late-season stretch is the time where Harden has caught Antetokounmpo in terms of team success; the Rockets are going to clinch home-court advantage and have been phenomenal in terms of net rating since the All-Star Break.
But as we talked about in January, Harden's statistical performance was going to slow down as Capela and Paul got healthy, and with his usual year-end tail-off:
Now, Harden has kept his scoring high enough to not take away from the big-picture jaw-dropping figures for his season, and is pushing his assists up (as we said he would). But the schedule is working against him, now.
He has the Suns up next and a gaudy, 60-plus point performance this late in the season with home court assured in a blowout would be seen as stat-padding.
A dynamite game in the season finale vs. the Thunder, however, is a different story. If the Rockets were to secure the No. 2 seed (which is definitely in play if the Rockets win out and the Nuggets go 2-2 with a win over Portland), and Harden has a monster game in the finale, it might give him the chance to get in the last word before the ballot is due from voters later next week.
Grading Value
So when Harden was -500, the best value was on Giannis in January. When Harden slipped back to +200 earlier this month, he had value. We're down to the wire. I'm going to grade the three options on best value.
Harden: +250
Value Grade: C
Harden is plus-money for what I would guesstimate at a slightly-less than-50-percent chance, maybe 40-45%, so there's value here, just not tremendous value given how much is out of your control.
I've given you the lay of the land on the types of voters, but in something subjective like this with these factors, it's impossible to quantify.
Given that Giannis still led so strongly in the last straw poll we conducted in late February, there's value here, but it's not great. If you can find it at +300, that obviously changes the math.
---
Antetokounmpo: -300
Value Grade: D
You need to be at 75% confidence here to take the Greek Freak and I just don't know how that can be the case against a player who managed to keep his scoring as high as he has, while adding the win total Harden did over the post-All-Star stretch.
Harden is a more-established name, with bigger prolific performances. Do I think Antetokounmpo should be favored? Yes. But this number doesn't provide good value.
---
Stay Away
Grade: B
It's a binary outcome on a subjective award, and there's a strong reason to think Antetokounmpo's lead to begin with was too hard to break. He was the preseason favorite and has the team success to back it up.
Yet Harden's performance is such a wild outlier as to threaten Antetokounmpo's candidacy the same Russell Westbrook's was such a wild outlier in 2017. The voting bloc does sometimes completely stun me (as it did by selecting Dwane Casey Coach of the Year last year).
There's been good value on this race throughout the season, but with where the odds are with just a handful of games left, the smart play may be to sit this one out and focus on playoff futures.
How would you rate this article?