Wob's Guide to Watching the NBA All-Star Game: LeBron, Kyrie and All the Conspiracies!
Credit:
USA Today Sports. Pictured: LeBron James, Kyrie Irving
NBA All-Star Weekend is all about entertainment ... but it's also about a few potentially important things.
WorldWideWob outlines what to watch in Charlotte, from who LeBron James trusts with the final shot to Kyrie conspiracies and more.
It's an exhibition, OK. Let's get that out there now. This isn't baseball where there are actual stakes and the winner of the All-Star Game gets home-court advantage in the Finals.
Everything about NBA All-Star Weekend is designed for entertainment purposes, putting on the best show featuring the world's best players. If you're looking for X's and O's, defense and fundamentals, this is probably not for you and that's completely fine.
Now, while the game "doesn't matter" for playoff implications, that doesn't mean there aren't things that could have long-term effects — specifically on the much-anticipated, quickly-approaching free agency summer of 2019.
Here's what to look out for on Sunday night.
Team LeBron: Who Gets The Final Shot?
Listen, he can deny it all he wants, but there is an eye-popping consistency to the players LeBron James drafted — Durant, Kyrie, Kawhi, Anthony Davis, Klay Thompson, Bradley Beal, Ben Simmons — nearly all of them are either unrestricted free agents at season's end or have been involved in trade rumors to the Lakers in the past.
LeBron knows exactly what he's doing. For nearly two decades he's been a step ahead of the rest of the league. Everyone hears what's going on but LeBron is the only one listening.
There are no accidents when James makes a decision.
So, let's say the game is close like it was last year. We know how that ended: Steph Curry did his best 2016 Finals Game 7 impression dribbling the ball into the coffin corner and throwing it into the abyss after being double-teamed by LeBron and Durant.
Who is James running the high pick-and-roll with? It's got to be Durant, right?
It's arguably the most unguardable play in NBA history. But LeBron knows the whole world is watching, including those players who are going to be free agents in a couple months, and even if it doesn't go in, who he trusts with the rock in the final seconds will be immediately interpreted by the public as: "That's who the Lakers are going after. That's who LeBron wants."
It's likely not true, but it's what we're all going to think.
We won't find out if LeBron truly shares this mentality until July, but I would like to reiterate that every single dribble, business transaction and, hell, even every breath is calculated.
This moment could be one of the biggest clues we get before July 1. You have my permission to reach with your takes because there's precedent to include in our forecasting.
What Are Kyrie and LeBron Up To?
Before we leave the "LeBron is up to something" topic, I (like many of you) were disappointed to see Durant taken before Kyrie.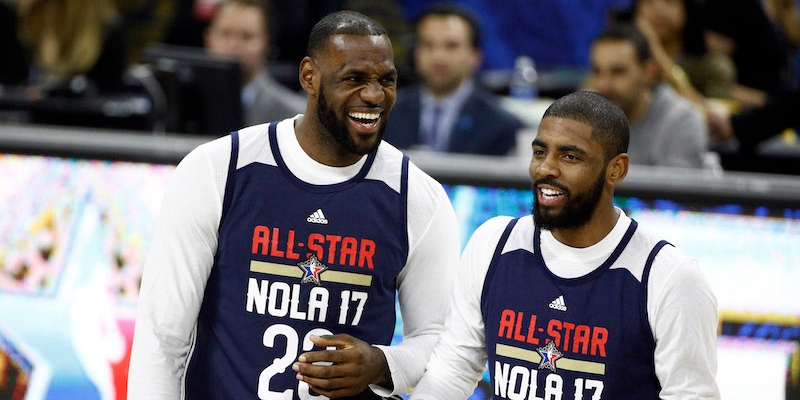 First, Irving told the world he called LeBron to apologize for how he acted — unaware of what it took to truly be a leader. Then LeBron took to Instagram to post a selfie video singing along to Fetty Wap's "Rewind' with the lyrics: "I know you're with em now but soon you will be mine. If I could bring it back, I'll probably press rewind."
I mean, come on. At that moment you can't help but think they're getting back together. You'd figure after Kyrie bent the knee, LeBron would return the respect by drafting him first overall.
But it didn't happen.
Shock was soon replaced with woke.
Puts on tin foil hat
LeBron is too smart to take Kyrie first because he knows everyone will freak out. Giannis said before the draft started that he was drafting Steph then Embiid. This allowed LeBron to pick Durant No. 1, just like last year, to use as a PR spin/tampering cover. Maybe Kyrie even gave it his blessing, I don't know, I'm just speculating here, but those chickens are up to something.
Where there's smoke in this league, there's usually fire. Keep an eye on these two and anything they do that might tip us off on a historic reunion.
Joel Embiid and Russell Westbrook … on the Same Team
Needless to say, they do not like each other at the moment.
And when Westbrook was traded to Team Giannis during the All-Star Draft:
The beef history goes back a couple years now, and there's no end in sight. Now they have to be allies for a night. In All-Star Games of past, we've seen Westbrook declare a truce with Durant during their Cold War and even … gasp … celebrate together: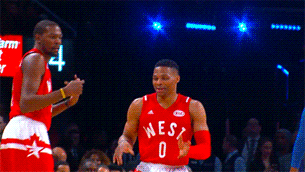 For some reason, this one doesn't feel like it's going to proceed so peacefully.
I got a chance to ask them both about it yesterday. Westbrook was less than enthused:
Would one dare sabotage a bucket or W just to spite the other? Unlikely, but if there's two who are capable — you're looking at em.
Will We Finally Get National TV Cardiac Kemba?
This is Kemba's party. The NBA's most underrated star in one of the NBA's least popular markets playing for the NBA's most mediocre franchise has never gotten the attention he deserves.
It's been a LONG time since the famous "CARDIAC KEMBA" play at Madison Square Garden and his national championship brilliance. Almost eight years to be exact.
Since then, all he's done is ball out and break just about every Hornets scoring record that matters. But nobody from a mainstream/global perspective ever seems to care. We all know how good he is but never get to celebrate it.
This is his home turf and he's finally starting. It's Kemba time.
All those narratives, things to look out for and conspiracies listed above are irrelevant if Kemba decides to go Rice High School recess court on these dudes. Not a single player on his team will blame him either — you don't sit at another man's dinner table and complain about the food he's serving.
Wade and LeBron: Will the Oop Happen?
What you might not know is that one of the most iconic photos in NBA history wasn't an actual alley-oop, it was a bounce pass.
Don't let this ruin the moment, though; they did plenty of damage together on the ground floor and in the air, too.
This is it for Dwyane Wade. The #OneLastDance tour has reached the one-last-all-star game world stage. One last time, Wade and LeBron will be teammates and run the floor together.
And Wade told the world.
Wait a second. He said "from" not "to" … IS HE ABOUT TO CATCH A LOB FROM BRON? Are we turning the clock back to the "Flash" days?
It doesn't matter. All we ask is that it happens. HE PROMISED. I don't care if the defense gets out of the way to let it happen.
One Last Lob.
Dunk that s**t like the fate of the world depends on it.
Rip the rim off the backboard.
Descend to the ground like the riders of the apocalypse you are. We are ravenous for this moment. Let us primal scream with you.