NBA Odds and Picks (Friday, July 31): Betting Predictions for Celtics vs. Bucks
Credit:
Getty Images. Pictured (L-R): Boston Celtics guard Jayson Tatum (0), Miwaukee Bucks forward Giannis Antetokounmpo (34).
Betting odds for Friday's Celtics vs. Bucks game (6:30 p.m. ET) have the Bucks listed as 5-point favorites, with the total set at 220.
The Bucks have been profitable as small favorites in recent history, but the Celtics are arguably the healthiest team in the bubble, with no players on their injury report.
Below you'll find a full betting preview of the Eastern Conference showdown, including a pick on the spread.
Celtics vs. Bucks Betting Odds
Odds as of Friday at 4 p.m. ET and via DraftKings. Get up to a $1,000 sign-up bonus at DraftKings today or see more offers and reviews for the best online sportsbooks.
---
After a two-game slate on Thursday, the NBA returns in earnest on Friday. Six games will be played in Orlando, headlined by the matchup between the Milwaukee Bucks and Boston Celtics at 6:30 p.m. ET.
This might be a preview of the Eastern Conference Finals. The Bucks are heavy favorites to represent the East — they're currently listed at -167 to win the East at DraftKings — but the Celtics are one of the few teams to challenge them this season. The two sides split their two matchups, with Boston holding a slight scoring edge in those contests (119.5 points per game vs. 116.5).
The Bucks enter Friday's contest as five-point favorites, while the total currently sits at 218.5.
Let's break down everything you need to know about this matchup from a betting perspective.
Milwaukee Bucks
The Bucks followed their excellent 2018-2019 campaign with an utterly dominant season before the March shutdown. They were on pace for roughly 67 wins and outscored opponents by an average of 10.76 points per 100 possessions.
Head coach Mike Budenholzer's unit is elite on both ends of the court, ranking sixth in offensive efficiency and first in defensive efficiency per NBA.com. They also play at the fastest pace in the league to help maximize their efficiency.
Even more impressively, Milwaukee has blitzed the competition without exhausting its star players. Giannis Antetokounmpo leads the team with an average of just 30.9 minutes per game and Khris Middleton is the only other player averaging more than 27.2 minutes. That's ridiculous!
The Bucks are unsurprisingly best with their starting lineup on the floor: The five-man combo of Antetokounmpo, Middleton, Eric Bledsoe, Wes Matthews and Brook Lopez has posted a Net Rating of +19.2 over 407.7 minutes. It's scary to consider what their numbers would look like if they leaned on their stars a little more.
Of course, a limited workload hasn't stopped Antetokounmpo from compiling another monster season. He leads the league in Win Shares per 48 minutes, and no one in basketball can match his defensive impact. For context, Antetokounmpo has 4.8 Defensive Win Shares this season while Anthony Davis ranks second with 4.1.
The gap between Antetokounmpo and Davis is the same as the gap between Davis and Jayson Tatum, who ranks eighth. Giannis has all but locked up his second straight MVP.
With that said, there are two big questions with the Bucks heading into Friday's contest vs. the Celtics.
The first is the team's health. The Bucks will be without Bledsoe and Pat Connaughton for this contest, who are still working their way back to full strength after testing positive for COVID-19.
The absence of Connaughton should be pretty easy to overcome — he was one of their worst players by Net Rating differential this season — but the loss of Bledsoe matters. The Bucks have increased their Net Rating by 4.5 points per 100 possessions with Bledsoe on the court this season, the fifth-highest mark on the team. George Hill is a competent backup but a clear downgrade from Bledsoe.
The other concern for the Bucks is their motivation. They have all but secured the top spot in the East given their 6.5-game cushion over the Toronto Raptors, the only team that can mathematically catch them.
The Bucks prioritized rest and load management all season, so why would that change now? Who knows how long we will actually see their starters in this contest.
It's possible the Bucks give it their all to try to lock up the top seed as quickly as possible, but it's also possible they just try to shake the rust off in their first seeding game.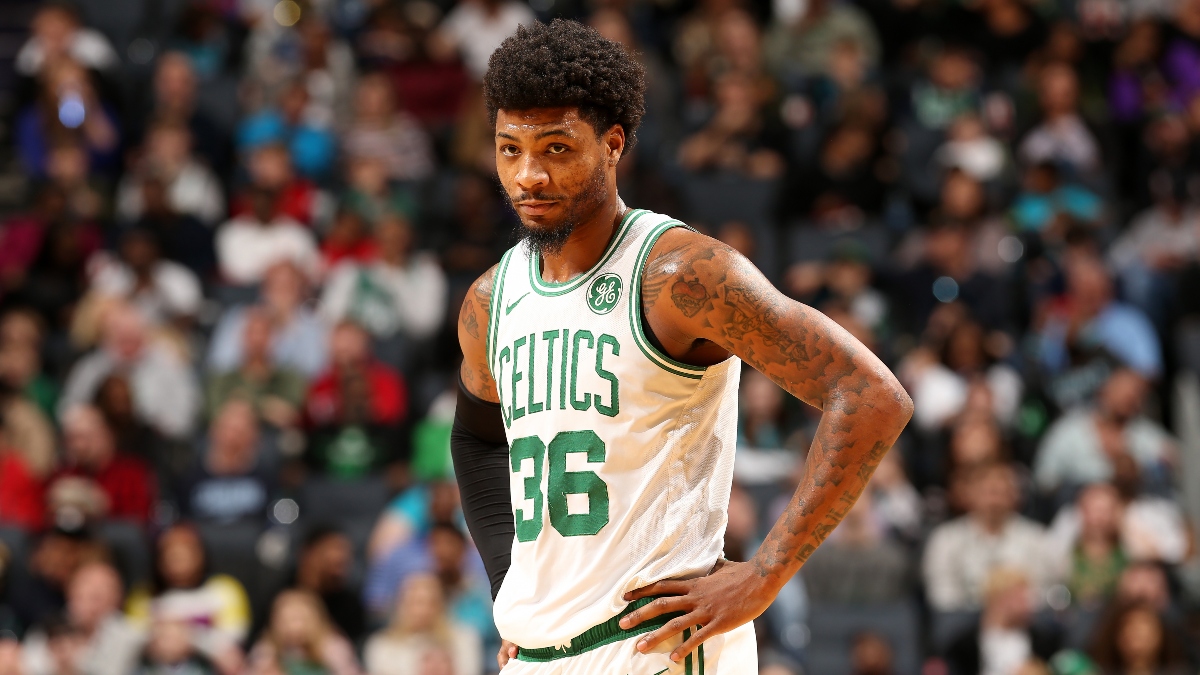 Boston Celtics
How you feel about the Celtics basically comes down to how you feel about Tatum.
Tatum was anointed the next big thing after just one season in the NBA, with general manager Danny Ainge reportedly making him untouchable in deals for guys like Paul George and Anthony Davis. That's a lot of pressure to put on the shoulders of a kid, but it's fair to say that Ainge was probably right.
Tatum has blossomed into a superstar in 2020. He's averaging 23.6 points per game while shooting 39.8% from 3-point range, but he advanced just before the shutdown, increasing his scoring average to 28.6 points per game over his final 17 contests. During that span, he shot a blistering 45.8% from 3-point range on 8.5 attempts per game and led the Celtics to a 12-5 record.
Ultimately, Boston increased its Net Rating by +10.9 points per 100 possessions with Tatum on the court this season, putting him in the 95th percentile for all NBA players alongside guys like Antetokounmpo, LeBron James and Damian Lillard.
If he can continue that level of production, he has the potential to be the most important player in the Eastern Conference playoffs outside of Antetokounmpo. He has become that important for the Celtics.
Boston also enters the restart with its full complement of players to surround Tatum. The Celtics have no players listed on the injury report currently, which puts them in better shape than virtually every other team in the bubble.
Betting Analysis & Pick
This is a tough game to handicap. That said, I'm going to roll the dice with Milwaukee.
Motivation and health issues aside, the Bucks have been an absolute force over the past two years. Getting the opportunity to back them as such small favorites is pretty appealing, as they've dominated over the past two years when favored by fewer than 10 points.
As long as the Bucks have Giannis, they will always be an appealing bet in this situation when favored by single digits.
There could also be some value on the over. These two teams have combined for at least 221 points in both prior meetings this season, including 251 points in their last outing. The Bucks defense has also allowed roughly 2.5 additional points per 100 possessions with Bledsoe off the court.
Add in the fact that Kemba Walker is reportedly going to be limited to just 18-20 minutes in this first game, and I like it even more.
The Pick: Milwaukee Bucks -5 (play up to -5.5)
[Bet $20+ on the Bucks at PointsBet and Win $125 if they make at least one 3-pointer]
How would you rate this article?