NBA Odds & Betting Picks (Feb. 24): Injuries Create Value in Hawks-76ers, Grizzlies-Clippers
Credit:
Joe Murphy/NBAE via Getty Images. Pictured: Ja Morant (12) of the Memphis Grizzlies.
Bryan Mears breaks down NBA odds and gives his betting picks for Monday's NBA slate.
He's looking at Grizzlies-Clippers and 76ers-Hawks as two with betting value due to injuries on both sides.
Get Bryan's full NBA betting manifesto for Monday, Feb. 24, 2020 below.
This NBA season, I'm trying something new. I'm going to write a daily piece that highlights everything bettors and DFS players need to know for that night's slate. For more on what to expect, read the inaugural piece.
Yesterday I finished 5-2 for +2.37 units. While I don't want to get sucked into the past, I think it's worth reviewing things each day.
The best way to do that is to look at closing line value (CLV), which is just measuring whether the line you bet moved for or against you by closing.
I bet Celtics +7.5 and it closed at Celtics +7.5 (won)
I bet Celtics-Lakers under 223 and it closed at 222.5 (lost)
I bet Raptors -5.5 and it closed at Raptors -5 (won)
I bet Wizards -135 ML and it closed at Wizards -160 (lost)
I bet Pelicans (live) -6.5 (won)
I bet a Pels-Nuggets-Raptors ML parlay (won)
I bet a Pels-Nuggets ML parlay (won)
Yesterday was a solid day overall although pretty mediocre in terms of closing line value. My only note is that I wish I had gone in harder on the Pelicans live — it got down close to even money — and they went on a predictable second-half run to easily cover even the high closing number.
Anyway, let's dive into today's slate and find some angles.
YTD Record:
Overall: 236-215-3
Spreads: 92-87-3
Totals: 89-95
Moneylines: 24-11
Parlays: 2-0
Props: 29-22
Jump To: Odds & Analysis | Projected Starting Lineups & Injury News | Player Props | DFS Values & Strategy | My Bets
---
Odds as of Monday afternoon and via FanDuel, where Action Network users get a risk-free bet up to $500.
---
Betting Odds and Analysis
7 p.m. ET: Atlanta Hawks at Philadelphia 76ers (-8), 228.5
7 p.m. ET: Miami Heat (-6) at Cleveland Cavaliers, 222.5
7 p.m. ET: Milwaukee Bucks (-12.5) at Washington Wizards, 242.5
7:30 p.m. ET: Orlando Magic at Brooklyn Nets, 212
8 p.m. ET: New York Knicks at Houston Rockets (-14), 229.5
8:30 p.m. ET: Minnesota Timberwolves at Dallas Mavericks (-13.5), 238.5
9 p.m. ET: Phoenix Suns at Utah Jazz (-8), 223.5
10:30 p.m. ET: Memphis Grizzlies at LA Clippers (-9.5), 233
Hawks at 76ers
I'm going against the trends here. We already know Philly's extreme home/road splits…
Philly at home: +11.6 Net Rating (3rd), 113.4 ORtg (12th), 101.8 DRtg (1st)
Philly away: -5.9 Net Rating (24th), 105.2 ORtg (26th), 111.1 DRtg (11th)
As a result, the 76ers are 16-10-2 ATS (+19.7% ROI) at home vs. 8-20-1 ATS (-42.6% ROI) on the road. Interestingly, unders in Philly home games are 12-15-1 but 17-12-0 on the road.
We're going against all the trends here, but I'm not too worried about it. Honestly, I'm not sure those trends really apply given the current injury situation for today: Ben Simmons is out, and Tobias Harris is doubtful. That leaves the Sixers down two starters, and while they bolstered their depth in a couple trade deadlines moves with the Warriors, it's still very new for those guys.
To hammer that point home: Tonight's starting lineup — we're projecting a unit of Shake Milton, Josh Richardson, Glenn Robinson III, Al Horford and Joel Embiid — has played a total of seven possessions together … ever. There's still talent, obviously, but it's a big downgrade from the starting unit, plus there are potential chemistry issues given just the lack of familiarity.
The Sixers have also been atrocious offensively with Milton at point. They rarely get to the rim and don't take many 3-pointers. They have a variety of ball-handlers available other than him like Raul Neto, Alec Burks and Richardson, but that's a big talent drop-off from Simmons and Tobias — perhaps their two best offensive initiators — running things.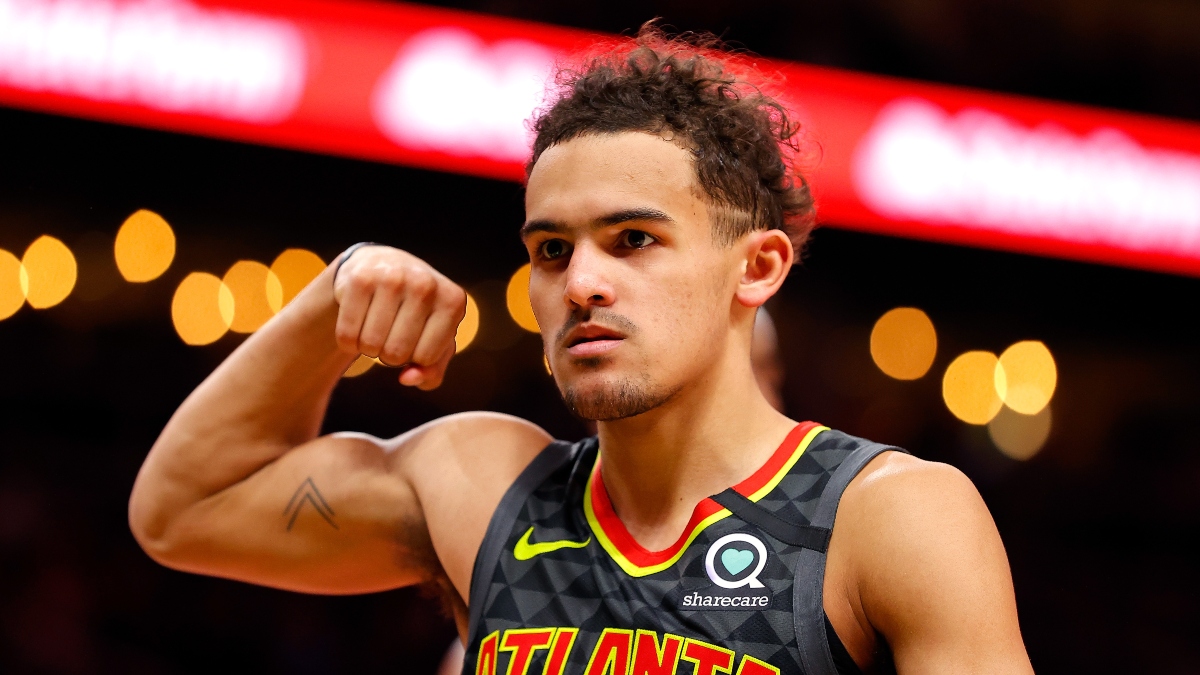 And perhaps most importantly, the Sixers have consistently run less with Simmons off the court; he likes to push in transition. They get out 4.8% more often, which is actually in the 99th percentile of all players this year. With those guys out, I wouldn't be surprised to see the majority of offense funnel through Embiid in the post, which is fine but inherently going to produce longer possessions.
Meanwhile, the Hawks continue to be a little better than their overall record and numbers this year. They played for a long time without their main guys, notably John Collins (and an injured Kevin Huerter). But their main unit with those guys plus De'Andre Hunter and (insert random wing) has been very good, posting a Net Rating above +10 with Cam Reddish as that wing, for example.
Look, I get all the trends. I've been hitting them all year for the Sixers. But the books and public know them as well, and it's unrealistic to think that those ATS records will continue to grow. I would expect bookmakers to shade lines toward the Sixers at home and to their opponent on the road, which should either even things out or provide value on the other side moving forward. The NBA is an efficient, liquid market.
I also think the market may be not properly adjusting for the Sixers' injuries here, especially the pace differential with Philly. Maybe I'm on the wrong side — the spread has moved back to -8.5 — but I'll take the risk on Atlanta and the under. Given where the public is likely to be, it might be worth waiting to see if this line balloons further.
Note: Tobias Harris was upgraded from doubtful to questionable. Make sure to monitor his status prior to tip.
Grizzlies at Clippers
I love the Grizzlies. It's difficult to find a more exciting young core than Ja Morant, Jaren Jackson Jr. and Brandon Clarke.
But they have a brutal schedule over the last part of the year and will really have to play well to hold onto the 8-seed in the playoffs, especially with Zion Williamson and the Pelicans surging right now.
What will make things even more difficult during this tough schedule is that Jackson Jr. is out for at least the next two weeks.
The data on him isn't crazy or anything: With him off the floor, the Grizzlies have actually been 4.1 points per 100 possessions better than with him on. But that's mostly due to starters/bench splits — the guys with the highest on/off differentials are Josh Jackson, De'Anthony Melton and Brandon Clarke.
What he does help is the Grizzlies' shot profile. With him on the floor, the Grizzlies have shot 6.4% more 3-pointers, which is the highest differential on the team and one of the highest in the league. They just get more efficient looks with him out there spacing, and that's a question mark tonight.
That's especially true given the Grizzlies' recent shot profile even with Jackson Jr. playing. Since Feb. 1, they have the fourth-worst expected field goal percentage on account of them having a league-low 23.4% 3-point rate. They're 29th in actual eFG% at just 50.1%.
And if the Clippers are vulnerable defensively anywhere this year, it's beyond the arc. They're bottom-10 in 3-point rate allowed but have done a great job at limiting shots at the rim. Further, they have the second-best FG% allowed on mid-range jumpers. The Grizzlies will try their best to take shots at the rim and likely a bunch of mid-rangers, and that's exactly where the Clips' strength is.
Meanwhile, the Clips are really struggling right now, losers of three straight. The biggest issue in that span has been the offense, which I'm not actually that surprised about. They're integrating both Marcus Morris and Reggie Jackson into the mix, and both guys can be ball-stopping, high-usage players. I think they're both pretty overrated anyway.
The Grizzlies like to play fast — both teams do actually — but with the Clippers at full strength, their offensive struggles with the new guys and Jackson Jr. out for Memphis, I think there's a bit of value on the under here.
Projected Starting Lineups and Injury News
Note: Info as of 12:15 p.m. ET. For up-to-the-minute lineups and news, see our live lineups page.
Projected Lineups
Atlanta Hawks: Trae Young – Kevin Huerter – De'Andre Hunter – John Collins – Dewayne Dedmon
Brooklyn Nets: Spencer Dinwiddie – Caris LeVert – Joe Harris – Taurean Prince – Jarrett Allen
Cleveland Cavaliers: Darius Garland – Collin Sexton – Cedi Osman – Kevin Love – Andre Drummond
Dallas Mavericks: Luka Doncic – Seth Curry – Tim Hardaway Jr. – Dorian Finney-Smith – Kristaps Porzingis
Houston Rockets: Russell Westbrook – James Harden – Robert Covington – Danuel House – PJ Tucker
LA Clippers: Patrick Beverley – Kawhi Leonard – Paul George – Marcus Morris – Ivica Zubac
Memphis Grizzlies: Ja Morant – Dillon Brooks – Brandon Clarke – Kyle Anderson – Jonas Valanciunas
Miami Heat: Kendrick Nunn – Duncan Robinson – Derrick Jones Jr. – Bam Adebayo – Kelly Olynyk
Milwaukee Bucks: Eric Bledsoe – Wes Matthews – Khris Middleton – Giannis Antetokounmpo – Robin Lopez
Minnesota Timberwolves: D'Angelo Russell – Malik Beasley – Josh Okogie – Juancho Hernangomez – Naz Reid
New York Knicks: Elfrid Payton – RJ Barrett – Reggie Bullock – Julius Randle – Taj Gibson
Orlando Magic: Markelle Fultz – Evan Fournier – James Ennis – Aaron Gordon – Nikola Vucevic
Philadelphia 76ers: Shake Milton – Josh Richardson – Furkan Korkmaz – Tobias Harris – Joel Embiid
Phoenix Suns: Ricky Rubio – Devin Booker – Kelly Oubre – Mikal Bridges – Deandre Ayton
Utah Jazz: Mike Conley – Donovan Mitchell – Joe Ingles – Bojan Bogdanovic – Rudy Gobert
Washington Wizards: Ish Smith – Bradley Beal – Isaac Bonga – Rui Hachimura – Ian Mahinmi
Injury News
Atlanta Hawks: DeAndre Bembry (abdominal pain) is out. De'Andre Hunter (personal) is not on the injury report.
Brooklyn Nets: Kyrie Irving (shoulder surgery) is out for the year.
Cleveland Cavaliers: Alfonzo McKinnie (foot) is out. Kevin Love (Achilles) is probable.
Dallas Mavericks: Jalen Brunson (shoulder) is out. Willie Cauley-Stein (personal) is questionable. Luka Doncic (ankle) is probable.
Houston Rockets: Nothing new.
LA Clippers: Patrick Beverley (groin) and Paul George (hamstring) are questionable.
Memphis Grizzlies: Jaren Jackson Jr. (knee) is out at least 2 weeks.
Miami Heat: Jimmy Butler (personal), Tyler Herro (ankle) and Meyers Leonard (ankle) are out.
Milwaukee Bucks: Brook Lopez (back) and Kyle Korver (back) are out.
Minnesota Timberwolves: Karl-Anthony Towns (wrist) remains out. D'Angelo Russell (knee) is not on the injury report. Allen Crabbe (personal) is out. Jake Layman (toe) is probable.
New York Knicks: Elfrid Payton (ankle) is questionable. Frank Ntilikina (groin) is out. Mitchell Robinson (ankle) is available to play. Wayne Ellington (ankle) is not on the injury report.
Orlando Magic: Gary Clark (knee) is questionable. Markelle Fultz (calf) is available to play.
Philadelphia 76ers: Ben Simmons (back) is out. Tobias Harris (knee) is questionable.
Phoenix Suns: Elie Okobo (ankle), Deandre Ayton (ankle), Aron Baynes (hip) and Dario Saric (ankle) are probable.
Utah Jazz: Nothing new.
Washington Wizards: Davis Bertans (knee) is questionable. Thomas Bryant (rest) is out.
Player Props
To bet props, I use our FantasyLabs player props tool. Follow me in the Action Network app to see my bets (or go to the bottom of the article), but the more important thing is the tool, which measures our projections for every player vs. current odds in the market and highlights the biggest edges for you.
Player props are an inefficient market, which allows casual bettors (limits are low, so pro bettors aren't incentivized to prioritize them) to grab very +EV bets.
That said, the lines move quickly. Our props tool is set up so you can always see whether there's an edge even at the updated numbers throughout the day.
It's one of my favorite tools we offer and should be one of your bookmarked pages if you like making a few extra bucks. Here's a screenshot of what it looks like:

My usual recommendation: Bet unders.
Last season, 10-rated props in our tool hit at a 60.31% rate. But overs hit at a 57.08% rate vs. 66.47% for unders. For 9-rated props, 55.96% of overs were successful bets vs. 62.60% for unders.
As I have noted in the past, unders have more outs: A blowout, an injury, a poor shooting night all will likely make the under hit. But also, props are less efficient as a market given the low limits, so they're less likely to adjust for things like opponent and pace.
One example is Josh Okogie's 10.5-point prop.
He's been under this mark in four straight games, but more importantly the usage has been way down. Against the Celtics the other day, he used just 7.3% of the possessions while on the floor, so despite shooting perfectly from the field, he still went under this prop.
I'm not sure that's going to change today, especially since the Timberwolves are likely to get back D'Angelo Russell, who should dominate usage for his new team. Against a good Dallas squad, I think the value remains on the under.
DFS Values and Strategy
Man, what a day for DFS.
There are five guys priced at $10,000 or higher on DraftKings: Russell Westbrook, Luka Doncic, Trae Young, James Harden and Giannis Antetokounmpo. And oh how beautiful are the matchups for these guys.
Giannis gets the Wizards, who are incredibly fast-paced and terrible defensively. Harden and Westbrook get the Knicks. Luka gets the Wolves, who have been awful and could be even worse defensively with D'Angelo Russell. And down in salary a bit is Joel Embiid, who gets the Hawks and will likely be down two starters in Ben Simmons and Tobias Harris.
The question today isn't whether you should pay up for a stud but rather which one. The priorities should likely be Embiid and Luka, although Giannis, Harden and Westbrook are right there and would be awesome tournament pivots.
Today could be an extreme stars-and-scrubs lineup day, especially given the amount of low-end value available. Al Horford is popping as a value with the Sixers' injuries. Gorgui Dieng is underpriced near the minimum. Other values include Josh Richardson, Robin Lopez, De'Anthony Melton, Josh Jackson, Brandon Clarke, Kendrick Nunn, Alec Burks and more. It's a loaded day.
Make sure to monitor injury news, too. Luka Doncic, Kevin Love and Deandre Ayton are probable, while Paul George, Tobias Harris, Patrick Beverley and Elfrid Payton are all questionable.
You know the drill: Follow the news and make sure to subscribe to our models to see up-to-the-minute projection updates.
For more DFS analysis and value plays, check out the FantasyLabs NBA models.
My Bets Currently
Hawks +8
Hawks-Sixers under 228.5
Grizzlies-Clippers under 233
[In New Jersey, Pennsylvania, Indiana or West Virginia? Bet now at FanDuel]
Follow me in our free app if you want an alert on bets I make.
How would you rate this article?