Monday NBA Odds & Picks for Monday Oct. 28: Best Betting & DFS Values, Injuries to Know, More
Credit:
Photo credit: Mark J. Rebilas-USA TODAY Sports. Pictured: Devin Booker
Updated NBA betting odds for a few of the biggest games on Monday's slate: The Bulls are 2-point favorites at the Knicks with the over/under set at 224.5; the Warriors are 2.5-point underdogs at the Pelicans with the over/under at 235.5; and the Kings are 5-point home underdogs against the Nuggets with an over/under of 217.
Bryan Mears details all the injuries and picks to know below, including his favorite spread, over/under and prop bets of the night.
This article, usually part of our EDGE membership, is completely FREE to read today — we hope you enjoy it! Be sure to check out our free app, where you can get real-time odds and expert betting analysis while on the go.
This NBA season, I'm trying something new. I'm going to write a daily piece that highlights everything bettors and DFS players need to know for that night's slate. For more information on what to expect, read the introduction on last week's first piece.
On Friday I finished 9-5 for +1 unit. I went 7-4 on player props and 2-1 on sides/totals. While I don't want to get sucked into the past, I think it's worth reviewing things each day.
The best way to do that is to look at closing line value (CLV), which is just measuring whether the line you bet moved for or against you by closing.
I bet the Jazz-Lakers under 216.5 and it closed at 216
I bet the Blazers moneyline at -145 and it closed at -120
I bet the Bulls-Grizzlies over 223.5 and it closed at 224.5
The Blazers game moved against me, although I felt pretty strongly on Friday about fading that Kings team with a variety of absent/injured players. And the over/unders both moved in my favor by closing.
We have a weird slate today with a couple notable injuries looming — Joel Embiid and Jrue Holiday (I discuss both in depth below) — and huge spreads with Clippers (-15.5) vs. Hornets and Bucks (-15) vs. Cavaliers.
We also have apparently the two worst teams of all time in the Kings and Warriors, both of whom are getting five points tonight in potential bounceback spots.
Let's dive in. This is a long post, so use the jump links below.
Note: For updates, see the chat at the bottom of this post.
Jump to: Betting Odds & Analysis | Projected Starting Lineups & Injury News
Player Props | DFS Values & Strategy | Pro Betting Systems | My Bets | Live Chat
---
Betting Odds and Analysis
7 p.m. ET: Chicago Bulls (-2) at New York Knicks, 224.5
7 p.m. ET: Indiana Pacers (-1.5) at Detroit Pistons, 213.5
7:30 p.m. ET: Philadelphia 76ers (-5.5) at Atlanta Hawks, 222
7:30 p.m. ET: Orlando Magic at Toronto Raptors (-5), 210.5
8 p.m. ET: Golden State Warriors at New Orleans Pelicans (-5), 237
8 p.m. ET: Cleveland Cavaliers at Milwaukee Bucks (-15.5), 224.5
8 p.m. ET: Oklahoma City Thunder at Houston Rockets (-10), 227.5
8:30 p.m. ET: Portland Trail Blazers at San Antonio Spurs (-6), 222
10 p.m. ET: Utah Jazz (-4.5) at Phoenix Suns, 213.5
10 p.m. ET: Denver Nuggets (-5.5) at Sacramento Kings, 218
10:30 p.m. ET: Charlotte Hornets at Los Angeles Clippers (-15.5), 227
(Odds via PointsBet — claim your 200% deposit match, an exclusive promotion for Action Network users)
Let's hit on the games I've bet and where I think edges currently exist.
Bulls vs. Knicks: I haven't bet this yet, as I'm waiting to see if it'll move back down. The Knicks are actually receiving more money than bets as of Monday afternoon, so it's possible it'll get back to Bulls -1.5 if that continues. Still, I think there's quite a bit of value and would bet it at Bulls -2 (or the moneyline).
I'm buying low on the Bulls, who I think are the vastly more talented team (at least right now; the Knicks have some intriguing young talent). Chicago has been up and down on both ends of the floor, and the main guys just haven't collectively put things together in a game. Zach LaVine has gone off, Coby White has dominated at times, Lauri Markkanen has been impressive. I think they can coalesce a bit against this bad Knicks roster.
LaVine has been the face of the mid-ranger vs. analytics debate (despite not being the worst culprit by any means), but the Bulls as a whole have had a modern offense so far this year. They're first in the league in percentage of shots at the rim, and they're second-to-last in long-2s.
The issue isn't really shot selection, although that seems to be the narrative. They're above league-average in percentage of open 3s at nearly 20%. They just haven't hit them, shooting a miserable 29.8% on such shots. Overall, they're just 55.8% at the rim (26th) and 28.4% from beyond the arc (29th).
Markkanen is one of the league's best shooters; he's at 14.3% from 3 this year. Otto Porter is at 23.1%. There's a lot of room for progression.
Against a New York team currently allowing a 55.1% effective field goal mark, I like the Bulls to get back to preseason expectations and get right.
Hawks vs. 76ers: Joel Embiid sprained his ankle late last week, which held him out of Saturday's win over the Detroit Pistons. He's questionable to suit up today against the Hawks due to the ankle plus a lip laceration that required sutures.
I haven't made a bet on this one yet either, as I'm waiting for news on him. I think this line is expecting him to play, but if he's out I think there's some immediate value on the Hawks at +5.5.
Embiid has been one of the most impactful players in the league for a couple of years now, especially on defense. Last year, the Sixers were 6.8 points per 100 possessions worse offensively with him off the floor and 7.6/100 worse defensively. On Saturday without him, the Pistons took 46% of their shots at the rim, hitting a crazy 70% of them. It wasn't a huge Andre Drummond game like you'd think, either; it was mostly the guards getting into the paint.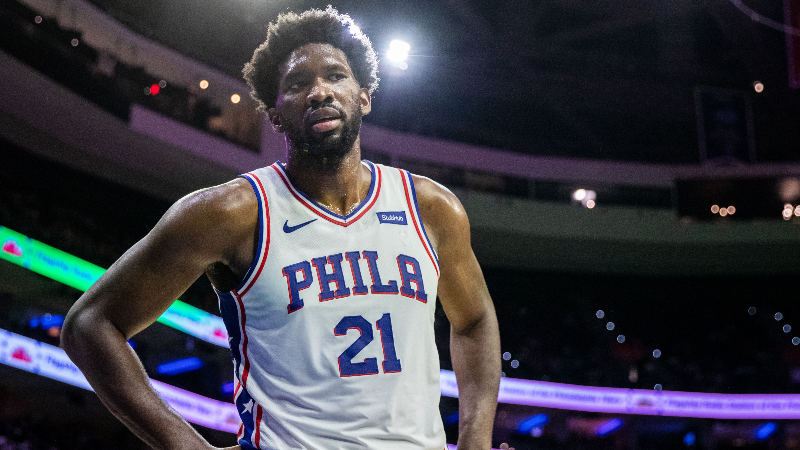 Overall, I think the defense is still largely very good with or without Embiid. Their starting lineup Saturday — with rookie Matisse Thybulle getting the nod — has all good-to-great defenders (Tobias Harris might be the exception as more of an average defender). Ben Simmons and Josh Richardson are both awesome on-ball defenders, and Al Horford is one of the smarter players in the league.
Still, Embiid's big body not being in the paint makes things easier, and tonight the Sixers will face a Hawks team that ranks first in the league in shots made at the rim at a stupid-high 73.8%. Sophomore phenom guard Trae Young seems like he's taking another huge leap: He's been unstoppable, and that's really opened things up for the rest of the talented, athletic players around him.
All in all, five points is too much in Atlanta without Embiid, and I'll be monitoring the FantasyLabsNBA Twitter account so I can get the news right away and jump on that line.
Under 214.5 in Jazz-Suns: I already bet this one, and I wrote about a betting system on it below in that section.
Game analysis-wise, it's not surprising to see Rudy Gobert and the Jazz as the league's best defense early on. They've been awesome, allowing just 88.7 points per 100 possessions, although that number is being slightly deflated thanks to a matchup against the terrible (so far) Kings.
Still, the Jazz project as a great defense, and more important than raw performance numbers is the type of shots they're allowing. Just 28.7% of opponent shots have been at the rim (second-best in the league); 29.6% of opponent shots have been beyond the arc (also second-best). They've been the best team at forcing teams into tough mid-rangers, an area Phoenix has really struggled historically and this season (it has been better elsewhere).
And surprisingly, this Suns defense has been … not bad? They rank seventh on the year (they get the Kings caveat, too), but the indicators have also been good, as they've allowed 3-pointers at the sixth-lowest rate. Aron Baynes is less talented than Deandre Ayton but a superior defender. Ricky Rubio is an excellent defender.
I'll take the under in this one. [In New Jersey? Bet now at PointsBet]
Under 211 in Magic-Raptors: Likewise to above, these teams have been outstanding defensively this season, have awesome personnel and largely play slow (especially the Magic).
The Magic have allowed the third-fewest points per 100 possessions, ranking in the top 10 in all four defensive four factors. They're especially great at rebounding and limiting easy points via fouls. It makes sense: Their young guys in Jonathan Isaac and Aaron Gordon are getting closer to their primes, and they've always had great potential.
Importantly, the Magic have been the second-best team so far at limiting transition opportunities, which is important against Pascal Siakam, who thrives in such settings. He's admittedly been a star in all facets of the game so far, but I think his weakness is operating in halfcourt sets. The Magic will make him do so tonight.
---
Projected Starting Lineups and Injury News
(As of 5 p.m. ET. For up-to-the minute lineups and news, see FantasyLabs' matchups page.)
Lineups…
Atlanta Hawks: Trae Young – Cam Reddish – De'Andre Hunter – John Collins – Alex Len
Charlotte Hornets: Terry Rozier – Dwayne Bacon – Miles Bridges – PJ Washington – Cody Zeller
Chicago Bulls: Tomas Satoransky – Zach LaVine – Otto Porter – Lauri Markkanen – Wendell Carter Jr.
Cleveland Cavaliers: Darius Garland – Collin Sexton – Cedi Osman – Kevin Love – Tristan Thompson
Denver Nuggets: Jamal Murray – Gary Harris – Will Barton – Paul Millsap – Nikola Jokic
Detroit Pistons: Tim Frazier – Bruce Brown – Tony Snell – Markieff Morris – Andre Drummond
Golden State Warriors: Stephen Curry – D'Angelo Russell – Glenn Robinson III – Draymond Green – Marquese Chriss
Houston Rockets: Russell Westbrook – James Harden – Danuel House – PJ Tucker – Clint Capela
Indiana Pacers: Malcolm Brogdon – Jeremy Lamb – TJ Warren – Domantas Sabonis – Myles Turner
Los Angeles Clippers: Patrick Beverley – Landry Shamet – Kawhi Leonard – Patrick Patterson – Ivica Zubac
Milwaukee Bucks: Eric Bledsoe – Wesley Matthews – Khris Middleton – Giannis Antetokounmpo – Brook Lopez
New Orleans Pelicans: Lonzo Ball – Jrue Holiday – JJ Redick – Brandon Ingram – Derrick Favors
New York Knicks: Elfrid Payton – RJ Barrett – Marcus Morris – Julius Randle – Mitchell Robinson
Oklahoma City Thunder: Chris Paul – Shai Gilgeous-Alexander – Terrance Ferguson – Danilo Gallinari – Steven Adams
Orlando Magic: DJ Augustin – Evan Fournier – Aaron Gordon – Jonathan Isaac – Nikola Vucevic
Philadelphia 76ers: Ben Simmons – Josh Richardson – Tobias Harris – Al Horford – Joel Embiid
Phoenix Suns: Ricky Rubio – Devin Booker – Kelly Oubre – Dario Saric – Aron Baynes
Portland Trail Blazers: Damian Lillard – CJ McCollum – Rodney Hood – Mario Hezonja – Hassan Whiteside
Sacramento Kings: De'Aaron Fox – Buddy Hield – Harrison Barnes – Nemanja Bjelica – Dewayne Dedmon
San Antonio Spurs: Dejounte Murray – Bryn Forbes – DeMar DeRozan – Trey Lyles – LaMarcus Aldridge
Toronto Raptors: Kyle Lowry – Fred VanVleet – OG Anunoby – Pascal Siakam – Marc Gasol
Utah Jazz: Mike Conley – Donovan Mitchell – Bojan Bogdanovic – Royce O'Neale – Rudy Gobert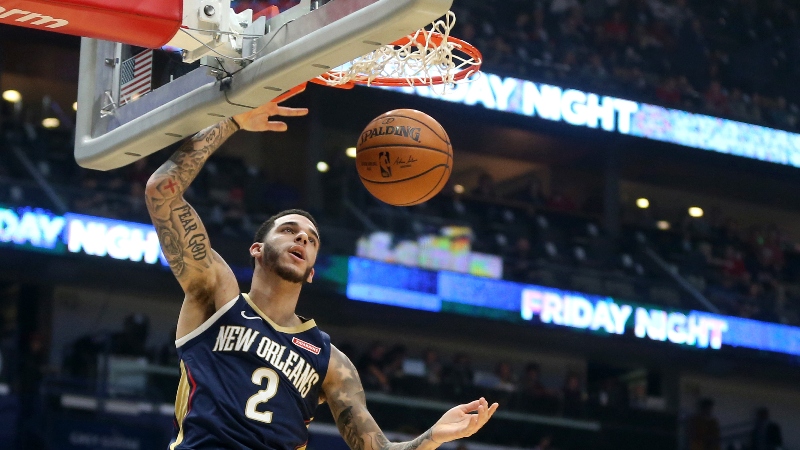 And injury news…
Atlanta Hawks: Alex Len (rib contusion) is probable. Bruno Fernando (ankle) is available to play. Evan Turner (ankle) is probable.
Charlotte Hornets: Nothing new.
Chicago Bulls: Otto Porter (face) and Wendell Carter Jr. (thumb) are available to play.
Cleveland Cavaliers: John Henson (hamstring) is out 2-4 weeks.
Denver Nuggets: Nothing new.
Detroit Pistons: Reggie Jackson (back) is doubtful.
Golden State Warriors: Alec Burks (ankle) and Kevon Looney (hamstring) are out.
Houston Rockets: Nothing new.
Indiana Pacers: Jeremy Lamb (hip) is out.
Los Angeles Clippers: Nothing new.
Milwaukee Bucks: Nothing new.
New Orleans Pelicans: Jrue Holiday (knee) is questionable.
New York Knicks: Dennis Smith Jr. (personal) is out. Mitchell Robinson (ankle) is probable.
Oklahoma City Thunder: Nothing new.
Orlando Magic: Nothing new.
Philadelphia 76ers: Joel Embiid (ankle, lip) is questionable.
Phoenix Suns: Ricky Rubio (knee) is probable.
Portland Trail Blazers: Zach Collins (shoulder) is TBD.
Sacramento Kings: Harry Giles (knee) is out.
San Antonio Spurs: Nothing new.
Toronto Raptors: Pat McCaw (knee) is questionable.
Utah Jazz: Nothing new.
The two biggest news items are the questionable statuses of Joel Embiid and Jrue Holiday. You can read my thoughts on the 76ers-Hawks game above, so let's instead touch on Jrue and the Pelicans vs. the Warriors.
Holiday sprained his knee last week, which caused him to miss Saturday's close loss to the Houston Rockets. He's questionable to suit up today vs. the struggling Warriors.
No Jrue, no problem on Saturday against the Rockets. The Pelicans played very well, easily covering the 11.5-point spread on the road.
Because the Pelicans already start two point guards in Jrue and Lonzo Ball, they subbed in wing Josh Hart, who played 33 minutes, scoring 23 points on 5-of-12 shooting behind the arc. He also pitched in two steals and a block, outperforming his salary-based expectations on FanDuel by nearly 19 points.
The real surprise this year has been Brandon Ingram, who has played extremely well through three games after being a poor player by most metrics for the beginning of his career. The Pels are 0-3, but they've had tough games against the Raptors, Mavericks and Rockets.
It's really tough to handicap this game for both betting and DFS given the atrocity that has been the Golden State Warriors early on. The Dubs lost by 19 to the Clippers last week (it was much worse than that) and by 28 to the Thunder last night (it was that bad). The roster has been absolutely miserable, especially with the bench units. The Warriors have the worst Net Rating in the league by a mile, even with scrubbing out garbage time, and they rank dead last in defensive efficiency, allowing 133.7 points/100.
There are some takeaways to believe it won't be this bad for the Dubs moving forward. Notably, they shot just 4-of-25 from behind the arc yesterday, including 0-of-5 from the corner. All in all, it led to a 35.8% effective field goal percentage before garbage time kicked in (the entire fourth quarter). They will certainly not be that bad (maybe?).
But they're still likely to be below average given the current roster, which Sunday started Marquese Chriss. Eric Paschall, Omari Spellman, Jordan Poole, Jacob Evans and Damion Lee all played 15 minutes. Some of those guys are still young and could improve. But they also just might not be NBA rotation-caliber guys ever, and that's a huge problem.
Perhaps getting Kevon Looney healthy (he's out again tonight with a tight hamstring) will help defensively, and it can't get much worse shooting, but that doesn't mean that will happen tonight. It will be fascinating to see how the betting market treats this team. As of now, the line suggests these teams are about even on a neutral court. I don't have an opinion on this spread; I think the under is slightly intriguing, although the pace should be quite high in this one.
For DFS updates, make sure to check out FantasyLabs models, especially as we update projections in real-time as we get injury news on Jrue and others. This game is likely to be somewhat popular tonight given the Warriors' terrible defense and the high 238 over/under.
---
Player Props
To bet props, I use our FantasyLabs player props tool. Follow me in the Action Network app to see my bets (or go to the bottom of the article), but the more important thing is the tool, which measures our projections for every player vs. current odds in the market and highlights the biggest edges for you.
Player props are an inefficient market, which allows casual bettors (limits are low, so pro bettors aren't incentivized to prioritize them) to grab very +EV bets. That said, the lines move quickly. Our props tool is set up so you can always see whether there's an edge even at the updated numbers throughout the day.
It's one of my favorite tools we offer and should be one of your bookmarked pages if you like making a few extra bucks. Here's a screenshot of what it looks like:

I've yet to bet any props today, but I'll update this post if I do. And as always, you can follow our experts for free in our app.
Let's talk some numbers and strategy instead. Last year, our props tool had a 51.30% win rate on all over bets vs. a 57.20% win rate on unders. In general, unders are a more profitable endeavor, as overs are more popular public bets. And for unders, there are more outs: A blowout, an injury, a poor shooting night — all will likely make the under hit.
You can see that even with our top-rated props: Bets that last year had a 10/10 rating were 60.31% overall. But the overs hit 57.08% of the time vs. 66.47% for the unders. For 9-rated bets, overs were at 55.96%; unders were at 62.60%. With the juice so high on these, it's very important to identify the highest EV spots, and unders are typically where it's at.
---
DFS Values and Strategy
It's the day of centers apparently on DraftKings, as five of the highest-rated players in one of our value models are center-eligible: Nikola Jokic, Andre Drummond, Joel Embiid (questionable), Marquese Chriss and Myles Turner. DraftKings way underprices those players compared to FanDuel, so in general it's smarter to pay up for that position at the former site rather than the latter. Our Bargain Rating metric in FantasyLabs models identifies that dynamic for you.
On FanDuel, one big question is whether you have the guts to trust the Warriors tonight, who have looked awful through two games. They've been blown out twice to start the year, and their -31.4 Net Rating in non-blowout time is obviously the worst mark in the league.
That said, today they're facing a Pelicans team that has been awful defensively (as have the Warriors). Both of these teams have been the fastest in the league so far, which is why this total is one of the highest of the night at 237.
Stephen Curry, D'Angelo Russell and Draymond Green are all cheap on FanDuel — you could even say underpriced, although they've disappointed to start the year. This seems like a good chance to buy low on them in this fast-paced environment, as scary as that may be. It also helps that Jrue Holiday, among the league's best perimeter defenders, is questionable. Even if he plays, he could be limited with a sprained knee.
Outside of that dilemma, make sure to look at our Projected Plus/Minus metric to identify value plays for cash games. And for tournaments, we have a couple metrics called "Leverage Rating" and "Leverage Plus/Minus" that highlight the difference between a player's projected ownership and their ceiling. It's one of the best ways to spot high-upside leverage spots for tournaments.
It's a huge slate today, so there won't be much lineup overlap; there's a ton of interesting players and values on this slate. Check out our models for up-to-the minute projections, especially as we get news on Jrue and Joel Embiid.
For more DFS analysis, check out the FantasyLabs NBA models.
---
Pro Betting Systems
We have a tool called Bet Labs, which lets users query specific situations to see if there's an edge in the betting market. For example, want to see how road favorites traveling from the West Coast to East Coast have done? You can find out in 30 seconds. It's pretty cool.
One interesting trend I've built (it's not a Pro System) I call "Unders After a High-Scoring Game."
This one is pretty simple: When a team scores 130-plus points, it's been profitable to take the under in their next game. I think the public looks at box scores and tends to overrate things, and a result there's been some value on fading that narrative. This system has hit at a 58.3% rate overall. Just last year it went 52-29-3 (64.2%) for a 24.3% Return on Investment (ROI).
In general, I like trends that tries to take advantage of public recency bias more than trying to identify market indicators that move lines in a way where you just aren't going to get the best number. In these situations, I usually like to wait on the public to weigh in and then bet the under later in the day.
It's unclear if that dynamic will exist moving forward or whether sharp bettors and books will adjust. There's a match tonight on Jazz-Suns, which opened at 217.5. I bet it at 214.5 after it came down so much as I was afraid it would keep moving. Indeed, it's already 213.5. Market indicators can be useful there, as they can help you identify where lines are trending.
---
My Bets Currently
Check out our player props tool to see the props that still have value if the odds below have shifted.
Bulls -130 moneyline or -2 (or better lines; I'm waiting)
Magic-Raptors under 211 (I wouldn't bet past this number)
Jazz-Suns under 214.5 (I would bet to 214)
Hawks +5.5 if Embiid is ruled out
[In New Jersey? Bet the games above now at PointsBet]
---
Updates and Live Chat
I will put updated thoughts below, whether they're about line movement, injury news, etc. You can also ask questions, which I'll answer as quickly as I can.
How would you rate this article?