NBA Predictions, Picks & Betting Odds (Thursday, Jan. 16): How to Bet Nuggets vs. Warriors With 3 Starters Out
Credit:
Photo credit: Garrett Ellwood/NBAE via Getty Images. Pictured: Paul Millsap, Gary Harris and Jamal Murray
This NBA season, I'm trying something new. I'm going to write a daily piece that highlights everything bettors and DFS players need to know for that night's slate. For more on what to expect, read the inaugural piece.
Yesterday I finished 2-1 for +0.5 units. While I don't want to get sucked into the past, I think it's worth reviewing things each day.
The best way to do that is to look at closing line value (CLV), which is just measuring whether the line you bet moved for or against you by closing.
I bet Raptors +1 and it closed at Raptors +1 (won)
I bet Raptors (1Q) +0.5 and it closed at Raptors -0.5 (won)
I bet Nets +7 and it closed at Nets +6.5 (lost)
Well, the NBA is super fun:
With 3:51 left in the game, it was tied at 104-104 and the Nets were at 96% to cover the seven-point line I got them at. But then they scored just two more points for the rest of game, ultimately losing by nine. Ugh.
Thankfully I still had a positive day due to the Raptors game, as I was high on them with their main guys in Pascal Siakam and Marc Gasol back in action. They put up 130 points, and my favorite bet of the day — Raps to cover +0.5 in the first quarter — easily covered by 13 points. We'll keep grinding.
Anyway, let's dive into today's slate and find some angles.
Note: For updates, see the chat at the bottom of this post.
YTD Record:
Overall: 169-140-2
Spreads: 65-59-2
Totals: 59-52
Moneylines: 16-7
Props: 29-22
Jump To: Odds & Analysis | Projected Starting Lineups & Injury News | Player Props | DFS Values & Strategy | My Bets
---
Odds as of Thursday afternoon and via FanDuel, where Action Network users get a risk-free bet up to $500.
---
Betting Odds and Analysis
7:30 p.m. ET: Phoenix Suns (-3) at New York Knicks, 226
8 p.m. ET: Utah Jazz (-4.5) at New Orleans Pelicans, 225.5
8 p.m. ET: Boston Celtics at Milwaukee Bucks (-9.5), 223
10:30 p.m. ET: Denver Nuggets (-5) at Golden State Warriors, 213
10:30 p.m. ET: Orlando Magic at LA Clippers (-11.5), 217.5
Let's run through a couple angles I'm eyeing.
Nuggets at Warriors
The Nuggets are going to be down three starters tonight, with Paul Millsap, Gary Harris and Jamal Murray all missing for a variety of injuries.
There's a lot of uncertainty as a result, mostly because the sample size without those guys is just really small. Only 840 possessions (22.3%) of the Nuggets' possessions this season have come without those guys on the floor, and while that sample size is not good — a Net Rating of -6.2 and Offensive Rating of 105.1 — it's mostly bench units we're talking about here.
With those guys off the court and Nikola Jokic on, there's a sample size of 90 possessions — or just 2.4% of the season. That's minuscule, and I'm not sure we can really take much from that time on the floor.
The Nuggets like to play their starters together for big minutes rather than stagger minutes, which makes this complicated. Sure, they've been 10.5 points per 100 possessions worse without Murray, including 6.4/100 worse on offense, but those splits are almost identical for Millsap, Jokic and Barton. They play together so often it's hard to entangle their individual value.
So let's focus on what we do know, which is that the Nuggets haven't really pushed the pace any more in the minutes with backup point guard Monte Morris in and Murray out. They have gotten more shots at the rim, although that's mostly because he's played with Jerami Grant, Mason Plumlee and limited shooters. The starters have almost all of the rosters' good shooters.
I'm not expecting a big change in scheme or the way Denver plays, which means I think they'll remain a methodical, slow-paced squad that runs a lot of action in the halfcourt through Jokic.
On the season, they've been top-10 in both offense and defense, and the former is likely to dip without those guys while the latter may not move a lot. Sure, not having Millsap is a big reason why the Nuggets are 26th in defensive efficiency over the last two weeks, but Murray is a defensive negative and they're playing the Warriors tonight, who aren't exactly a juggernaut on that end.
Speaking of the Dubs, over the past two weeks they are last in offensive efficiency, scoring a miserable 95.0 points/100. The schedule has been tough, sure, but this team doesn't really have much offensive talent outside of D'Angelo Russell, who couldn't be less optimized than he is in Steve Kerr's scheme based on his skillset .
And finally, the Warriors are also a slow-paced team, ranking 15th in seconds per play overall, but specifically 22nd off missed field goals, of which I think there could be quite a few tonight. Further, the Warriors have actually been passable defensively of late.
All of this leads me to the under side of this game, although I don't think I would take it below 212. The Nuggets still have a lot of talent here.
Click below to bet now.
Celtics at Bucks
My colleague, Matt Moore, loves the Celtics SEGABABA trend. And it's compelling: In Brad Stevens' NBA career, he's 42-19 as an underdog on the second night of a back-to-back. They've done especially well as large dogs in that spot.
That's compelling and I think the Celtics do outperform their expectations pretty consistently in this spot (as the data clearly shows), but the injury stuff is very concerning. Jaylen Brown is uncertain to play with a thumb injury, and Jayson Tatum is TBD after missing last night's game with a knee injury.
The Celtics lost last night to a bad Detroit team, showing the importance of Tatum. The Pistons won by 13, and the Celtics put up just 103 points.
On the year, Tatum has easily been the Celtics' most valuable player, highlighted by his +9.5 on/off differential. Part of that value has been on offense, but the majority has actually been on defense, where he's taken a pretty big leap this season.
Thinking about this game specifically, the Celtics have been much better from long range with Tatum and Brown, as well as from the mid-range. That's important specifically against the Bucks, who have an extreme defensive scheme where they drop their bigs in pick-and-rolls wayyyy down, almost into the restricted area upon the initial screen.
That opens up a ton of space on the outside as well as in the mid-range, and they count 1) on their athletic wings to cover space and close out and 2) the bigs to just completely wall off the rim, which is where they take the most efficient shots. It's obviously worked, as the Bucks have the league's best defense so far this season (and were awesome last year as well).
Further, Tatum and Brown are the two guys who could potentially contain Giannis Antetokounmpo and Khris Middleton, two huge wings. So not only are losing the two guys most fit to attack the Bucks offensively, but you're also losing the two best defenders against the reigning MVP and his all-star running mate. Not great.
For those reasons, I think this line is right in the middle given the injury news. If Tatum and Brown play, I'll absolutely jump on the Celtics to hang around here and cover the near double-digit spread. But if they're out, I think the Bucks will make a statement here at home and blow this game out.
Click below to bet now.
Projected Starting Lineups and Injury News
Note: Info as of 4 p.m. ET. For up-to-the-minute lineups and news, see FantasyLabs' matchups page.
Projected Lineups
Boston Celtics: Kemba Walker – Jaylen Brown – Jayson Tatum – Gordon Hayward – Daniel Theis
Denver Nuggets: Monte Morris – Will Barton – Michael Porter Jr. – Jerami Grant – Nikola Jokic
Golden State Warriors: D'Angelo Russell – Damion Lee – Glenn Robinson III – Draymond Green – Omari Spellman
LA Clippers: Patrick Beverley – Landry Shamet – Kawhi Leonard – Maurice Harkless – Ivica Zubac
Milwaukee Bucks: Eric Bledsoe – Wes Matthews – Khris Middleton – Giannis Antetokounmpo – Brook Lopez
New Orleans Pelicans: Lonzo Ball – JJ Redick – Josh Hart – Brandon Ingram – Derrick Favors
New York Knicks: Elfrid Payton – RJ Barrett – Marcus Morris – Julius Randle – Taj Gibson
Orlando Magic: Markelle Fultz – Evan Fournier – Aaron Gordon – Khem Birch – Nikola Vucevic
Phoenix Suns: Ricky Rubio – Devin Booker – Mikal Bridges – Dario Saric – Aron Baynes
Utah Jazz: Donovan Mitchell – Joe Ingles – Bojan Bogdanovic – Royce O'Neale – Rudy Gobert
Injury News
Boston Celtics: Jaylen Brown (thumb) is uncertain to play. Jayson Tatum (knee) is TBD.
Denver Nuggets: Jamal Murray (ankle), Gary Harris (adductor) and Paul Millsap (knee) are out.
Golden State Warriors: Damion Lee (contract) will be active. Jacob Evans (concussion) is out.
LA Clippers: Paul George (hamstring) is out.
Milwaukee Bucks: Donte DiVincenzo (finger) and Wes Matthews (finger) are probable.
New Orleans Pelicans: Jrue Holiday (back) and Kenrich Williams (back) are out. JJ Redick (hamstring) is questionable. Brandon Ingram (knee) and Jahlil Okafor (back) are probable. Derrick Favors (hamstring) said he'll play.
New York Knicks: Dennis Smith Jr. (oblique) remains out. Marcus Morris (neck) and Frank Ntilikina (groin) and Reggie Bullock (neck) are questionable. Mitchell Robinson (toe) is probable.
Orlando Magic: Evan Fournier (quad), DJ Augustin (knee) and Michael Carter-Williams (shoulder) are TBD.
Phoenix Suns: Kelly Oubre (concussion) is out. Ricky Rubio (personal) is not on the injury report.
Utah Jazz: Nothing new.
---
Player Props
To bet props, I use our FantasyLabs player props tool. Follow me in the Action Network app to see my bets (or go to the bottom of the article), but the more important thing is the tool, which measures our projections for every player vs. current odds in the market and highlights the biggest edges for you.
Player props are an inefficient market, which allows casual bettors (limits are low, so pro bettors aren't incentivized to prioritize them) to grab very +EV bets. That said, the lines move quickly. Our props tool is set up so you can always see whether there's an edge even at the updated numbers throughout the day.
It's one of my favorite tools we offer and should be one of your bookmarked pages if you like making a few extra bucks. Here's a screenshot of what it looks like:

My usual recommendation: Bet unders.
Last season, 10-rated props in our tool hit at a 60.31% rate. But overs hit at a 57.08% rate vs. 66.47% for unders. For 9-rated props, 55.96% of overs were successful bets vs. 62.60% for unders.
As I have noted in the past, unders have more outs: A blowout, an injury, a poor shooting night — all will likely make the under hit. But also, props are less efficient as a market given the low limits, so they're less likely to adjust for things like opponent and pace.
One under I think is intriguing is Brook Lopez's 4.5-rebound total.
It feels weird to take the under on a starting center's rebound prop, but that's just not Lopez's game, and that's exacerbated by playing with huge wings in Antetokounmpo and Middleton, who gobble up rebounds and like to push the pace off those misses.
Further, Lopez likes to space on the offensive end, so he's only really available to grab rebounds on defense. He gets the Celtics tonight, who are one of the better rebounding teams in the league. He's gone under this number in eight of his past 10 games, so I think this is the sharp side.
DFS Values and Strategy
Studs, as usual, are much easier to fit on FanDuel, where pricing is much softer, than DraftKings. Everyone above $7,600 has a positive Projected Plus/Minus on the former site, whereas on DraftKings few do.
Among those DraftKings guys, Antetokounmpo is easily the highest-priced player, but there's a lot of uncertainty with him. He's failed to consistently hit value this season, mostly because the Bucks continue to blow out teams, limiting his minutes and thus production. The game could be close tonight, but if Jaylen Brown and Jayson Tatum are out, it could be a blowout in Milwaukee.
Speaking of Brown and Tatum, there are a bunch of key injuries to monitor. The Celtics situation is obviously huge; that much usage and minutes opening up would provide a ton of value with rotation players plus Kemba Walker, Marcus Smart and Gordon Hayward. The Nuggets could be down three starters, including point guard Jamal Murray. Paul George is already out.
That Denver situation is a big one as well, as three starters down would provide a ton of value to not just Nikola Jokic but also to guys who have to step up like Michael Porter Jr., who has already shown the ability to fill up the box score when he gets minutes and has the ball in his hands. At just $3,600 he could be one of the most popular players tonight.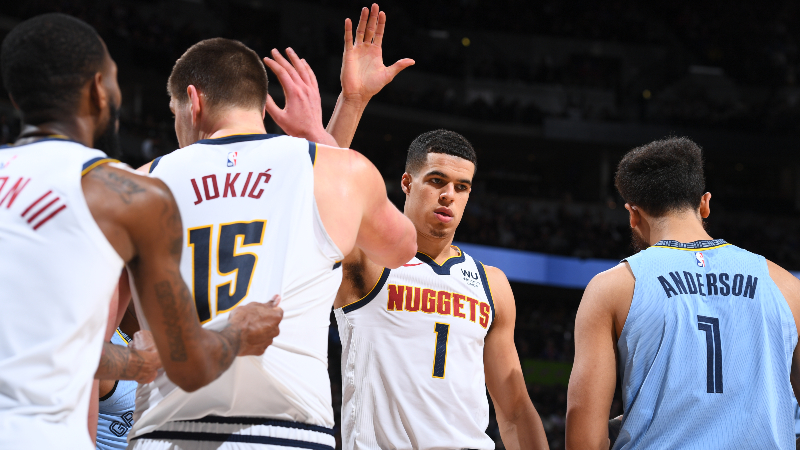 Other values currently include Donovan Mitchell, Jerami Grant, Ricky Rubio, Lou Williams and a bunch of Pelicans guys (which is a situation in flux given their injury situations as well).
You know the drill: Follow the news and make sure to subscribe to our models to see up-to-the-minute projection updates.
For more DFS analysis and value plays, check out the FantasyLabs NBA models.
My Bets Currently
Nuggets-Warriors under 212
[In New Jersey, Pennsylvania, Indiana or West Virginia? Bet now at FanDuel]
Follow me in our free app if you want an alert on bets I make.
How would you rate this article?