NBA Predictions, Picks & Betting Odds (Thursday, Jan. 23): Injury News Will Provide Value
Credit:
Photo credit: Abbie Parr/Getty Images. Pictured: Damian Lillard
This NBA season, I'm trying something new. I'm going to write a daily piece that highlights everything bettors and DFS players need to know for that night's slate. For more on what to expect, read the inaugural piece.
Yesterday I finished 5-2 for +0.3 units. While I don't want to get sucked into the past, I think it's worth reviewing things each day.
The best way to do that is to look at closing line value (CLV), which is just measuring whether the line you bet moved for or against you by closing.
I bet 76ers-Raptors under 216 and it closed at 216 (won)
I bet Raptors (Live) -1.5 (won)
I bet Kings +1 and it closed at Kings -2 (lost)
I bet Hawks +4 and it closed at Hawks +4.5 (won)
I bet Clippers -5 and it closed at Clippers -4.5 (lost)
I bet Clippers-Hawks (2H) under 110.5 (won)
I bet Pacers-Suns (2H) under 108.5 (won)
Unfortunately the game I had the most CLV — the Kings — was the biggest bet on the night I lost. They just played incredibly poorly in a game they absolutely should have won; the Pistons were down four preseason starters. Betting on basketball is a blast!
Other than that, it was a solid day, although I obviously wish I hadn't hedged out of that initial Hawks bet after Trae Young was ruled out. I think it was the right call at the time — the Hawks have been so bad without him — but that one unfortunately didn't end up working out.
Anyway, let's dive into today's slate and find some angles.
Note: For updates, see the chat at the bottom of this post.
YTD Record:
Overall: 185-154-2
Spreads: 72-66-2
Totals: 68-58
Moneylines: 16-8
Props: 29-22
Jump To: Odds & Analysis | Projected Starting Lineups & Injury News | Player Props | DFS Values & Strategy | My Bets
---
Odds as of Thursday afternoon and via FanDuel, where Action Network users get a risk-free bet up to $500.
---
Betting Odds and Analysis
7 p.m. ET: Washington Wizards at Cleveland Cavaliers (-1.5), 231
8 p.m. ET: LA Lakers (-5.5) at Brooklyn Nets, 229
10:30 p.m. ET: Dallas Mavericks (-4) at Portland Trail Blazers, 229
Let's run through a couple angles I'm eyeing.
Wizards at Cavaliers
The Wizards have been an over bettor's dream this season given their fast pace and solid offense. But since Jan. 1, they've actually hit the under more often than the over.
Part of it is they just keep losing guys to injuries, and their rotation isn't really pushing a lot of their main guys big minutes. But they're also just not getting the same good looks they got earlier in the season.
Since the start of the new year, only 15.7% of their shots have been classified by NBA Advanced Stats as "wide open," which ranks only behind the Detroit Pistons in the league. Of course, they were never awesome in that regard — they were just hitting a lot of tough shots, and that has normalized as the season has progressed.
To be fair, they are getting "open" shots — a defender 4-6 feet away — and have hit those at about a league-average rate. They still have awesome shooters in Bradley Beal and Davis Bertans, but those guys aren't playing big minutes right now, and the shot profile for this team has been pretty awful of late.
Since the start of the new year, they're 27th in frequency of shots at the rim and 3-point rate, getting the latter shots up only 28.5% of the time. Prior to the start of the year, they were middle of the league in both categories, for context.
Further, they haven't been running as much. From the start of the season through Dec. 31, they were third in the league in pace, averaging 103.9 possessions per game. But since the new year, they're outside of the top-10.
Now, these defenses have been really bad. But they've also been likely a bit unlucky. Over the last month, they're among the five or so best teams in limiting wide-open shots; the problem is opponents have hit them at a better than that rate.
The Wizards bring some matchup problems that could produce points against the Cavs. Despite being a bad defense, they're actually pretty solid at generating turnovers, and the Cavaliers are the most turnover-prone team in the league thanks to starting two young guards. Further, the Wiz get out transition, and the Cavs are awful in that regard.
That said, in the first meeting between these two teams, neither of those matchup issues manifested themselves. The Cavs managed to protect the ball and limit transition opportunities. Maybe that reverts tonight, but they played well in that first matchup.
But regardless, I think there's a little bit of value on the under here just because of how the Wizards have played lately in terms of shot profile and not getting out in transition quite as much to push the pace. It's dipped below 230 at some books, but I'll look to bet it if it gets back up to that number or higher.
Projected Starting Lineups and Injury News
Note: Info as of 11:30 a.m. ET. For up-to-the-minute lineups and news, see FantasyLabs' matchups page.
Projected Lineups
Brooklyn Nets: Kyrie Irving – Spencer Dinwiddie – Joe Harris – Taurean Prince – Jarrett Allen
Cleveland Cavaliers: Darius Garland – Collin Sexton – Cedi Osman – Kevin Love – Tristan Thompson
Dallas Mavericks: Luka Doncic – JJ Barea – Tim Hardaway Jr. – Dorian Finney-Smith – Kristaps Porzingis
LA Lakers: LeBron James – Avery Bradley – Danny Green – Anthony Davis – JaVale McGee
Portland Trail Blazers: Damian Lillard – CJ McCollum – Trevor Ariza – Carmelo Anthony – Hassan Whiteside
Washington Wizards: Isaiah Thomas – Gary Payton II – Bradley Beal – Isaac Bonga – Ian Mahinmi
Injury News
Brooklyn Nets: Nic Claxton (shoulder) and DeAndre Jordan (finger) are out. Kyrie Irving (hamstring) is available to play. Wilson Chandler (hamstring) is not on the injury report.
Cleveland Cavaliers: Brandon Knight (knee) and Ante Zizic (illness) are out. John Henson (back) is probable.
Dallas Mavericks: Dwight Powell (Achilles) is out for the season.
LA Lakers: Anthony Davis (glute) is questionable. Rajon Rondo (finger) and Kyle Kuzma (ankle) are probable.
Portland Trail Blazers: CJ McCollum (ankle) is questionable. Hassan Whiteside (groin) is probable.
Washington Wizards: Anzejs Pasecniks (ankle) is questionable.
---
Player Props
To bet props, I use our FantasyLabs player props tool. Follow me in the Action Network app to see my bets (or go to the bottom of the article), but the more important thing is the tool, which measures our projections for every player vs. current odds in the market and highlights the biggest edges for you.
Player props are an inefficient market, which allows casual bettors (limits are low, so pro bettors aren't incentivized to prioritize them) to grab very +EV bets.
That said, the lines move quickly. Our props tool is set up so you can always see whether there's an edge even at the updated numbers throughout the day.
It's one of my favorite tools we offer and should be one of your bookmarked pages if you like making a few extra bucks. Here's a screenshot of what it looks like:

My usual recommendation: Bet unders.
Last season, 10-rated props in our tool hit at a 60.31% rate. But overs hit at a 57.08% rate vs. 66.47% for unders. For 9-rated props, 55.96% of overs were successful bets vs. 62.60% for unders.
As I have noted in the past, unders have more outs: A blowout, an injury, a poor shooting night — all will likely make the under hit. But also, props are less efficient as a market given the low limits, so they're less likely to adjust for things like opponent and pace.
That said, I think there's also value in taking advantage of injury news and the over value it can provide.
One example tonight might be Damian Lillard, who will play in an important matchup against Dallas potentially without running mate CJ McCollum, who is questionable to suit up.
Dame went for 61 points in his last game and has gone for at least 30 in four of his last five games. Without McCollum playing, Dame has increased his scoring per 36 minutes by more than 10 points per game. Books are quick to shift lines based on injury news, but much slower to change player props, providing value.
DFS Values and Strategy
Which studs to buy tonight depends on some injury news. Right now Anthony Davis is currently questionable to play against the Brooklyn Nets. If he were out, LeBron James would obviously be compelling.
LeBron has actually struggled to really smash value in games without Anthony Davis this season, but that's mostly due to poor shooting numbers. The peripheral stats have been there, so if the shot starts falling, he's definitely a triple-double threat.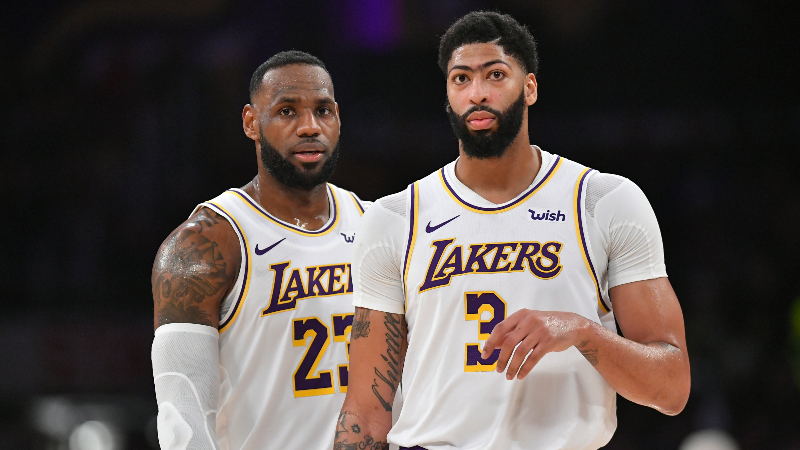 But if those guys both play and somewhat cannibalize each other's stats, I'm guessing most will flock to either Luka Doncic against the bad Portland defense or Damian Lillard in that same game. Lillard is coming off 61 points the other night, and he could be without CJ McCollum, who is questionable. If he's out, Dame will absolutely be an incredible popular play.
Values right now include all the Cavs against the Wizards, Jarrett Allen against the Lakers without DeAndre Jordan and some of the cheap Dallas guys. On such a small slate, I'm guessing most people will try to stack up the Cavs-Wizards game given the potential pace (see my writeup on that above) and poor defenses.
You know the drill: Follow the news and make sure to subscribe to our models to see up-to-the-minute projection updates.
For more DFS analysis and value plays, check out the FantasyLabs NBA models.
My Bets Currently
Nothing yet.
[In New Jersey, Pennsylvania, Indiana or West Virginia? Bet now at FanDuel]
Follow me in our free app if you want an alert on bets I make.
How would you rate this article?