NBA Predictions, Picks & Betting Odds (Tuesday, Feb. 11): Back Brad Stevens, Celtics as Road Dogs?
Credit:
Maddie Meyer/Getty Images. Pictured: Brad Stevens.
This NBA season, I'm trying something new. I'm going to write a daily piece that highlights everything bettors and DFS players need to know for that night's slate. For more on what to expect, read the inaugural piece.
Yesterday I finished 3-1 for +0.7 units. While I don't want to get sucked into the past, I think it's worth reviewing things each day.
The best way to do that is to look at closing line value (CLV), which is just measuring whether the line you bet moved for or against you by closing.
I bet Hornets-Pistons under 206.5 and it closed at 206.5 (won)
I bet Wolves +9 and it closed at Wolves +8.5 (lost)
I bet Mavs (2H) -6 (won)
I bet Nuggets (live) -142 (won)
One of my favorite bets from last night that I ended up not making (it was a main writeup in yesterday's column) was the Bucks in the first quarter. When Giannis Antetokounmpo was ruled out, I didn't pull the trigger, but I obviously wish I did in hindsight.
Still, it was a positive night overall; I just missed on the Wolves, who ended up blowing a close game late.
Anyway, let's dive into today's slate and find some angles.
YTD Record:
Overall: 217-193-2
Spreads: 85-82-2
Totals: 83-80
Moneylines: 23-10
Props: 29-22
Jump To: Odds & Analysis | Projected Starting Lineups & Injury News | Player Props | DFS Values & Strategy | My Bets
---
Odds as of Tuesday afternoon and via FanDuel, where Action Network users get a risk-free bet up to $500.
---
Betting Odds and Analysis
7 p.m. ET: Philadelphia 76ers at LA Clippers (-1.5), 224.5
7 p.m. ET: Chicago Bulls at Washington Wizards (-3), 230.5
8 p.m. ET: San Antonio Spurs at OKC Thunder (-8), 219.5
8 p.m. ET: Portland Trail Blazers at New Orleans Pelicans (-3), 240
9:30 p.m. ET: Boston Celtics at Houston Rockets (-2), 232
Celtics at Rockets
I grabbed this at Celtics +2, as I think it'll move down throughout the day: 58% of the bets and 59% of the money is on the Celtics spread at the time of writing.
(We've already tracked one steam move on the Celtics at +2.5 and nothing yet on the Rockets, which suggests, for now, that's the side the sharps like.)
My reasoning: The Celtics just seem to be continually undervalued in this spot.
In Brad Stevens' coaching career, the Celtics are 90-58-1 (60.8%) as road underdogs. They've covered by nearly three points a game, turning an astounding +18.9% ROI for bettors.
And that's remained true just this season: The Celtics are 8-4 in this spot. Overall, they're 15-9-1 on the road and 11-4 as a dog.
My colleague, Matt Moore, has written about this phenomenon before, and Stevens has even addressed it. In these tough games — on the road, as a dog, on the second leg of a back-to-back — it's a chance for a team to get an unexpected win. While some franchises might chalk those up to "schedule losses," it seems the Celtics really prioritize these games.
As for the on-court matchup, it's nice that the Celtics are getting back to full health. Jaylen Brown is active, which means they'll be back to their normal starting lineup — something that hasn't been the case very often of late. And despite that they've been great lately, sitting second in the league over the past two weeks with a +10.8 Net Rating.
The matchup against the Rockets is interesting after Houston's trades. The Rockets are fully embracing center-less basketball, playing PJ Tucker, Thabo Sefolosha and even Robert Covington at center in small-ball lineups. This strategy makes them susceptible to great bigs, but that's not the Celtics' game; perhaps that's a leg up for the Rockets.
I'm a fan of what the Rockets did, as I've written. They weren't winning a title with the current roster, and Capela wasn't really being used in a way that helped them. As they've gravitated to more ISO ball with James Harden, they've needed a rolling center less. And even with Capela, the defense was bad. At that point, what's the value of having him on the court?
But the Rockets still have the same issues they did before, even with an intriguing wing in Covington, who should help. The biggest one is while they have a great, modern offense predicated around bombing 3s, they just don't have shooters. Covington was a solid addition, but Russell Westbrook is a 24% 3-point shooter. He's been using more than 40% of the Rockets' possessions of late; that's just oil in water for what Houston is about.
Eric Gordon, one of the Rockets' highest-upside shooters, is out in this one with an injury. So this game will really come down to what all Rockets games come down to: Will the Rockets role-players hit spot-up shots?
In games they have (or Harden goes ballistic), they win and cover. In games they haven't, they lose and fail to cover.
That's pretty tough to predict, and I trust the Celtics defense, especially Jayson Tatum, to make them work really hard. Combine that with how awesome Boston has been in this spot, and I like +2 here.
Spurs at Thunder
I'll make this one quick. The Spurs are on the second leg of a back-to-back, and they had a brutal loss last night to the Nuggets. They were up 14 at half but had a disastrous second half, eventually losing and failing to cover the +6.5 spread. Sorry, Spurs bettors.
And according to our new Labs NBA Insiders tool, the Thunder have a huge rest and travel advantage in this one:

It's important to note that back-to-backs are fully priced into the betting market in a vacuum. Teams on at least two days rest playing against a team on a back-to-back have covered the spread just 50.4% of the time. Given the juice on bets, that's been a highly negative thing to bet on solely since 2005.
But life doesn't exist in a vacuum, and we have another angle tonight. My colleague, John Ewing, wrote a smart piece last year at this time about how teams on a back-to-back right before the All-Star break have covered the spread just around 40% of the time. Whether it's because they're ready for a vacation or just really tired, there seems to be value on the more rested team at this point in the NBA season.
The Thunder obviously fit that bill tonight, although they are already eight-point favorites. They've been playing awesome basketball of late, but is that too many points against a solid Spurs team? I think there's probably still a bit of value left, but that's getting close to a fair line for me.
Note that DeMar DeRozan's status is up in the air. He sat out last night due to back spasms, and we've yet to receive word on his availability tonight.
76ers at Clippers
The public is all over the Clippers tonight: They're receiving 75% of the bets and 68% of the money wagered. They opened as a one-point road favorite and have been bet up to -1.5 already this morning.
I get it: The Clips are my current pick to win the title, their roster is loaded and they just upgraded it in a smart way by acquiring Marcus Morris. Though they've been up and down at times this season, the data is pretty clear: When Kawhi Leonard and Paul George play, they're awesome. In 1,117 possessions with those two players sharing the court, the Clips have been at a +9.4 Net Rating.
But they are missing Patrick Beverley tonight, who I think has been an underrated part of their success, especially on defense. They're still getting chemistry with Morris. There's some uncertainty.
But I think tonight is really all about the Sixers. They're so weird.
Let's start with the home/road splits, which I've written quite a bit about lately.
Sixers at home: +11.9 Net Rating (2nd) | 113.8 ORtg (11th) | 101.9 DRtg (1st)
Sixers on road: -5.1 Net Rating (24th) | 105.7 ORtg (25th) | 110.8 DRtg (9th)
I say this without researching the data, but I'd bet you'd be hard pressed to find more extreme home/road splits for any team in the history of basketball. I mean that's just ridiculous.
What's nearly just as extreme is their splits against certain teams. Against teams with a higher than 70% win percentage, they're 8-3-1 ATS. Against teams at 45% or lower, they're 7-13-1 ATS.
They're 2-0 against the Jazz, 3-1 against the Celtics, 1-0 against the Lakers, Blazers and Spurs. They're 1-0-1 against the Nuggets. But against the Knicks, they're 0-3. They're 0-2 against the Magic, as they are against the Hawks.
For whatever reason, they suck on the road and against bad teams. At home and against good teams — especially on nationally-televised games — they dominate against-the-spread.
I also like their trade deadline moves, acquiring some cheap bench scoring in Glenn Robinson III and Alec Burks. They will help on the margins and could hold their own against Lou Williams and the Clips bench, which is about as good as you'll find.
One of the Clippers' potential weaknesses in the playoffs is the lack of an awesome center who can combat a Joel Embiid type. That matchup, if Embiid is dialed in, could be a massive win for the Sixers.
I get the public money on the Clips. They're awesome. But if this continues to move up (+2 or higher), I'm going to fade the public and grab the home dog.
Projected Starting Lineups and Injury News
Note: Info as of 12:15 p.m. ET. For up-to-the-minute lineups and news, see FantasyLabs' matchups page.
Projected Lineups
Boston Celtics: Kemba Walker – Jaylen Brown – Jayson Tatum – Gordon Hayward – Daniel Theis
Chicago Bulls: Tomas Satoransky – Zach LaVine – Chandler Hutchison – Thad Young – Luke Kornet
Houston Rockets: Russell Westbrook – James Harden – Robert Covington – Danuel House – PJ Tucker
LA Clippers: Landry Shamet – Kawhi Leonard – Paul George – Marcus Morris – Ivica Zubac
New Orleans Pelicans: Lonzo Ball – Jrue Holiday – Brandon Ingram – Zion Williamson – Derrick Favors
OKC Thunder: Chris Paul – Shai Gilgeous-Alexander – Luguentz Dort – Danilo Gallinari – Steven Adams
Philadelphia 76ers: Ben Simmons – Shake Milton – Tobias Harris – Al Horford – Joel Embiid
Portland Trail Blazers: Damian Lillard – CJ McCollum – Trevor Ariza – Carmelo Anthony – Hassan Whiteside
San Antonio Spurs: Dejounte Murray – Bryn Forbes – DeMar DeRozan – Trey Lyles – LaMarcus Aldridge
Washington Wizards: Ish Smith – Bradley Beal – Isaac Bonga – Rui Hachimura – Ian Mahinmi
Injury News
Boston Celtics: Jaylen Brown (ankle) is likely to play.
Chicago Bulls: Denzel Valentine (hamstring) is doubtful. Daniel Gafford (ankle), Zach LaVine (neck, knee), Tomas Satoransky (ankle) and Ryan Arcidiacono (elbow) are probable.
Houston Rockets: Eric Gordon (leg) is out.
LA Clippers: Patrick Beverley (groin) is out.
New Orleans Pelicans: Brandon Ingram (ankle) is questionable. Zion Williamson (ankle) said he'll play.
OKC Thunder: Darius Bazley (knee) is out 4-6 weeks.
Philadelphia 76ers: Nothing new.
Portland Trail Blazers: Mario Hezonja (ankle) and Nassir Little (ankle) are out. Anfernee Simons (concussion) is probable.
San Antonio Spurs: DeMar DeRozan (back) is TBD.
Washington Wizards: Thomas Bryant (foot) remains out.
Player Props
To bet props, I use our FantasyLabs player props tool. Follow me in the Action Network app to see my bets (or go to the bottom of the article), but the more important thing is the tool, which measures our projections for every player vs. current odds in the market and highlights the biggest edges for you.
Player props are an inefficient market, which allows casual bettors (limits are low, so pro bettors aren't incentivized to prioritize them) to grab very +EV bets.
That said, the lines move quickly. Our props tool is set up so you can always see whether there's an edge even at the updated numbers throughout the day.
It's one of my favorite tools we offer and should be one of your bookmarked pages if you like making a few extra bucks. Here's a screenshot of what it looks like:

My usual recommendation: Bet unders.
Last season, 10-rated props in our tool hit at a 60.31% rate. But overs hit at a 57.08% rate vs. 66.47% for unders. For 9-rated props, 55.96% of overs were successful bets vs. 62.60% for unders.
As I have noted in the past, unders have more outs: A blowout, an injury, a poor shooting night all will likely make the under hit. But also, props are less efficient as a market given the low limits, so they're less likely to adjust for things like opponent and pace.
One under I like tonight is Trevor Ariza's 10.5-point total.
Since Ariza has joined the Blazers, he's had exactly three blowup games in his nine affairs. In those, he's gotten hot and put up exactly 21 points in all three. One of those came in the last game against the Miami Heat.
But in the other six, he's scored seven points or fewer, and he's just using so few possessions. He hasn't been above a 13% usage rate in six straight games, which shows the hot shooting needed for him to really put up a high-point total game.
Against the Pelicans' wings tonight, I think he'll be tasked to play more defense than offense, so I'll continue to bet the under here and hope it just isn't one of those outlier shooting nights.
DFS Values and Strategy
There are only two players priced above $10,000 today on DraftKings: Damian Lillard and James Harden. Lillard is obviously always in play given his hot last month; he's hit value in eight of his last 10 games in a big way.
Against the fast-paced Pelicans with a game total of 240, I can't blame anyone for wanting to roster Dame. Just be aware of site differences: He's much cheaper on FanDuel, where his $9,800 salary comes with a 93% Bargain Rating. He's cash-viable there, whereas on DraftKings he's likely a better tournament play.
That same dynamic likely exists for Harden: FanDuel just has much softer pricing. The best value in the stud range on DraftKings is likely Westbrook, who isn't always efficient but is absolutely dominating the basketball right now. He's playing near 40 minutes and using about 45% of the Rockets' possessions while on the floor. You'll rarely find that much opportunity below $10K.
There are also some good plays right below that high-end range, including Hassan Whiteside, Zach LaVine and Joel Embiid. I wrote about the Sixers above and how Embiid could be a huge matchup problem for the Clippers. He definitely has the potential to be the highest-scoring player on the slate, and he's just at $9,100 on DraftKings.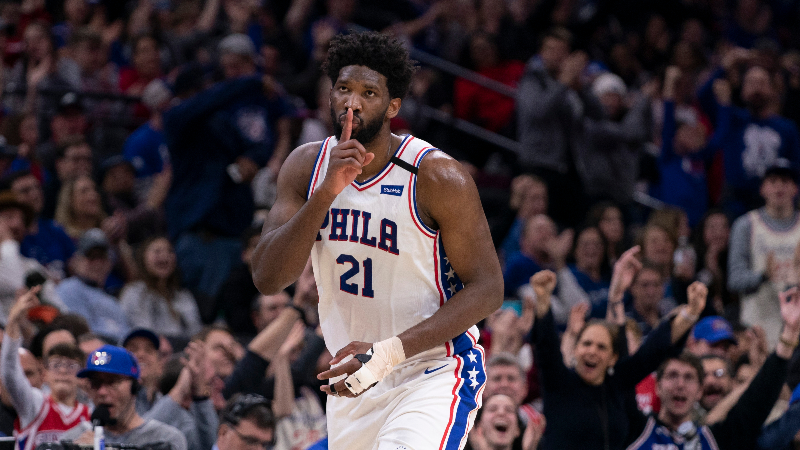 There aren't many huge injuries to monitor tonight, but there are two to keep your eye on: Brandon Ingram is questionable for the Pelicans, and DeRozan is TBD for the Spurs. DeRozan didn't suit up last night due to back spasms, and we haven't gotten word on his status yet.
Some lower end values (more could open up with injuries) currently include Chandler Hutchison, Coby White and Tomas Satoransky. The best values, though, are likely in the mid-tier range with guys like Danilo Gallinari, Shai Gilgeous-Alexander, Chris Paul, Robert Covington and others.
Pricing is solid today and there aren't many injuries, so the best bet for cash games is likely to lean on good situations. The Bulls are facing the fast-paced, poor defensive Wizards; the Thunder get an extremely tired Spurs squad.
You know the drill: Follow the news and make sure to subscribe to our models to see up-to-the-minute projection updates.
For more DFS analysis and value plays, check out the FantasyLabs NBA models.
My Bets Currently
[In New Jersey, Pennsylvania, Indiana or West Virginia? Bet now at FanDuel]
Follow me in our free app if you want an alert on bets I make.
How would you rate this article?