Tuesday NBA Odds & Picks (Nov. 5): Betting Analysis, DFS Strategies, Injuries, More
Credit:
Jayne Kamin-Oncea-USA TODAY Sports. Pictured: Los Angeles Lakers forward Anthony Davis (3).
From betting analysis to player props to DFS value picks and more, Bryan Mears gets you ready for Tuesday's six-game NBA slate.
This NBA season, I'm trying something new. I'm going to write a daily piece that highlights everything bettors and DFS players need to know for that night's slate. For more on what to expect, read the inaugural piece.
Yesterday I finished 0-1 for -0.56 units. While I don't want to get sucked into the past, I think it's worth reviewing things each day.
The best way to do that is to look at closing line value (CLV), which is just measuring whether the line you bet moved for or against you by closing.
I bet Blazers-Warriors under 221 and it closed at 220
I wrote up the Pistons-Wizards under as my favorite bet of the night initially and that I was waiting for that 225 number. It eventually got there and even up to 225.5 at close, but that coincided with a report that Isaiah Thomas, maybe the worst defender in the NBA, was going to start and see more minutes.
I wrote an update that I was no longer interested in the under, although I'm glad it still hit for those who bet it early and didn't wait. It ended up going how I thought: The Pacers played slow and struggled offensively without Derrick Rose.
I also wanted to grab a live under in the Rockets-Grizzlies game, but the number I was looking for never became available. That game ended up going 23 points under the total.
Anyway, let's go ahead and jump into Tuesday's slate. This is a long post, so use the jump links below to skip ahead to whatever you're looking for.
Note: For updates, see the chat at the bottom of this post.
Jump To: Odds & Analysis | Projected Starting Lineups & Injury News | Player Props | DFS Values & Strategy | My Bets | Live Chat
---
Betting Odds and Analysis
7 p.m. ET: Boston Celtics (-6) at Cleveland Cavaliers, 215.5
7 p.m. ET: Indiana Pacers (-3.5) at Charlotte Hornets, 211.5
7:30 p.m. ET: San Antonio Spurs (-5.5) at Atlanta Hawks, 221
8 p.m. ET: Orlando Magic at Oklahoma City Thunder (-2.5), 203
8 p.m. ET: LA Lakers (-7) at Chicago Bulls, 216.5
9 p.m. ET: Miami Heat at Denver Nuggets (-4.5), 212
(Odds via PointsBet — claim your 200% deposit match, an exclusive promotion for Action Network users)
Let's talk about a few edges I'm currently eyeing.
Pacers -3.5 at Hornets: Myles Turner, who was originally listed as doubtful to play with a sprained right ankle, has been upgraded to questionable today. Domantas Sabonis is also questionable, but there's obviously some upside here if both of these guys suit up.
Outside of any injury news, I think the Pacers are a good team to buy right now. They started out miserably, dropping their first three games to the Pistons (twice) and the Cavs. Since, though, they've won three straight games, including one against the Nets.
Overall, the Pacers have been pretty unlucky so far this season. Their defensive profile is good: They're allowing the third-fewest wide-open 3-pointers in the league behind the Wolves and Spurs. The problem: Opponents are hitting those at the second-highest rate (47.1%). That will come down.
Offensively, they've been unlucky as well, posting an eFG% mark nearly four points lower than expected based on their shot profile. They aren't shooting a ton of 3s, but they are getting to the rim at a high rate. Against a Hornets team that has defended the rim at the second-worst rate this season and doesn't project to get much better in that regard, I think the Pacers offense can improve a bit.
As can the defense, as mentioned above. Outside of defensive luck, the Pacers rank third in the league in opponent turnover rate, and the Hornets have coughed the ball up this season at the second-highest rate. If Turner, a DPOY hopeful, returns tonight, this defense could make a statement tonight.
[In New Jersey? Bet now at PointsBet]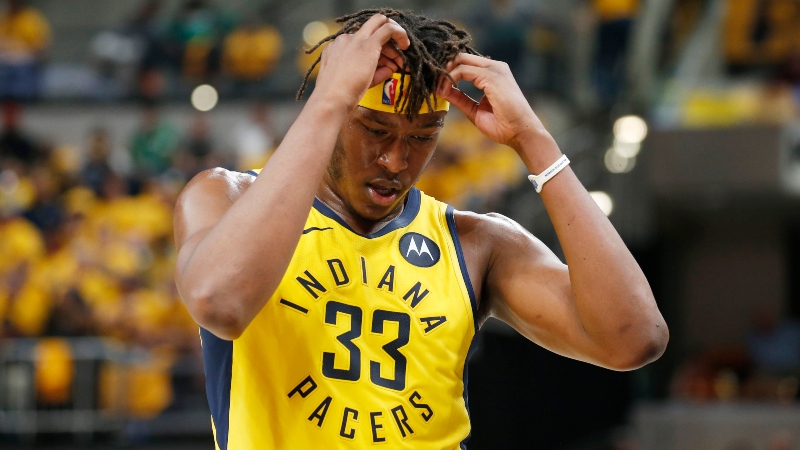 Celtics -6 at Cavaliers: I like the Celtics for very similar reasons. They've been the best defense in the league this season at forcing turnovers, and I don't see that changing with Marcus Smart continuing to start and see heavy minutes due to the absence of Jaylen Brown.
The Celtics feature good, long defenders at nearly every position with Jayson Tatum and Gordon Hayward playing the 3/4, and they'll face a team with a young backcourt in Darius Garland and Collin Sexton, both of whom can be turnover-prone — Garland especially, who ranks in the third percentile of guards this season in protecting the ball.
The Celtics have been a bit weird this season so far. They're 15th on offense and seventh on defense. The outlier stat is their eFG% on offense, which currently sits just 26th in the league. I think it's poor luck: They have a solid 52% eFG% expectation based on their shot quality, but they've posted a mark considerably below that this year. They boast good shooters who will continue to see improvement, and one of the main culprits, Jaylen Brown, is out.
The Cavaliers have been frisky at moments this season, and they certainly aren't the worst team in the league with Kevin Love, Tristan Thompson, Cedi Osman and young, intriguing talent. But the fact that the young talent is at the two guard, playmaking spots is an issue. On paper perhaps the Celtics aren't eight-ish points better, but I think this is just a tough specific matchup for the Cavs given their weaknesses and the Celtics' defensive strengths
[In New Jersey? Bet now at PointsBet]
Magic at Thunder: So … Orlando can't continue to be this bad on offense, right? Right?!
As of now, the Magic are 30th in Offensive Rating and eFG%. They've been terrible hitting the offensive glass and haven't gotten to the free throw line. It's been ugly all around, but especially shooting: They're dead last in FG% at the rim and second-worst from beyond the arc.
Nearly everyone is way below their averages from last year from 3…
Aaron Gordon: 34.9% last year, 33.3% this year
Evan Fournier: 34.0% last year, 32.4% this year
DJ Augustin: 42.1% last year, 25.0% this year
Nikola Vucevic: 36.4% last year, 21.7% this year
Terrence Ross: 38.3% last year, 19.5% this year
I mean, come on.
The shot selection isn't terrible, either: They're in the top-10 so far in percentage of 3-pointers classified as wide open. They're just hitting them at the third-lowest rate in the league.
They have an expected eFG% of 51% — and they've been at 44.98%! Again, come on.
They will regress, although who knows when that'll be. Today they face a Thunder team that's fourth in Defensive Rating and second in eFG% allowed. Still, I like this Orlando team to improve, and the Thunder could be hurt defensively if Steven Adams, who is questionable with a knee contusion, is unable to go.
If he's out, I'll likely buy the Magic a bit both on the spread and the moneyline.
[In New Jersey? Bet now at PointsBet]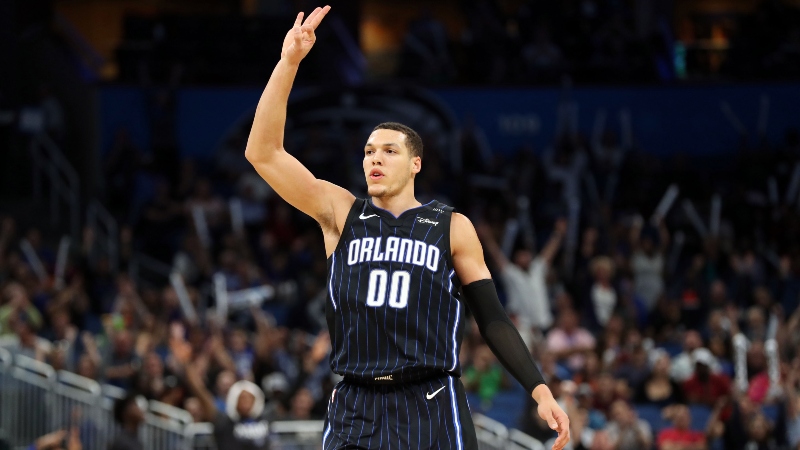 ---
Projected Starting Lineups and Injury News
Note: Info as of 2:30 p.m. ET. For up-to-the-minute lineups and news, see FantasyLabs' matchups page.
Projected Lineups
Atlanta Hawks: Trae Young – Kevin Huerter – De'Andre Hunter – Jabari Parker – Alex Len
Boston Celtics: Kemba Walker – Marcus Smart – Jayson Tatum – Gordon Hayward – Daniel Theis
Charlotte Hornets: Terry Rozier – Dwayne Bacon – Miles Bridges – PJ Washington – Cody Zeller
Chicago Bulls: Tomas Satoransky – Zach LaVine – Otto Porter – Lauri Markkanen – Wendell Carter Jr.
Cleveland Cavaliers: Darius Garland – Collin Sexton – Cedi Osman – Kevin Love – Tristan Thompson
Denver Nuggets: Jamal Murray – Gary Harris – Torrey Craig – Paul Millsap – Nikola Jokic
Indiana Pacers: Malcolm Brogdon – Jeremy Lamb – TJ Warren – Domantas Sabonis – Myles Turner
LA Lakers: LeBron James – Kentavious Caldwell-Pope – Danny Green – Anthony Davis – JaVale McGee
Miami Heat: Justise Winslow – Kendrick Nunn – Jimmy Butler – Meyers Leonard – Bam Adebayo
OKC Thunder: Chris Paul – Shai Gilgeous-Alexander – Terrance Ferguson – Danilo Gallinari – Steven Adams
Orlando Magic: Markelle Fultz – Evan Fournier – Aaron Gordon – Jonathan Isaac – Nikola Vucevic
San Antonio Spurs: Dejounte Murray – Bryn Forbes – DeMar DeRozan – Trey Lyles – LaMarcus Aldridge
Injury News
Atlanta Hawks: Evan Turner (Achilles) and John Collins (suspended) are out. Trae Young (ankle) will play. Alex Len (ribs) is probable.
Boston Celtics: Jaylen Brown (illness) is out. Enes Kanter (knee) is doubtful. Robert Williams (hip) is probable.
Charlotte Hornets: Nothing new.
Chicago Bulls: Otto Porter (ankle) is probable.
Cleveland Cavaliers: Kevin Porter Jr. (suspension) is out. Matthew Dellavedova (personal) is not on the injury report.
Denver Nuggets: Will Barton (toe) is questionable.
Indiana Pacers: Myles Turner (ankle), Domantas Sabonis (calf) and Doug McDermott (foot) are questionable.
Los Angeles Lakers: Rajon Rondo (calf) and Avery Bradley (leg) are out. Kyle Kuzma (ankle) is probable.
Miami Heat: Justise Winslow (back) is probable. Derrick Jones Jr. (groin) is questionable.
OKC Thunder: Andre Roberson (knee) is out. Steven Adams (knee) is questionable. Nerlens Noel (ankle) is probable.
Orlando Magic: Michael Carter-Williams (hip) is expected to play. Mo Bamba (rest) will play Tuesday, out Wednesday.
San Antonio Spurs: Derrick White (glute) is questionable.
---
Player Props
To bet props, I use our FantasyLabs player props tool. Follow me in the Action Network app to see my bets (or go to the bottom of the article), but the more important thing is the tool, which measures our projections for every player vs. current odds in the market and highlights the biggest edges for you.
Player props are an inefficient market, which allows casual bettors (limits are low, so pro bettors aren't incentivized to prioritize them) to grab very +EV bets. That said, the lines move quickly. Our props tool is set up so you can always see whether there's an edge even at the updated numbers throughout the day.
It's one of my favorite tools we offer and should be one of your bookmarked pages if you like making a few extra bucks. Here's a screenshot of what it looks like:

My usual recommendation: Bet unders. Last season, 10-rated props in our tool hit at a 60.31% rate. But overs hit at a 57.08% rate vs. 66.47% for unders. For 9-rated props, 55.96% of overs were successful bets vs. 62.60% for unders.
As I have noted in the past, unders have more outs: A blowout, an injury, a poor shooting night — all will likely make the under hit. But also, props are less efficient as a market given the low limits, so they're less likely to adjust for things like opponent and pace.
One under I think is intriguing is Darius Garland's assist total of 3.5 today. He went over last game against the Mavericks, but he was at three or below in each of the prior three games.
As I wrote in the betting analysis section, I'm worried about Garland's effectiveness in this game. He's been very turnover-prone to start his rookie campaign, ranking in the third percentile of all guards, and he'll face a Celtics defense that has been the best in the league at turning over opponents.
Further, Marcus Smart is getting the start with Jaylen Brown. This is just a tough spot for Garland with all of the Celtics' length, and as a result I'll lean towards his unders for tonight.
DFS Values and Strategy
Let's start with the studs. The easy ones at first glance are the Lakers guys — LeBron James and Anthony Davis — who are going up against a Bulls team that ranks dead last in rebound rate and 25th in eFG% allowed. LeBron and AD have the highest projected ceiling tonight for a good reason.
And they'll be tough to fade considering the other studs aren't exactly in great spots. Jimmy Butler is going up against the snail Nuggets, who have a good defense. Nikola Jokic on the other side of that game has been dreadful this season and clearly still isn't in game shape. Kevin Love has a tough matchup against Boston's defense, and Trae Young is making his return from an injury.
The play in tournaments is to potentially buy one of these other guys I just mentioned, but in cash games they're hard sells. Most users will elect to go with the safety of the Lakers guys, and I can't blame them.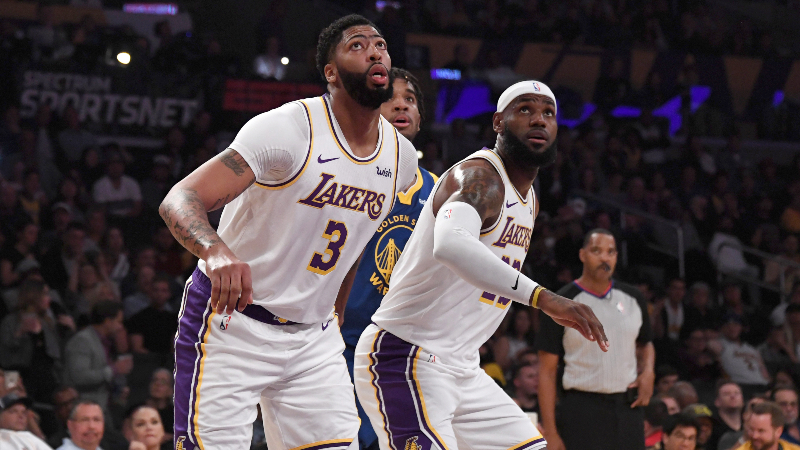 There's some value on the slate, particularly with the Boston guys in Daniel Theis and Marcus Smart, who will continue to have expanded roles with Jaylen Brown and Enes Kanter still out. They rate very highly in our models as of Tuesday afternoon.
Jabari Parker will also be a popular value selection, as he'll see a boost in role for the Hawks with John Collins now suspended for 25 games due to a drug policy violation. He's just $4,800 on FanDuel and is expected to play more than 25 minutes. And if there's one thing we know about Jabari, it's that he's not afraid to shoot the ball. As a result, he leads the slate in Projected Plus/Minus.
After those guys, value isn't abundant like it was yesterday, however. The question will be whether you want to jam in LeBron and AD, which will require you to take some risky punts like a Terrence Ross. Given how enticing that game is, I still might take the risk, although if some more value opens up, it'll be much more palatable.
For more DFS analysis and value plays, check out the FantasyLabs NBA models.
My Bets Currently
Celtics -6 (I wouldn't bet past this number)
Pacers -3.5 (I wouldn't bet past -4)
Small play on Magic +2.5 and +125 if Adams is out
[In New Jersey? Bet now at PointsBet]
Follow me in our free app if you want an alert on other bets I make. I'll also make updates in the chat below.
---
Updates and Live Chat
I will put updated thoughts below, whether they're about line movement, injury news, etc. You can also ask questions, which I'll answer as quickly as I can.
How would you rate this article?