Wednesday NBA Predictions, Picks & Betting Odds (Dec. 4): Keep Buying the Pacers?
Credit:
Photo credit: Noah K. Murray-USA TODAY Sports. Pictured: Malcolm Brogdon
This NBA season, I'm trying something new. I'm going to write a daily piece that highlights everything bettors and DFS players need to know for that night's slate. For more on what to expect, read the inaugural piece.
Yesterday I finished 4-4 for -1.0 unit. While I don't want to get sucked into the past, I think it's worth reviewing things each day.
The best way to do that is to look at closing line value (CLV), which is just measuring whether the line you bet moved for or against you by closing.
I bet Pistons -3 and it closed at Pistons -3.5 (won)
I bet Magic +2 and it closed at a pick'em (won)
I bet Magic +1 and it closed at a pick'em (won)
I bet Rui Hachimura over 5.5 rebounds (won)
I bet Raptors -4.5 and it closed at Raptors -5.5 (lost)
I bet Raptors -5 and it closed at Raptors -5.5 (lost)
I bet Rockets -6.5 and it closed at Rockets -7 (lost)
I bet Nuggets -135 ML and it closed at -135 (lost)
Another day of great CLV; another day of a mediocre record. It's the theme of the season. If only I could buy some things with that CLV.
I feel pretty good about most of the bets, but I do want to highlight a couple. I liked the Raptors last night and bet it at -4.5 early in the day. You can go read that piece, but in general I think the Heat are getting so incredibly lucky this year. They have a ton of shooting luck themselves and opponents are even more unlucky against them.
That didn't turn last night; Duncan Robinson is apparently Ray Allen 2.0. Still, I think I'll continue to investigate the Heat's underlying metrics and potentially fade them some more moving forward.
I grabbed it again at Raps -5 once it was announced that Kyle Lowry was surprisingly going to return, and while the line moved in my favor, I'm not sure if I should've doubled down.
Lowry is a great player, but with Fred VanVleet's emergence from last year in the playoffs to this regular season, I'm not sure that Lowry to Fred is that much of a downgrade — if anything at all.
In fact, Lowry's addition after a long absence might've been a slight negative for the Raps, who were in an awesome groove with VanVleet and Pascal Siakam dominating as the offensive playmakers. Perhaps Lowry disrupted that.
Good players always help, don't get me wrong. Even if it's just shoring up depth, which the Raps desperately needed. And maybe I was just on the wrong side of variance with the Heat overperforming again. But I don't think it was right for me to automatically bet the Raps solely because Lowry was in; his value to this team is more in the grey than other stars.
And for the Lakers-Nuggets game, I bet Denver after it was reported that the Lakers guys, including Anthony Davis, were all dealing with the flu.
I thought that would be an issue, especially at elevation in Denver, but I'm certainly not a doctor. Perhaps modern medicine is able to nullify that issue more than expected.
Again, taking the Nuggets solely for that reason probably was the wrong move, although again it could've just been variance. More below on the Lakers, who play the Jazz tonight, again at elevation.
Anyway, enough about yesterday's games. Let's get to today's 10-game slate and find some angles.
Note: For updates, see the chat at the bottom of this post.
YTD Record:
Overall: 116-100-1
Spreads: 41-41-1
Totals: 36-31
Moneylines: 7-6
Props: 29-22
Jump To: Odds & Analysis | Projected Starting Lineups & Injury News | Player Props | DFS Values & Strategy | My Bets | Live Chat
---
Betting Odds and Analysis
7 p.m. ET: Phoenix Suns (-1.5) at Orlando Magic, 213.5
7 p.m. ET: Golden State Warriors at Charlotte Hornets (-2.5), 213
7 p.m. ET: Milwaukee Bucks (-8.5) at Detroit Pistons, 224
7:30 p.m. ET: Miami Heat at Boston Celtics (-5.5), 209
7:30 p.m. ET: Brooklyn Nets (-3) at Atlanta Hawks, 229
8 p.m. ET: Memphis Grizzlies at Chicago Bulls (-6), 222.5
8 p.m. ET: Indiana Pacers at OKC Thunder (pick), 209.5
8:30 p.m. ET: Minnesota Timberwolves at Dallas Mavericks (-4), 230.5
9 p.m. ET: LA Lakers at Utah Jazz (-2.5), 212.5
10 p.m. ET: Sacramento Kings at Portland Trail Blazers (-4), 217
Let's run through a couple angles I'm eyeing.
Warriors at Hornets
The marquee game of the night!
The Warriors are finally getting a bit more healthy, as D'Angelo Russell is probable to return tonight. Kevon Looney returned last game, and Draymond Green should play tonight as well, since it's not a back-to-back.
Of course, it's not like the Warriors were that good when Russell and Co. were playing earlier in the season. In fact, Russell has the lowest on/off differential on the team right now: the Warriors have been 7.3 points better with him off the floor vs. on. Of the 215 possessions Russell and Green played together without Stephen Curry, the Dubs have posted a -16.3 Net Rating. It's been bad.
But let's go through the games Russell played:
10/24: vs. Clippers
10/27: at Thunder
10/28: at Pelicans
10/30: vs. Suns
11/1: vs. Spurs
11/8: at Wolves
11/9: at Thunder
11/11: vs. Jazz
11/13: at Lakers
11/15: vs. Celtics
I mean, that's a pretty darn tough schedule. With Russell sidelined, they've played the Hornets (lost by six), Blazers, Grizzlies, Bulls, Magic and Hawks. It makes sense that the Warriors have done better without him on the floor: The opponents have been much easier.
That isn't to say Russell has been great but maligned this season; he's definitely struggled, mostly because he's a pick-and-roll guy first and Steve Kerr's offense is built on movement and quick decisions. It doesn't highlight Russell's strengths.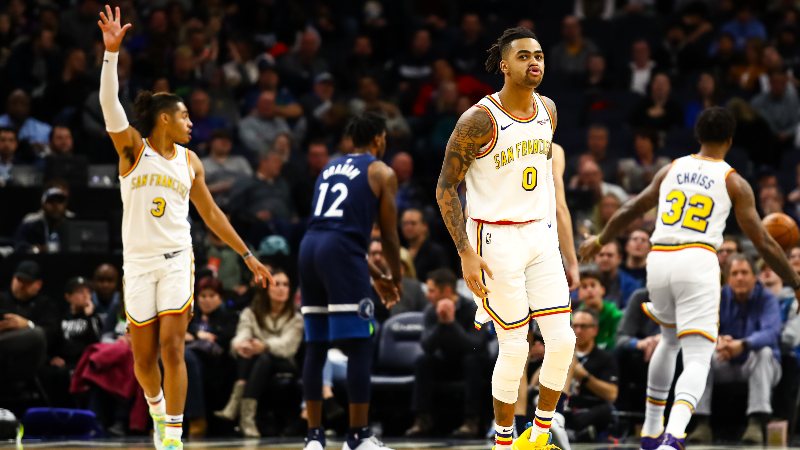 Still, he's a much better player and shooter than Ky Bowman and whoever else the Warriors have been using as a primary ball-handler of late. Alec Burks has been passable, and they'll use him quite a bit. The added depth, especially when it comes to shot creators, helps.
Plus, it's not like the Hornets have been world-beaters. On the year, they've posted a poor -7.9 Net Rating; they've actually outperformed their point differential at the second-highest rate this year thanks to some lucky clutch-time shots. Over the last two weeks, they're at a -9.1 point differential.
Back to the Warriors, though. Those Russell-Draymond (minus Steph) lineups have shot just 57.1% at the rim and 28.6% from behind the arc. Those marks will go up, and they could tonight against a Hornets defense that has allowed an atrocious 118.1 points per 100 possessions over the last two weeks.
I went ahead and grabbed this at Warriors +3, but I wouldn't blame you for wanting to wait and see how the Dubs look now that they're healthier. There will potentially be some live betting opportunities.
Pacers at Thunder
Speaking of getting healthier, after missing a variety of starters here and there for the last month, the Pacers are now whole (well, at least until Victor Oladipo returns). And the data says that a healthy Pacers squad is pretty darn good.
The main unit of Malcolm Brogdon-Jeremy Lamb-TJ Warren-Domantas Sabonis-Myles Turner has blitzed teams in its 230 possessions together, posting a +19.1 Net Rating — the 92nd percentile of lineups. They've scored 118.3 points/100 (83rd percentile) and have allowed just 99.1 (78th).
The starting lineups over the last month haven't been bad, mind you. The lineup with Aaron Holiday in for Lamb and JaKarr Sampson in for Turner — the Pacers' second-most used lineup this year — has posted a +18.0 Net Rating. Especially when Brogdon, Warren and Sabonis have been on the floor, the Pacers have been pretty, pretty good.
Their issue at times has been the ripple effect of the injuries. Holiday is a solid backup and has some intriguing upside in his sophomore season, but him playing more with the starters hurts the bench. The same thing happened with Turner out, as they had to rely on guys like Goga Bitadze and Doug McDermott, who are better suited for end-of-the-bench roles.
Now that the Pacers starters are back together, everyone can go back to their rightful roles, and I think we'll see the bench numbers improve.
Now to the Thunder. Their starting lineup has posted a -3.1 Net Rating together in 400 minutes, which is mediocre even in a tougher conference. They've actually made up ground with their bench this season: They're 12.2 points/100 better when Dennis Schroder is out there — the highest on/off mark on the team.
Let's talk this specific matchup: The Thunder on offense have been average, and the few areas they've excelled are at the rim (sixth in the league) and long mid-rangers (first).
Unfortunately, that's exactly where the Pacers are best defensively, ranking third in rim defense and third on long-2s. They're also second in corner-3%, highlighting how good and smart this defense can be, especially at full strength with Turner, Sabonis and Brogdon.
I think the Pacers are potentially undervalued here for the reasons listed above and don't mind grabbing them at a pick'em or better (there are a few +1 lines floating out there). I also will look betting them in the first and third quarters, when I think the starters will do damage.
Lakers at Jazz
I don't have any bets on this one, but it'll be a fascinating game to watch for a variety of reasons.
The Lakers are on the second leg of a back-to-back, and last night I bet the Nuggets because it was reported that the team, including Davis, was dealing with a spread of the flu.
They were able to battle through it last night for the victory (good job, Nuggets), but it's possible that the effects of the illnesses — fatigue being a main one — will be more impactful today than last night, especially at elevation.
Another wrench in this game is the absence of Mike Conley, who has had a disappointing start to his Utah campaign. He's shooting just 36.9% from the field this year — by far his career-low — so it's unclear just how much his absence will be felt tonight.
We currently have Jeff Green projected to start in his absence (shifting Donovan Mitchell and Bojan Bogdanovic down), and I'm presuming Joe Ingles will get some additional minutes as well.
Will Mitchell excel back in his clarified role of the offensive hub? Will the team excel around him as more spot-up shooters (rather than Conley as a secondary ball-handler)?
These are all questions for which I don't have an answer, although the market is definitely bullish on the Jazz tonight. This opened as a pick'em, but the Jazz have been bet all the way up to -3. Sports Insights has tracked multiple steam moves on them, even after the Conley injury news:

This game will be somewhat clarifying: If the Lakers go 2-0 on a road back-to-back vs. Denver and Utah with the flu — that's darn impressive. If the Jazz look awesome without Conley, it may not bring any change, but it'll definitely highlight that the offense is a problem that needs to be solved soon.
No bets for me, but it'll be a fun one to watch.
[In New Jersey? Bet now at PointsBet]
Projected Starting Lineups and Injury News
Note: Info as of 2 p.m. ET. For up-to-the-minute lineups and news, see FantasyLabs' matchups page.
Projected Lineups
Atlanta Hawks: Trae Young – DeAndre Bembry – Cam Reddish – Jabari Parker – Damian Jones
Boston Celtics: Kemba Walker – Jaylen Brown – Jayson Tatum – Semi Ojeleye – Daniel Theis
Brooklyn Nets: Spencer Dinwiddie – Garrett Temple – Joe Harris – Taurean Prince – Jarrett Allen
Charlotte Hornets: Devonte' Graham – Terry Rozier – Miles Bridges – PJ Washington – Bismack Biyombo
Chicago Bulls: Tomas Satoransky – Kris Dunn – Zach LaVine – Lauri Markkanen – Wendell Carter Jr.
Dallas Mavericks: Luka Doncic – Tim Hardaway Jr. – Dorian Finney-Smith – Kristaps Porzingis – Dwight Powell
Detroit Pistons: Bruce Brown – Luke Kennard – Tony Snell – Blake Griffin – Andre Drummond
Golden State Warriors: D'Angelo Russell – Glenn Robinson III – Eric Paschall – Draymond Green – Willie Cauley-Stein
Indiana Pacers: Malcolm Brogdon – Jeremy Lamb – TJ Warren – Domantas Sabonis – Myles Turner
LA Lakers: LeBron James – Kentavious Caldwell-Pope – Danny Green – Anthony Davis – JaVale McGee
Memphis Grizzlies: Tyus Jones – Dillon Brooks – Jae Crowder – Jaren Jackson Jr. – Jonas Valanciunas
Miami Heat: Kendrick Nunn – Jimmy Butler – Duncan Robinson – Bam Adebayo – Meyers Leonard
Milwaukee Bucks: Eric Bledsoe – Wes Matthews – Khris Middleton – Giannis Antetokounmpo – Brook Lopez
Minnesota Timberwolves: Andrew Wiggins – Jarrett Culver – Treveon Graham – Robert Covington – Karl-Anthony Towns
OKC Thunder: Chris Paul – Shai Gilgeous-Alexander – Terrance Ferguson – Danilo Gallinari – Steven Adams
Orlando Magic: Markelle Fultz – Evan Fournier – Aaron Gordon – Jonathan Isaac – Khem Birch
Phoenix Suns: Ricky Rubio – Devin Booker – Kelly Oubre – Dario Saric – Frank Kaminsky
Portland Trail Blazers: Damian Lillard – CJ McCollum – Rodney Hood – Carmelo Anthony – Hassan Whiteside
Sacramento Kings: Cory Joseph – Buddy Hield – Harrison Barnes – Nemanja Bjelica – Richaun Holmes
Utah Jazz: Donovan Mitchell – Royce O'Neale – Bojan Bogdanovic – Jeff Green – Rudy Gobert
Injury News
Atlanta Hawks: Allen Crabbe (knee) and De'Andre Hunter (finger) are out. Kevin Huerter (shoulder) will play. Chandler Parsons (illness) is questionable.
Boston Celtics: Marcus Smart (illness) is out.
Brooklyn Nets: Kyrie Irving (shoulder) remains out.
Charlotte Hornets: Nicolas Batum (hand) is probable.
Chicago Bulls: Chandler Hutchison (shoulder) is out.
Dallas Mavericks: Nothing new.
Detroit Pistons: Luke Kennard (knee) is questionable. Markieff Morris (cervical strain) is probable.
Golden State Warriors: D'Angelo Russell (thumb) is probable.
Indiana Pacers: JaKarr Sampson (back) is doubtful.
LA Lakers: Nothing new.
Memphis Grizzlies: Kyle Anderson (heel) and Jonas Valanciunas (illness) are questionable. Ja Morant (back) and Brandon Clarke (oblique) remain out.
Miami Heat: Goran Dragic (groin) is out.
Milwaukee Bucks: Sterling Brown (AC joint) is questionable. Brook Lopez (back) is probable.
Minnesota Timberwolves: Jake Layman (toe) is out. Shabazz Napier (hamstring) is probable.
OKC Thunder: Nothing new.
Orlando Magic: Michael Carter-Williams (nose) is questionable.
Phoenix Suns: Aron Baynes (calf) is out. Ricky Rubio (hand) is probable. Cheick Diallo (illness) is available to play.
Portland Trail Blazers: Gary Trent Jr. (hamstring) is TBD.
Sacramento Kings: Bogdan Bogdanovic (hamstring) is questionable.
Utah Jazz: Mike Conley (hamstring) is out.
---
Player Props
To bet props, I use our FantasyLabs player props tool. Follow me in the Action Network app to see my bets (or go to the bottom of the article), but the more important thing is the tool, which measures our projections for every player vs. current odds in the market and highlights the biggest edges for you.
Player props are an inefficient market, which allows casual bettors (limits are low, so pro bettors aren't incentivized to prioritize them) to grab very +EV bets. That said, the lines move quickly. Our props tool is set up so you can always see whether there's an edge even at the updated numbers throughout the day.
It's one of my favorite tools we offer and should be one of your bookmarked pages if you like making a few extra bucks. Here's a screenshot of what it looks like:

My usual recommendation: Bet unders.
Last season, 10-rated props in our tool hit at a 60.31% rate. But overs hit at a 57.08% rate vs. 66.47% for unders. For 9-rated props, 55.96% of overs were successful bets vs. 62.60% for unders.
As I have noted in the past, unders have more outs: A blowout, an injury, a poor shooting night — all will likely make the under hit. But also, props are less efficient as a market given the low limits, so they're less likely to adjust for things like opponent and pace.
One under I think is intriguing is Kris Dunn's 4.5-assist total.
One common misconception I hear/read is that a player moving to the starting lineup is automatically a good thing for his fantasy/prop potential. Sometimes that's true, as it potentially means more minutes, but oftentimes it can be a wash or even a downgrade.
Starting means playing with and against other starters; it's a very fluid situation. That's the case with Dunn, who recently got moved into the starting lineup, and yet his assists haven't budged — if anything, they've gone down.
I think it's an easy explanation, though: He's playing along two other ball-handlers in Tomas Satoransky and Zach LaVine rather than just one in the bench unit with Coby White. LaVine in particular has the ball in his hands a lot, which lowers the ceiling for Dunn's assist potential outside of transition opportunities.
DFS Values and Strategy
Another slate with Luka Doncic, another night to roster Luka Doncic. He's hit value in every game but two this season on DraftKings, including last game when he put up 33-18-5 for 65.0 DK points in just 28 minutes of action.
The dude has the highest floor in fantasy right now, and I have no problems building around him again at $11,600. He easily has the highest Projected Plus/Minus mark among all the studs.
If Luka is the popular stud, that means the other guys are all going to provide some value and leverage in tournaments. Giannis Antetokounmpo is one guy to look at, as he's $200 more than Luka; most will opt for the former, especially since Giannis has failed to reach expectations in four straight games due to blowouts and low minutes totals.
Trae Young has the highest Leverage Plus/Minus among the studs, and users might be scared off him after a dud in his last game against the Warriors in which he missed expectations by nearly 20 DraftKings points.
He clearly has a massive ceiling, however, and the Hawks are so thin right now due to injuries. He'll play the fast-paced Nets tonight and could absolutely put up a GPP-winning ceiling performance.
Value-wise, Donovan Mitchell is the obvious play at $7,100. He's missed value in five straight games, but he'll play tonight without Mike Conley, which should open up a ton of scoring and assist potential.
He has a tough matchup in theory, although the Lakers are on a road back-to-back and have the flu. More important is the fact that he's cheap, projected for 35-plus minutes and should exceed 30% in usage.
Bojan Bogdanovic gets a boost for the same reasons and is just $6,100. If you want to dip down to the bargain bin, someone like DeAndre Bembry is worth a look. He'll see a boost in minutes and role today with De'Andre Hunter out for the Hawks and Kevin Huerter still on a minutes restriction. Bembry has one of the highest Projected Plus/Minus marks on the slate at $4,700 on FanDuel.
Make sure to check out our models for other value plays, including Frank Kaminsky, Evan Turner, Jimmy Butler and more.
For more DFS analysis and value plays, check out the FantasyLabs NBA models.
My Bets Currently
Warriors +3 (wouldn't bet below number)
Looking for Pacers +1, will still bet at pick
Bulls-Grizzlies over 222.5 (wouldn't bet past number)
Will potentially have a bet on Pistons game if Kennard is out
[In New Jersey? Bet now at PointsBet]
Follow me in our free app if you want an alert on bets I make. I'll also make updates in the chat below.
---
Updates and Live Chat
I will put updated thoughts below, whether they're about line movement, injury news, etc. You can also ask questions, which I'll answer as quickly as I can.
How would you rate this article?