NBA Predictions, Picks & Betting Odds (Wednesday, Jan. 15): Bet on Healthy Raptors?
Credit:
Photo credit: Gregory Shamus/Getty Images. Pictured: Pascal Siakam
This NBA season, I'm trying something new. I'm going to write a daily piece that highlights everything bettors and DFS players need to know for that night's slate. For more on what to expect, read the inaugural piece.
Yesterday I finished 1-1 for -0.05 units. While I don't want to get sucked into the past, I think it's worth reviewing things each day.
The best way to do that is to look at closing line value (CLV), which is just measuring whether the line you bet moved for or against you by closing.
I bet Cavs under 105 and it closed at Cavs under 104 (won)
I bet Cavs-Clippers under 224.5 and it closed at 224 (lost)
I went 1-1 yesterday and thankfully didn't bet my leans yesterday: Knicks spread and the Rockets-Grizzlies over. I did really like the Grizz yesterday (see the title of the piece), and I likely should've been on them to cover.
In the game I did bet, I should've been heavier on the team total. I'm actually 7-0 on those this season, and I think they're easier to handicap. An over/under you have to project both teams to over or underperform, whereas with a team total you're projecting just one variable.
The Cavs went under their total — and that was the main reason I bet it — but the Clips overperformed more than the Cavs underperformed, ruining that bet.
Anyway, let's dive into today's slate and find some angles.
Note: For updates, see the chat at the bottom of this post.
YTD Record:
Overall: 167-139-2
Spreads: 63-58-2
Totals: 59-52
Moneylines: 16-7
Props: 29-22
Jump To: Odds & Analysis | Projected Starting Lineups & Injury News | Player Props | DFS Values & Strategy | My Bets
---
Odds as of Wednesday afternoon and via FanDuel, where Action Network users get a risk-free bet up to $500.
---
Betting Odds and Analysis
7 p.m. ET: Detroit Pistons at Boston Celtics (-9.5), 217.5
7 p.m. ET: Brooklyn Nets at Philadelphia 76ers (-7.5), 223
7:30 p.m. ET: San Antonio Spurs at Miami Heat (-5.5), 222
8 p.m. ET: Indiana Pacers (-2.5) at Minnesota Timberwolves, 218.5
8 p.m. ET: Washington Wizards at Chicago Bulls (-4), 231.5
8 p.m. ET: Toronto Raptors at OKC Thunder (-1.5), 212.5
9 p.m. ET: Charlotte Hornets at Denver Nuggets (-11), 210
9:30 p.m. ET: Portland Trail Blazers at Houston Rockets (-9), 236
10 p.m. ET: Dallas Mavericks (-4) at Sacramento Kings, 228.5
10:30 p.m. ET: Orlando Magic at LA Lakers (-10.5), 212
Yikes, what a brutal slate. Still, let's run through a couple angles I'm eyeing.
Raptors at Thunder
The Thunder have been pretty weird so far this year. Take a look at the performance of their most-used lineups:

Terrance Ferguson and Abdel Nader … not great. That main starting unit with Ferguson on the wing has posted a -3.7 Net Rating, but simply substitute him out for Dennis Schroder and it jumps all the way up to +35.0.
The Thunder have staggered rotations, with Schroder usually coming in around the six-minute mark in the first quarter and either playing until a couple minutes left in the second or getting a quick break and closing out the half. Schroder has been good, evidenced by his team-high +13.5 on/off differential — in the 96th percentile of the league this year.
I'm not sure that's really all Schroder though; rather, it's likely due to Ferguson and Nader being so bad. The Thunder also seem to excel with multiple ball-handlers on the floor, and with Schroder they have three with Chris Paul and Shai Gilgeous-Alexander.
Overall, the Thunder have been pretty darn good lately. They've won 12 of their last 15 games, and over the last two weeks they're sixth in the NBA with a +6.7 Net Rating. They're top-10 on both offense and defense in that stretch, which has included solid wins against Houston, Dallas, Toronto and the Clippers.
But they've also played very bad teams and on the year have notable splits based on quarter because of their insistence on playing bad wings.
Thunder Net Rating in 1Q: -4.8 (23rd)
Thunder Net Rating in 2Q: +7.3 (5th)
Thunder Net Rating in 3Q: -6.2 (24th)
Thunder Net Rating in 4Q: +8.3 (2nd)
Those splits have largely continued even in this awesome 15-game stretch:
Thunder Net Rating in 1Q: -10.9 (27th)
Thunder Net Rating in 2Q: +0.9 (16th)
Thunder Net Rating in 3Q: +10.3 (8th)
Thunder Net Rating in 4Q: +14.7 (1st)
They've obviously been better in the third, but those slow starts seem to be a trend for this team. I've written about this at length before, but you can bet quarter spreads and they often don't account for team splits. For example, tonight the Raptors are +1 on the game and +0.5 in the first quarter.
I like that first quarter bet tonight, although I just like the Raps in general. They've also been solid lately, and that's largely come without Pascal Siakam and Marc Gasol, arguably their two best players so far this season.
On the season, the Raps have been +12.2 per 100 possessions better with Gasol on the floor vs. off and +10.0 better with Siakam. Those are easily the highest marks on the team among regular rotation players. Their most-used lineup of Kyle Lowry, Norman Powell, OG Anunoby, Siakam and Gasol have posted an outstanding +15.4 Net Rating together.
To be fair, Siakam looked a little rusty in his return last game, but he did get nearly 30 minutes, which is a good sign. We have Gasol projected for around 24, which is lower than usual, but he should still help.
I'll take a little bit of Raptors +1 or +1.5 depending on the book, but my favorite bet in this game is Raptors in the first quarter.
Nets at 76ers
After exciting starts to the season, both of these teams have sucked lately. Over the past two weeks, the Sixers and Nets are 20th and 21st, respectively, in Net Rating. The 76ers have been bad on both ends of the floor, while the Nets have been solid defensively but awful offensively.
That said, Kyrie Irving returned to their lineup two games ago, and he's been excellent in both games. Last night's game was especially encouraging, as Kyrie played 32 minutes. He used 40.9% of the possessions and put up 32 points on excellent efficiency.
He's clearly been valuable to the Nets offense, which has been 8.9 points per 100 possessions better with him on the floor vs. off. They've posted an eFG% 5.3% better with him playing, which is in the 97th percentile of all players.
The issue for the Nets is largely cohesion. The most-used lineup this season with Irving and Spencer Dinwiddie together has played just 81 possessions together. That lineup has posted a huge +19.7 Net Rating together, but, again, it's a small sample. They just need more reps together.
But there are some positive signs here for the Nets, and even during their recent downswing they were pretty darn unlucky shooting the basketball. That should turn around on its own, but especially with Kyrie getting penetration against defenses and kicking out to Joe Harris and other shooters.
The 76ers, meanwhile, just haven't really been that good without Joel Embiid. With him on the floor, the Sixers have been 8.7/100 better, and the majority of that has come on the defensive end.
They've allowed 7.6% more shots at the rim without Embiid, which wouldn't have been as big of an issue against the Nets without Kyrie, but he's back. In their last two games, the Nets have been in the 86th percentile in shots at the rim, which isn't a coincidence.
The Sixers are likely seven points better than the Nets at home with Embiid, but given the data above plus Kyrie's recent play upon his return, I think the value is on the Nets in this one. I'd take it at anything +7 or better.
Projected Starting Lineups and Injury News
Note: Info as of 4 p.m. ET. For up-to-the-minute lineups and news, see FantasyLabs' matchups page.
Projected Lineups
Boston Celtics: Kemba Walker – Jaylen Brown – Marcus Smart – Gordon Hayward – Daniel Theis
Brooklyn Nets: Kyrie Irving – Spencer Dinwiddie – Joe Harris – Taurean Prince – Jarrett Allen
Charlotte Hornets: Devonte' Graham – Terry Rozier – Miles Bridges – PJ Washington – Cody Zeller
Chicago Bulls: Kris Dunn – Tomas Satoransky – Zach LaVine – Lauri Markkanen – Daniel Gafford
Dallas Mavericks: Luka Doncic – Tim Hardaway Jr. – Dorian Finney-Smith – Kristaps Porzingis – Dwight Powell
Denver Nuggets: Jamal Murray – Gary Harris – Will Barton – Jerami Grant – Nikola Jokic
Detroit Pistons: Bruce Brown – Svi Mykhailiuk – Tony Snell – Sekou Doumbouya – Andre Drummond
Houston Rockets: Russell Westbrook – James Harden – Ben McLemore – PJ Tucker – Clint Capela
Indiana Pacers: Malcolm Brogdon – Jeremy Lamb – TJ Warren – Domantas Sabonis – Myles Turner
LA Lakers: LeBron James – Avery Bradley – Danny Green – Kyle Kuzma – JaVale McGee
Miami Heat: Kendrick Nunn – Jimmy Butler – Duncan Robinson – Bam Adebayo – Meyers Leonard
Minnesota Timberwolves: Shabazz Napier – Jarrett Culver – Andrew Wiggins – Robert Covington – Karl-Anthony Towns
OKC Thunder: Chris Paul – Shai Gilgeous-Alexander – Terrance Ferguson – Danilo Gallinari – Steven Adams
Orlando Magic: Markelle Fultz – Evan Fournier – Aaron Gordon – Khem Birch – Nikola Vucevic
Philadelphia 76ers: Ben Simmons – Josh Richardson – Tobias Harris – Mike Scott – Al Horford
Portland Trail Blazers: Damian Lillard – CJ McCollum – Kent Bazemore – Carmelo Anthony – Hassan Whiteside
Sacramento Kings: De'Aaron Fox – Buddy Hield – Harrison Barnes – Nemanja Bjelica – Harry Giles
San Antonio Spurs: Dejounte Murray – Bryn Forbes – DeMar DeRozan – Trey Lyles – LaMarcus Aldridge
Toronto Raptors: Kyle Lowry – Norman Powell – OG Anunoby – Pascal Siakam – Serge Ibaka
Washington Wizards: Isaiah Thomas – Gary Payton II – Bradley Beal – Isaac Bonga – Ian Mahinmi
Injury News
Boston Celtics: Daniel Theis (knee) is questionable. Jayson Tatum (knee) is out.
Brooklyn Nets: Wilson Chandler (hamstring) is not on the injury report. Garrett Temple (knee) is out.
Charlotte Hornets: Nothing new.
Chicago Bulls: Daniel Gafford (ankle), Lauri Markkanen (ankle), Tomas Satoransky (ankle), Ryan Arcidiacono (elbow), Chandler Hutchison (shoulder) and Luke Kornet (thumb) are probable.
Dallas Mavericks: Kristaps Porzingis (knee, illness) is on track to play.
Denver Nuggets: Paul Millsap (knee) is out. Jamal Murray (back) and Gary Harris (adductor) are questionable.
Detroit Pistons: Christian Wood (knee) is questionable.
Houston Rockets: Russell Westbrook (rested yesterday) will play. PJ Tucker (shoulder) is questionable.
Indiana Pacers: Domantas Sabonis (knee) is questionable.
LA Lakers: Rajon Rondo (finger) is out 4-5 days. Anthony Davis (glute) is out.
Miami Heat: Justise Winslow (back) is out.
Minnesota Timberwolves: Karl-Anthony Towns (knee, illness) is questionable. Jake Layman (toe) is without a timetable to return.
OKC Thunder: Nerlens Noel (ankle) and Abdel Nader (ankle) are out.
Orlando Magic: DJ Augustin (knee) and Michael Carter-Williams (AC joint) are out. Evan Fournier (quad) is questionable.
Philadelphia 76ers: Joel Embiid (hand) remains out.
Portland Trail Blazers: Mario Hezonja (back) is questionable.
Sacramento Kings: Bogdan Bogdanovic (ankle) is out. Nemanja Bjelica (ankle) is probable.
San Antonio Spurs: Nothing new.
Toronto Raptors: Marc Gasol (hamstring) expects to play.
Washington Wizards: Nothing new.
---
Player Props
To bet props, I use our FantasyLabs player props tool. Follow me in the Action Network app to see my bets (or go to the bottom of the article), but the more important thing is the tool, which measures our projections for every player vs. current odds in the market and highlights the biggest edges for you.
Player props are an inefficient market, which allows casual bettors (limits are low, so pro bettors aren't incentivized to prioritize them) to grab very +EV bets. That said, the lines move quickly. Our props tool is set up so you can always see whether there's an edge even at the updated numbers throughout the day.
It's one of my favorite tools we offer and should be one of your bookmarked pages if you like making a few extra bucks. Here's a screenshot of what it looks like:

My usual recommendation: Bet unders.
Last season, 10-rated props in our tool hit at a 60.31% rate. But overs hit at a 57.08% rate vs. 66.47% for unders. For 9-rated props, 55.96% of overs were successful bets vs. 62.60% for unders.
As I have noted in the past, unders have more outs: A blowout, an injury, a poor shooting night — all will likely make the under hit. But also, props are less efficient as a market given the low limits, so they're less likely to adjust for things like opponent and pace.
One under I think is intriguing is Isaiah Thomas' 3.5-assist total.
Thomas has seen fewer minutes of late, playing under 20 the other night against the Utah Jazz. He also used just 15.4% of the possessions, highlighting that he's not a huge part of the rotation right now. Instead Bradley Beal and Ish Smith have been playing bigger minutes and operating the offense.
Thomas has gone under this total in each of his last seven games, and for as bad as the Bulls have been overall defensively this year, they've actually been pretty stingy against point guards. I'll take the under here again.
DFS Values and Strategy
As usual, pricing is much softer on FanDuel than it is on DraftKings. On the former site, all three of James Harden, Luka Doncic and LeBron James stand out as nice values. On DraftKings, though, LeBron far stands out, especially given his low $10,400 price tag.
He'll be without Anthony Davis today, which means we're projecting him for over 35 minutes and nearly a 34% usage rate. The matchup against the Orlando Magic isn't ideal given their defense and slow pace, but LeBron should still be the sun around which the Lakers offense revolves. He's a very tough guy to fade today, especially in cash games.
The next-best value on DraftKings in the stud range is Ben Simmons, who is just $8,700 without Joel Embiid. He'll face the Nets, who have had moments of defensive success but play at a fast pace.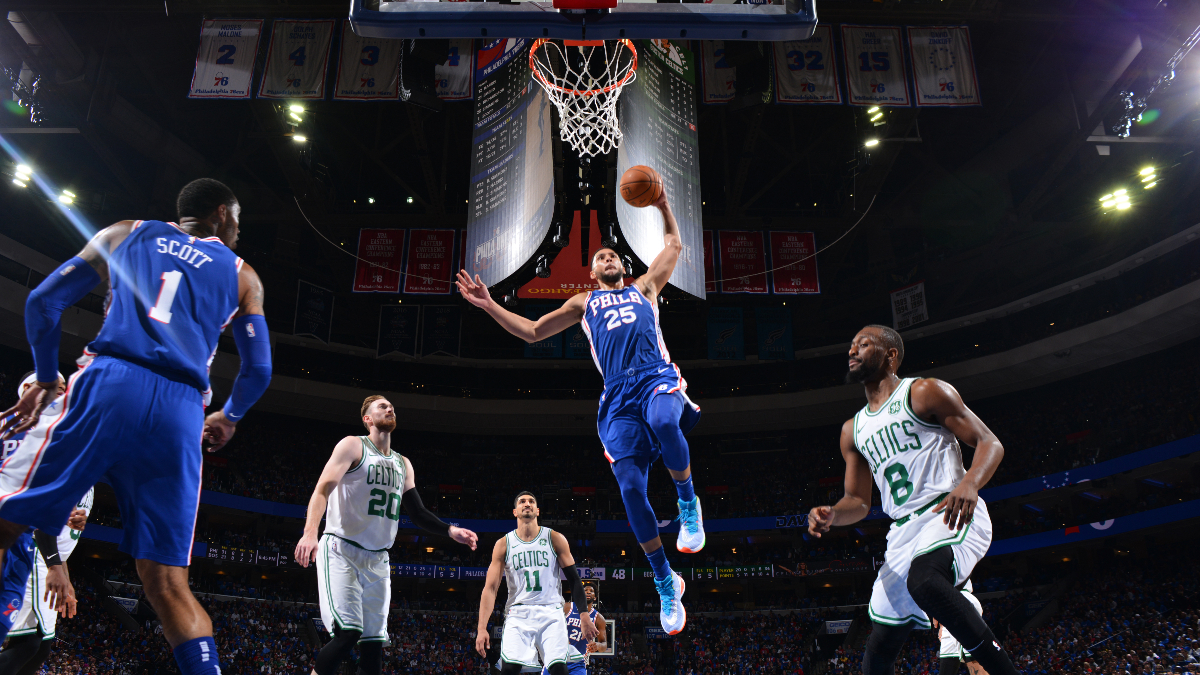 In an up-and-down affair, Simmons' skillset should shine, and in his last game he exceeded 40 minutes. At that price tag as the main playmaker, he's worthy of a roster spot certainly.
There aren't super cheap standout options currently, although there's a bunch of currently questionable players, including Karl-Anthony Towns, Domantas Sabonis, Jamal Murray, Evan Fournier, PJ Tucker and Gary Harris.
Most of the best values currently are in the mid-range with guys like Al Horford, Kemba Walker (Jayson Tatum is out), Malcolm Brogdon, Tobias Harris, Chris Paul and Steven Adams. On FanDuel, Jaylen Brown stands out more without his fellow wing stud.
You know the drill: Follow the news and make sure to subscribe to our models to see up-to-the-minute projection updates.
For more DFS analysis and value plays, check out the FantasyLabs NBA models.
My Bets Currently
Raptors +1
Raptors (1Q) +0.5
[In New Jersey, Pennsylvania, Indiana or West Virginia? Bet now at FanDuel]
Follow me in our free app if you want an alert on bets I make.
How would you rate this article?