NBA Predictions, Picks & Betting Odds (Wednesday, Jan. 8): Are the Hawks a Buy-Low Candidate?
Credit:
Photo credit: Todd Kirkland/Getty Images. Pictured: Trae Young
This NBA season, I'm trying something new. I'm going to write a daily piece that highlights everything bettors and DFS players need to know for that night's slate. For more on what to expect, read the inaugural piece.
Yesterday I finished 1-0 for +0.5 units. While I don't want to get sucked into the past, I think it's worth reviewing things each day.
The best way to do that is to look at closing line value (CLV), which is just measuring whether the line you bet moved for or against you by closing.
I bet Blazers +2.5 and it closed at Blazers +2.5 (won)
No line value yesterday but a positive day. Unfortunately I didn't get down on the other two lines I liked in yesterday's piece — the Blazers-Raps under and the Grizzlies spread — as they both won.
Anyway, let's dive into today's slate and find some angles.
Note: For updates, see the chat at the bottom of this post.
YTD Record:
Overall: 160-125-2
Spreads: 61-52-2
Totals: 50-45
Moneylines: 14-6
Props: 29-22
Jump To: Odds & Analysis | Projected Starting Lineups & Injury News | Player Props | DFS Values & Strategy | My Bets
---
Odds as of Wednesday afternoon and via FanDuel, where Action Network users get a risk-free bet up to $500.
---
Betting Odds and Analysis
7 p.m. ET: Washington Wizards at Orlando Magic (-9.5), 220.5
7 p.m. ET: Miami Heat at Indiana Pacers (-1), 210
7 p.m. ET: San Antonio Spurs at Boston Celtics (-6), 220.5
7 p.m. ET: Toronto Raptors (-2.5) at Charlotte Hornets, 207.5
7:30 p.m. ET: Houston Rockets (-8) at Atlanta Hawks, 237.5
7:30 p.m. ET: Denver Nuggets at Dallas Mavericks (-2.5), 220.5
8 p.m. ET: Chicago Bulls at New Orleans Pelicans (-3.5), 224
9 p.m. ET: New York Knicks at Utah Jazz (-12.5), 216
10 p.m. ET: Milwaukee Bucks (-13) at Golden State Warriors, 217
Let's run through a couple angles I'm eyeing.
Heat at Pacers
Perhaps the most impactful injury news is found in this game. For the Pacers, Domantas Sabonis is questionable, and Malcolm Brogdon is a game-time decision. For the Heat, Justise Winslow will make his return, and Jimmy Butler is probable to play.
With Butler likely to suit up, the injury status I'm really watching here is Sabonis, who has been the Pacers' most valuable player this season despite the buzz about guys like Myles Turner and Brogdon.
On the year, the Pacers have been 13.6 points per 100 possessions better with Sabonis on the court vs. off — that's in the 96th percentile of all players. Aaron Holiday is second on the team with a +4.5 differential mark.
Where Sabonis provides the most value is with his rebounding: While the Pacers are largely pretty bad on the glass this year, they've increased their offensive rebounding percentage by 5.2% with Sabonis and their defensive by 6.5%.
He's just a smart player and is largely efficient everywhere on the floor. He's a valuable part of the offense, and on defense he gobbles up rebounds and defends without fouling. The rest of his four factors are actually pretty neutral, which goes to show how valuable those strengths of his can be.
The Heat are a good rebounding team this season on both ends of the floor, and they've been the best team in the league at getting to the foul line. Without Sabonis on the floor, they should get more possessions and much easier opportunities. In a game with a one-point spread, those little things matter a whole lot.
Now I don't love how the Heat have been playing of late: They've posted a middling -2.3 point differential over the past two weeks with bad losses to the Magic and Wizards and somewhat uninspiring wins against the hurt Raps and the Blazers.
And they have extreme home/road splits this season:
Heat on the road: 8-9-1 ATS | -1.69 cover margin
Heat at home: 13-4-1 ATS | +5.56 cover margin
Per Cleaning the Glass, the Heat have posted a -5.3 Net Rating on the road this year, ranking 26th on offense and 28th in turnover rate. That's definitely concerning, but 1) it's a small sample size and 2) they'll get Winslow back, which should help.
As scary as it may be, if Sabonis is out, I like the Heat in this one. I do think this line is hedging a bit, however, providing value on the other side if both Sabonis and Brogdon play. Either way, I'll likely bet this spread.
Rockets at Hawks
The Hawks suck this season. But they've also been dealing with a variety of injuries and suspensions to their best players. John Collins is finally back, Trae Young is, too, and Kevin Huerter is now seeing big minutes again. Things could be looking up for this young team.
The last two games have been encouraging: They went 1-1 against the Nuggets and Pacers, but importantly put up offensive efficiency marks of 13.7 and 118.6. They shot the ball well finally and really got to the foul line.
Their shot profile has really shifted since the beginning of the season. They were middle of the league in 3-point rate despite finishing fourth in that regard a season ago in Trae Young's first year. But since Dec. 5, the Hawks have a 40.7% 3-point rate, good for third in the league. And with their guys healthy and playing normal minutes, they're starting to hit more of those.
One interesting data point is that the Hawks have been pretty bad offensively on the season with Collins playing. They've scored just 97.0 points/100, which is in the second percentile this year. They've been awful shooting the ball, rebounding, turning it over, getting to the foul line — everything. But the minutes with him and Trae have largely been fine; it's just been the bench units in a small sample size. That should get better.
Meanwhile, the Rockets continue to roll offensively, and their defense remains incredibly hot or cold depending on the evening. The Rockets obviously bomb 3s and rank first in the league in pace. Over the past month, the Hawks are pretty close to them in those categories.
In the first game between these two teams this year, the Rockets put up 158 points, posting an insane 160.8 Offensive Rating. They had a 81.1% eFG%, which is almost impossible to do. James Harden went for 60. That game combined for 269 points, and it didn't include Collins or Huerter. Trae played just 25 minutes.
You see where I'm going with this: The over is high today, but I still like it.
Projected Starting Lineups and Injury News
Note: Info as of noon ET. For up-to-the-minute lineups and news, see FantasyLabs' matchups page.
Projected Lineups
Atlanta Hawks: Trae Young – Kevin Huerter – Cam Reddish – De'Andre Hunter – John Collins
Boston Celtics: Kemba Walker – Jaylen Brown – Jayson Tatum – Gordon Hayward – Daniel Theis
Charlotte Hornets: Devonte' Graham – Terry Rozier – Miles Bridges – PJ Washington – Bismack Biyombo
Chicago Bulls: Kris Dunn – Tomas Satoransky – Zach LaVine – Thaddeus Young – Lauri Markkanen
Dallas Mavericks: Luka Doncic – JJ Barea – Tim Hardaway Jr. – Dorian Finney-Smith – Dwight Powell
Denver Nuggets: Jamal Murray – Gary Harris – Michael Porter Jr. – Paul Millsap – Nikola Jokic
Golden State Warriors: Ky Bowman – Damion Lee – Glenn Robinson III – Draymond Green – Willie Cauley-Stein
Houston Rockets: James Harden – Eric Gordon – Danuel House – PJ Tucker – Clint Capela
Indiana Pacers: Malcolm Brogdon – Jeremy Lamb – TJ Warren – Domantas Sabonis – Myles Turner
Miami Heat: Kendrick Nunn – Jimmy Butler – Duncan Robinson – Bam Adebayo – Meyers Leonard
Milwaukee Bucks: Eric Bledsoe – Wes Matthews – Khris Middleton – Giannis Antetokounmpo – Brook Lopez
New Orleans Pelicans: Lonzo Ball – JJ Redick – Josh Hart – Brandon Ingram – Derrick Favors
New York Knicks: Elfrid Payton – RJ Barrett – Marcus Morris – Julius Randle – Taj Gibson
Orlando Magic: Markelle Fultz – Evan Fournier – Wes Iwundu – Aaron Gordon – Nikola Vucevic
San Antonio Spurs: Dejounte Murray – Bryn Forbes – DeMar DeRozan – Trey Lyles – LaMarcus Aldridge
Toronto Raptors: Kyle Lowry – Pat McCaw – OG Anunoby – Rondae Hollis-Jefferson – Serge Ibaka
Utah Jazz: Donovan Mitchell – Joe Ingles – Bojan Bogdanovic – Royce O'Neale – Rudy Gobert
Washington Wizards: Isaiah Thomas – Gary Payton II – Bradley Beal – Isaac Bonga – Ian Mahinmi
Injury News
Atlanta Hawks: Bruno Fernando (personal) and Jabari Parker (shoulder) are out.
Boston Celtics: Kemba Walker (illness) and Daniel Theis (knee) are questionable.
Charlotte Hornets: Marvin Williams (nose) is doubtful.
Chicago Bulls: Wendell Carter Jr. (ankle) is out. Daniel Gafford (ankle), Lauri Markkanen (ankle) and Ryan Arcidiacono (elbow) are probable.
Dallas Mavericks: Kristaps Porzingis (knee, illness) is out.
Denver Nuggets: Will Barton (personal) is out. Paul Millsap (knee) is probable.
Golden State Warriors: D'Angelo Russell (shoulder) is out. Draymond Green (ankle) will play.
Houston Rockets: Russell Westbrook (rest) is out.
Indiana Pacers: Domantas Sabonis (knee) is questionable. Malcolm Brogdon (back) is a game-time decision.
Miami Heat: Justise Winslow (back) is available to play. Jimmy Butler (back) is probable.
Milwaukee Bucks: George Hill (illness) is out. Giannis Antetokounmpo (back) is probable. Pat Connaughton (thigh) is not on the injury report.
New Orleans Pelicans: Jrue Holiday (elbow) is out.
New York Knicks: Marcus Morris (neck) and Dennis Smith Jr. (oblique) are TBD.
Orlando Magic: Nothing new.
San Antonio Spurs: Nothing new.
Toronto Raptors: Fred VanVleet (hamstring) is expected to miss extended time. Norman Powell (shoulder) is TBD.
Utah Jazz: Nothing new.
Washington Wizards: Garrison Mathews (ankle) is out. Bradley Beal (leg) is questionable.
---
Player Props
To bet props, I use our FantasyLabs player props tool. Follow me in the Action Network app to see my bets (or go to the bottom of the article), but the more important thing is the tool, which measures our projections for every player vs. current odds in the market and highlights the biggest edges for you.
Player props are an inefficient market, which allows casual bettors (limits are low, so pro bettors aren't incentivized to prioritize them) to grab very +EV bets. That said, the lines move quickly. Our props tool is set up so you can always see whether there's an edge even at the updated numbers throughout the day.
It's one of my favorite tools we offer and should be one of your bookmarked pages if you like making a few extra bucks. Here's a screenshot of what it looks like:

My usual recommendation: Bet unders.
Last season, 10-rated props in our tool hit at a 60.31% rate. But overs hit at a 57.08% rate vs. 66.47% for unders. For 9-rated props, 55.96% of overs were successful bets vs. 62.60% for unders.
As I have noted in the past, unders have more outs: A blowout, an injury, a poor shooting night — all will likely make the under hit. But also, props are less efficient as a market given the low limits, so they're less likely to adjust for things like opponent and pace.
One under I think is intriguing is Bryn Forbes' 9.5-point total.
Forbes has gone under this total in nine of his last 12 games, and his minutes have been a bit down lately. Tonight we're projecting him for just under 20 minutes, which means at his fairly low 17.8% usage rate, he'll have to be very efficient in order to hit double digits.
Further, he's playing against a Celtics team that ranks second in defensive efficiency this season. Given the low minutes projection, the matchup and his play of late, I think the under is the play here.
DFS Values and Strategy
It's a loaded slate up top tonight with Luka Doncic, Giannis Antetokounmpo and James Harden all available. All three have Projected Plus/Minus marks of at least +4.0 on FanDuel, although Harden stands clearly out above the other two with an insane +18.04 mark. He's way ahead on DraftKings at +8.9, too.
The reasons: First, Russell Westbrook will sit out tonight to rest. Without him on the floor this year, Harden has posted a 47.1% usage rate. That's right, Harden is using likely over half the possessions while he's on the floor. He's averaging 66.9 DK points per 36 minutes without Westbrook.
Further, he's playing against the Atlanta Hawks, who have one of the league's worst defenses. In the first meeting this season, the Rockets put up 158 points and Harden went for 60 of them (with Westbrook playing).
As mentioned above, the Hawks are looking up offensively right now, which means this game could absolutely shoot out again.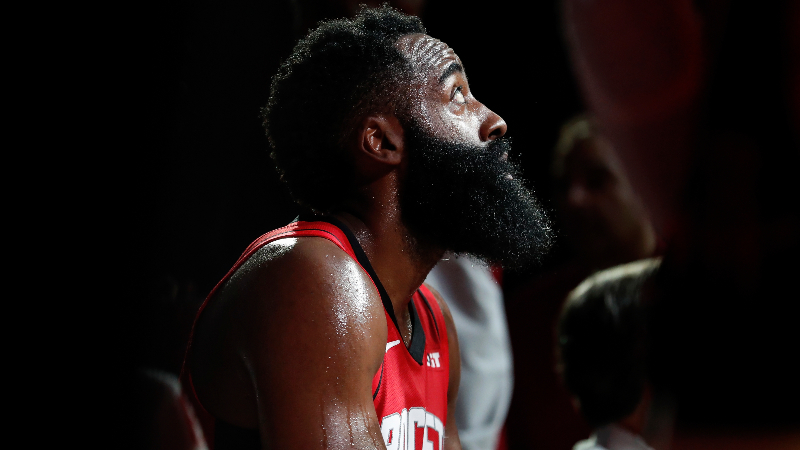 Harden is essentially an auto-play tonight, and he's a very tough guy to fade even if you're worried about the blowout risk, as shown in that first game.
Harden will be massively owned, which means any roster construction fading him — whether that's buying Luka/Giannis or building a balanced roster — will automatically gain leverage in tournaments.
Harden is pricey but worth it, and you'll just need to find values to build around him. Some of the better values are in the mid-tier, including Clint Capela, Derrick Favors, and Kyle Lowry, although there are cheap options worth considering like Michael Porter Jr., PJ Tucker, Josh Hart and others.
There are also a variety of injuries to keep an eye on as usual, including to Kemba Walker, Domantas Sabonis and Bradley Beal. Make sure to follow our news feed and subscribe to models for up-to-the-minute projections.
For more DFS analysis and value plays, check out the FantasyLabs NBA models.
My Bets Currently
Rockets-Hawks over 238
See above on Heat-Pacers writeup
[In New Jersey, Pennsylvania, Indiana or West Virginia? Bet now at FanDuel]
Follow me in our free app if you want an alert on bets I make.
How would you rate this article?