NBA Odds & Betting Picks (March 4): Can Boston Rally With 3 Starters Out?
Credit:
Photo credit: Adam Glanzman/Getty Images. Pictured: Jaylen Brown and Kemba Walker
Bryan Mears breaks down the betting odds and picks for the games he's betting on Wednesday's NBA schedule.
He's analyzing Magic vs. Heat and Celtics vs. Cavaliers, which has some injuries impacting the spread.
Check out the full betting manifesto for Wednesday below.
This NBA season, I'm trying something new. I'm going to write a daily piece that highlights everything bettors and DFS players need to know for that night's slate. For more on what to expect, read the inaugural piece.
Yesterday I finished 1-1 for -0.05 unit. While I don't want to get sucked into the past, I think it's worth reviewing things each day.
The best way to do that is to look at closing line value (CLV), which is just measuring whether the line you bet moved for or against you by closing.
I bet Lakers -12.5 and it closed at Lakers -12.5 (won)
I bet Clippers-Thunder over 228.5 and it closed at 228.5 (lost)
It was a neutral day in terms of CLV; I got the closing lines for both games. The 76ers continued their trend of failing to cover on the road, and I missed on the Clippers-Thunder game due to an outlier bad performance from OKC.
Anyway, let's dive into today's slate and find some angles.
YTD Record:
Overall: 242-227-3
Spreads: 94-93-3
Totals: 92-101
Moneylines: 24-11
Parlays: 3-0
Props: 29-22
NBA Betting Odds and Analysis
Jump To: Odds & Analysis | Projected Starting Lineups & Injury News | Player Props | DFS Values & Strategy | My Bets
---
Odds as of Wednesday afternoon and via FanDuel. Get up to a $500 risk-free bet at FanDuel today or see more offers and reviews for the best online sportsbooks.
---
7 p.m. ET: Boston Celtics (-4) at Cleveland Cavaliers, 216.5
7 p.m. ET: OKC Thunder (-8.5) at Detroit Pistons, 209.5
7 p.m. ET: Indiana Pacers at Milwaukee Bucks (-10.5), 222
7:30 p.m. ET: Orlando Magic at Miami Heat (-7), 219
7:30 p.m. ET: Utah Jazz (-8) at New York Knicks, 219.5
7:30 p.m. ET: Memphis Grizzlies at Brooklyn Nets (-1.5), 223.5
8 p.m. ET: Chicago Bulls at Minnesota Timberwolves (-2), 231
9:30 p.m. ET: New Orleans Pelicans at Dallas Mavericks (-6), 240
10 p.m. ET: Washington Wizards at Portland Trail Blazers (-8), 243
Celtics at Cavs
Update: Tatum was listed as probable, while Hayward and Brown were listed out. I grabbed the Celtics at -2.5 early this morning, as mentioned in my writeup, and I like them at anything -3 or better, although it may not get back there.
SEGABABA alert!
The Celtics are coming off a disappointing loss last night at home to the Brooklyn Nets, who put up 51 points in the fourth quarter to come back and win.
The Celtics will have to lick their wounds and get up for a road game in Cleveland, and they'll be without Kemba Walker. They could also be without Jayson Tatum (probable), who missed last night's game, along with Gordon Hayward and Jaylen Brown. That's a lot of firepower potentially gone.
Brad Stevens has historically thrived in these spots, going 62-45-2 (57.9%) ATS on back-to-backs. On the road? He's 47-29-1 (61.8%) ATS, good for a ridiculous 21.0% ROI.
That said, most of that awesome record has come as an underdog…
Stevens as road B2B dog: 40-15 ATS
Stevens as road B2B favorite: 7-14-1 ATS
It's a mixed bag it seems.
The Cavs, meanwhile, had covered or pushed four straight — including two outright wins over the Sixers and Heat — prior to Monday's 13-point loss to the Utah Jazz at home. But looking at those games more closely, they don't seem quite as strong in hindsight: Philly absolutely sucks on the road and is without most if its best players, Miami has been volatile lately, who knows what's going on with the Pelicans and Indy has been so disappointing of late.
These are all good teams in theory, but the Cavs did catch them all in pretty turbulent swings in play and injury luck.
The Celtics may be shorthanded tonight, but so will the Cavs, who will be missing Darius Garland, Andre Drummond and Alfonzo McKinnie. Tristan Thompson is questionable as well.
This line seems to assume that a lot of those Boston guys won't play, and if they don't then I agree the Cavs are live. But even if one or two of them do, I trust Stevens and this team to take care of business in a spot they've historically done so.
I like the Celtics at -2 right now — I think it's not correctly pricing in the upside of Boston guys playing — and it's a smash if at least two of them suit up, especially Tatum, who missed last night solely because of an illness, not an injury.
Magic at Heat
I bet the under here, and you might call me crazy. The Magic have gone over in five straight games, and the Heat have gone over in four of five.
But make sure to look at the schedules: Both have played the Wolves, who are an all-offense, fast-paced squad to the extreme right now. The Magic also played the Blazers, Spurs, Hawks and Nets. Talk about bad defenses and some fast paces. The Heat played the Nets, Mavs and Cavs. Similar deal.
Both teams have been operating at a below-average pace since Feb. 1, and it's possible even those numbers are inflated given their recent matchups against fast-paced teams.
Now here's another thing that could push people in the direction of the over: Over the last two weeks, the Magic are sixth on offense and 25th on defense. The Heat are third on offense and 16th on defense.
But let's look at little further: The Heat in that span are posting a 51.1% eFG% during that time on tightly-contested shots — second-best in the league behind just the Rockets. Both of these teams are in the top-10 over the last two weeks in open 3-pointers made.
Here's how they've performed in that window if we compare eFG% to expected eFG% based on shot location:
Miami: 56.1% eFG% (6th), 53.6% expected eFG% (16th)
Orlando: 53.7% eFG% (14th), 52.9% expected eFG% (24th)
There will likely be some shooting regression for these teams over the final part of the season, and it could start tonight since they're playing each other and not dumpster fires of defenses.
In the first three affairs between these teams this year, they were all three played at snail-like paces, and they all went easily under the current number for today. I'm not seeing a reason why it would be higher other than just recency bias given their recent schedules.
This game also matches a trend I like, which identifies reverse line movement on unders:
This has been a very profitable trend to follow historically and this season. I'll take the under.
Projected Starting Lineups and Injury News
Note: Info as of 4:30 p.m. ET. For up-to-the-minute lineups and news, see our live lineups page.
Projected Lineups
Boston Celtics: Marcus Smart – Javonte Green – Jayson Tatum – Grant Williams – Daniel Theis
Brooklyn Nets: Spencer Dinwiddie – Caris LeVert – Joe Harris – Taurean Prince – Jarrett Allen
Chicago Bulls: Tomas Satoransky – Denzel Valentine – Shaq Harrison – Lauri Markkanen – Wendell Carter Jr.
Cleveland Cavaliers: Collin Sexton – Kevin Porter Jr. – Cedi Osman – Kevin Love – Tristan Thompson
Dallas Mavericks: Luka Doncic – Seth Curry – Tim Hardaway Jr. – Dorian Finney-Smith – Kristaps Porzingis
Detroit Pistons: Brandon Knight – Svi Mykhailiuk – Tony Snell – Christian Wood – John Henson
Indiana Pacers: Malcolm Brogdon – Victor Oladipo – TJ Warren – Domantas Sabonis – Myles Turner
Memphis Grizzlies: Ja Morant – De'Anthony Melton – Dillon Brooks – Kyle Anderson – Jonas Valanciunas
Miami Heat: Kendrick Nunn – Jimmy Butler – Duncan Robinson – Derrick Jones Jr. – Bam Adebayo
Milwaukee Bucks: Eric Bledsoe – Wes Matthews – Khris Middleton – Giannis Antetokounmpo – Brook Lopez
Minnesota Timberwolves: D'Angelo Russell – Malik Beasley – Josh Okogie – Juancho Hernangomez – Naz Reid
New Orleans Pelicans: Lonzo Ball – Jrue Holiday – Brandon Ingram – Zion Williamson – Derrick Favors
New York Knicks: Elfrid Payton – RJ Barrett – Moe Harkless – Julius Randle – Taj Gibson
OKC Thunder: Chris Paul – Shai Gilgeous-Alexander – Hamidou Diallo – Luguentz Dort – Steven Adams
Orlando Magic: Markelle Fultz – Evan Fournier – James Ennis – Aaron Gordon – Nikola Vucevic
Portland Trail Blazers: Damian Lillard – CJ McCollum – Trevor Ariza – Carmelo Anthony – Hassan Whiteside
Utah Jazz: Mike Conley – Donovan Mitchell – Bojan Bogdanovic – Royce O'Neale – Rudy Gobert
Washington Wizards: Shabazz Napier – Bradley Beal – Isaac Bonga – Rui Hachimura – Thomas Bryant
Injury News
Boston Celtics: Kemba Walker (knee), Gordon Hayward (knee) and Jaylen Brown (hamstring) are out. Jayson Tatum (illness) is probable. Javonte Green (ankle) is probable.
Brooklyn Nets: Garrett Temple (ankle) is out.
Chicago Bulls: Kris Dunn (MCL) is out for the season. Lauri Markkanen (pelvis) will play. Zach LaVine (quad) is out 1 week.
Cleveland Cavaliers: Alfonzo McKinnie (foot), Andre Drummond (calf) and Darius Garland (groin) are out. Tristan Thompson (knee) is questionable.
Dallas Mavericks: JJ Barea (ankle) and Seth Curry (back) are questionable.
Detroit Pistons: Derrick Rose (knee) remains out. Bruce Brown (knee) is doubtful. Brandon Knight (quad) is questionable. Thon Maker (foot), Christian Wood (foot) and Sekou Doumbouya (leg) are probable.
Indiana Pacers: Victor Oladipo (knee) is questionable.
Memphis Grizzlies: Brandon Clarke (quad) and Jaren Jackson Jr. (knee) remain out.
Miami Heat: Nothing new.
Milwaukee Bucks: Kyle Korver (back) is out. George Hill (groin) is out.
Minnesota Timberwolves: Nothing new.
New Orleans Pelicans: Kenrich Williams (back) is questionable. Zion Williamson (rest) is not on on the injury report.
New York Knicks: Kevin Knox (leg) and Mitchell Robinson (hamstring) are questionable. Reggie Bullock (illness) is probable. Dennis Smith Jr. (concussion) is TBD.
OKC Thunder: Danilo Gallinari (ankle) is TBD.
Orlando Magic: Aaron Gordon (knee) and Gary Clark (knee) are questionable.
Portland Trail Blazers: Damian Lillard (groin) is probable.
Utah Jazz: Nothing new.
Washington Wizards: Thomas Bryant (foot) is out. Ish Smith (hamstring) is doubtful.
Player Props
To bet props, I use our FantasyLabs player props tool. Follow me in the Action Network app to see my bets (or go to the bottom of the article), but the more important thing is the tool, which measures our projections for every player vs. current odds in the market and highlights the biggest edges for you.
Player props are an inefficient market, which allows casual bettors (limits are low, so pro bettors aren't incentivized to prioritize them) to grab very +EV bets.
That said, the lines move quickly. Our props tool is set up so you can always see whether there's an edge even at the updated numbers throughout the day.
It's one of my favorite tools we offer and should be one of your bookmarked pages if you like making a few extra bucks. Here's a screenshot of what it looks like:

My usual recommendation: Bet unders.
Last season, 10-rated props in our tool hit at a 60.31% rate. But overs hit at a 57.08% rate vs. 66.47% for unders. For 9-rated props, 55.96% of overs were successful bets vs. 62.60% for unders.
As I have noted in the past, unders have more outs: A blowout, an injury, a poor shooting night all will likely make the under hit. But also, props are less efficient as a market given the low limits, so they're less likely to adjust for things like opponent and pace.
One example is Taurean Prince's 11.5-point prop.
One way to find value is to keep a close eye on current rotations, and the Nets currently are a good example. Prince was playing in the high 20s in terms of minutes, but over the last two games, he's been down at 21 and 18. Today, we're projecting him for around 21.
It's no surprise that in the last two games, he's gone for 12 total points, which is the number he'll need to hit just in this game to make the over. Given his current role and the fact the Nets are on a back-to-back here in a tough game against a Grizzlies team fighting for a playoff seed, I'll take the under.
DFS Values and Strategy
There are four players priced at $10,000 or above on DraftKings tonight: Damian Lillard, Bradley Beal, Luka Doncic and Giannis Antetokounmpo.
Of those four, Luka seems to be the best option, mostly because of his reasonable price at $10,900 and his elite matchup against the Pelicans. They let up nearly 140 points last night to the freaking Wolves, they play at a scorching pace and they're on a tough road back-to-back.
Right below those guys in salary is Jayson Tatum, who should be supremely popular tonight, and for good reason. He gets the lowly Cavs, who really have no one to effectively guard him. Further, he'll be without Kemba Walker, Jaylen Brown and Gordon Hayward. This is his team; he'll get as many shots and possessions to operate the offense as he can handle.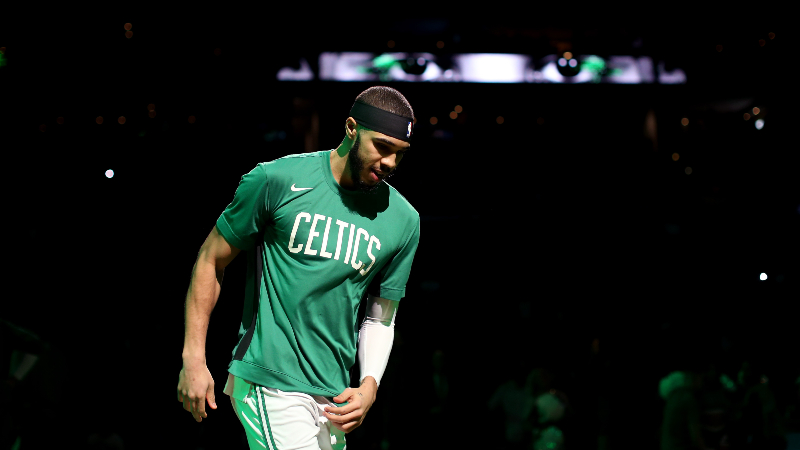 It is actually incredibly easy to get to a stars-and-scrubs lineup build tonight given the values around the minimum salary. Of note, Javonte Green and Bradley Wanamaker for Boston are $3,500 or lower, and they'll step into expanded roles given the injury situations.
Jerome Robinson, Denzel Valentine, Brandon Knight and Svi Mykhailiuk are all incredibly cheap and pop as values tonight given injury situations. If you wanted to get both Luka and Tatum, you absolutely could given the available cheap options on this big slate.
Make sure to monitor other injury news, too: Victor Oladipo, Seth Curry, Bruce Brown, Mitchell Robinson, Aaron Gordon and Tristan Thompson are all questionable and could open up even more value. What a night.
You know the drill: Follow the news and make sure to subscribe to our models to see up-to-the-minute projection updates.
For more DFS analysis and value plays, check out the FantasyLabs NBA models.
My Bets Currently
Celtics -2.5
Magic-Heat under 219
Wizards-Blazers over 242
[In New Jersey, Pennsylvania, Indiana or West Virginia? Bet now at FanDuel]
Follow me in our free app if you want an alert on bets I make.
How would you rate this article?