NBA Christmas Day Mega Guide: How to Bet Lakers-Clippers, Bucks-76ers and More
Credit:
Kirby Lee-USA Today Sports. Pictured: LeBron James, Kawhi Leonard.
Do you feel ready for the star-studded showdowns in 76ers-Bucks, Raptors-Celtics and Lakers-Clippers? We've got full betting previews for all five games of the biggest day of the season for the NBA.
Boston Celtics at Toronto Raptors Picks, Betting Odds & Predictions
Spread: Celtics -2.5
Over/Under: 213.5
Time: 12 p.m. ET
TV Channel: ESPN
---
Odds as of Tuesday afternoon and via FanDuel, where Action Network users get a risk-free bet up to $500.
---
If you needed any confirmation on the importance of home-court advantage in the NBA, look no further than the Celtics' short spread over the depleted Raptors on Christmas Day.
Toronto will be without Pascal Siakam, Marc Gasol and Norman Powell, yet the Raps are still just 2.5-point dogs against the Celtics. The question, obviously, is whether that's enough …
Our analysts offer their takes on the first matchup of the holiday slate:
Betting Trends to Know
Most gamblers prefer wagering on the over and cheering for points. Since Christmas Day games are some of the most bet in the regular season, it is fair to assume that oddsmakers would inflate the total anticipating increased action on the over from the public.
This creates value betting the under.
A $100 bettor following this strategy has returned a profit of $1,449 since 2005. — John Ewing
Matt Moore: Too Many Question Marks
I don't like any of this.
The Raptors' injury situation is so rough. Boston seems like a great value there. But Brad Stevens is 10-14 ATS in his career vs. the Raptors who have a lot of institutional stability, and just 5-4-1 as a favorite. The Celtics continue to be awesome defensively without rim protection, and that rim protection isn't an issue with Marc Gasol not really being a scorer anymore.
This just feels like a trap situation. The Raptors, defending champs, finally have a home game on Christmas. They're short-handed, so the letdown effect is real, and the Raptors have climbed back into two consecutive games to cover. I know this, because I bet against them.
This is the lowest total on the Christmas slate, but these two teams are both top-11 in offensive rating while both being top-10 in defensive rating. The Celtics are seventh in jump shot field goal percentage off the dribble this season, which should translate better on the road.
Here's a crazy one: Per Bet Labs, this is just the eigth time in his career Brad Stevens is a road favorite vs. a team with a win percentage over 60%. He's 5-1 ATS in those games.
LEAN: Celtics -2.5, Over 213.5
Bryan Mears: Line Too Short to Account for Toronto's Injuries
This was the game I was most surprised about when I saw opening spreads at FanDuel (it opened at Celtics -1). The Raptors are dealing with some key injuries, including to Pascal Siakam, Norman Powell and Marc Gasol, all of whom are out indefinitely.
They were able to skate by in the first two games without those guys, although it required the biggest comeback in franchise history at home against a Luka Doncic-less Dallas team and a narrow win against the Wizards at home. On Monday they lost on the road in Indiana, giving up 120 points.
The Raptors are not without talent certainly, but especially Siakam and Gasol have just been so critical to this team. Take a look at the on/off differential numbers for the main guys in the rotation:
Marc Gasol: +13.3 overall | +3.7 offense | +9.6 defense
Pascal Siakam: +11.7 overall | +10.3 offense | +1.4 defense
OG Anunoby: +3.6 overall | +0.7 offense | +2.9 defense
Fred VanVleet: -2.9 overall | -0.6 offense | -2.2 defense
Kyle Lowry: -6.1 overall | -2.4 offense | -3.7 defense
Norman Powell: -6.0 overall | -4.5 offense | -1.5 defense
Serge Ibaka: -16.0 overall | -7.0 offense | -9.0 defense
Gasol and Siakam both rank in the 99th percentile in on/off eFG% differential. The team takes a ton more threes when they play, they're miles better as a team shooting both at the rim and from behind the arc and they're way better in the half court.
That last point will be important against a Celtics team that has limited opponents to the third-fewest transition opportunities this season. The Raptors rarely get out without Siakam, so expect a tough half-court game.
On Monday against the Pacers, they were able to get out in transition more, especially off of live rebounds, but they were atrocious in the half court, scoring just 0.88 points per play. More concerning is the shot profile of the offense: The Raps got few shots at the rim in the half court, mostly relying on hot mid-range shooting and transition play to stay in the game.
I'm skeptical that will work against a Celtics team that ranks fourth in defense. Boston's big weakness on that end of the floor has been rebounding, but that hasn't been a strength of Toronto's, even with Gasol and Siakam.
Kyle Lowry and Fred VanVleet are awesome players. OG Anunoby has looked enticing at times this year. This team is well-coached. They could absolutely hang around in this game and even win it if they shoot very well. But should a median outcome be 1-2 points? I don't think so.
---
Editor's note: The opinions on this game are from the individual writers and are based on their research, analysis and perspective. They are independent of, and may not always match with, the algorithm-driven Best Bets from Sports Insights.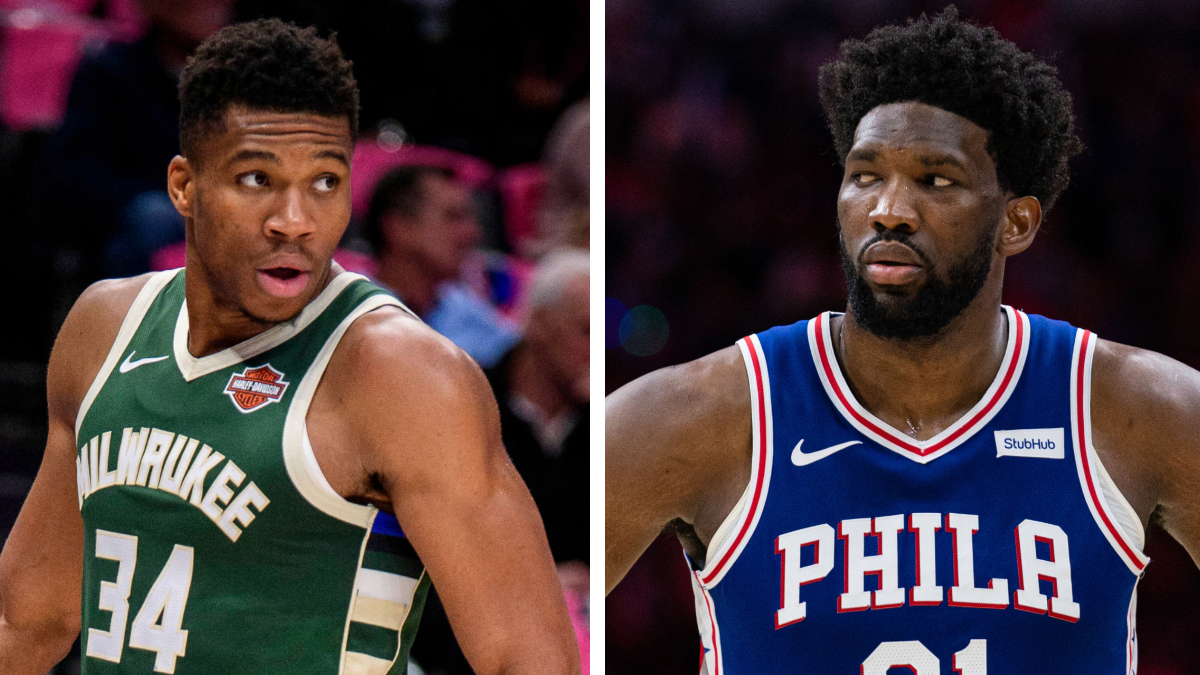 Milwaukee Bucks at Philadelphia 76ers Picks, Betting Odds & Predictions
Spread: Bucks -3
Over/Under: 220
Time: 2:30 p.m. ET
TV Channel: ABC
---
Odds as of Tuesday afternoon and via FanDuel, where Action Network users get a risk-free bet up to $500.
---
Is this an Eastern Conference Final preview? According to the odds, it is.
The Milwaukee Bucks come into Christmas as even-money favorites to win the East with the Sixers not too far behind at +260.
Most sportsbooks opened this line at Bucks -2 and the number has been bouncing between Milwaukee -2 and -4 ever since. It's no wonder why the Bucks, who at 27-4 are currently on pace for the third-best record in NBA history, are the more popular side. According to our market-wide data, Milwaukee is getting 81% of the bets for this matchup.
Should you fade the public in Philly? Our analysts dive into this heavyweight showdown:
Matt Moore: Can Philadelphia Shut Down Giannis?
This is yet another game where the Sixers should have decided advantages but they need to cash in on them.
Here's a fun fact, before we get into some deeper analysis: In their three meetings last season in which Milwaukee went 2-1, the Sixers made and attempted more 3-pointers than the Bucks. Do you know how hard that is vs. bomb-in-volume Milwaukee? But Philadelphia was outscored by 30 in the paint in the season series, despite the presence of Joel Embiid. That's an issue, particularly since the Sixers went from 22nd in 3-point rate last season to 26th this season.
I'm not surprised the Bucks are the public side in this one. It's hard not to take them in this spot. The Bucks have proven that, at least in the regular season, they're better than just about everyone.
It's also difficult to accurately project a line for this game, in Philadelphia. My gut instinct was to put this at Bucks -2, but if we put only two points for home-court advantage in either direction, that makes the Bucks -6 at home, which feels like too many points considering how good Philadelphia is. A pick 'em might put this into a more reasonable spot with the Bucks as 4-point favorites at home. Bear in mind that Milwaukee hasn't been less than a 2-point favorite since their season opener in Houston when the Bucks smoked the Rockets as 1.5-point dogs.
Milwaukee is 4-2 as less than a 5-point favorite this season, with the two losses coming vs. Utah in Utah and against the Celtics.
Speaking of Boston, they put out the blueprint for how to get past the Bucks: shoot in volume. The Bucks' defensive formula is to pack the paint and force you to hit jump shots, mostly off the dribble. The Sixers are 13th league-wide on jump-shot points per possession, but 26th in jumper points per game, and 28th on points per game from jumpshots off the dribble, per Synergy Sports. This is a problem.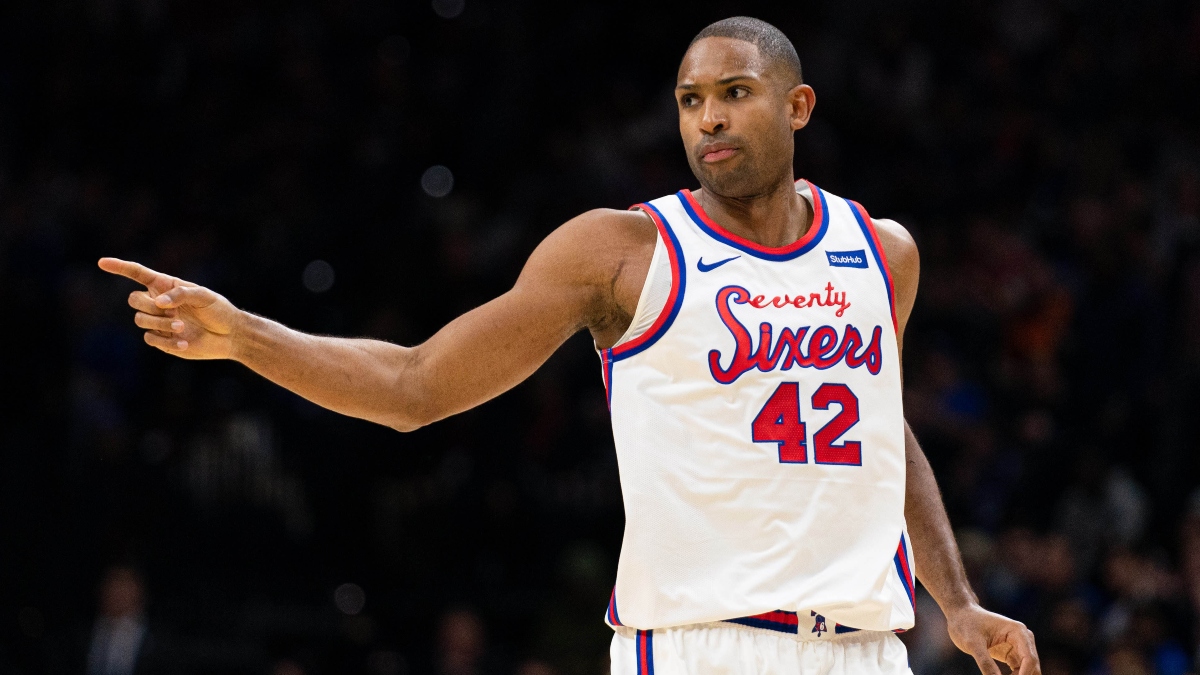 The Al Horford addition helps the Sixers in this matchup… on paper. The idea is that with another big defender, they can counter Giannis Antetokounmpo better. Except, the best way to counter Giannis is to drop coverage to the rim. For this to work, you have to have exceptional length and athleticism, or Giannis just dunks over you. Horford struggled in Boston whenever Brad Stevens went to drop coverage the last few years. He needs to play to the level, but doing that vs. the Bucks is suicide with who they have on the wing and underneath.
---
Check out FanDuel, where Action Network users get a risk-free bet up to $500.
---
Given the model of last year's games and the changes in rosters to both teams, the under likely has some value here. The Sixers allow the fewest 3-point attempts per 100 possessions in the NBA this season, forcing off a huge amount of Milwaukee's offense. They may give it up at the rim as they did last season, but then they're giving up 2's instead of 3's.
This is a game between two top-flight defenses. If the Sixers' defensive plan is actually successful, Milwaukee's likely having a stagnant shooting night with no ability to create points off the dribble. If the Bucks' defensive plan works, the Sixers are hoisting up contested short-range shots and mid-range jumpers from Tobias Harris and Josh Richardson.
One big hesitation on the under: the Bucks' bench can put up big points, despite not having any signature stars on it, especially with Eric Bledsoe out and George Hill starting. The Sixers' bench is much worse, but if the Bucks run away with the game, it's likely going over. The under in Bucks road games is still 7-6-1 this season, though.
Leans: Under 222
Brandon Anderson: Are These Two Teams in the Same Weight Class?
This is the game I'm most looking forward to on Christmas: the reigning MVP up against a long, nasty, filthy defense ready to take everything away at the rim and force an opponent that can't shoot to beat them from deep.
Oh wait, both of those are the Bucks. The 76ers defense hasn't lived up to its historic billing yet. The Sixers are 6th in defensive rating entering Christmas. That's certainly good, but it's not great, and it's far from historically great. Philly dominates on the boards and is pretty good at most things on defense.
But it's Milwaukee that has the #1 defense, not Philadelphia. And as SB Nation's Mike Prada so brilliantly wrote, the Bucks succeed not by doing a little bit of everything, but rather by being absolutely elite at one thing. Everything Milwaukee does on defense is built around protecting the rim, old school. The Lopez twins do most of the heavy lifting, and Giannis Antetokounmpo is the free safety cleaning everything else up. The Bucks allow the lowest percentage of opponent shots at the rim and the lowest conversion rate on those attempts. Milwaukee actually gives up a ton of threes, by design. Go ahead and shoot. Just don't try to beat us at the rim.
Sound like a problem for Philly? How are the Sixers going to score efficiently if they can't score at the rim? Who's going to hit threes? Will Ben Simmons make a Christmas three? O Christmas three, o Christmas three!? Don't count on it.
These were supposed to be the East's two elite teams, but only delusional Philly fans think that's true right now. The East is led by a one-horse sleigh, and Giannis is Santa, bringing gifts to every night. The Sixers are just one of the many reindeer chasing them. Or something like that.
Pick: Bucks -2.5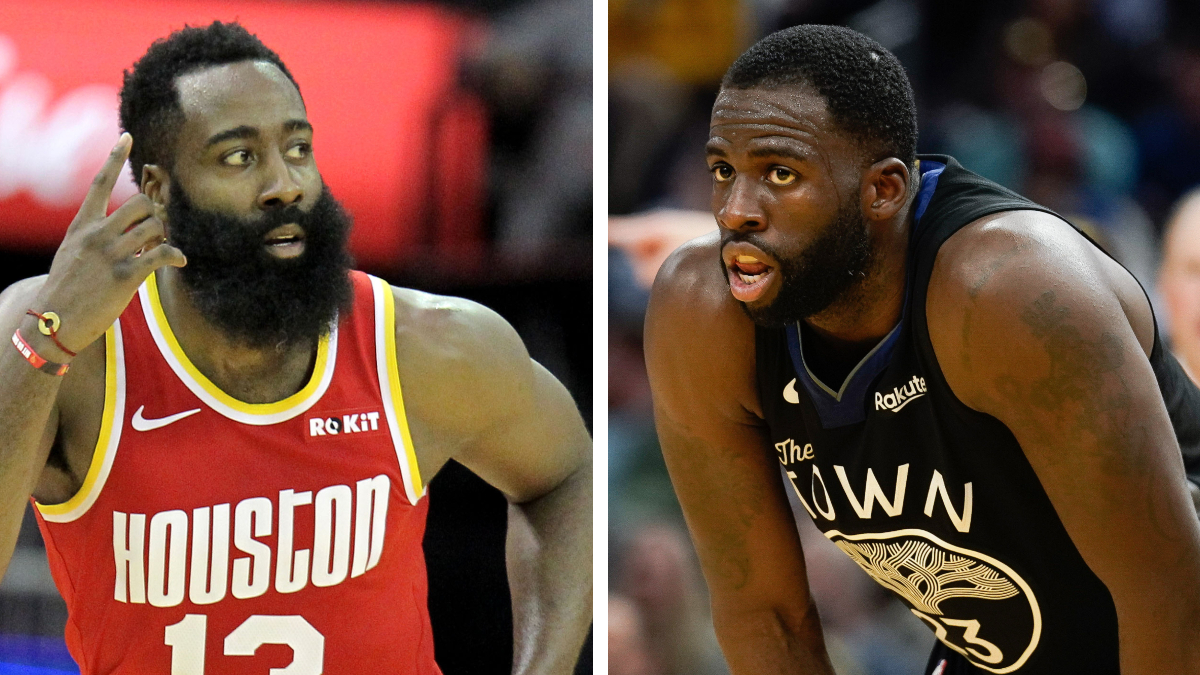 Houston Rockets at Golden State Warriors Picks, Betting Odds & Predictions
Spread: Rockets -11
Over/Under: 226.5
Time: 5 p.m. ET
TV Channel: ABC
---
Odds as of Tuesday afternoon and via FanDuel, where Action Network users get a risk-free bet up to $500.
---
The absence of Steph Curry makes this Christmas day matchup one of the least enticing games on the slate, but it still features rival teams with plenty of bad blood between them. After opening at -9.5, the public has hammered the Rockets, pushing the line to 11 as of Tuesday afternoon. Is it time to fade the public and bet on the young Warriors? Our experts break down the fourth of five Christmas games.
Rob Perez: Don't Rule Out the Dubs
The empire has fallen, but the emperor would rather die than bow before a new king. I don't know what that means or where this is headed, but it felt great coming off the fingertips, kind of like a Draymond Green three-point attempt.
Speaking of Green, this man has too much pride to let his team lose by double-digits at home … on Christmas Day … on national television … with the world watching. He will burn the arena down before he lets Harden go for 50 points on his watch.
Let's not get crazy here and put our money down on the Warriors to win this straight up, but I trust D'Angelo Russell and Dray enough to keep this competitive out of fear alone, and certainly do not trust the Rockets to hold a lead ever.
They don't just go up by 20 and then down by 20 they do it in one half. Asking them to win by double digits is an unhealthy roller coaster ride for any human. Rockets win, Warriors defend the Monarchy's honor on the field of battle one last time.
Pick: Warriors +11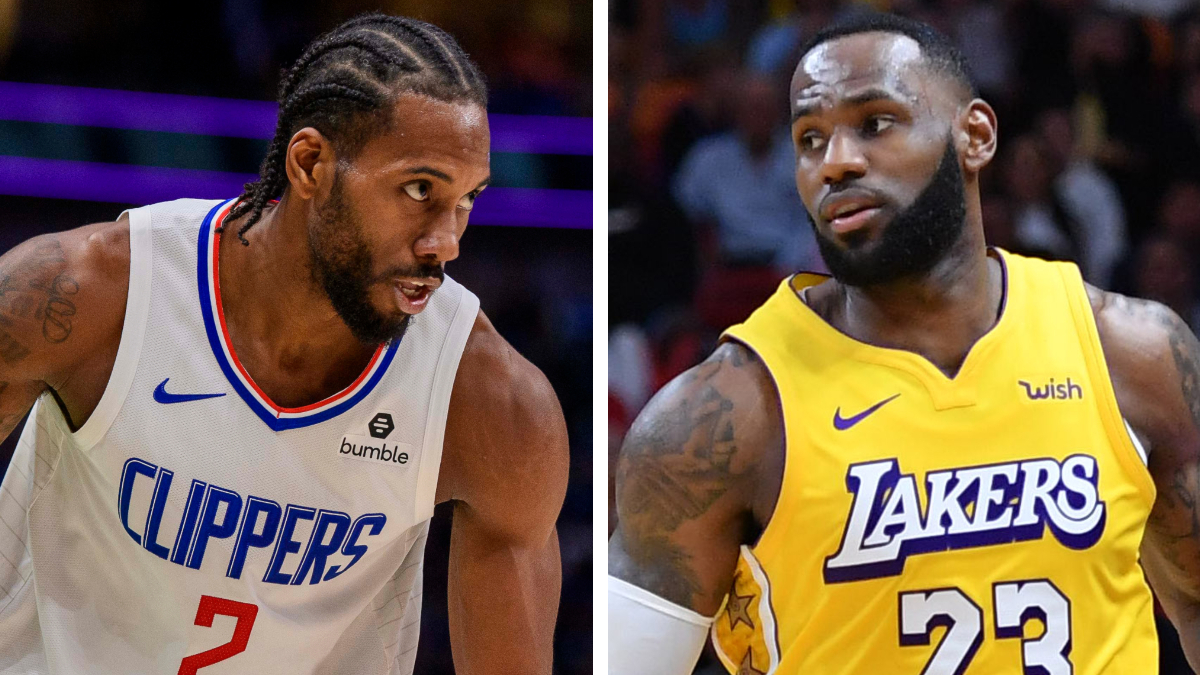 LA Clippers at LA Lakers Picks, Betting Odds & Predictions
Spread: Lakers -2
Over/Under: 223
Time: 8 p.m. ET
TV Channel: ESPN/ABC
---
Odds as of Tuesday afternoon and via FanDuel, where Action Network users get a risk-free bet up to $500.
---
As you can tell by the 2-point spread, there is very little separating Los Angeles' two basketball teams.
The Lakers come in with the better overall record, but the two teams are mirror images in the futures market. Both the Clips and Lake Show are +190 to win the Western Conference and +320 to win the NBA Championship (FanDuel).
It looks like most bettors are happy to take the points in what projects to be a tight contest. According to our market-wide bet-tracking data, 76% of the bets have landed on the Clippers in the Staples Center Derby.
Our NBA analysts dive into what could be a Western Conference Finals preview:
Betting Trends to Know
The Under is 5-2 when the Lakers face teams with a defensive rating below 102.5 (the Clippers qualify under the DRating metric, per Bet Labs). — Matt Moore
Matt Moore: LeBron Needs To Take Over
The Lakers' opening night loss to the Clippers was infuriating from multiple angles: Lakers fandom, the pursuit of a team's best version and most importantly, Lakers bettors.
The Lakers posted up Anthony Davis 16 times in that game. That's a metric ton. Davis scored 15 points on those 16 possessions. For the season, he's shooting under 50% in the post. He's still above water in points per possession, because he draws a ton of fouls. But the Clippers have big, strong defenders and exceptional help defense. It also severely limits the wide-open offense they have with pick and roll, forcing teams to either respect shooters or the lob.
In general, Davis works best with this team as the tip of the spear, not leading the attack. He's not a phenomenal passer, he can get bumped off his spot, and he struggles with physicality. Davis is a phenomenal athlete and a terrific scorer… but on this team, he's not really built to be the engine. That's LeBron, and things need to work through LeBron or another playmaker to set up Davis to succeed.
This matchup should be more advantageous to the Lakers than it seems. The Clippers have good inside defense but are 20th in cut points allowed per game this season. They can contain the first action, but the secondary passes get their bigs out of position. This is where the Lakers thrive. That's how they should be able to get buckets over and over in this game if they throw out the gameplan from the first meeting.
The Clippers have a bunch of advantages, too. Their floor spacing chief among them. The Lakers continue to struggle with teams that can generate enough 3-point attempts to outpace them. Kawhi Leonard, Paul George, and Lou Williams can all generate threes off the dribble, part of the reason they're so good in the pick and roll.
However, it should be noted that the Clippers are 20th this season in 3-point rate. They will have to tailor their attack a little more to those strengths. If they take them, they can make them; the Clippers have the fourth-best points per possession rate on catch-and-shoot opportunities, league-wide. They need to punish the Lakers for their big lineups.
This needs to be a big LeBron scoring game — provided he plays — for the Lakers to win. The Clippers are 26th per possession in pick and roll scoring defense, and 23rd in points per game pick and roll scoring allowed. They play drop coverage, with the big retreating to the basket to contain. This means James' mid-range jumper and floater need to be going to punish them for that and force adjustments, or he needs to load up and burst to the bucket. His injury may compromise this.
I want to bet Lakers here as I did in the opener. The ability of the Lakers inside should counter and bend the Clippers back, and the Clippers facing tough, long defenders should matter.
But between James' injury, what I've seen from Davis (which doesn't match the MVP/DPOY narrative about him at all though he's still been great) and the Clippers' ability to more easily win the math problem of 3-pointers, I'm forced to lean Clippers here.
With the total, I like the under. LA might be able to feast on cuts to the rim, but the Clippers will keep their 3-point shooters down, and Patrick Beverley's biggest weakness (off-ball defense and awareness) isn't as much of a risk vs. LA who doesn't have secondary playmakers. If LeBron doesn't play, the Lakers offense dredges into an Anthony Davis post-up fest, which sounds like a great idea until you realize he's shooting under 50% on post-ups this season.
The Lakers have the perimeter defense to contest the Clippers shooters, and better rim protectors than the Clippers have. Both teams will contain the roll man, and neither have effective pick-and-pop options.
This seems likely to be a drudge of a game, a defensive battle, and LeBron's availability further increases the number of outcomes for the under.
Pick: Under 223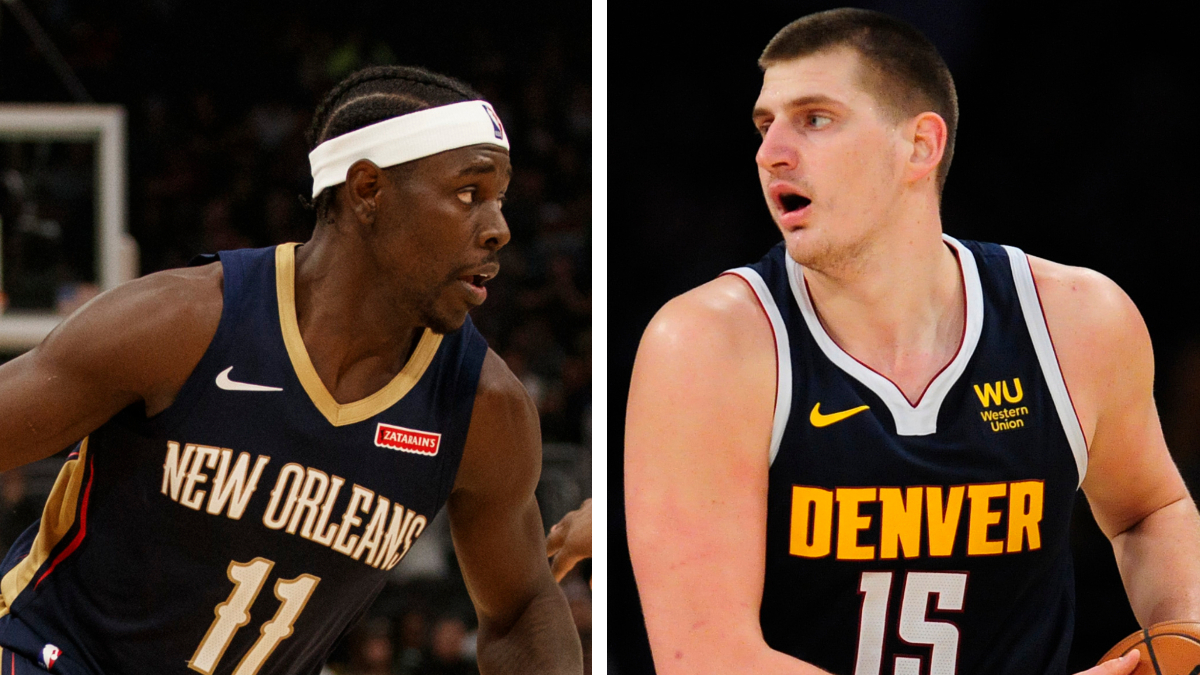 New Orleans Pelicans at Denver Nuggets Picks, Betting Odds & Predictions
Spread: Nuggets -9.5
Over/Under: 219.5
Time: 10:30 p.m. ET
TV Channel: ESPN
---
Odds as of Tuesday afternoon and via FanDuel, where Action Network users get a risk-free bet up to $500.
---
Putting the potential future of the NBA up against a new contender in the Western Conference to close out Christmas Night seemed like a pretty good idea at the time.
Of course, schedulers had no way of know we'd still be waiting to see Zion Williamson's first career regular season point as we put a cap on 2019 …
In any case, we're left with a close to double-digit spread to end the holiday, and while it may not be the most exciting of the five Christmas matchups, it's still certainly going to attract its fair share of bettors.
Here's how our experts are tackling the final game of the night:
Matt Moore: Okafor vs. Jokic Matchup Creates Value
Denver's rolling going into this game, having won seven straight. Its offense has finally caught up to its top-five defense, and is fourth-best league-wide in the last ten games. Much of that is thanks to Nikola Jokic no longer acting like he's listening to a lot of Taking Back Sunday and Denver getting the Jamal Murray-Jokic pick-and-roll going. But that's on top of stellar seasons from Will Barton and Paul Millsap.
This seems like a cakewalk, but I think there's some value on the Pels here. For starters, Jahlil Okafor is 2-2 lifetime vs. Nikola Jokic, and all four matchups have come with Okafor on the Pelicans. Okafor's a big, strong ox of a center who has the touch to hit short hooks over Jokic's limited contest height, and who can keep Jokic from getting under the rim. Jokic hasn't put up over 20 points yet vs. Okafor.
The Pelicans' big weakness defensively is perimeter containment, but outside of Will Barton, Denver doesn't have any really dynamic on-ball slashers. Gary Harris is getting better with every passing game, but struggles against big interior presences like Okafor and Jaxson Hayes, even if they aren't the best at multiple smart rotations.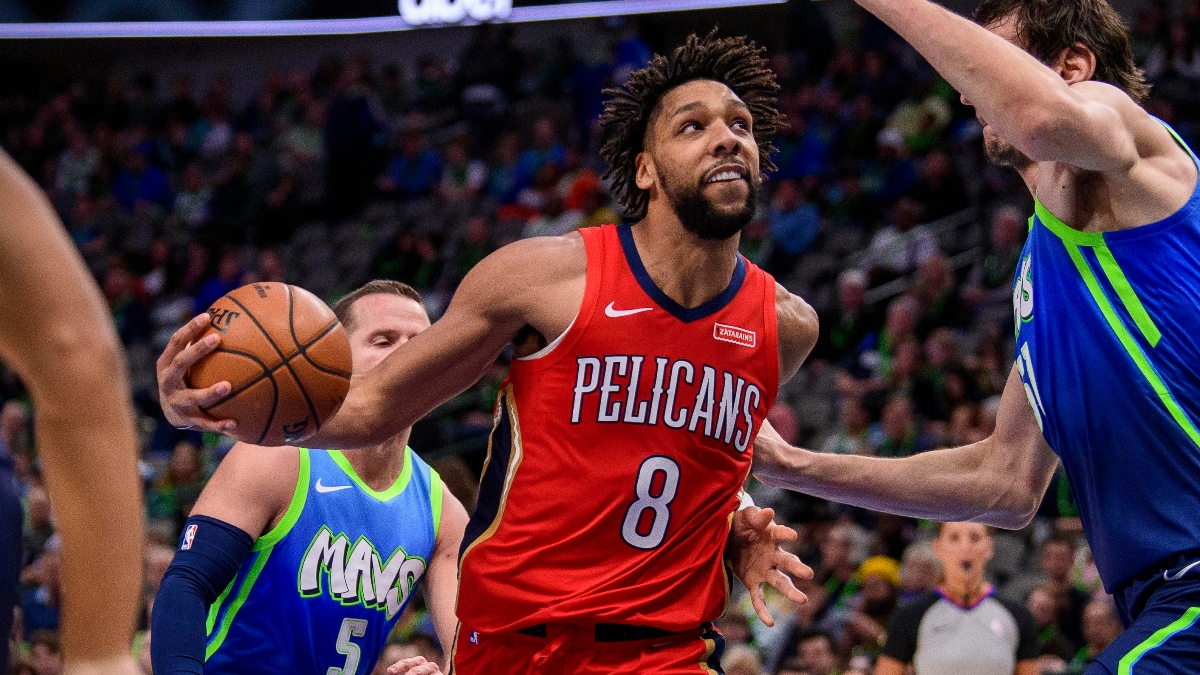 That said, Barton could have an absolutely massive game on account of this. He's averaging 14-7-3 on 46-40-75 splits with the 5th-best Defensive Real Plus-Minus league-wide and the second-best net rating on-court of the Nuggets. Brandon Ingram should be able to match him in terms of length, but Ingram is 36th percentile league-wide in defending spot-ups. Barton will likely be able to get to the basket on those closeouts and finish over Okafor and Hayes.
Just to be clear, the fact that Zion Williamson is out for this game sucks so hard.
Denver should be able to outpace the Pelicans given its renewed firepower. And while the Nuggets tend to struggle to get up for big games, this is a national-TV game on Christmas. It's been eons since Denver has played on Christmas, and this team tends find itself when it's in the spotlight.
The Nuggets are vs. 8-6 ATS at home vs. teams under a 40 percent win percentage this season and last (since they made "the leap" to West contender). They're also 10-6 ATS at home vs. teams with a 110 defensive rating or more — the Pelicans have a bottom-10 defense.
In related news, the under is 10-6 in Nuggets home games this season, thanks to their stingy defense and an offense that struggled until December. However, this also means the total is going to come in sub-220. The Pelicans are bottom-five in points allowed off turnovers, and the over for such teams on the road has gone 40-35-1 this season. You can't give the typically slow-paced Nuggets (30th in pace) run-out opportunities. Denver may hold the Pelicans to sub-100 but still put up 120-plus. The range of outcomes definitely leans over.
LEANS: Pelicans +9.5, Over 219.5
How would you rate this article?