NBA Doomsday Scenarios: The Worst Outcomes for Every Playoff Team
Credit:
Isaiah J. Downing-USA TODAY Sports. Pictured: Denver Nuggets center Nikola Jokic (15).
The 2019 NBA Playoffs could have lasting effects on each franchise. A surprising first-round loss could lead to change.
On that note, Matt Moore and Rob Perez (@WorldWideWob) run through the "doomsday scenario" for each playoff team this year.
When the NBA playoffs officially tip on Saturday, each team will be thinking about its best case scenario: hoisting the Larry O'Brien trophy in mid-June.
In reality, 15 of the 16 playoff teams will lose at some point; that's inevitable. Some playoff exits are harder to stomach than others, though. That's what every team hopes to avoid. Losing in Game 7 of the conference finals hurts, but it sure beats getting swept in Round 1.
With that in mind, our own Matt Moore (East) and Rob Perez (West) lay out the doomsday scenarios for all 16 playoff teams.
Western Conference
Golden State Warriors
Title odds: -200
The only way the Warriors are getting eliminated from the playoffs is if they crumble from within.
Here's the problem for the "misery loves company" audience: They've been through it all. It seems like an eternity ago that the police were called to the Warriors' locker room because an alleged altercation between Steve Kerr and Draymond Green had escalated to that type of energy.
We know Kevin Durant and Green had it out earlier this year in the huddle. Kerr was caught on camera talking behind Green's back.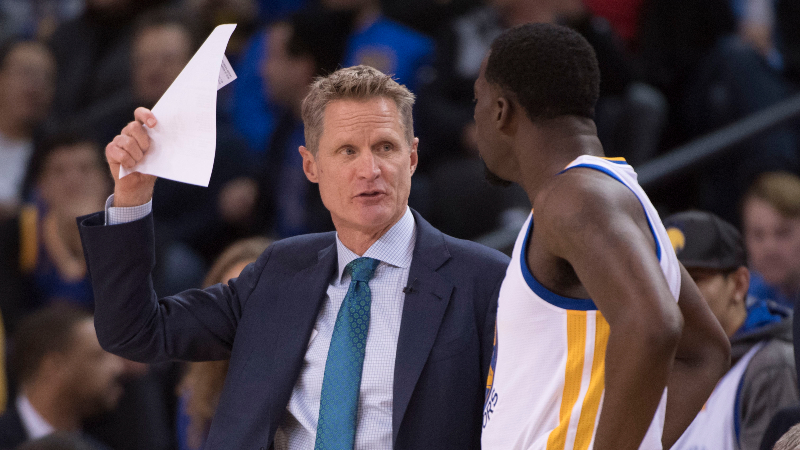 Every time we expose the Warriors, it just seems to make them stronger and they come out and hang 140 points on someone just to flex. But this is the playoffs. There is no time to heal their wounds.
If (and it's a big if) the locker room executes a mutiny of itself, it could not only end their three-peat quest — but the dynasty altogether as Klay Thompson and Durant head towards free agency.
Denver Nuggets
Title odds: +3000
Nikola Jokic folds in the spotlight. We know how good he is — you could even make an MVP case for him after the campaign he's had — but the postseason is a different beast. He is untested, and if the Nuggets are facing adversity in the form of elimination and he disappears — this is not something that will go away soon. He is the savior.
Despite Paul Millsap being the highest-paid player on the team and Jamal Murray fortifying himself as one of the highest ceiling young guards in the league, it's all on Jokic.
For us to take him and the Denver Nuggets seriously, he has to be the guy to get those fourth quarter buckets when the arena is defcon one, when pace-and-space 2019 NBA has slowed to a 1990s half court crawl and when nobody is running any plays besides 'give it to your best guy and have him go get you a bucket.' It happens every damn playoffs, and it's going to happen again. Your move, Joker.
Houston Rockets
Title odds: +800
Chris Paul gets hurt again. He's still "got it" in terms of talent and being one of the league's best point guards, but he will be turning 34 on May 6.
Whether it was his broken hand against the Trail Blazers or his chronic hamstring injury, which always seems to flare up at the most inconvenient times, the Rockets simply cannot afford to lose him at any point.
He is the highest-paid player on the team. James Harden may be the MVP, but Paul is the floor general. If he goes down again, him being unreliable won't really be a debate anymore.
Portland Trail Blazers 
Title odds: +10,000
You are paying Evan Turner and Moe Harkless $30 million combined through next season. They are the reason why you can't go out and add a third star in free agency to supplement the Damian Lillard/CJ McCollum backcourt.
You made your bed giving these guys this type of money for multiple years, so you're going to have to sleep in it. If they add nothing, again, to the team's playoff campaign — it will not only be the reason why the franchise seemingly underachieves every April, but why they can't do anything about it.
If they continue to be generic swingmen with default sliders and no upgrades or pink diamond codes, the Blazers will drown in fourth place and first/second playoff exits through Lillard and McCollum's primes, while they're both locked in long term.
That $30 million cap hold going into the blockbuster free agency summer of 2019 has to be justified or they are truly doomed.
Oklahoma City Thunder
Title odds: +3000
Russell Westbrook goes 2016 in his 2018 body. The Thunder do not need this man to have a usage rate of 50%. That is why they have Paul George, the likely bronze medal MVP award winner and Defensive Player of the Year.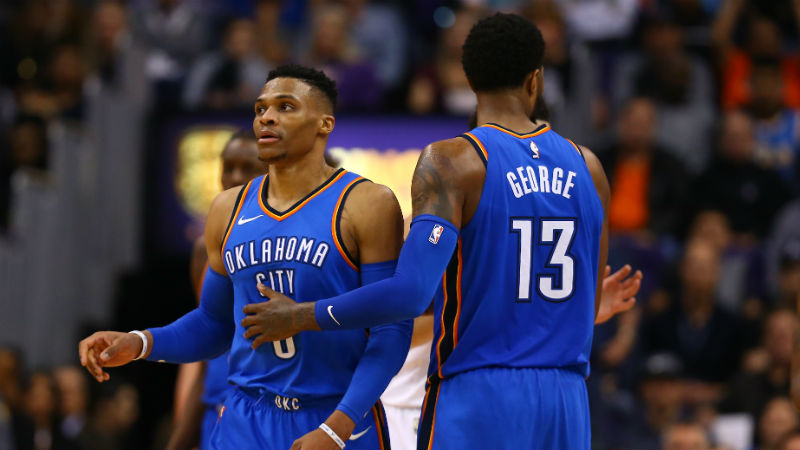 If Westbrook isn't going to allow George to drive this season, despite what happened in the series last year vs. Utah, he never will.
Also, to say getting eliminated in Salt Lake City would be an embarrassment, after everything's that happened between Westbrook and the Jazz crowd, is an egregious understatement.
San Antonio Spurs
Title odds: +8000
Toronto DeMar DeRozan re-surfaces. I'm not talking about the DeRozan who is beloved by an entire country and holds several Raptors franchise records. That guy was always fine.
The DeMar I'm talking about is the one who was so bad in the postseason he got benched multiple times across multiple playoff campaigns. When he's not getting to the free throw line or hitting that already low-efficiency mid-range fadeaway he's essentially patented at this point, he can't be out there on the floor because he doesn't even attempt 3s unless they're wide open in the corner.
The Spurs completed that blockbuster trade for Kawhi Leonard because they believe in DeRozan. They wouldn't have done the deal if they didn't. He may not be the same caliber of player as Leonard, but he was a multiple-time All Star for a reason.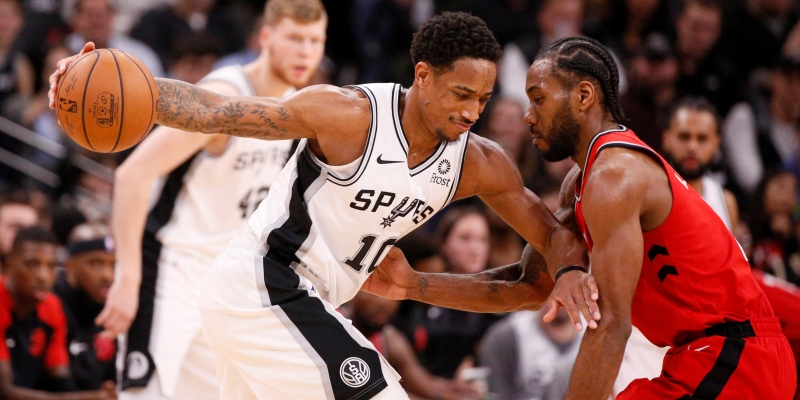 If they get the All Star version when the lights are brightest, they can finally justify the whole Leonard debacle. But if we see the same DeRozan from the past couple of playoffs, well then I just don't know what to say anymore –because if a change of scenery doesn't help solve his playoff jitters, then I don't know what ever will.
Utah Jazz
Title odds: +6000
So here's the thing: The Jazz actually had this all planned out pretty well. Dante Exum got a contract extension and finally looked poised to get over his chronic injuries and become the franchise's point guard of the future. And then it happened again: a torn patellar tendon.
You can't script a sadder story at this point, but in the end this is a business — and Exum's durability cannot be relied on now or at any point in the foreseeable future. This comes at an incredibly inopportune time for the Jazz because their current starting point guard, Ricky Rubio, is scheduled to be an unrestricted free agent at year's end.
The problem I foresee goes like this: The Jazz get eliminated early with Rubio simultaneously balling out. The Jazz will have no choice but to re-sign him, and it's going to eat up all of their cap space. The cap space they were saving in addition to Derrick Favors' team option to potentially go out and get an A-list free agent to add to this already championship-contending roster.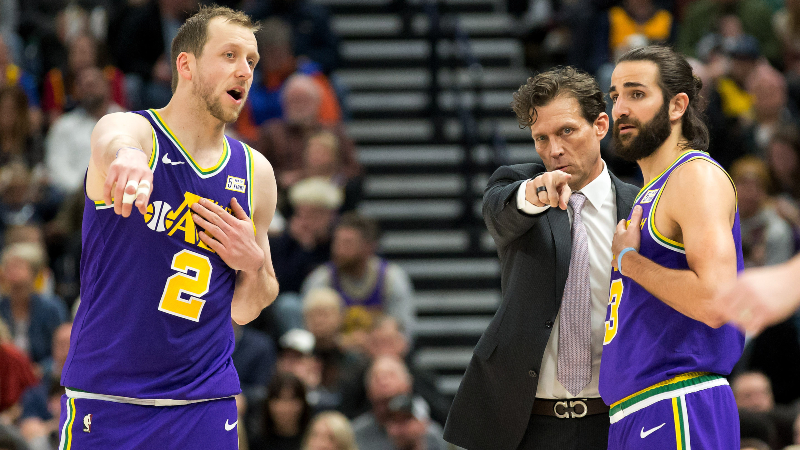 The Jazz are not winning the title with Ricky Rubio as their starting point guard AND one of the three highest-paid players. Unfortunately, they may have no other choice with the status of Exum's recovery in flux.
If Rubio crushes it in the playoffs, he's going to get even more money than anyone could have anticipated because the Jazz don't have any other relevant point guards on the roster or in the farm system.
If the Jazz are going to lose, they better pray Ricky flies under the radar so that when the middle of July comes around and nobody is even talking about him, they may be able to retain his services for a flea market deal instead of an auction.
Los Angeles Clippers 
Title odds: +50,000
The LA Clippers are currently in one of the most perfect situations in relation to talent, contracts, cap space and potential that I've ever seen.
They pay Lou Williams, the likely Sixth Man of the Year and immortal bucket-getter EIGHT million dollars per year all the way through 2021. Danilo Gallinari is locked in for next season no matter what. Montrezl Harrell, arguably the NBA's most-improved player, is locked in as well. Their prized first-round draft pick, Shai Gilgeous-Alexander, is a bonafide, ready-made starting point guard with no ceiling.
Landry Shamet, whom they stole from Philadelphia, is the NBA's best player since the All-Star break in regards to Net Rating. They have two max free agency spots available this summer. With all of this said, it makes you think anyone would be crazy to leave this situation — which is why the Doc Rivers/Lakers rumors are even more perplexing than they look on paper.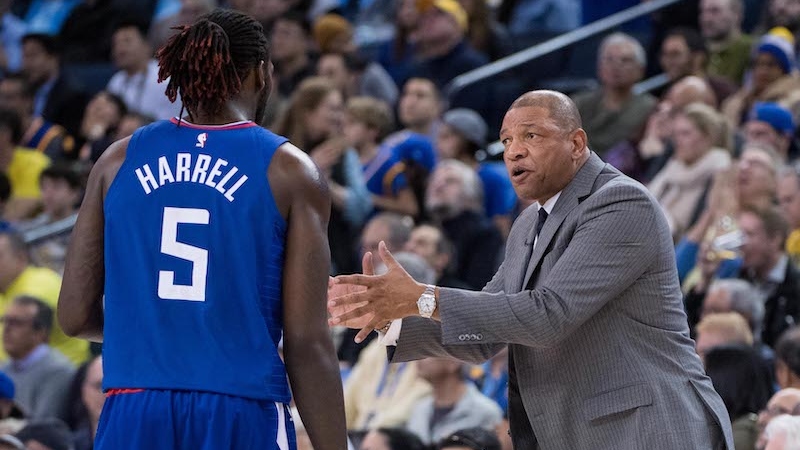 He is absolutely killing it and will be in the running for Coach of the Year. I don't know what can happen that would make Doc consider trading the blue and red for the purple and gold, but any sort of undermining him during the playoffs — whether that comes from the players, coaching staff or front office (specifically Jerry West/Steve Ballmer) — cannot happen.
You need Doc happy so he just brushes away any sort of 2 a.m. text from the Lakers brass and LeBron this summer. Doc recently addressed this, stating that he and Steve Ballmer agreed to a contract extension, which removes Rivers' ability to opt out of his deal at the end of this season.
That should be the end of it, but if we've learned anything from the NBA these past couple of seasons it's that 'loyalty' is just a word in the dictionary. Every player, coach and executive who claims "they're not for sale" has a number — and if you're the Clippers, you don't want him flirting with the prom queen.
Just give him whatever he wants; if he hasn't gotten it already, he's earned it. You will thank me later.
---
Eastern Conference
Milwaukee Bucks
Title Odds: +600
Exposed as frauds. That's the nightmare scenario for them.
The 2015 Hawks, coached by Mike Budenholzer, took the league by storm only to lose momentum as the season went on. They struggled in the first round with a depressing Nets team, almost lost to John Wall's Wizards and then were bounced by, you guessed it, LeBron James and the Cavaliers.
Now there's no LeBron Dragon roaming the East countryside this time. But if they get caught by the Pistons in a longer series than they expect and then face Boston in the second round, it could get tough in a hurry.
Milwaukee has done everything you could ask of a contender. But until they prove it, people will be waiting for them to fail.
Toronto Raptors
Title Odds: +1200
If the Raptors lose Game 1 again, it's going to be like a meteor hit their fanbase. Kawhi Leonard may be impervious because human emotions are foreign to him, but even with so many new guys, mojo can persist. They will hear the expectations, and if they struggle in the playoffs again it's going to take an exorcism to get that house clear.
If they lose to Boston, Milwaukee or even Philadelphia, it won't be a disastrous end to their season, but they have to make it out of that first round.
Philadelphia 76ers
Title odds: +1800
I don't know that a second-round exit would be good, but it's OK.
Much of it is about how they look in the playoffs. Do they look disjointed and unable to find their best selves? Or do they dominate Round 1 and put up a great fight in Round 2?
Honestly, the worst case scenario is beating the Raptors, making the Eastern Conference Finals and then getting box-eared by the Celtics. It would reinforce the idea that they can't get past the Celtics, who have been in their heads a little bit.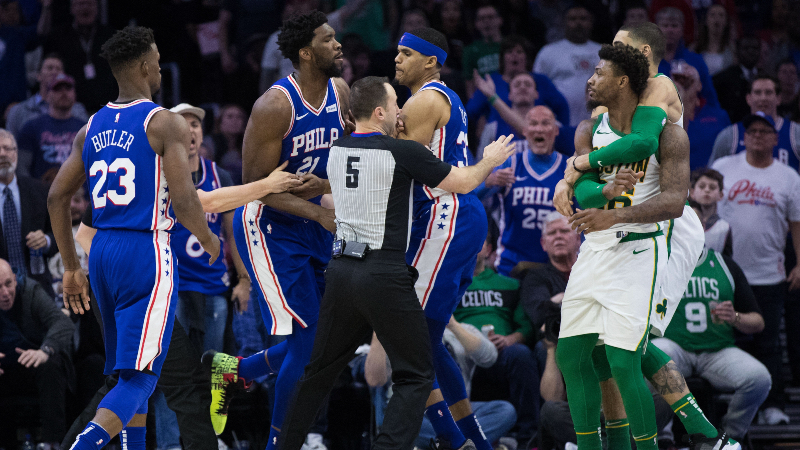 I get that in that situation they make the ECF, but it would be seen as more a failure for Toronto than a triumph for the Sixers unless they beat the Celtics. A first-round loss just isn't really conceivable at this point but would kickstart a chaotic offseason with both Jimmy Butler and Tobias Harris free agents.
Boston Celtics
Title odds: +1800
Losing to the Pacers isn't out of the realm of possibility here. The Pacers play hard on every possession and Bojan Bogdanovic is a player that can get supernova hot from deep.
They also run him around enough screens to give even the Celtics' good defenders trouble. Throw in their defense's ability to shut things down and it can get tough.
The Celtics' playoff gear is a real thing, but they have to actually find it. If they hit a bad groove, there are few worse playoff teams. If Indiana wins the first game in Boston, all hell is going to break loose with that locker room. They do not have the locker room leadership to just sail through that. They can still win, but it would get real serious really fast.
Other than that, a beatdown from Milwaukee would be disheartening. A tough series… OK, not your year. But if the Bucks take both at home, Game 3 in Boston and close it for a gentleman's sweep, there's going to be trouble in paradise with Kyrie Irving headed for free agency. A lot is riding on that potential second-round series for both teams.
Indiana Pacers
Title odds: +30,000
There is no disaster scenario. The Pacers landed a top-five seed despite missing Victor Oladipo since January.
Even if they lose Game 3 at home and the Celtics win in five, it's hard to blame them. Boston is a great team; there's no shame in losing to them even with their struggles.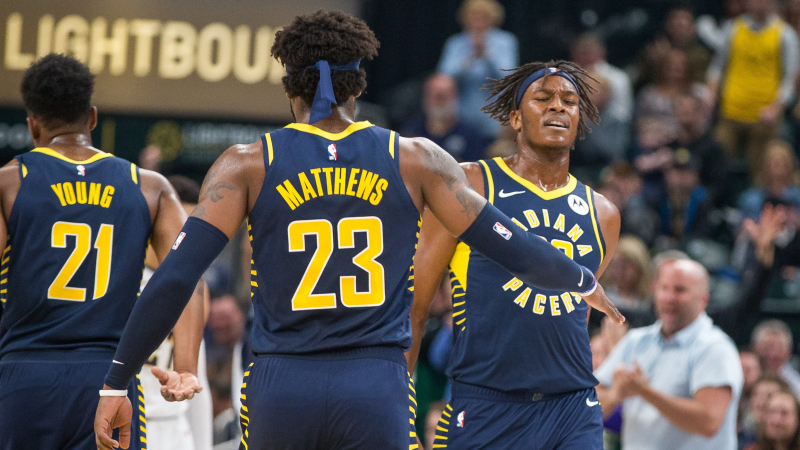 Losing to Brooklyn or Detroit would have been a bummer, but that's not happening, and even then the expectations are so low there's no loss here for Indiana.
They get to play without any expectations, without any fear. That makes them dangerous.
Detroit Pistons
Title odds: +50,000
The Raptors just jump up and down on their heads while Blake Griffin limps around, and it becomes clear that not only is his durability always going to be an issue, but they are eons away from having the right team around him to be a serious threat.
Brooklyn Nets
Title odds: +50,000
I don't see much of a downside here. Getting absolutely walloped in the first round is always disappointing, but this is a young team that is still rebuilding, and if they lose it's because they missed a whole lot of 3-pointers and that's how that goes sometimes.
If D'Angelo Russell just looks overwhelmed, that's going to take some of the wind from the sails. But the Nets have been without their own pick for like four years. If the rebuild takes a while longer, that's what it takes.
Orlando Magic
Title odds: +50,000
Honestly all their disaster scenarios have to do with the offseason. What Orlando can't do is take making the playoffs at barely over .500 in the weakest division in the weaker conference — and then re-invest heavily in this team.
We're still trying to understand what the actual underpinnings of this team are besides defense. They can't let this playoff run force them into decisions that impact the future. Do what's best for the franchise regardless of how this turns out.
How would you rate this article?