Wob: What to Expect from the NBA's New Superstar Pairings
Credit:
Kelvin Kuo-USA TODAY Sports. Pictured: Los Angeles Lakers forward LeBron James (left) and forward Anthony Davis (right).
The 2019-20 NBA season is headlined by star duos: LeBron and AD, Kawhi and Paul George, Harden and Westbrook, to name a few.
What should we expect from these newly-formed pairs, and can history point to data on when they'll hit their peaks?
It's weird. Duos have always been a thing in the NBA, but nobody predicted them to be the face of the revolution responsible for replacing the Warriors empire. As the league shifts from the age of superteams to the tag-team era, we, as fans, get to experience going back to the future.
At the league's inception, the game was headlined by two Boston Celtics stars: Bill Russell and Bob Cousy. Despite basketball's evolution throughout the years, the DNA of success has always remained the same — we heard the noise, we just weren't always listening.
Fast forward to present day, and the volume is boisterous. Or in the Clippers' case with Kawhi Leonard and Paul George, the silence is deafening.
James Harden and Russell Westbrook reuniting in Houston. LeBron James coming through in the Klutch and getting Anthony Davis to the Lakers.
Kristaps Porzingis and Luka Doncic. Kevin Durant and Kyrie Irving.
The list just doesn't stop.
Now that we're here and have so many different examples to observe this season, the questions must be asked:
Do duos actually work? And if so, why do they work?
How long do duos have to play with each other to reach peak performance?
What are the most successful duos of all time?
Are there any trends duos share?
How much does a successful duo impact the overall production of the team?
To explore this further, we gathered individual regular season win share and team Net Rating data for the NBA's most famous tag teams for as far back as the statistics were available.
(Note: the graph is interactive, so hover to see an individual year or click to remove a duo.)
Per Basketball Reference, 'Win Shares' is defined as "a player statistic which attempts to divvy up credit for team success to the individuals on the team."
In layman's terms, it is the advanced metric used to identify just how much of an impact each player has on the team's production.
Net Rating, developed by author and statistician Dean Oliver, is the difference between a player's Offensive Rating and his Defensive Rating, or, the number of points a team scores and concedes over 100 possessions.
What it all means
With these formalities out of the way, we can use the graph to identify a couple of glaring trends and observations:
Seasons 3-5 of playing together is when the NBA's star duos performed their best.
In almost every case other than Magic Johnson and Kareem Abdul-Jabbar, duos stumble out of the gate. Now, "stumbling out of the gate" needs further specification here, as "stumbling" in some of their cases would be the best seasons in franchise history for other teams. However, simply in relation to their full tenure as teammates, Years 1-2 are without a doubt the most difficult to succeed.
Only in the cases of Magic/Kareem and Elgin Baylor/Jerry West was their sixth year together a less productive individual win share campaign than their inaugural season as a duo. Never once was the team's overall Net Rating worse for all test subjects.
The Dallas Mavericks' victory over the 2011 Miami Heat has to be the biggest upset in advanced analytics history.
The prime of Gary Payton and Shawn Kemp can arguably be considered the greatest duo of all time behind only Michael Jordan and Scottie Pippen.
Kobe Bryant and Shaquille O'Neal proved great individual performances by duos do not always translate into making the overall team better.
The duo whose individual win shares most directly affected the overall team's Net Rating: Westbrook and Durant.
The duo whose individual win shares least directly affected the overall team's Net Rating: Michael Jordan and Scottie Pippen.
Does that mean Jordan and Pippen played on a team so good that they could have off nights — hell, even off seasons — and it didn't negatively impact the bottom line? Maybe, maybe not.
Maybe they were such good teammates that their mere presence made the rest of the roster better. Does this mean Westbrook and Durant really were the entire OKC franchise? Same answers, just the inverse.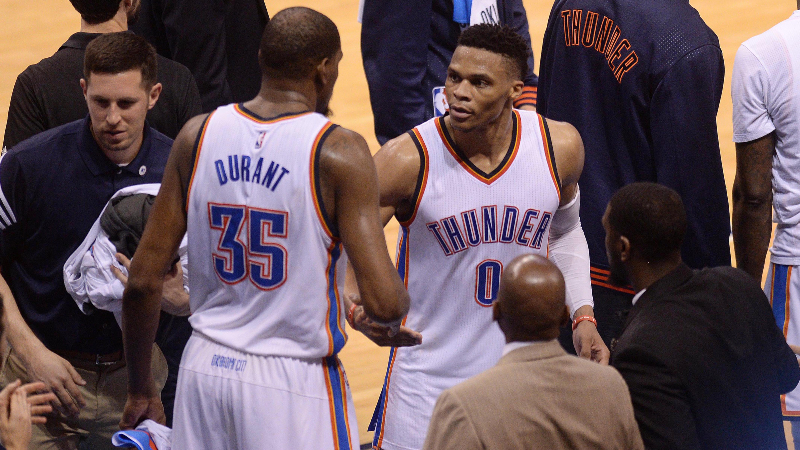 It must be noted that this data isn't foolproof to draw such hypotheses from.
Many of these duos started playing together when at least one of the players was a rookie. Even LeBron and Jordan struggled to play well, statistically-speaking, and every 2019 A-list duo contains players in their primes.
There are six different instances in which one of the two players participated in 40 games or fewer (Jordan/Pippen 1995, Westbrook/Durant 2015, Baylor/West 1971/1972, Bird/McHale 1989, Magic/Kareem 1981).
Two NBA seasons were shortened by lockouts between the NBPA and Board of Governors: 1998-1999, 2011-2012. And most importantly: team rosters change every year.
Sometimes the Lakers were Showtime; sometimes they had Smush Parker running 30-plus minutes per game. Even The Dream Team would have probably lost with Smush getting this type of burn.
While digesting this information, you must remember that not every franchise can be the New England Patriots and perform at unprecedented levels over the course of two decades no matter who is wearing the jersey.
Regardless of these counter-arguments, the sample size is sufficient enough for us to assert one important piece of evidence: Superstar duos have as much of an impact on championships as Big 3s, superteams and every other NBA era before it despite featuring just two players.
The caveat is that they are seeds that require time together to blossom.
In an NBA in which it seems like stars switch teams every two/three seasons, the most important question suddenly becomes: Which of the league's duos will withstand the test of time, the rigors of the 82-game regular season schedule, the impact of social media in 2019, the business agendas of sponsors, the short-term contracts that will allow many of the stars to break up within three years if they so choose and all of the individual narratives to make it through Year 5 as a married couple?
Only time will tell.
How would you rate this article?