Ranking the 100 Best Players in the NBA for the 2023-24 Season | NBA Elite 100
Credit:
Custom graphic by Matt Roembke of Action Network. Courtesy of Getty Images.
If the NBA is a player's league — and it is — and if you need star talent to win — and you do — then who makes up the best of the best? That's the purpose of our Elite 100.
Here's what I weighed while trying to determine the 100 best players in the NBA:
Regular season performance (statistical production, impact on winning and control of the game)
Playoff impact on winning
Availability due to health and/or other factors (AKA the Kyrie Irving factor)
Expectation of decline due to age
Expectation of improvement due to younger age
Liabilities due to offensive or defensive weaknesses
Also listed is a Playoff ranking. I ranked every player based on impact on winning in postseason play. Those vary widely from the overall rankings. Role players who are vital in the playoffs are more important than heavy-usage, iso-centric players who struggle in the postseason.
If a player doesn't have a playoff history, their rank was heavily punished. You have to accomplish things in the postseason to get the credit, for the most part.
Additionally, I've included a spread value. I translated Expected Wins Added from last season at DunksAndThrees.com (or in their last healthy season) into an approximate spread value.
This, for a number of reasons, won't reflect the actual spread move if a player is absent, but instead gives an approximate "objective" view of how they should be valued in the market.
1. Nikola Jokic
Playoff Ranking: No. 1 | Spread Value: +6.5
Jokic will be the unanimous selection on most of these lists, and he should be. The accomplishments are plain: two-time MVP and runner-up last year, reigning Finals MVP.
Additionally, Jokic's playoff run silenced the questions about his defensive liability.
He held firm in pick and rolls and on the interior. No one exposed him. No one made him the weakness. In fact, because of his comfort playing at the level in pick and roll, it's easier to build a championship defense around him than Joel Embiid, who struggles when forced into space.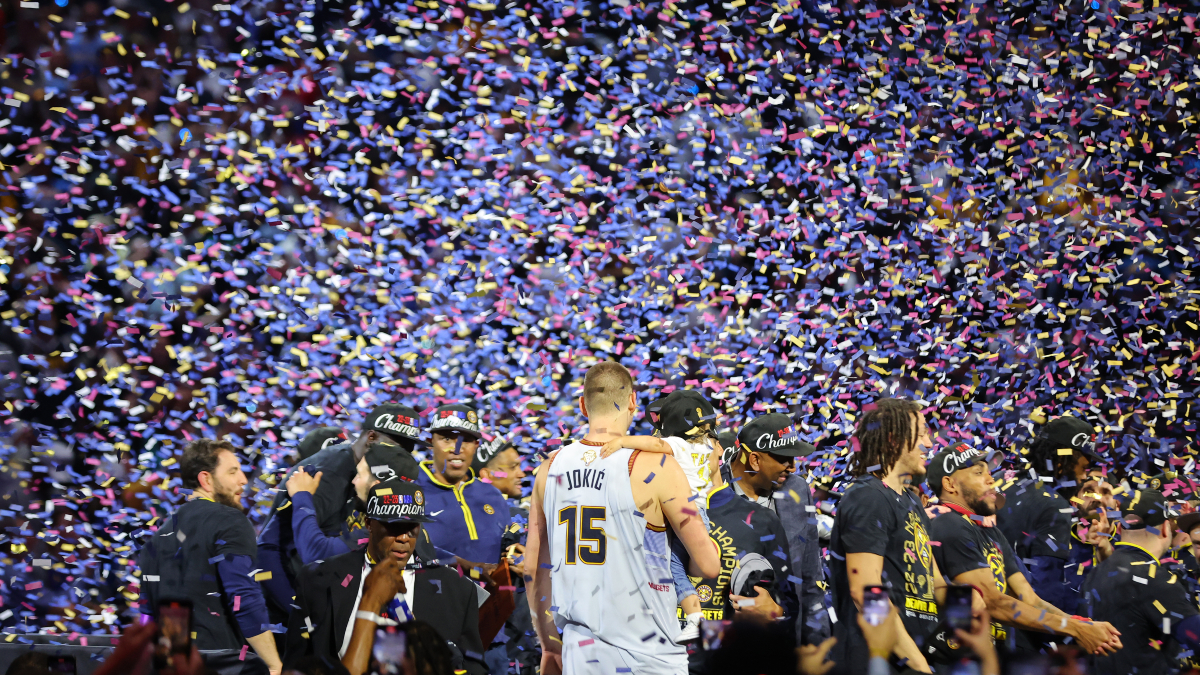 Jokic has risen past all his contemporaries. It took a title for a two-time MVP to garner the respect he deserves, but he has it. The conversation is over, for now.
2. Giannis Antetokounmpo
Playoff ranking: No. 3 | Spread value: +4.5
When Antetokounmpo failed to win his third straight MVP in 2021, Bucks fans decried it as voter fatigue.
In reality, the Bucks took a step back in the regular season so that they could adjust to Jrue Holiday and play with more versatility. It resulted in a title, with Antetokounmpo securing the championship with a 50-piece, along with 14 boards and five blocks.
Now, however, he's suffering from a little fatigue. The 2022 Bucks likely reach the Finals if Khris Middleton is healthy, and the epitaph for this year's team has to include the fact that Antetokounmpo was injured in Game 1.
But Antetokounmpo shot the worst percentage on jumpers that he has in the past three seasons in the regular season and playoffs combined. NBA teams are constantly evolving and learning how to defend the best players, and there's been a gradual resistance built up, even as Antetokounmpo remains the most physically dominant force in the game.
Antetokounmpo is still dominant, but it feels like a pivot point is approaching for him in Milwaukee … or elsewhere.
3. Stephen Curry
Playoff ranking: No. 2 | Spread value: +4.5
The greatest shooter of all time. The greatest off-ball player of all-time (and an elite all-time on-ball player). The ultimate gravity creator. An incredible teammate. The best ceiling raiser in the game.
Curry is 35 years old and will be 36 when the playoffs begin next April.
That he is still third on this list (and second among playoff players) is a testament to his greatness. Not many players in NBA history are still this good at this point.
He shot 49-43-42 last season (58% on 2-pointers). The Warriors were 8.1 points better in net rating when he was on the floor, and won 54% of their games when he played.
There will come a point where age catches up with Curry, but given his conditioning, how the Warriors have saved him throughout his career in terms of load management, and his playstyle, it may not come for several more years.
Until he no longer terrifies opponents when he crosses halfcourt with the ball, Curry must be in the top tier of NBA players.
4. Luka Doncic
Playoff ranking: No. 5 | Spread value: +5.5
The preseason favorite to win MVP in each of the past three seasons, Doncic's game and resume is far from without holes. He struggles with his conditioning in-season, wandering efficiency from all spots and some small injury problems.
But the biggest thing holding Doncic back is his play style.
The Mavericks roster isn't good enough, so Doncic has to hold the team up. So, he plays an ISO-centric, heavy-usage style, and playing that style makes the team not good enough.
There are major limitations to playing the way Doncic does. Regardless of whether it's a feature of the roster's limitations or a choice by Doncic to improve his bonus and off-court earning potential, it's not the most effective path to contention.
Doncic's playoff numbers are absurd, but that's kind of the point. The numbers look awesome, but there are questions about him wearing down.
However, Doncic is 23 and improving every season. If he puts in a well-conditioned, healthy season and Dallas' roster changes put them back at the top of the West, he may win his first MVP at the same age Michael Jordan, LeBron James and Giannis Antetokounmpo won their first.
5. Jayson Tatum
Playoff ranking: No. 9 | Spread value: +6
Tatum is probably underrated or overrated and honestly, I can't tell you which. He's evolved tremendously as a primary initiator and the offensive engine for a team that has been elite offensively over the past two seasons. He's made the Finals once, the conference finals in each of the past two seasons and four times in his career.
He's also the primary offensive weapon on a team that has consistently had issues late in games.
What gets routinely lost is how great Tatum is defensively. He's often the primary wing defender on forwards. He's physical, strong and has both great wingspan and instincts.
Tatum can make a leap in passing, which would bump up his overall impact. Tatum's durability also matters here. He's played in the most games and logged the most minutes across regular season and playoffs since he was drafted in 2017.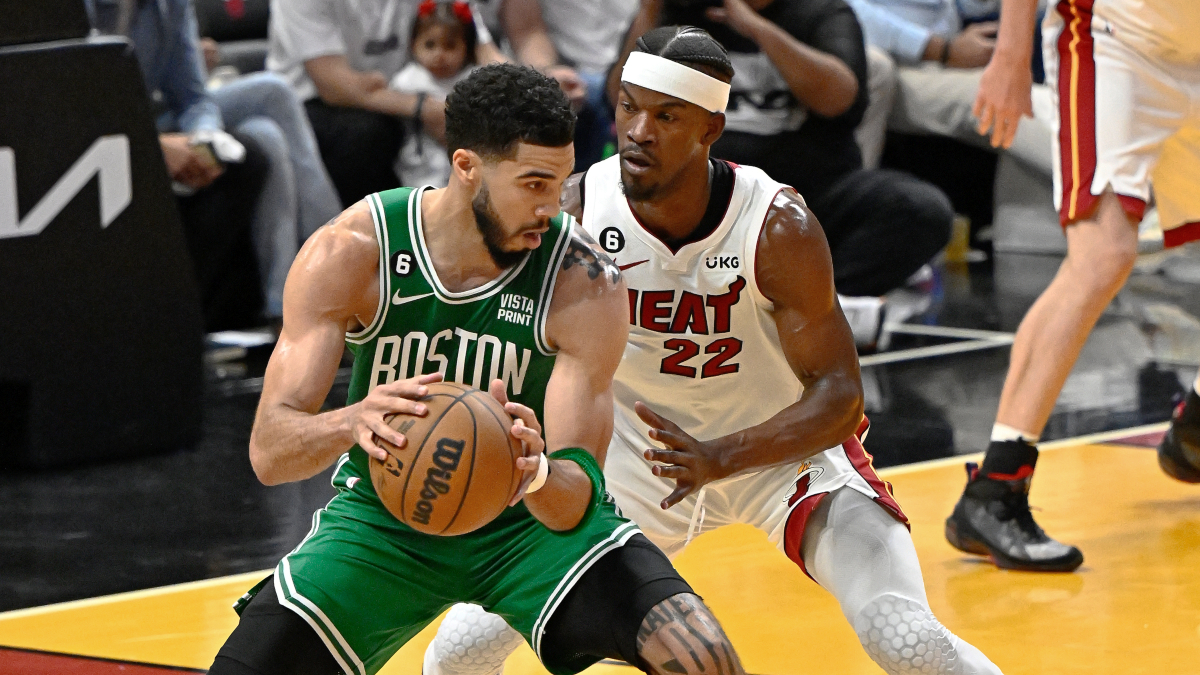 6. Jimmy Butler
Playoff ranking: No. 4 | Spread value: +5
You'll notice Butler is the fourth-best playoff player in my rankings. When the calendar turns to April, there are few players you want more, at least for his best games.
And his regular season was also spectacular last year. Butler ranked fourth in EPM, third in Win Shares and top 10 in most advanced metrics.
The best example of his dominance was shown in the first-round win over the Bucks this postseason, when Butler absolutely bullied, battered and dominated Jrue Holiday, one of the best defenders in the league.
Butler lands here due to age, consistency and games missed due to injury, but while I'm among those expecting an eventual drop off, he continues to put in elite seasons.
7. Devin Booker
Playoff ranking: No. 6 | Spread value: +3
Booker had a rough 2023. He played the fewest games of his career, shot below his career average from 3-point range and lost in the second round of the playoffs despite the best three-game shooting performance in NBA playoff history.
But there's a lot to like under that surface. He developed as a defender, going from "fine" to "pretty good," and his experience being blitzed by Denver in pick and rolls will lead to further development of his already terrific passing skills.
Booker will become more of the offensive engine this season and could break into the MVP conversation. It's already impressive that he's the best player on his team that also has Kevin Durant.
Booker is in the same tier as Tatum, but Tatum gets the edge based on his availability and defense.
8. Kevin Durant
Playoff ranking: No. 7 | Spread value: +3.5
At the start of last season, I would have put Durant in Tier 1A with Jokic, Antetokounmpo and Curry. He's still that good when he's healthy and Durant's numbers are incredible for a soon-to-be 35-year-old coming off a torn Achilles four years ago.
29 points, 7 boards and 5 assists per game on 56-40-92.
When Durant was healthy and Kyrie Irving invested, the Nets looked like a contender. Durant was traded by choice to Phoenix, and the Suns went 12-1 with him to start.
He is an even better defender with veteran strength, a better weakside rim protector and as good a shooter as ever. Durant put in his second career 50-40-90 season, tying Larry Bird for second-most all time (Steve Nash has four).
So, why is he eighth? Durant is 34 with a ton of miles on him and hasn't played more than 55 games since he suffered the Achilles injury. That's understandable as he needs to be healthy for the playoffs and his injuries haven't prevented him from competing in the postseason.
But durability and availability are going to be bigger questions as his career winds down. His playoff rank is lower on account of some notable disappointments in the past three seasons. He may have been up against it with Brooklyn (on account of his own choices of teammate), but he hasn't advanced past the second round in the past three years.
Durant, on any given night, can still be the best player in the NBA, but across a full season, it's unlikely. Father Time is undefeated.
9. Joel Embiid
Playoff ranking: No. 17 | Spread value: +6
That's right, I have the reigning MVP ninth. Sorry, that's where Embiid should stand despite the farce of his 2023 MVP campaign and after his subsequent playoff disappearing act. I'm not punishing Embiid for his blatant and unseemly campaigning – it's perfectly fine to want to win, even if throwing your contemporaries under the bus was unnecessary. I'm not punishing Embiid for the bad conversations about Jokic that ultimately looked dumb as hell.
What I am doing is evaluating his in-game limitations, the relative value of his strengths and his inability to be available or healthy when it comes time to put up or shut up.
Embiid led the league in scoring last season, good for him. We did not consider Bradley Beal to be the second-best player in the league, or even among the elites, when he finished second to Curry in 2021.
Embiid is a monster defensively, but his strength comes from intimidating lesser players in the regular season with his drop coverage. He was exposed on the perimeter in the Celtics series.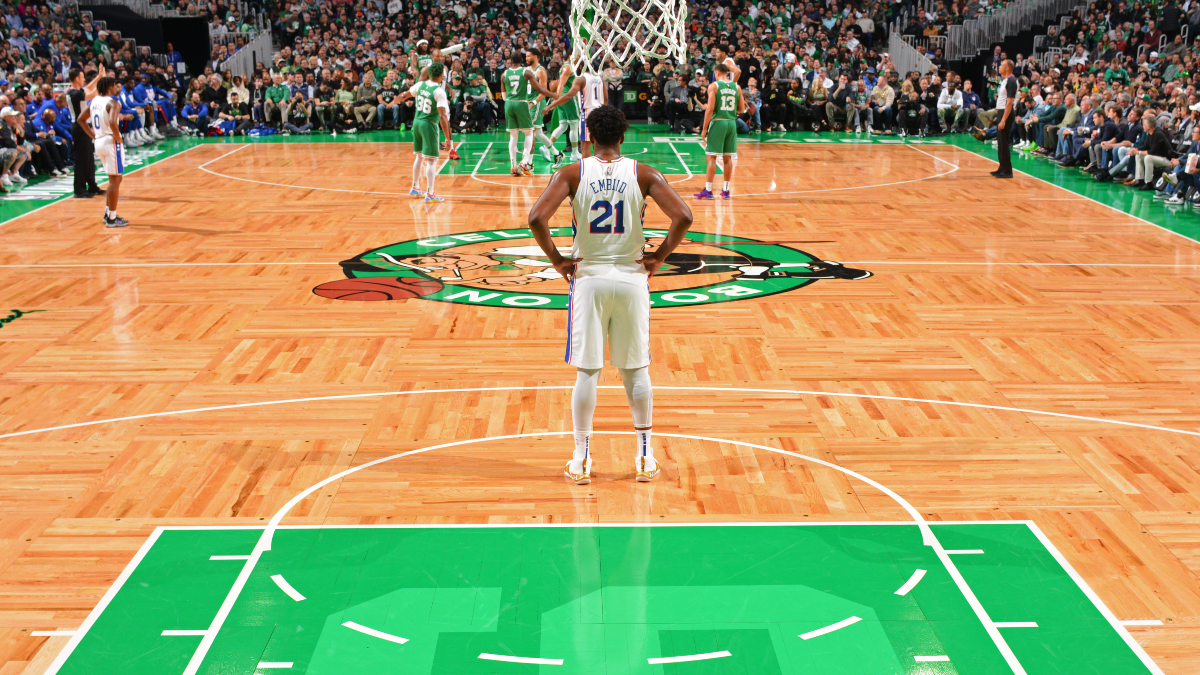 Much of his MVP came down to his ability to hit mid-range shots. That's not a knock, it was the second season in three years that he shot better than 45%, and his 49% from mid-range was among the league's best. However, those numbers are hard to sustain over time.
His playoff foibles can be attributed to health, but at this point, that has to be treated as an inherent element of his game. His inability to handle double teams effectively continues to be a major limitation, and he's not able to impact the game offensively without his go-to actions.
Every player is flawed, but Embiid's flaws – in terms of availability and solvability – are greater than the other players at the top of this list.
10. Shai Gilgeous-Alexander
Playoff ranking: No. 19 | Spread value: +5.5
This is unreasonably high for a player who has two postseason appearances with neither being particularly impressive, albeit several seasons ago.
But Gilgeous-Alexander was one of the best on-ball engines in the league last season. He's impossible to keep away from his drives, has good vision when teams bring help and is an able defender.
His 3-pointer is a missing component, even if he did rank sixth among players in pull-up jumper FG% (minimum 200 attempts).
With internal improvement, Chet Holmgren healthy, a lot of young players who seem primed to pop, and some better shooting, Gilgeous-Alexander may move up from fifth on the MVP ballot and has an outside shot at the very top.
11. Kawhi Leonard
Playoff ranking: No. 8 | Spread value: +4
Leonard's playoff reputation is a little exaggerated. Go back through his Game 7 performances and you'll find more than a few duds. He has one title as the best player in a wonky year, and his defense isn't what it once was. The biggest knock here, of course, is his availability.
12. LeBron James
Playoff ranking: No. 10 | Spread value: +4
Trust me, it hurts me way more than it hurts you to put the greatest player of his generation here. James' peak is still elite, which he showed against the Nuggets.
There are a lot of nights where he's still LeBron James, but there are more and more nights where he's not. James hasn't played more than 56 games since the Bubble.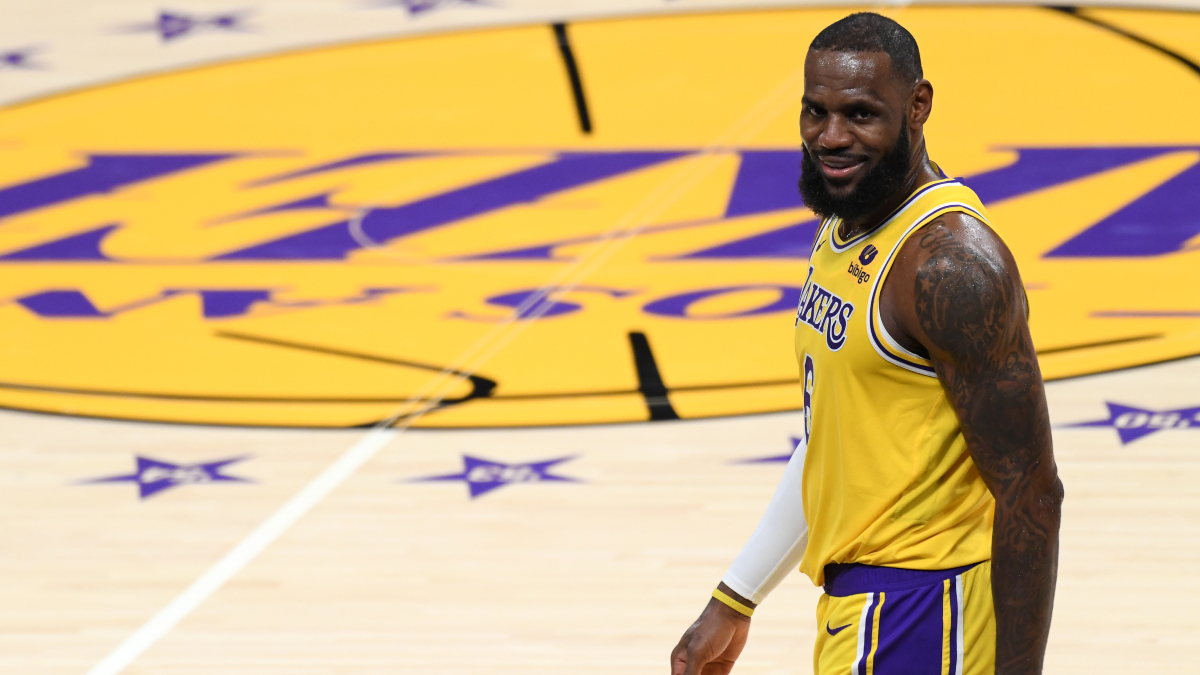 He shot 32% from 3 and hasn't cracked seven assists per game the past two seasons. On any given night? James is a top-five player. On any given night? He's closer to 20th. Father Time is indeed undefeated.
13. Damian Lillard
Playoff ranking: No. 13 | Spread value: +5
I had a tough time with Lillard. This feels low, but between age, availability and his defensive liabilities which, despite his heroic moments, teams have been able to exploit in the postseason, I finished with him here. Lillard was third in EPM last year. If he ends up in Miami, he might vault back to top-five.
14. Anthony Davis
Playoff ranking: No. 9 | Spread value: +4
Davis put up MVP numbers for stretches last season. But, because of his injury issues, that's all they ever are, stretches. His peak will always keep him in conversations about being elite. Davis dominated smaller lineups in the playoffs until he ran into Jokic. If Davis has a year where his inconsistent jumper is falling, he can be an MVP candidate again.
15. Donovan Mitchell
Playoff ranking: No. 20 | Spread value: +4.5
Mitchell averaged 28-4-4 on 48-39-87 splits last season. The playoff disaster against New York takes some shine off, but don't forget when he was dropping 50-pieces in the Bubble. Mitchell is 27 and just hitting his prime. I think there's long-shot value on him for MVP.
16. Ja Morant
Playoff ranking: No. 19 | Spread value: +3.5
Whew. What to do with Morant after his off-court disasters last year? Since there's no way to know if he'll continue to miss time for his out-of-office behavior and lack of respect for firearm safety, I'm going to stick with the tangibles. Morant has never played more than 67 games (his rookie season) and still hasn't added a pull-up jumper to his arsenal. He relies too much on his athleticism and floater, which leaves him more vulnerable to injury. His playoff highlights should not be disregarded, though.
17. Tyrese Haliburton
Playoff ranking: No. 53 | Spread value: +4
I am choosing to be irrationally high on Haliburton. I was skeptical of the hype last season, but a deep-dive film review revealed that Haliburton is probably the second, or at worst, third-best passer in the NBA. He's super efficient from the floor (21 points on 49-40-87 splits) and is becoming one of the best engines in the league. This ranking is halfway between where he would have been last season and where I expect him to finish this upcoming season (in the top 10).
18. Pascal Siakam
Playoff ranking: No. 23 | Spread value: +3.5
I am begging you to understand how good Siakam is. He's an elite defender at multiple positions and averaged 24-8-6 last season.
19. De'Aaron Fox
Playoff ranking: No. 31 | Spread value: +3.5
Fox had incredible moments in the playoffs, so his playoff ranking is something I'm still wrestling with. However, he shot 42% from the field and 33% from 3 vs. the Warriors. He's an elite defensive playmaker, as fast as any player you'll find and showed he could be the best player on a high-seed. He also played 73 games last season. Fox is a tough, tough cover.
20. Jalen Brunson
Playoff ranking: No. 18 | Spread value: +3
I had Brunson lower and just kept bumping him up. Brunson has accomplished more in a playoff setting than most of his contemporaries. He's done more in the playoffs than Morant, Fox and Haliburton, though he's less of an engine than those players, which limits his impact. He's a tough (expletive deleted) to deal with in the postseason, though.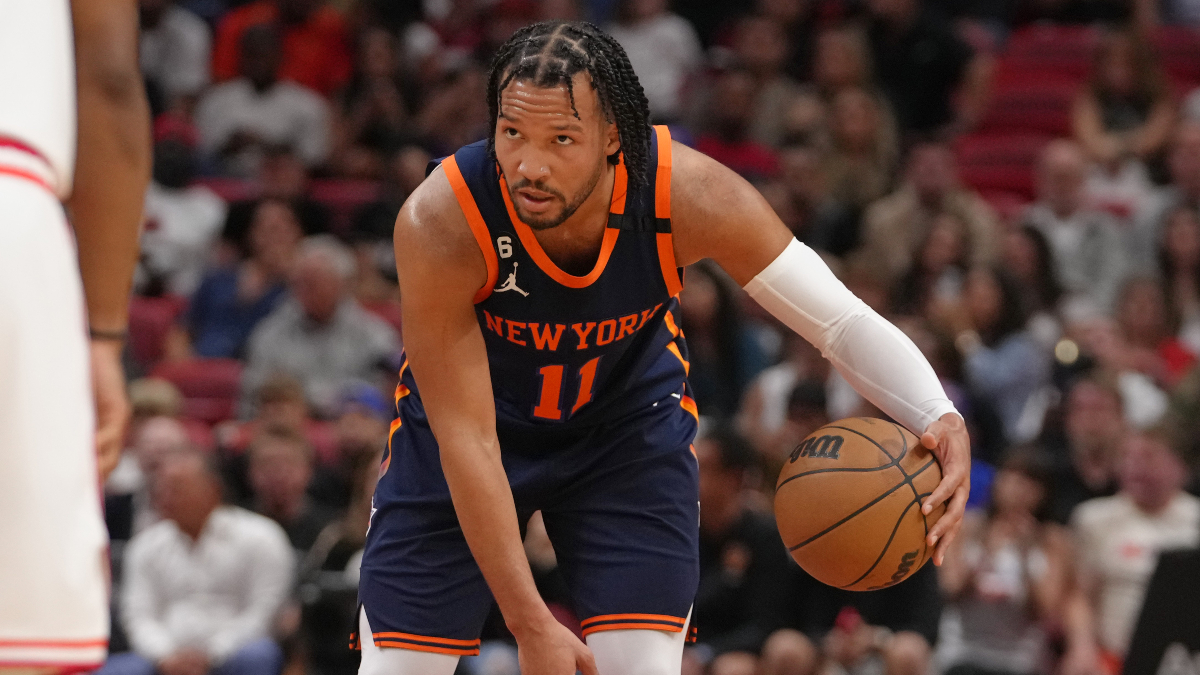 21. Lauri Markkanen
Playoff ranking: No. 52 | Spread value: +4.5
Markkanen's efficiency last year was insane. He was 68th percentile at the rim, 64th percentile from mid-range, 79th percentile from 3 and 89th percentile from the line. He's the definition of a three-level scorer.
22. James Harden
Playoff ranking: No. 56 | Spread value: +4
Harden is still Harden some nights. He still led the league in assists. HIs playoff ranking here is a little harsh as he did win two games vs. the Celtics, but his playing style demands the ball is always in his hands and given his foibles, that knocks him a few spots.
23. Kyrie Irving
Playoff ranking: No. 37 | Spread value: +4.5
There are knocks I can provide on his on-court game – most notably his penchant for destroying great ball movement with unnecessary isolation, even if his finishing on those plays is elite. But this is mostly for his unreliability. I cannot rank a player in the top 20 if I don't know what zip code they'll be in when their team needs them, or if they'll demand a trade every three weeks.
24. Paul George
Playoff ranking: No. 15 | Spread value: +3.5
If it weren't for injuries, I'd have George considerably higher. The perception of George doesn't match the reality. He's made three conference finals, averaged 24-6-5 on good efficiency last season, is a plus defender and adapts to the team around him. But he also hasn't played more than 56 games since before the pandemic.
25. Anthony Edwards
Playoff ranking: No. 12 | Spread value: +3.5
The efficiency is good, and he's a playoff killer. Edwards will be top 20 (if not higher) in the next three years. The biggest thing standing in his way might be that he has to split top-dog duties with Karl-Anthony Towns. This needs to be Edwards' team.
26. Jamal Murray
Playoff ranking: No. 11 | Spread value: +2.5
How do you rank Jamal Murray accurately? He's a No. 2 behind the best player in basketball and just had an absolutely legendary playoff run, his second in four years and second consecutive in seasons where he was healthy for the postseason.
He's also a player whose regular seasons are often good, borderline great, not elite, and missed time coming off the ACL injury (which set him up for his monster playoff run). He averaged 30 points on 50-40-90 in a Western Conference Finals.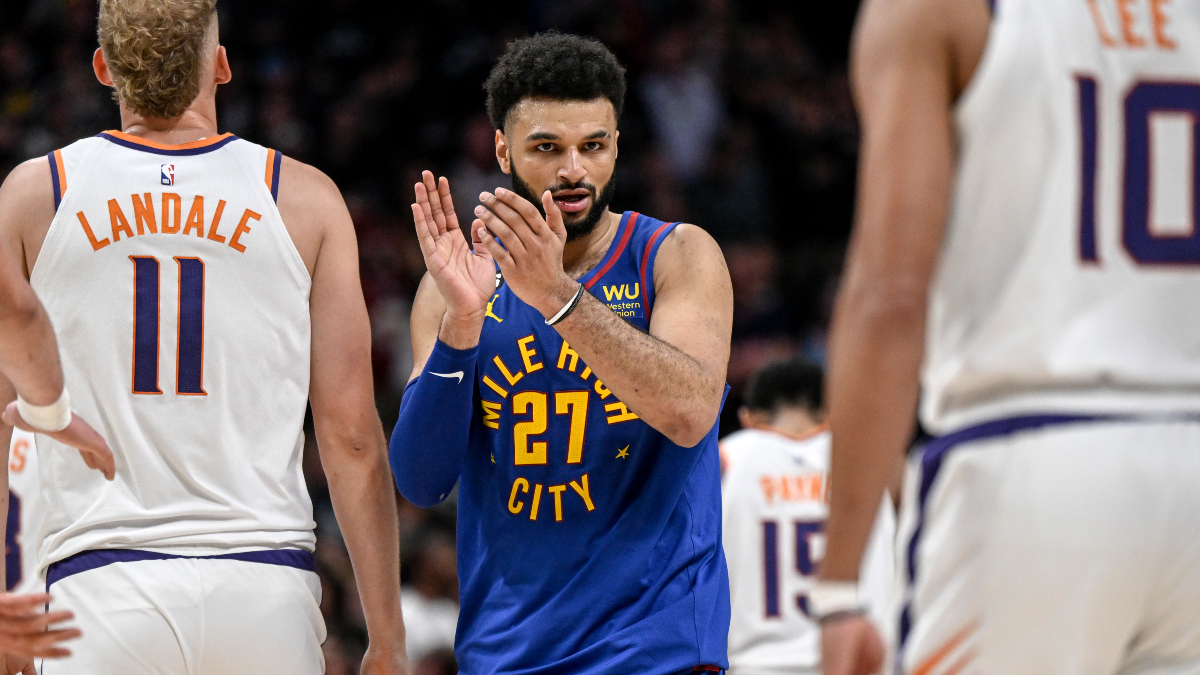 Is he a top-20 guy? Is he in this range? Would I really rather have Mikal Bridges?
I have no idea what to do with Murray. What I do know is that when April comes around, you don't want to see him on the other team.
27. Domantas Sabonis
Playoff ranking: No. 67 | Spread value: +3.5
Sabonis was arguably the engine and the Kings' best player last season. But in the playoffs, he was exposed and his efficiency in various sets is surprisingly mediocre. He's excellent, but probably needs to be a No. 3 and not a 1b.
28. Kristaps Porzingis
Playoff ranking: No. 66 | Spread value: +2.5
Trust me, I would have guffawed at this last offseason, too. But Porzingis put in the work for a career year last year. He was 18th in EPM and the Wizards were 5.6 points better in net rating with him on the court. He was even 89th percentile in the post, which used to be a problem area for him, and was 20th in jump shot points per possession. It was also his best defensive season. He will probably wind up injured and drop next year, but he was healthy last season and earned this spot.
29. Jrue Holiday
Playoff ranking: No. 24 | Spread value: +3
In his best moments, Holiday is a dynamic all-round point guard who can manipulate and control the game on offense, while still being one of the four best perimeter defenders in the league. In his worst moments, Holiday is an aging, undersized player who too often sees his offensive efficiency and/or production vanish when it's needed most.
30. Trae Young
Playoff ranking: No. 25 | Spread value: +4
You don't have to love playing with someone to win with them. Young had a really rough year with both injuries and a drop in efficiency last season. I'm expecting a bounceback. His playoff ranking is tied to his 2021 run and he deserves respect for that. This is a make-or-break year for him to still be considered among the league's elites.
31. Bam Adebayo
Playoff ranking: No. 36 | Spread value: +3
I will continue to say he's the best defender in the NBA until I'm blue in the face. He's the only player who can legitimately defend 1-5 across playing styles and sizes. He's also a dynamite passer. If only he could hone his offensive production consistency.
32. Jaylen Brown
Playoff ranking: No. 27 | Spread value: +3
Brown had an All-NBA season and there were times last year when I would have had him top-15. But the turnover issues in the playoffs matter. His defense can also swing wildly from great to sub-average. Consistency is a challenge when evaluating him.
33. Jaren Jackson Jr.
Playoff ranking: No. 28 | Spread value: +3.5
The reigning Defensive Player of the Year took a major leap last season offensively. He improved his shot creation and finishing. Jackson might be Memphis' most important player, even with Morant on the team. I have him here because of injury issues and his propensity to get into foul trouble. If he solves those things, while continuing to improve, he'll be in the top 20 shortly.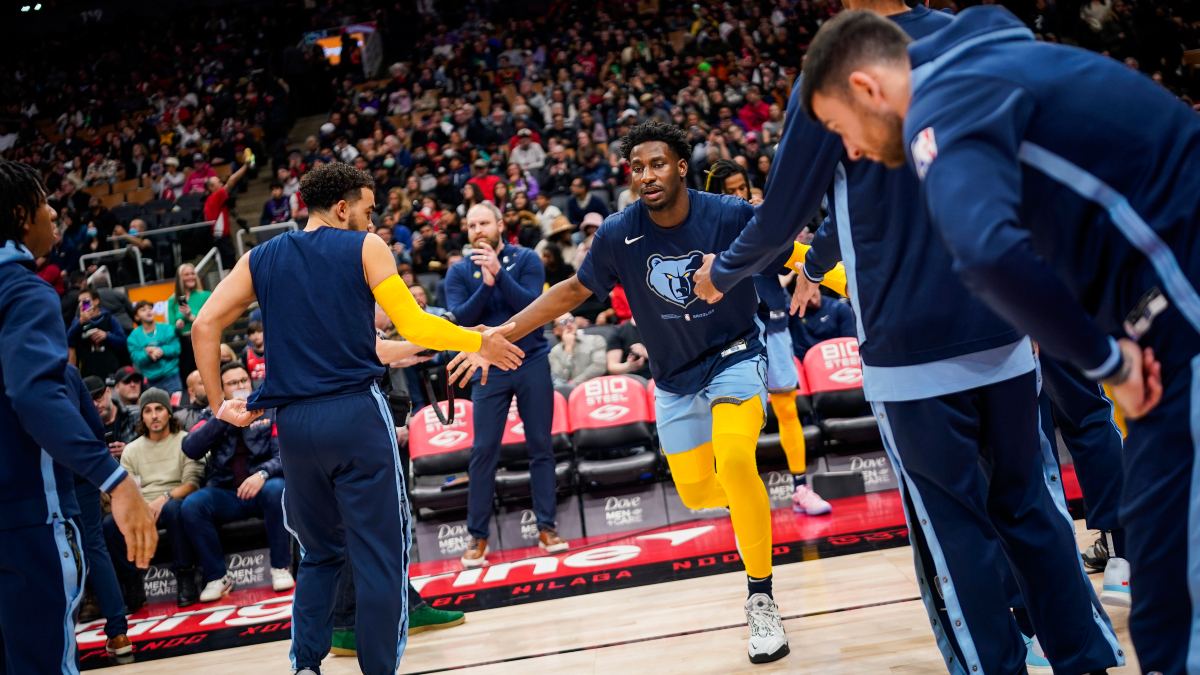 34. Mikal Bridges
Playoff ranking: No. 34 | Spread value: +4
Bridges, on top of being a high-level defender, made a huge leap to being a No.1 option with Brooklyn. Can he sustain that across a full season? Is he really a No.1 option?
35. Darius Garland
Playoff ranking: No. 139 | Spread value: +4.5
Garland's playoff rank is brutal as he struggled massively against the Knicks. That was his first playoff appearance and he'll probably rise next time out, but he's still productive and efficient.
36. Desmond Bane
Playoff ranking: No. 43 | Spread value: +3
I'm expecting a breakout season from the 25-year-old, even more so than his nearly Most Improved Player campaign two seasons ago. Bane's numbers compare favorably with James Harden's when he was the Thunder's sixth man. I'm not expecting a jump to primary engine and MVP candidate, but Bane shouldn't be slept on as a legitimate star.
37. Zach LaVine
Playoff ranking: No. 119 | Spread value: +4
Unpopular opinion: LaVine has regressed next to DeMar DeRozan. He was a legitimate All-NBA-caliber guard before DeRozan's mid-range warping of space arrived, and I wonder if some team will take a gamble on him and find that he's capable of more.
38. Khris Middleton
Playoff ranking: No. 39 | Spread value: +1
Middleton missed a lot of time last season while recovering from injury. At 32, I have some concerns that, with a lot of miles on him, he's starting to slip.
39. Brandon Ingram
Playoff ranking: No. 30 | Spread value: +2
The numbers – 25-5-6 on 48-39-88 – are pretty good. The Pelicans' best lineups and strongest stretches didn't feature Ingram, but he's loved by coaches and teammates and New Orleans outscored its opponents by a good margin when he was on the floor.
40. Zion Williamson
Playoff ranking: No. 118 | Spread value: +2
He could be in the top 10 by the end of next season or he could be in the back quartile. Is he ever going to be healthy? Are teammates ever going to rally around him?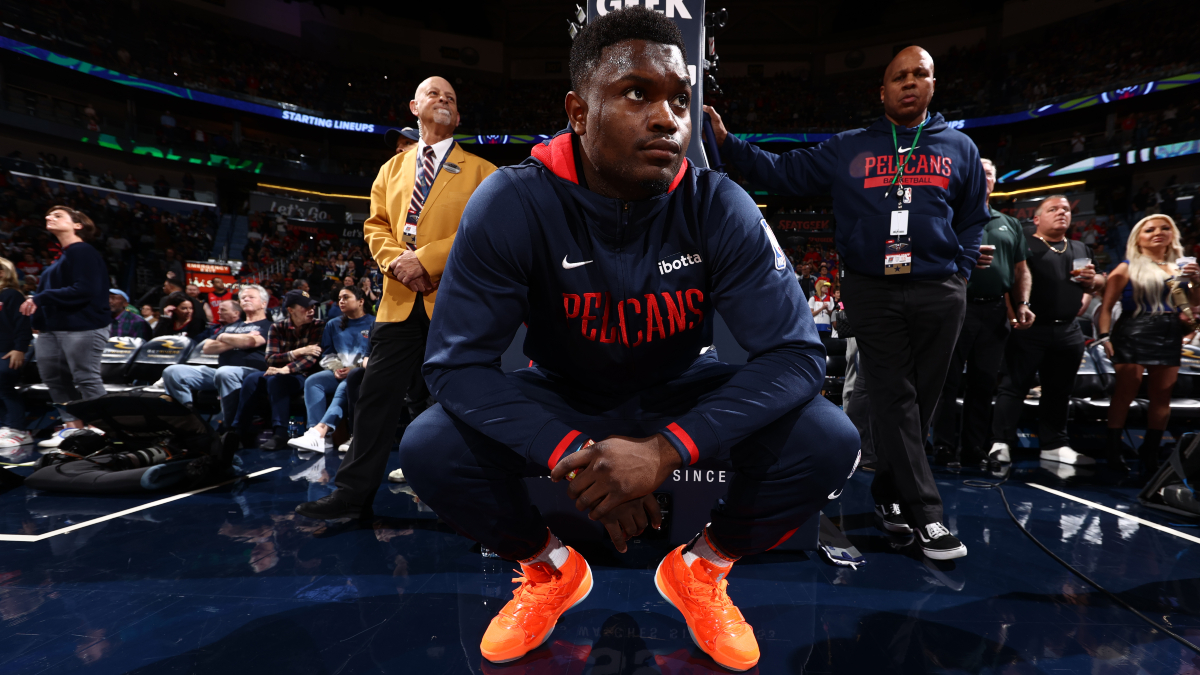 41. Fred VanVleet
Playoff ranking: No. 36 | Spread value: +4
If you look at the totality of his game, maybe it doesn't look that impressive. But boil it down to "capable defender who can run an offense, while producing a high level of assists and shoots efficiently on or off ball," and his value makes a lot more sense.
42. Cameron Johnson
Playoff ranking: No. 51 | Spread value: +2
I wish Johnson were as young as he feels (23) and not as old as he is (27) because the production and efficiency (47-40-84 splits), combined with his defense, make him a super valuable player. He'll help you win now, but there isn't that much runway left.
43. Julius Randle
Playoff ranking: No. 111 | Spread value: +4
He does stuff, and that matters. Randle's a production-side player and not an impact-side one, but he's a high-effort player you can count on in the regular season. Every other year he swings from a great season to a terrible one. He was All-NBA last season, so …
44. Brook Lopez
Playoff ranking: No. 48 | Spread value: +3.5
The best pick-and-roll drop big in the Association, and a player who can shift to more on-ball post scoring if needed. He's coming off one of the best seasons of his career, at 35. Is his trajectory going up or down?
45. Aaron Gordon
Playoff ranking: No. 47 | Spread value: +3.5
Gordon proved he can be the third-best player and glue guy on a championship team. He ably defended Karl-Anthony Towns, Kevin Durant, LeBron James and Jimmy Butler in one playoff run. He perfectly compliments the Murray-Jokic two-man game, is still just 27 and is a great locker room presence. Gordon would be higher if he were asked to do more, but don't overlook his importance to Denver.
46. DeMar DeRozan
Playoff ranking: No. 87 | Spread value: +4
DeRozan finally had a meaningful postseason performance last season … in the play-in game vs. Toronto before the Bulls lost to the Heat. DeRozan is a great passer and one of the most efficient mid-range players in the league, but his playstyle will always cap his team's ceiling.
47. Karl-Anthony Towns
Playoff ranking: No. 60 | Spread value: +4
Towns has the best of intentions, but struggles in pursuit of those intentions. He wants to win. He wants to be great. But all his notions of how to go about it cause him to go sideways. If basketball age and wisdom at age 27, or a different team makes him re-evaluate, he can leap into the top 25.
48. Jarrett Allen
Playoff ranking: No. 142 | Spread value: +3
Allen's still a great starting center, but I have concerns about his ability to be an impact guy in the playoffs. The Knicks dominating that series on the offensive glass left scars with me.
49. Nikola Vucevic
Playoff ranking: No. 150 | Spread value: +2
A perfectly serviceable center who can hit some 3s and rebounds well. Vucevic can capably man the center spot in drop defense, but his best days are past and his contract warrants too large a role on a team going nowhere.
50. Franz Wagner
Playoff ranking: No. 81 | Spread value: +4
I think there are big things coming. Wagner's efficiency is great at 21, even if his jumper still needs work. He has the ability to contribute on and off-ball equally well. He'll be higher next season.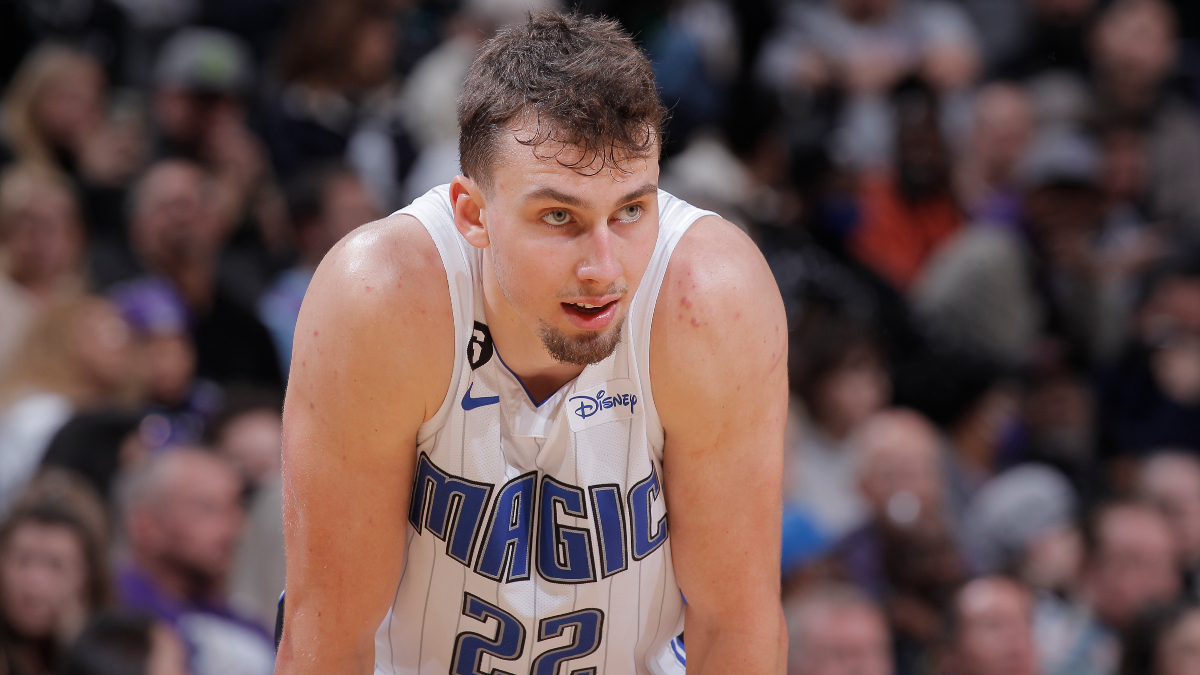 51. Nic Claxton
Playoff ranking: No. 51 | Spread value: +3.5
Maybe the third-most switchable big in the game. Claxton understands his offensive role and focuses on doing what he does – finishing in pick and roll – well. He struggles when in a size and strength disadvantage and can't spread the floor, but he's the kind of center most teams want.
52. Paolo Banchero
Playoff ranking: No. 56 | Spread value: +1
The reigning Rookie of the Year proved he's a star, but he's going to have to refine a lot to become an impact player. The efficiency wasn't there last season, which is fine for a rookie in his role, but he has to make leaps in both his individual game and in making teammates better if he's going to be a heavy-usage engine.
53. Derrick White
Playoff ranking: No. 45 | Spread value: +3.5
The guy who was so good, the Celtics felt they had to trade Marcus Smart. A playoff killer and a 38% percent shooter who can close for the best team in the East.
54. Draymond Green
Playoff ranking: No. 29 | Spread value: +2.5
On any given night, he's still the best defender in the league. But Green's offensive limitations are worsening, even if his efficiency ticked slightly up last season. His passion and volatility are needed on Golden State, but it comes with consequences as we've seen with the roster. He'll be 34 next playoffs and his playmaking is starting to dip.
55. OG Anunoby
Playoff ranking: No. 32 | Spread value: +3.5
Anunoby is arguably the best wing defender in the NBA. His 48-39-34 splits are really good and he's only 26. He wants to have more of an offensive role. This ranking is in part a statement against the overrated perception of him, but I have a hard time defining why you'd want Anunoby to be any more than he is, the second- or third-option on a roughly .500 team.
56. Myles Turner
Playoff ranking: No. 33 | Spread value: +3.5
Turner is still one of the best defenders in the league and had career highs in points, rebounds and assists last season. This might be the season everyone understands why he's been so coveted in trade talks over the years, and why Indiana never pulled the trigger.
57. Cade Cunningham
Playoff ranking: No. 49 | Spread value: +1.5
You can't put Cunningham too high because of his shooting issues and the missed time last season. There's every reason to believe he's set to have a breakout season based on his development and performance at Team USA Select. This is both too low and too high.
58. Austin Reaves
Playoff ranking: No. 53 | Spread value: +1.5
The perfect lower-contract third option to bring the room together. A 40% shooter who shot 63% from 2-point range and can run the offense when needed, or compliment James and Davis if asked to.
59. Walker Kessler
Playoff ranking: No. 66 | Spread value: +2
A blocks machine who instantly made people wonder if the Jazz got a better player than a multi-time DPOY when they traded Rudy Gobert. He needs offensive polish, but he's a crushing screener who does the dirty work.
60. Trey Murphy III
Playoff ranking: No. 59 | Spread value: +2
Very likely to be a breakout candidate this season and a potential star whose efficiency (48-41-91 splits) warrants a much larger part of the offense. If the Pelicans recognize and empower his talent, he'll be top-30 next season at age 24.
61. Evan Mobley
Playoff ranking: No. 70 | Spread value: +2.5
Expectations are cruel: I'm disappointed with what Mobley has been. There's so much potential and he has all the tools in the world, but what is Mobley truly elite at?
62. Dejounte Murray
Playoff ranking: No. 73 | Spread value: +2
I loved how the Hawks looked with Murray running the offense last year when Trae Young was hurt or on the bench. However, the numbers didn't love it quite as much. Murray isn't enough of a shooter to take over a game and isn't a great enough playmaker to set the offense. There's more there, but he's running out of time to grow into it.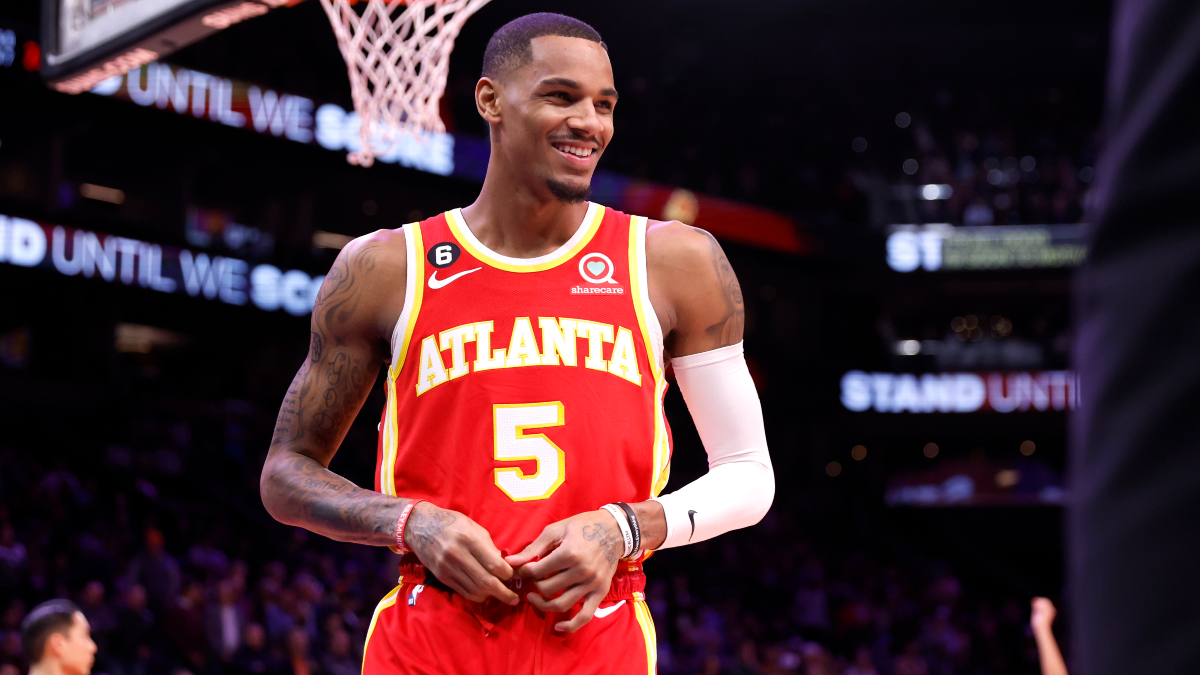 63. Bradley Beal
Playoff ranking: No. 52 | Spread value: +2.5
Beal's fine for what he is – an aging scorer who hasn't shot better than 37% from 3 since 2018. He's a fine playmaker and will help the Suns, but his ranking here also reflects his habit of being absent due to injury to end the season.
64. Tobias Harris
Playoff ranking: No. 49 | Spread value: +2.5
Harris gets too much criticism for his third-option role on the Sixers. He averaged 15 and 7 on 58% eFG in the playoffs and was a big reason why Philadelphia made it as far as it did. Harris rebounds well and gives good effort defensively.
65. Tyler Herro
Playoff ranking: No. 43 | Spread value: +2.5
Herro's still just 23 and has already helped a team reach multiple conference finals. His trade value isn't what the Heat need it to be, but his efficiency and shot creation matter.
66. Alex Caruso
Playoff ranking: No. 54 | Spread value: +2
The best defensive player in the league in impact by defensive EPM. Caruso is probably the best perimeter defender in the league, but he's still just a 24-minutes-per-game player.
67. Rudy Gobert
Playoff ranking: No. 82 | Spread value: +2
The unfortunate thing for Gobert is that he genuinely did improve offensively last year. By late in the season, the Timberwolves gave him more opportunities and he capitalized. But between the play-in fight that resulted in him missing the next game, the issues with his defensive versatility in the playoffs, and the offensive limitations, this is as high as I can go.
68. Scottie Barnes
Playoff ranking: No. 85 | Spread value: +2.5
At one point last season, Masai Ujiri, reportedly, had to have a sit down with Barnes about his approach. The further the Raptors have gone in empowering and building around Barnes, the worse they've gotten. I don't find that to be a coincidence.
69. Tyrese Maxey
Playoff ranking: No. 58 | Spread value: +2.5
Maxey will wind up higher as he's been held back for any number of reasons. He's here for his defensive liabilities and his role, but he's going to be top 30 soon.
70. Kyle Kuzma
Playoff ranking: No. 71 | Spread value: +2.5
Kuzma will get lost for a while in Washington after taking the money to re-sign, but 21-7-4 is really good. At age 28, he's in his prime and can help a team win.
71. Marcus Smart
Playoff ranking: No. 24 | Spread value: +2
Smart slid last year. That's tough for a guy who gives as much to the game as he does, but he wasn't the same last year on either end. If he bounces back, he goes way up. He's still capable of being an elite defender and is an underrated passer.
72. Andrew Wiggins
Playoff ranking: No. 21 | Spread value: +1
I have Wiggins irrationally high on the playoff list. He's the exact kind of player you need. He can rebound, defend, make an open 3-pointer and help you win.
73. Malcolm Brogdon
Playoff ranking: No. 63 | Spread value: +2
Brogdon's lingering injury brings some question marks, but he's the reigning Sixth Man of the Year and one of the best all-around contributors in the game. There are things he can't do, but the things he does, he does at a high level.
74. Immanuel Quickley
Playoff ranking: No. 62 | Spread value: +3
Another "this will be the last time he's this low for a long time" guy. Quickley's all-around game is great, but he needs some development in areas he can be elite at.
75. Michael Porter Jr.
Playoff ranking: No. 68 | Spread value: +2.5
Porter Jr is an elite shooter who showed he could hang defensively in the biggest playoff environments. He's also an underrated rebounder and a deadly catch-and-shoot weapon with runway to grow into a three-level scorer.
76. Jerami Grant
Playoff ranking: No. 75 | Spread value: +2
Grant was basically in Aaron Gordon's spot with the Nuggets, but decided he had other goals for his career. Now, he just signed a huge contract for a team going nowhere.
77. Chris Paul
Playoff ranking: No. 77 | Spread value: +2.5
As someone who has been in on the Point God since his days at Wake Forest, who thinks he should have won MVP in 2008 and who thinks he is unfairly derided for his competitive spirit, this pains me.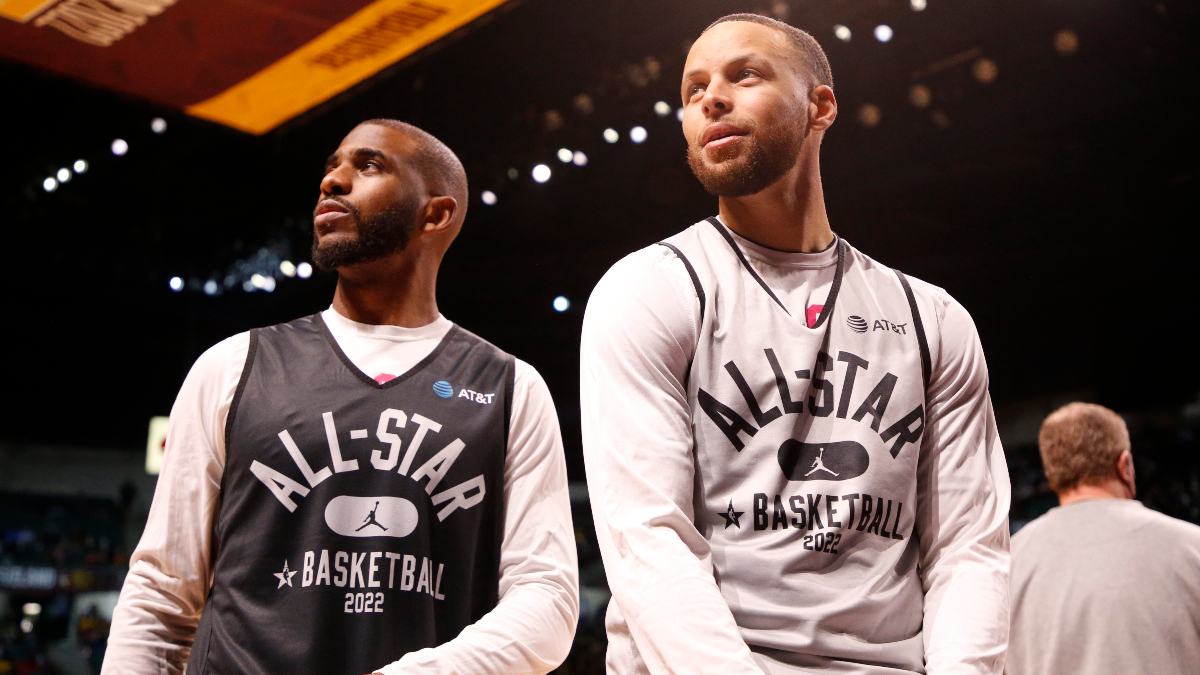 Paul is not the same. There are moments, but he isn't the same guy he was even two years ago. The numbers disagree slightly, but I worry the Warriors may have gotten him a year too late.
78. Josh Giddey
Playoff ranking: No. 132 | Spread value: +1
There's a lot to like with how Giddey runs an offense. He's a great compliment next to Gilgeous-Alexander and is slithery and smart. However, he's got to get that 3-point shot (33%) up as Oklahoma City needs the spacing.
79. Mike Conley
Playoff ranking: No. 82 | Spread value: +2.5
A capable veteran starting point guard who can run the offense, help everyone get along and hit some 3s.
80. John Collins
Playoff ranking: No. 144 | Spread value: +1
He fell off a cliff last year in multiple facets. He has top-40 talent, but needs a bounceback with a fresh start.
81. Wendell Carter Jr.
Playoff ranking: No. 98 | Spread value: +1
Carter Jr. is an athletic finisher who shot 36% from deep last year and can anchor a defense with both rim protection and versatility.
82. Al Horford
Playoff ranking: No. 74 | Spread value: +2
Horford was phenomenal for the best team (based on advanced metrics) in the league last season. He's still a capable floor spreader and an able defender, though a step slower than he was a half-decade ago.
83. Mitchell Robinson
Playoff ranking: No. 106 | Spread value: +2
He blocks and rebounds. Someone's gotta get 'em.
84. LaMelo Ball
Playoff ranking: No. 178 | Spread value: +1.5
It's safe to say I'm lower on Ball than the consensus. I don't see last year as a product of his injuries (though he did deal with a lot of injuries), but I'm not sure Ball plays in a way that helps a team win.
85. Robert Williams III
Playoff ranking: No. 61 | Spread value: +1
He would be top 50 or better if he could stay healthy. But on top of that, there were signs of issues with his fit last year. He hasn't progressed offensively and there's a reason the Celtics' big addition was Porzingis.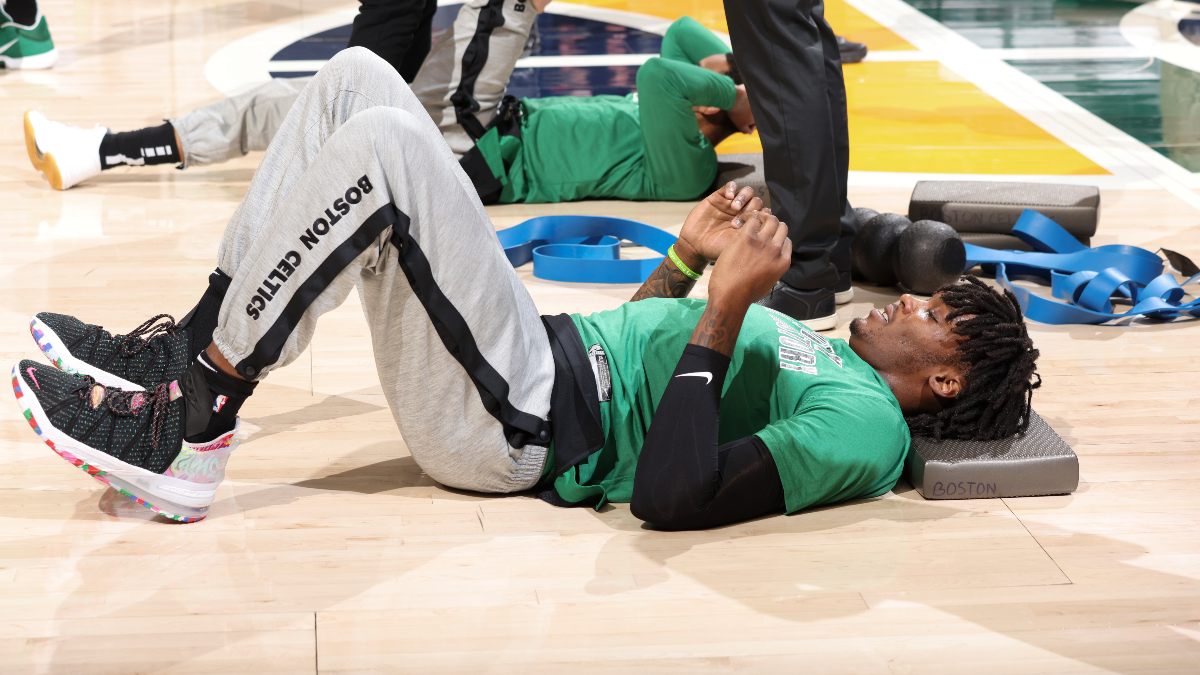 86. CJ McCollum
Playoff ranking: No. 166 | Spread value: +2.5
He's a perfectly capable starter who can get points in the playoffs. However, he's a defensive liability and the Pelicans had a better net rating with him off the court last season.
87. Klay Thompson
Playoff ranking: No. 25 | Spread value: +2.5
He's still capable of high-level shooting efficiency and explosive scoring nights, but the injuries have caught up to him and the playoffs showed that his tank is a lot closer to empty on any given night than it was five years ago.
88. Steven Adams
Playoff ranking: No. 104 | Spread value: +1.5
Adams contributes in meaningful ways to winning teams. The Grizzlies were not the same without him, but he has a lot of miles, which contribute to injury concerns. He also isn't the pick and roll defender he once was.
89. Onyeka Okongwu
Playoff ranking: No. 125 | Spread value: +1.5
A 10-points-per-game player who started just 18 games last season. But there's a reason the Hawks are so keen on trading Clint Capela – they know Okongwu is their future starting center. Watch out for him this season.
90. Kevon Looney
Playoff ranking: No. 31 | Spread value: +2.5
I have Looney crazy high on the playoff rankings because he's now a key component in making what makes the Warriors work … work.
91. Tyus Jones
Playoff ranking: No. 143 | Spread value: +1
Jones' ability to run an offense is really valuable in the regular season and his floater makes him a viable every-game pick and roll point guard. But his playoff issues and the fact that he hasn't made the leap at age 27 caps what he can be.
92. De'Anthony Melton
Playoff ranking: No. 154 | Spread value: +2
A good backup point guard who's also a good defender. Just your typical solid veteran.
93. Bojan Bogdanovic
Playoff ranking: No. 95 | Spread value: +2
At 34, he's past the point of making a big difference, but he's a solid vet in any rotation.
94. Bobby Portis
Playoff ranking: No. 99 | Spread value: +0.5
Portis is a Sixth Man of the Year candidate and a key contributor to a title contender, but he lacks an elite skill. His value is in his overall contributions.
95. Markelle Fultz
Playoff ranking: No. 139 | Spread value: +1
Fultz has had to battle back from bizarre injuries to carve out a place in the NBA, but his 3-pointer is still non-existent. Can he grow into a more complete player as Franz Wagner and Paolo Banchero take up more usage?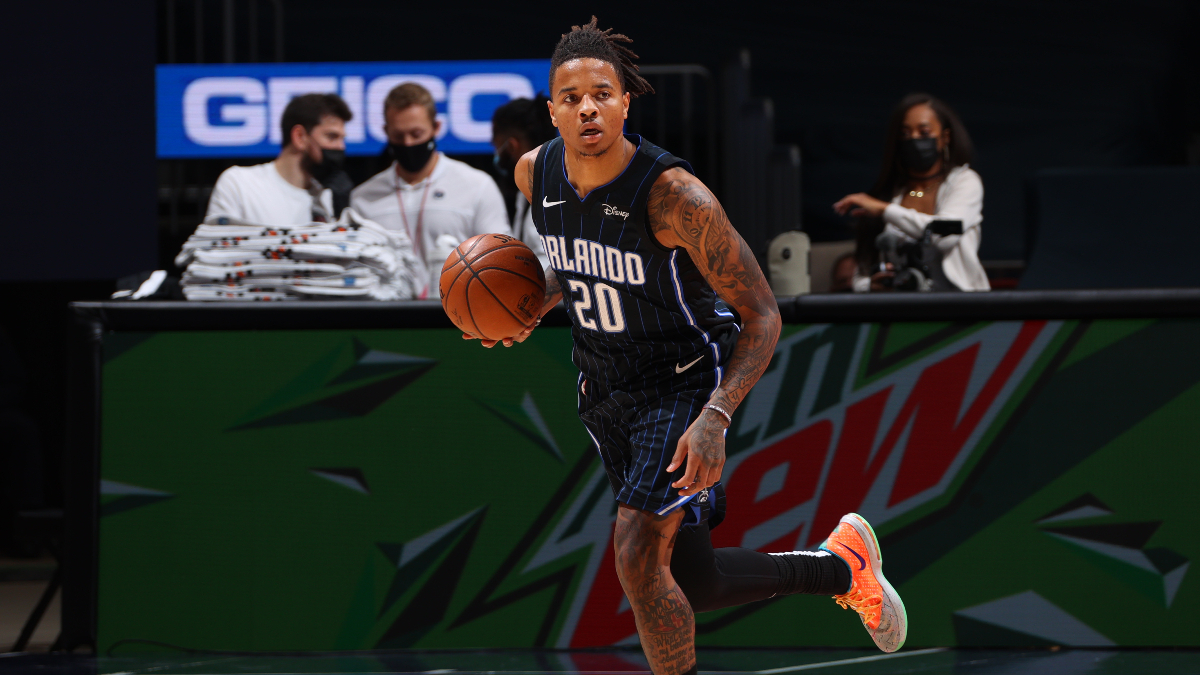 96. Malik Monk
Playoff ranking: No. 76 | Spread value: +1
Monk is a tremendous shooter who showed he can contribute in the postseason as a secondary scorer.
97. Norman Powell
Playoff ranking: No. 98 | Spread value: +0.5
Powell's injuries were brutal for the Clippers. He's still a capable sixth-man scorer who can defend pretty well.
98. Bruce Brown
Playoff ranking: No. 44 | Spread value: +1
A hyper-versatile, do-everything guard. Brown can run point, spot-up, run transition and defend both guards and wings.
99. Kyle Anderson
Playoff ranking: No. 83 | Spread value: +2
Anderson is total pro who has developed his game and shot to fit whatever his team needs.
100. Herb Jones
Playoff ranking: No. 100 | Spread value: +2
An elite defender with sporadic scoring burst, but a player teams started to dare more and more to hurt them with his shot last season.
Honorable Mentions
Jaden McDaniels
I'm going to take the L on this. Jaden McDaniels, a top-flight defender at 39% from 3 last season who played 79 games deserved to be on this list, and probably somewhere in the 80's.He's a really great player and I had a note to go back and deep dive on him to find a spot and then life got in the way. This is an example of how difficult this exercise is. So this is my mea culpa.
Jalen Williams | Terance Mann | Jose Alvarado | Dorian Finney-Smith | Alperen Şengün | Torrey Craig | Kentavious Caldwell-Pope | P.J. Washington | Jordan Poole | Keldon Johnson
How would you rate this article?
This site contains commercial content. We may be compensated for the links provided on this page. The content on this page is for informational purposes only. Action Network makes no representation or warranty as to the accuracy of the information given or the outcome of any game or event.