NBA Fantasy Waiver Pickups & Schedule (Week 4): How to Pivot off Injuries to LeBron James, Jaylen Brown, More
Credit:
Maddie Meyer/Getty Images. Pictured: Jaylen Brown #7 of the Boston Celtics.
Last week we saw some significant injuries pop up that will have short- and long-term impacts on teams and fantasy owners. This week's article will focus on how to approach players who are sitting and ones who are returning for their teams.
Joe Dellera and Dan Titus break down their top players to watch entering the week through the lens of injuries along with some notes on how to benefit on worthwhile player prop angles fantasy trends and scheduling quicks for Week 4.
Read below to see where they are finding small edges this week.
Fantasy Basketball Schedule — Week 4
Schedule Notes
Get a head start on Week 4 by rostering players on the Clippers, Sixers, and Jazz. They're the only teams that play on Tuesday and Thursday this week. And with both days being light three-game slates, you can sneak in a few more games to pad your stats in H2H category leagues.
The Orlando Magic and Washington Wizards are not streamable this week. Both teams play two games on Wednesday and Saturday. The Wednesday slate is 13 games deep so the fringe waiver wire players won't play enough games in the week to be serviceable.
The players listed below are more valuable in Week 4 because of their game count, opportunity and recent performance.
Fantasy Friendly Teams in Week 4
Suns: Four games — SAC, MEM, POR, HOU
Grizzlies: Four games — MIN, CHA, PHX, NOP
Rockets: Three games — DET, POR, PHX
Kings: Three games:  PHX, SAS, OKC
Pelicans: Four games — DAL, OKC, BKN, MEM


---
Waiver Wire Adds
Schedule-based: Royce O'Neale (62), Nicholas Batum (81), Luke Kennard (89), Furkan Korkmaz (99), Hassan Whiteside (92), Shake Milton (160)
Shallow Leagues (8-10 teams): Grayson Allen (43), Tyrese Maxey (71), Desmond Bane (73), De'Anthony Melton (75), Alex Caruso (80)
Deep Leagues (12+ teams): Jalen Brunson (113), Gary Payton II (143), Drew Eubanks (155), Frank Kaminsky (210)
*Rankings based on Yahoo 9-category ranking as of Monday
---
Players to Watch
LeBron James, Los Angeles Lakers
James has already missed two games with an abdominal strain, but it would not be surprising to see him miss a significant period of time. Based on a report from The Athletic, Laker's former strength and conditioning coach, Tim DiFrancesco, indicated that this type of injury could take up to eight weeks to heal.
While a minor strain may take just two week given James' style of play DiFrancesco believes this could sideline the all time great for longer than initially expected. Losing LeBron is always significant, and the Lakers are just 1-3 without him this season and were just 12-15 without him last season.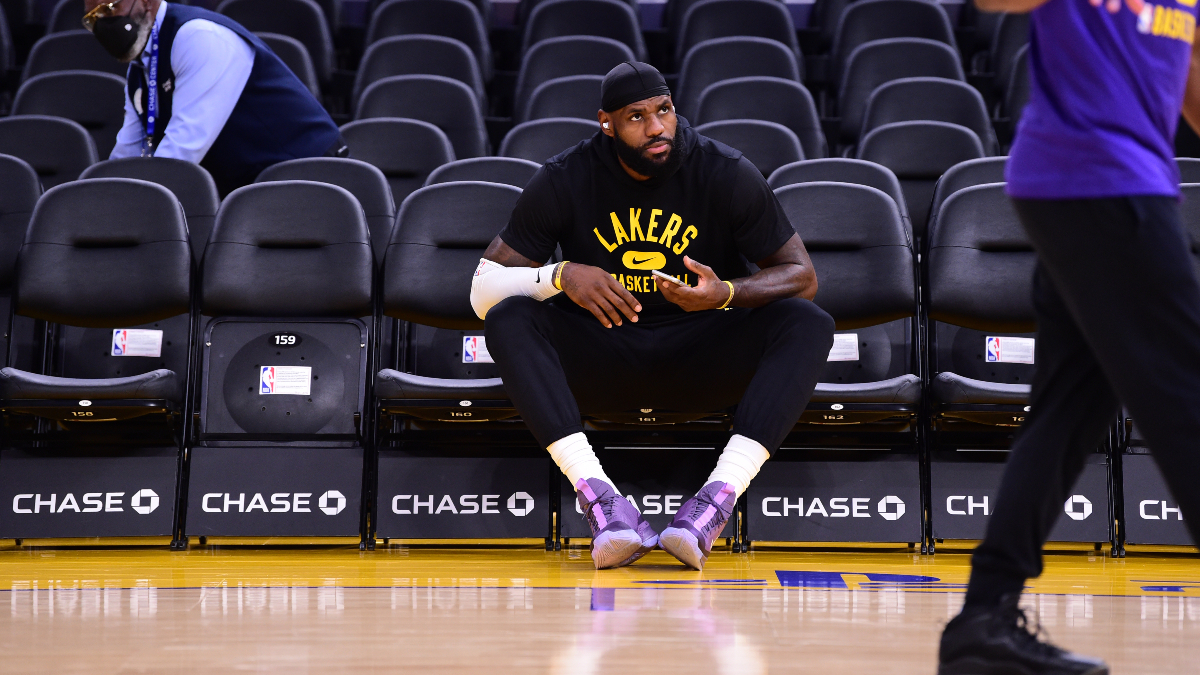 Fantasy Impact: From a props and fantasy perspective, who is likely to see the most upside? Well, Anthony Davis does not change much. He scores a bit more and secures an extra rebound per night, but overall his output does not change much.
The player who sees the most significant increase in usage is Russell Westbrook. His stats spike to 22 points, 9.8 rebounds, 8.0 assists, 5.75 turnovers (!!!) and a -25 +/- over four games. Can someone say, let's bet on turnover props (his tallies are 6, 4, 10, 3 without LeBron)?
Carmelo Anthony also will see increased usage. Although his scoring is down without LeBron so far, his shot attempts increased from 11.7 to 13.3.
---
Jaylen Brown, Boston Celtics
Brown is sidelined for the next 'couple of weeks' with a hamstring injury. Prior to the injury, Brown was playing lights out – averaging 25.6 points, 6.1 rebounds, 2.5 assists, 1.2 steals, and 0.5 blocks while shooting 49% from the field and 39% from beyond the arc this season.
In his absence, we can expect Jayson Tatum to pick up the slack. Tatum already is a stud, but last season Tatum averaged 28.6 points, 8.0 rebounds, 3.9 assists, and 1.7 steals across 13 games without Brown with a median Points+Rebounds+Assists tally of 42. In Saturday's game he notched 32 points, 11 rebounds, and 2 assists against the Mavericks.
Fantasy Impact: While Tatum is a star in this league, another player who should benefit in his absence is Payton Pritchard. Although Pritchard logged just 10 minutes on Saturday, last season he averaged 19.3 minutes per game and tallied 9.7 points, 3.4 rebounds, and 1.5 assists including 46.7% from 3 point range. Schroder slid into the starting lineup, but Pritchard should get more run with the second unit.
---
Check out our free NBA odds page, which automatically surfaces the best line for every game. 
---
Michael Porter Jr., Denver Nuggets
Porter Jr. has been ruled out of Monday's contest against the Heat with a back injury. He is day-to-day with no clear timetable for his return but with a storied history of back issues, fantasy managers should be concerned.
Fantasy Impact: ​​With MPJ looking at an extended absence, P.J. Dozier is a recommended option.
He started the second half of Saturday's game and tallied six points, four boards, four assists, and three steals in 23 minutes. Last season, Dozier played 10 games without MPJ and averaged 21.9 minutes, 7.6 points, 4.5 rebounds, and 1.4 assists.
---
Deandre Ayton, Phoenix Suns
Ayton will miss Monday's contest against the Kings and JaVale McGee will presumably start while Frank Kaminsky will play backup minutes. This is not ideal for the Suns' frontcourt considering they will need to deal with the monster that is Richaun Holmes.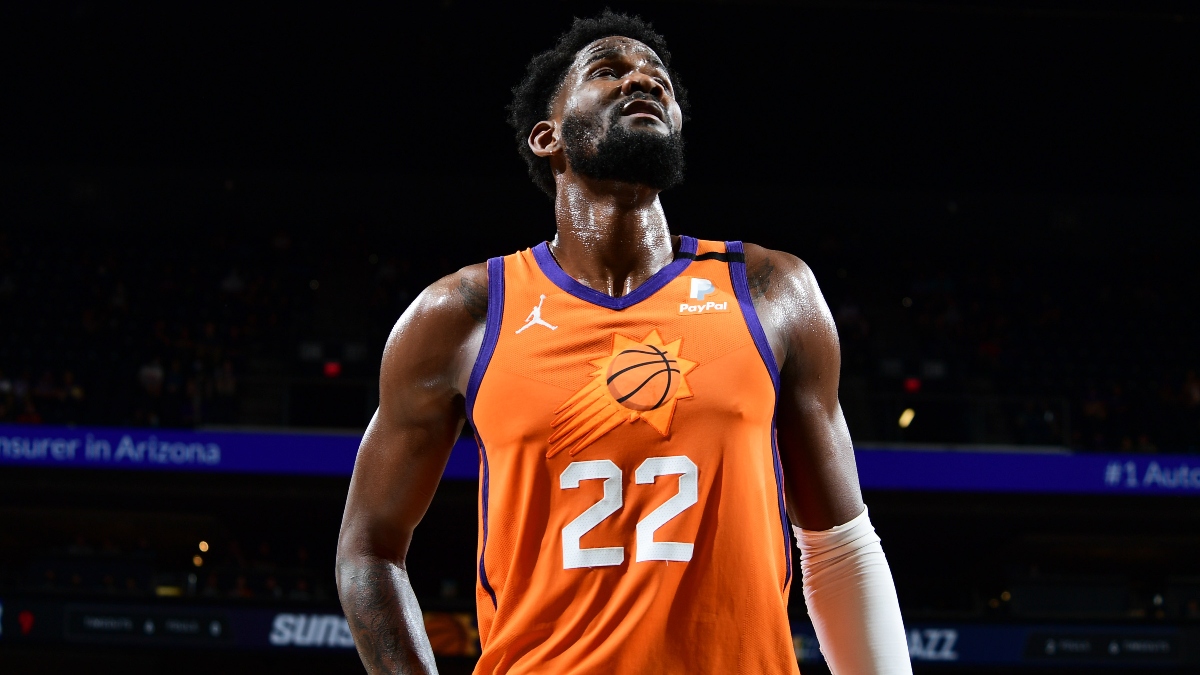 One notable thing about missing Ayton, last season the Suns were 3-0 without him and this season they are 2-0. Although they will miss the big man with McGee able to fill in as a traditional center and Kaminsky allowing them to play small ball, the Suns gain a bit of flexibility.
Fantasy Impact: Kaminsky is the better pivot if you're looking to supplement your fantasy team or take prop bets. This season in the two games without Ayton, Kaminsky has averaged 16.5 points, 4.5 rebounds, and 3.5 assists in 29 minute while posting nearly identical stat lines in each game.
---
Kristaps Porzingis, Dallas Mavericks
Porzingis missed five games with a back injury. He should see minutes in the 30s soon, but expect routine maintenance days moving forward. I'd expect him to cut into Willie Cauley-Stein's and Maxi Kleber's minutes the most.
Fantasy Impact: When Porzingis has played this season, the Mavericks have played significantly faster. When he's on the court their Pace is 101.76 compared to their season average of 98.72. This could elevate everyone's counting stats a bit with a few extra possessions.
---
Pascal Siakam, Toronto Raptors
After missing the start of the season while he recovered from a shoulder injury, Siakam logged 25 minutes in his season debut, scoring 15 points (5-12 FG, 1-3 3PT) and added four rebounds, one assist, two blocks, and a steal in a 116-113 loss to the Brooklyn Nets on Sunday. He started at center, and saw a promising 26.9% Usage Rate in his first game back.
Fantasy Impact: Anyone rostering Gary Trent Jr. and Scottie Barnes should consider selling high.
How would you rate this article?
This site contains commercial content. We may be compensated for the links provided on this page. The content on this page is for informational purposes only. Action Network makes no representation or warranty as to the accuracy of the information given or the outcome of any game or event.