NBA Fantasy Waiver Pickups & Schedule (Week 17): Norman Powell, Caris LeVert Trades Up Fantasy Value
Credit:
Adam Pantozzi/NBAE via Getty Images. Pictured: Norman Powell #24 of the Los Angeles Clippers.
Trade season is upon us, in fact, it has already started with two teams making moves over the weekend. More changes are certainly on the horizon as we near Thursday's deadline.
Joe Dellera and Dan Titus break down how they see those trades impacting each team involved, which players are rising or falling and note how to benefit on worthwhile player prop angles fantasy trends and scheduling quirks for Week 17.
Read below to see where they are finding small edges this week.
Fantasy Basketball Schedule — Week 17
Schedule Notes
Four Games: CHA, CHI, GSW, MIN, NYK, OKC, PHX, TOR
Three Games: ATL, BOS, BKN, CLE, DAL, DEN, DET, IND, LAC, LAL, MEM, MIA, NOP, ORL, PHI, POR, SAC, SAS, UTA, WAS
Two Games: MIL, HOU
Fantasy Friendly Teams in Week 17
Raptors (@CHA, @OKC, @HOU, DEN)
Timberwolves (@SAC, @SAC,@CHI, @IND)
Bulls (PHX, @CHA, MIN OKC)
Warriors (@OKC, @UTA NYK, LAL)
Suns (@CHI, @PHI, MIL, ORL)
Waiver Adds
Guards: Chris Duarte, Ayo Dosunmu, Monte Morris, Patty Mills, Davion Mitchell, Reggie Bullock, Terry Taylor, Gary Harris, De'Anthony Melton, Ty Jerome, Gary Payton II, Alec Burks
Forwards: Javonte Green, Jonathan Kuminga, Otto Porter (day-to-day), Darius Bazley, Kenrich Williams, Cody Martin, Kevin Love, Cedi Osman, Justin Holiday, Chuma Okeke, Trey Lyles, Mo Harkless, KJ Martin
Centers: Kevon Looney, Chris Boucher, PJ Washington,Jaxson Hayes, Onyeka Okongwu, Dwight Powell, Damian Jones
Players to Watch
Caris LeVert, Cleveland Cavaliers | Chris Duarte, Indiana Pacers
Caris LeVert headlined a trade on Sunday between the Indiana Pacers and the Cleveland Cavaliers. The Cavs received LeVert and Miami's 2022 second-round pick in exchange for Ricky Rubio's expiring contract, a lottery-protected 2022 first-round pick along with two second-round picks.
Not only is this a short-term solution, but given that LeVert is extension eligible he could wind up staying in his hometown of Ohio while the Cavaliers may move on from the injured Collin Sexton to improve another part of the roster. In Indiana, this likely symbolizes the start of a fire sale where both Myles Turner and Domantas Sabonis will find new homes.
As for real life basketball, the Cavaliers are absolutely live to win the division with current odds of +300. They're essentially in a three-way tie with the Bulls and the Bucks and I think they're flat-out undervalued given their performance on the season. The Cavaliers have the best Adjusted Net Rating of the three, and Milwaukee and Chicago both had easier schedules thus far this season.
For the Cavaliers, LeVert likely cuts into the usage and minutes of Rajon Rondo, Cedi Osman, and Isaac Okoro while Brandon Goodwin may not see the floor at all.
LeVert is currently averaging 18.7 points, 3.8 rebounds, and 4.4 assists and with this trade there's less risk that he will see a reduced role due to tanking down the stretch.
LeVert has a 22.4% assist rate on the season, but I think we need to look at his role a bit when he was in Brooklyn last season. Obviously the Cavaliers are not the Nets with Kyrie Irving and Kevin Durant — his assist rate was 32.5% on that team — but the Cavs have reliable offensive options that LeVert can dish to in Darius Garland, Evan Mobley, and Jarrett Allen. I'm not knocking Malcolm Brogdon, Sabonis, or Turner, but that Pacers team was always less than the sum of its parts.
I think LeVert will see an uptick in his assists considering the only facilitator on the Cavaliers who is playing more than 20 minutes per game is Garland (37.4%), while Rondo (34.3%) plays just 19.2 minutes per game so he cannot be relied upon for an entire game.
Fantasy Impact: Pacers guard Chris Duarte is likely the greatest beneficiary of LeVert trade. With LeVert out of the lineup on Sunday, Duarte came through with 22 points (7-of-12 FG) five rebounds, two assists, one steal, one block, and two 3-pointers in 36 minutes.
For the season, the rookie has averaged 13.3 points, 4.2 rebounds, and 2.2 assists across 28.9 minutes per game. In 12 games without LeVert this season, Duarte averaged scoring increased to 17.0 PPG, while adding 4.5 rebounds, 1.8 assists and 2.3 3s per game.
His usage also increased from 20.5% with LeVert on the floor compared to 22.6% with LeVert off the court. If the Pacers continue to be sellers at the deadline, more scoring, usage, and minutes will be available for the Pacers prized rookie. Malcolm Brogdon's imminent return shouldn't have much bearing on Duarte's rest of season outlook.
Norman Powell, L.A. Clippers | Anfernee Simons, Portland Trail Blazers
The Clippers acquired Norman Powell and Robert Covington from the Portland Trail Blazers in exchange for Eric Bledsoe, Justise Winslow, Keon Johnson, and a 2025 second-round pick.
This has interesting implications, but one would think that with this move the Clippers love the idea of adding Powell, who is under contract on a five-year, $90 million deal, with both Kawhi Leonard and Paul George. The question is, will that be this season or next?
Powell is a sharpshooter and in his debut dropped 28 points on 20 field goal attempts in just 24 minutes with a 22.4% Usage Rate. This type of scoring upside is notable and if he maintains even a 22.4% Usage Rate, he would have the third-highest rate on the team behind Reggie Jackson (28.5%) and Marcus Morris (22.8%). However, considering Powell is by far the most efficient scorer of the three, I expect Powell to actually see the offense run through him for the time being.
As for the Blazers, Eric Bledsoe is a likely buyout candidate, but the real winner is Anfernee Simons. The Blazers seem committed to paying him moving forward since they got Powell's new deal off of their books.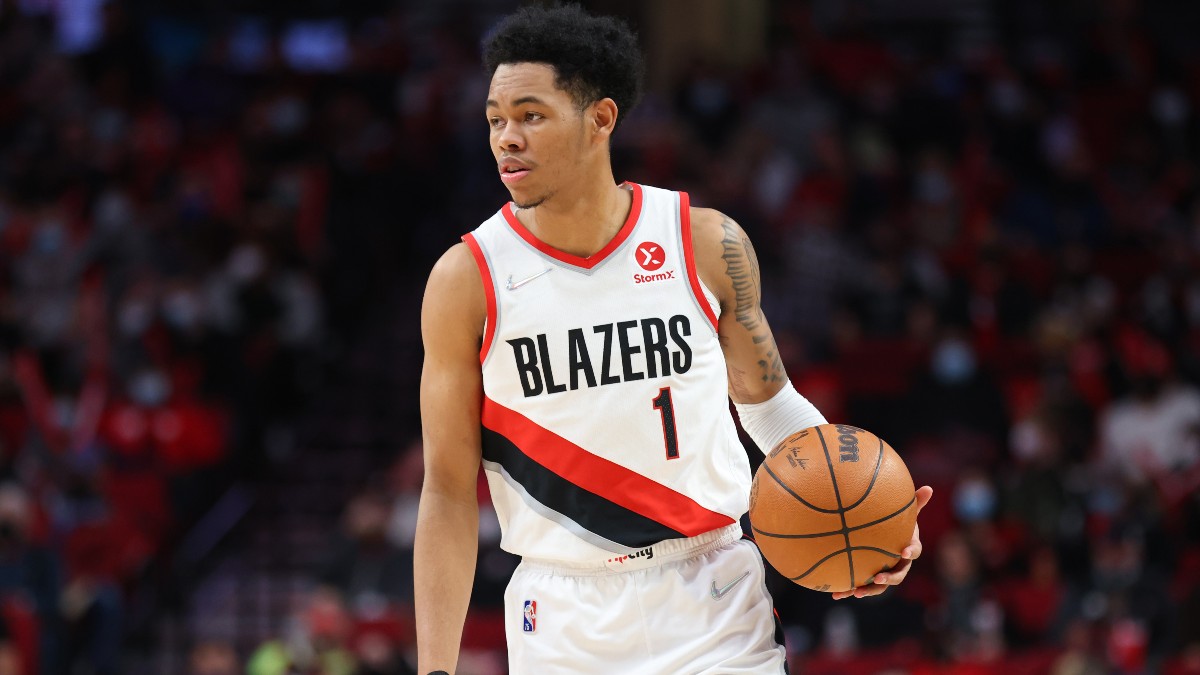 Moreover, Simons should see an uptick in his usage and shot attempts, which he deserves since he has a mark of 116.8 points per 100 shot attempts (84th percentile of all Combo Guards.
Besides Simons, CJ McCollum will obviously see more shots and usage, unless he is traded of course. Based on their last game against the Bucks — Tony Snell and CJ Elleby may get the first crack at extended run for this Blazers team.
Fantasy Impact: The Clippers' rotation was a hot mess with 12 players seeing the floor on Sunday night. This included the newly Powell (28 points) and Covington (13 points). Powell's value remains intact despite coming off the bench in his first game as a Clipper because L.A. is in desperate need of a bucket getter.
Covington is too valuable as a 3-and-D specialist to sit on the pine, so he should also hold value through the rest of the season. Morris will continue to be a fixture of the Clippers' frontcourt however, players like Luke Kennard, Amir Coffey and Nic Batum are on notice.
Coffey and Batum were in the starting lineup on Sunday, but with Powell and Covington in town, their days are likely numbered. With so much uncertainty around their minutes and having to integrate their new players Kennard, Coffey, and Batum can be dropped in most 10-12-team formats.
Not much will change with the Blazers roster as the offense will still run through McCollum, Simons, and Jusuf Nurkic. Portland only has three games this week so passing on Bledsoe and Winslow is a no brainer.
---
Check out our free NBA odds page, which automatically surfaces the best line for every game. 
---
Fallers
Clint Capela, Atlanta Hawks
Capela has played just 22.9 minutes over the past nine games and is averaging 7.8 points, 8.4 rebounds, 1.2 assists, and 0.9 blocks per game. Onyeka Okongwu has earned minutes based on his play, but they're essentially in an even timeshare. Okongwu is getting 19.4 minutes to Capela's 22.9.
Capela played 29.7 minutes in his first 36 games while averaging 11.8 points, 13.1 rebounds, 1.4 assists, and 1.5 blocks per game. This is a significant downturn and Okongwu looks like he is here to stay. If you can sell Capela based on name value now may be the chance.
Fantasy Impact: It's open season for the Hawks at the trade deadline, but according to Jake Fischer of Bleacher Report, "Everyone but Trae Young and Clint Capela are available," one assistant general manager told Bleacher Report (prior to trading Cam Reddish to the Knicks).
Given his injury history and recent downtick in minutes, is Capela really untouchable? We'll see, but in the meantime, Okongwu has proven worthy of being rostered and stashed in 12-team formats. Blocks don't grow on trees and despite being in a timeshare with Capela, Okongwu closed out January averaging 1.46 blocks per night.
We saw a glimpse of his upside when Capela missed eight games earlier this year with Okongwu upping his stats to 10.3 points, 7.3 rebounds, with 2.4 blocks on 73% shooting from the field. If you have space on your roster, it's worth holding onto him as a blocks specialist and remember, he's only an injury away from being a valuable asset to any fantasy team.
---
How would you rate this article?
This site contains commercial content. We may be compensated for the links provided on this page. The content on this page is for informational purposes only. Action Network makes no representation or warranty as to the accuracy of the information given or the outcome of any game or event.