NBA Finals Game 1 Reaction: 19 Numbers that Explain Denver's Win
Credit:
Pictured: Michael Porter Jr. (Photo by Andy Cross/MediaNews Group/The Denver Post via Getty Images)
The 2023 NBA Finals are off and running, and the Nuggets are off to a 1-0 start.
Denver hosted its first NBA Finals game ever and got a big win in front of the home fans. Denver was up 17 at halftime and coasted to a 104-93 victory.
Game 1 never really felt contentious past the first quarter, but we can learn a lot from the matchup.

Here are 19 numbers that explain Denver's win and inform how to bet the series and props going forward.
27 / 10 / 14
Nikola Jokic was dominant. He found a late rebound to record a 27/10/14 triple-double, joining Jason Kidd as the only players in NBA history with a triple-double in their NBA Finals debut.
Jokic had 10 first-half assists and totally controlled the game despite sitting on just five field goal attempts for much of the game, until he looked for his shot more aggressively late in the game.
Those Jokic Finals MVP tickets are looking good.
---
26 & 25
Bam Adebayo had one of the best offensive nights of his career.
Adebayo was aggressive from the jump. He took 25 field goal attempts, the most of any game in his career.
He finished with 26 points and 13 rebounds. He also added five assists.
Adebayo is a pivot point in this series. The Heat need this aggression every game, and he's going to have space to operate in with the way Denver is defending.
Joe Dellera was on Adebayo overs coming into the series and Adebayo was one point away from leading the game in scoring. His points over could be a play going forward.
---
13
Unlike Adebayo, Jimmy Butler did not have a good night scoring.
Butler recorded just 13 points, his low this postseason. He took only 14 field-goal attempts and continued to eschew looks in the paint to pass to his teammates. Many of his shots hit front rim — a telltale sign of a tired player not getting much lift on a sore ankle.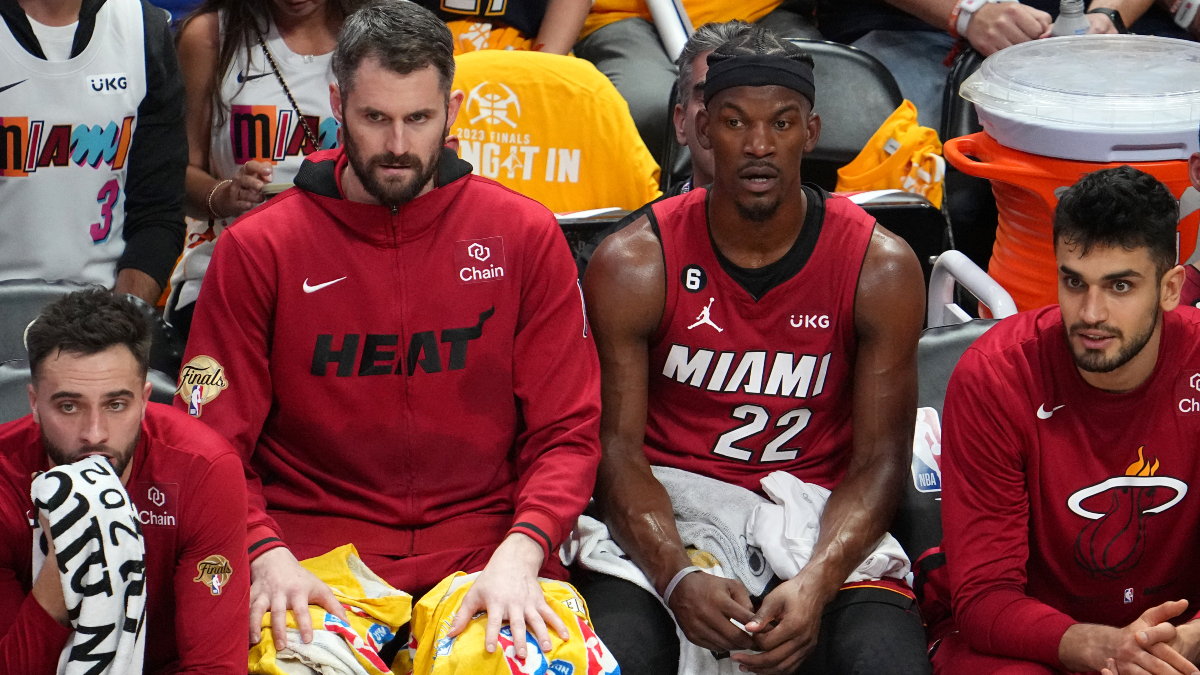 Butler is averaging 20.7 PPG in Heat losses this postseason.
I was on Butler points unders coming into the series and that hit easily in Game 1.
Keep pairing Butler points unders with games where you're betting on a Denver win. Butler doesn't look healthy, and those two bets look very highly correlated.
---
62%
The Nuggets scored at will inside the arc, hitting 32-of-52 2s (62%). It was a layup line.
Denver's size advantage stood out from the jump. Aaron Gordon scored 10 points early, dominating smaller defenders, and Jokic racked up 10 first-half assists.
The Heat allowed the fewest 2s of any NBA team by volume, but ranked 29th in 2-point percentage defense. Denver's offense ranked second in 2-point percentage.
This was always going to be a stress point for Miami's defense, and Denver won it decisively in Game 1.
---
39 & 27
If you're looking for a silver lining for Miami, the Heat won the 3-point battle. Miami made 13 treys (Denver made eight), but the real story was the volume.
The Heat got up 39 3-points attempts, a very encouraging sign since they also held the Nuggets to just 27 attempts.
Denver's allowed fewer than 10 3s per game this postseason, and the Nuggets allowed the third fewest 3s in the regular season. Miami badly needs to win the 3s battle to contend in this series.
Neither team shot above 33%, but we know Miami can get hot. Go over 45% on those 39 3s — like they did four times against Boston — and that's an extra 15 points, a totally different ball game.
That increased 3-point volume gives Miami volatility — and a chance at an upset.
---
0/9
Max Strus did not have a fun night.
Strus was 0-for-9 on 3s.
Brutal.
Strus is a career 37.1% shooter. The odds of a 37.1% player putting up a donut on nine attempts are about 1.5%.
By comparison, the odds of Strus making at least three 3s with that many attempts are almost 71%. Gabe Vincent went 5-of-10 on 3s in Game 1. Game 2 might be time to look for Strus 3s overs and alts.
---
13 & 11
Michael Porter Jr. had a great night and repeatedly used his size to his advantage.
MPJ recorded 13 rebounds, nearly doubling up the series rebounding over we played. Porter entered the game averaging 8.0 RPG for the postseason, over a rebound higher than his regular season and career averages. He's always been an elite positional rebounder and has a clear size advantage in this series.
Keep riding Porter Jr. rebounding overs.
Porter's size also helped him grab a pair of chase-down blocks, and he got 11 3-point attempts up too. Most of those shots looked good and came in rhythm, but they weren't falling. He made only two 3s, but with volume like that, you'll want to watch Porter Jr. 3s overs going forward.
Keep an eye on MPJ to lead the series in 3s too, a bet both Joe Dellera and I liked before the series.
---
2
The Heat attempted only two free throws, fewest by a team in any postseason game in NBA history. In fact, only one team had even attempted fewer than five in a game before Game 1.
Miami ranked second in the NBA in free throw percentage, and the Heat rely on free throws to juice the offense, especially Jimmy Butler. He was averaging 9.1 free throws per game in the playoffs, but didn't attempt one tonight.
In fact, no Miami starter took a free throw. Haywood Highsmith attempted the only two. No Nugget other than Jokic attempted more than two either.
---
8
Why didn't Miami get to the line? Denver had only eight fouls as a team, tying the record for fewest in a playoff game by any team since 1951.
The Nuggets ranked ninth in free-throw rate allowed and had plenty of practice defending without fouling against the Lakers, and it looks like it paid off. Two of those eight were offensive fouls too.
This did not feel like poor officiating in Denver's favor.
Miami settled for jumpers and didn't attack like usual. The Heat need to be much more aggressive. Getting to the line means easy points and a chance to catch your breath in the elevation.
---
23 & 18
You're forgiven if you'd barely heard of Haywood Highsmith.
Highsmith was a big Game 1 answer for Miami. He played 23 minutes for the Heat, his second-highest mark of the postseason, and gave Miami a real spark with 18 points.
This looks like a Highsmith series.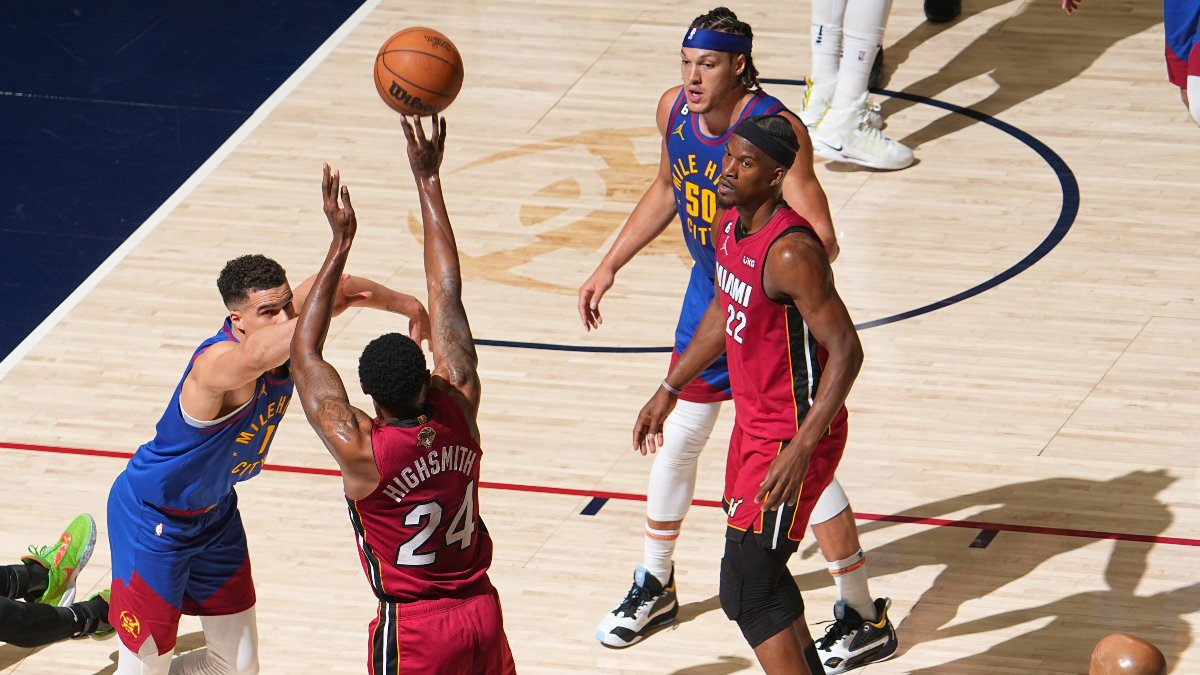 He looks big for a Miami team that felt very small. At 6-foot-7 with long arms and plenty of energy and athleticism, Highsmith epitomized Heat culture with some hustle plays — two steals, a block, and a cutting layup.
We may not get Highsmith props until near tip, if at all, but look to bet his points overs if they're posted. He may be this round's version of Caleb Martin. Kevin Love didn't play a single minute.
---
34 & 23
The Heat led for just 34 seconds in Game 1.
Miami got a brief lead early before Denver responded and never looked back.
The Nuggets won the first quarter by nine points and led by 17 at halftime. Denver won the third quarter by four, too. The game was only within single digits for 23 seconds in the second half.
Denver opened Game 1 at -8 and closed at -8.5 or -9, depending on the book. The Nuggets made bettors sweat out the cover, but Miami was never covering in the second half.
Denver also covered the first-half line with ease and has been the far better first-half team, so that could continue to be a sneaky way to play the Nuggets in games with bloated lines.
The Heat got 26/13 from Adebayo, five 3s from Vincent, and 18 points from Highsmith off the bench — and still never really felt in the game past the first quarter.
Every game is unique, but it could be a long — and short — series for Miami unless the Heat turn some of these numbers around in a hurry.
How would you rate this article?
This site contains commercial content. We may be compensated for the links provided on this page. The content on this page is for informational purposes only. Action Network makes no representation or warranty as to the accuracy of the information given or the outcome of any game or event.