NBA Futures Bets & Picks: 4 Post Trade Deadline Bets, Including Finals Matchup
Credit:
Al Bello/Getty Images. Pictured: Kevin Durant #7 of the Brooklyn Nets and Giannis Antetokounmpo #34 of the Milwaukee Bucks.
The dust has settled, the deals have been processed, and approximately 15,000 second-round picks have changed hands.
Now we try and sort out how to bet NBA futures following a fairly wild NBA deadline, even if most of the big moves happened Wednesday.
Here's a look at the major moves and bets to make or look at in accordance.
For reference, in listing these, I'm omitting picks swapped because those picks do not impact team performance this season.
Suns Trade for Kevin Durant
Suns send: Mikal Bridges, Cam Johnson
Suns get: Kevin Durant, TJ Warren
The Bet: Wait for Suns Conference odds
The Suns will be awesome. But there's a lot for them to get done and not a lot of time to do it. They have to figure out a brand new chemistry with Devin Booker and Durant both coming off long injury absences, avoiding any more significant ones, and figuring out the loss of wing depth this left them with.
There was a rush initially as the money stormed in on the hype. But that will subside, and there are opportunities for the Nuggets to show they're not going anywhere, for the Mavericks to make a push, for the Kings to hold on, for the Warriors to make a run when Stephen Curry gets back.
There is very little risk in the Suns' odds getting significantly shorter and a little value in waiting to see if they get longer.
---
Mavericks Trade for Kyrie Irving
Mavs send: Dorrian Finney-Smith, Spencer Dinwiddie
Mavs receive: Kyrie Irving, Markieff Morris
The Bet: Mavericks Southwest Division +375 (BetMGM)
The Grizzlies have slid as of late and didn't make a big swing at the deadline. They are five up on Dallas in the loss column, which is significant, but they're also 2-8 in their last ten, with Luka Doncic expected back after All-Star.
With Josh Green stepping up and Jaden Hardy showing flashes, alongside the boost of Irving's ability to improve the non-Doncic minutes, there are a lot of upsides for the Mavericks to catch Memphis.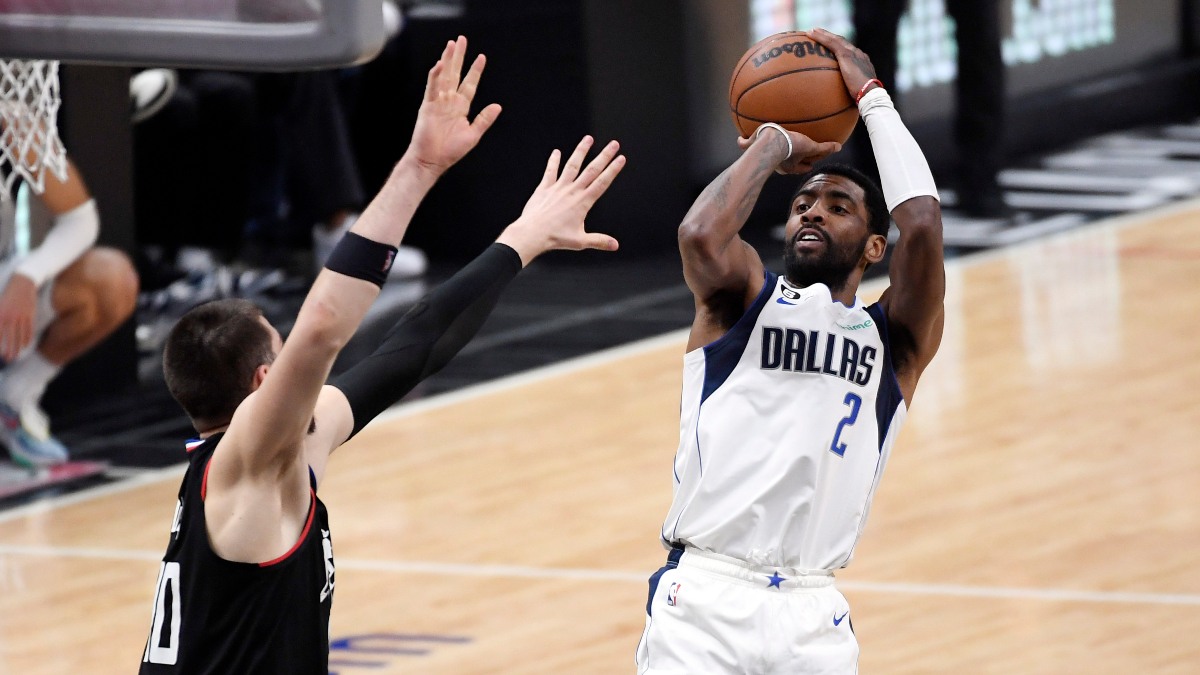 If you think the Grizzlies overperformed early (they did) and Dallas underperformed early (they did), there's a real chance that Dallas can catch. The Mavericks have a +3.7 net rating, with Luka Doncic on the floor. That projects as a 51-win team in the minutes with Doncic on the floor.
If you factor in that number should go up with Irving next to Doncic and the non-Luka minutes to go up with Irving staggering in those minutes, Dallas might make a real run here.
---
Clippers Add Veterans
Clippers send: John Wall, Reggie Jackson
Clippers receive: Eric Gordon, Mason Plumlee
The Bet: Clippers over 45.5 wins (DraftKings)
The Clippers need to go 15-10 to reach this figure to close. That's a .600 win percentage. With Kawhi Leonard this season, the Clippers are 20-10 at 67%. Playing just at that rate, with no improvement, if Kawhi were to play in all those games, would get them to 48 wins.
That gives you three games of Kawhi rest, and that's before we factor in that the Clippers have added a legit backup center and a better starting guard who can shoot to pair with the Clippers backcourt.
The Clippers have leaned into their shooting with the addition of Gordon, and the ball should be in the stars' hands more. L.A. can make a run.
---
Milwaukee Bucks Trade for Jae Crowder
Bucks send: Jordan Nwora, George Hill, Serge Ibaka
Bucks receive: Jae Crowder
The Bet: Bucks-Suns Finals Matchup +800 (FanDuel)
Positional flexibility that's the name of the game. The Bucks managed to keep Grayson Allen for shooting and only gave up fringe rotation players. This opens more minutes for Marjon Beauchamp as well.
Crowder can play power forward for small-ball units with Giannis at 5 and can play small forward next to Khris Middleton in the Bucks' starting unit. It means that Grayson Allen won't get picked on as much defensively; the Bucks have five plus defenders they can deploy at once.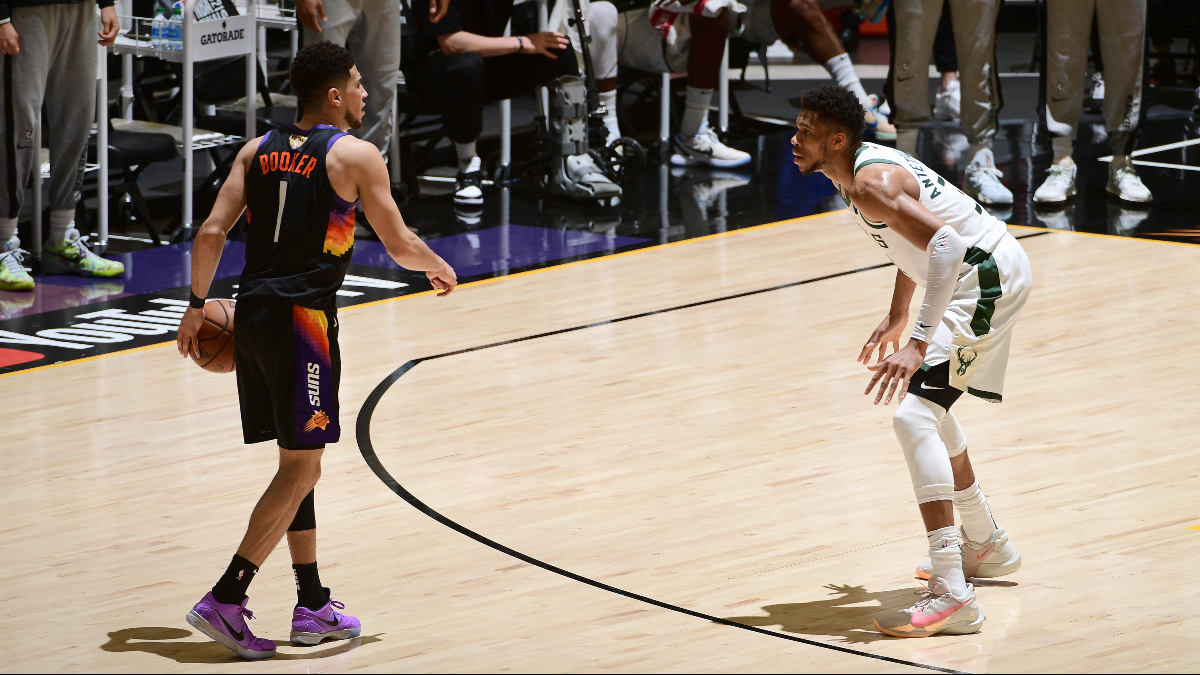 Crowder's missed a half season with his holdout and is an inconsistent shooter at a career 34.6%. But he makes them better, tougher, and bigger.
What if we get a rematch from two years ago, but with Durant on the Suns? This bet is a longer shot that allows for conference finals hedges, most likely.
---
Lakers Get Actual NBA Players
Lakers send: Russell Westbrook, Thomas Bryant, Patrick Beverley, Juan Toscano-Anderson, Damian Jones
Lakers receive: D'Angelo Russell, Malik Beasley, Jared Vanderbilt, Mo Bamba
The Bet: Lakers to make the playoffs +194 (FanDuel)
The Lakers have been playing a lot of guys I would describe as "Not quite NBA players." An NBA player, under my working definition, is someone who I know will be in the league in three years. A lot of their rotation has given good minutes, but simply isn't that level.
D'Angelo Russell is a flawed point guard who's a poor defender with bad decision-making. He's also a quality shot creator who can make plays for others and is starting to come into his seasoned prime. Malik Beasley is inconsistent but can be a microwave shooter with good physicality. His defensive principles leave much to be desired, but he's still an upgrade.
Jarred Vanderbilt is a hustle machine who will allow the Lakers to play small, and Mo Bamba can spread the floor around Anthony Davis as a stretch-five shooter while allowing Davis not to have to get beat up at center.
On top of all this is the removal of wasted possessions by Westbrook.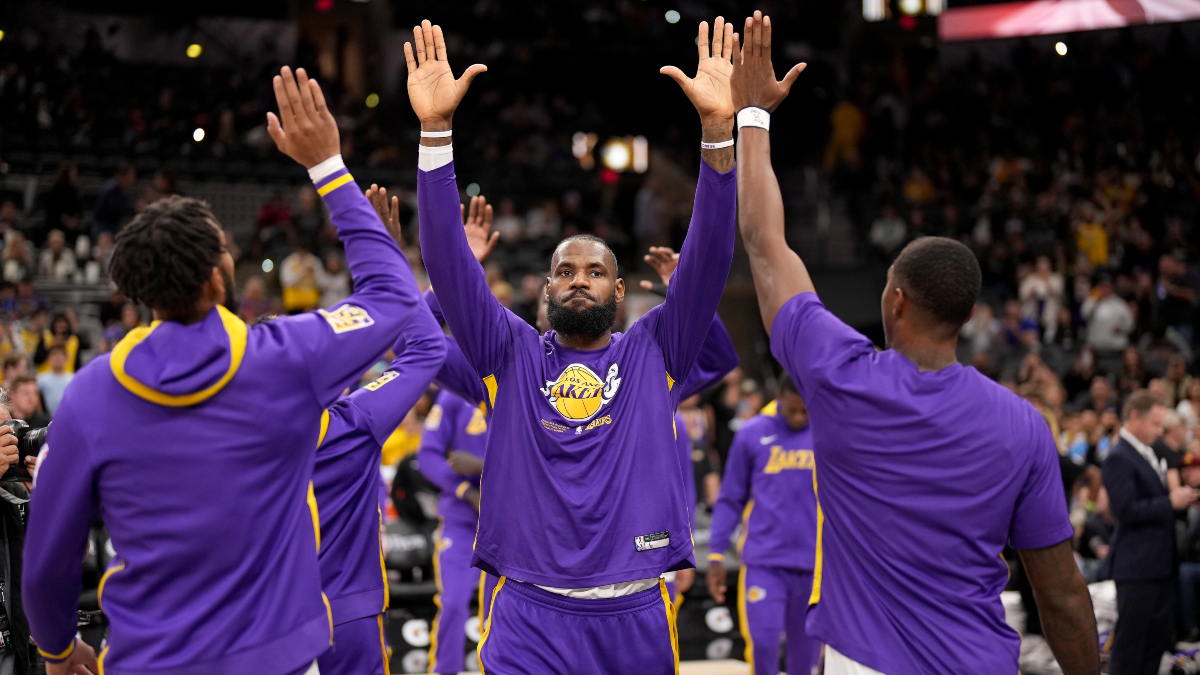 These moves do not move the Lakers into contender status. But it does give them a very real chance to push into pole position for a playoff spot with home games for the play-in. They are three back of the Clippers and Pelicans in the loss column, and those teams are more likely to surge than fade in the stretch run.
But the Warriors are still without Stephen Curry for some time, the Wolves are still without Towns, and the Blazers did nothing to really improve at the deadline.
The Lakers have a window here.
Get into the playoffs, get a matchup with a vulnerable team without a championship pedigree, be it Memphis or Denver, and hope that LeBron James can once again prove to be this generation's greatest with a cast of actual NBA players around him.
Playoff bets are not advised, but getting there? Wait for the market to open and pounce.
---
How would you rate this article?
This site contains commercial content. We may be compensated for the links provided on this page. The content on this page is for informational purposes only. Action Network makes no representation or warranty as to the accuracy of the information given or the outcome of any game or event.