Friday's NBA Injury Report: Betting and DFS Impact of Joel Embiid, Khris Middleton, Devin Booker Injuries
Credit:
Photo credit: Gary A. Vasquez-USA TODAY Sports. Pictured: Joel Embiid
Sixers C Joel Embiid (illness) and Suns SG Devin Booker (hamstring) are questionable while Bucks SF Khris Middleton (rest) is out.
We break down the betting and DFS impact of all three in Friday's NBA Injury Report.
Friday night's NBA slate features eight games with injuries and questionable players. We'll analyze the following three:
Denver Nuggets at Philadelphia 76ers: 7 p.m. ET on ESPN
Milwaukee Bucks at Dallas Mavericks: 8:30 p.m. ET
Golden State Warriors at Phoenix Suns: 9 p.m. ET
Note: The information below is as of 2:30 p.m. ET. For up-to-the-minute news and analysis, check out our live news feed and follow us on Twitter.
Sixers C Joel Embiid (Illness) Is Questionable
Injury background: Embiid is dealing with gastroenteritis and is officially questionable to play on Friday. He's played in 10 of his past 11 games, and his lone absence was due to load management.
JJ Redick, who missed the prior game with an illness, is no longer listed on the injury report.
The Sixers were busy heading into Thursday's trade deadline, and newly-acquired players Tobias Harris, Boban Marjanovic and Mike Scott are all available to make their team debut on Friday.
Jonathon Simmons and James Ennis were acquired on Thursday, and Ennis is expected to make his debut. Simmons has missed four straight games with a strained abdominal and will not be available.
Tonight's impact: Harris projects to start in his first game with the Sixers, and the team is currently implied to score the third-most points (117.5) on Friday's eight-game slate.
Ennis will likely log steady minutes off the bench, and coach Brett Brown will look to stagger his stars throughout the game.
With an uncertainty in minutes and various rotational changes, all starters are better geared towards guaranteed prize pool consideration in DFS if Embiid suits up, despite the team's favorable point total.
Wilson Chandler had a team-low 11.4% usage rate, and their replacement for him currently has a 24.3% usage rate this season. The addition of Harris to the starting lineup will likely cut into the usage of the Big Three, similar to how Jimmy Butler's inclusion affected the rates of Ben Simmons earlier in the season.
If Embiid is ruled out, Marjanovic or Jonah Bolden could enter the starting lineup, and both players would see an uptick in playing time. Marjanovic would absolutely be worth a look if inserted into the starting lineup, as he led his former team with 1.32 DraftKings points per minute this season.
The Sixers are favored by 4.5 points against an injury-riddled Nuggets squad as of writing (see live odds here).
Harris' ability to spread the floor is much-needed for a Sixers' team that ranks in the bottom-half of the league in three-point scoring. If Embiid suits up and Harris integrates smoothly in offensive schemes right away, there appears to be value on the present spread.
---
Bucks SF Khris Middleton (Rest) Is Out
Injury background: Middleton is receiving a day off for rest on the front end of a back-to-back, as the Bucks travel back home to face the Magic on Saturday.
Giannis Antetokounmpo (knee), George Hill (leg) and Sterling Brown (wrist) are all officially listed probable. While each player has a strong chance to play, the Bucks have ruled out players despite a probable tag several times this season.
The Bucks acquired Nikola Mirotic in exchange for Stanley Johnson and Jason Smith, but Mirotic is unlikely to debut due to a strained right calf.
Tonight's impact: With Middleton out of the lineup, Tony Snell is the likely option to enter the starting lineup. The increase in playing time bodes well for his value, but he's averaged just 9.8 points and 4.2 rebounds in 27.0 minutes per game as a starter this season.
Antetokounmpo and Eric Bledsoe are the primary beneficiaries of Middleton's absence.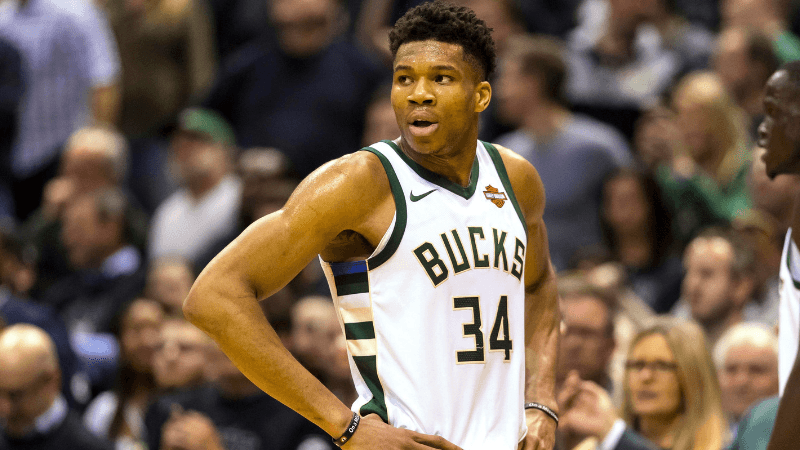 Antetokounmpo has averaged a team-high 1.72 DK points per minute with Middleton off the court, while Bledsoe has led the team with a +5.2% usage rate increase, per our NBA On/Off tool.
Both players will be cash game building blocks on Friday, but Malcolm Brogdon also enters the mix at just $5,600 on DK. He has averaged 1.07 DK points per minute and has benefitted from a +4.4% assist rate increase with Middleton off the court this season.
A sneaky tournament option is DJ Wilson, who has exceeded his salary-based expectation in four straight games and costs the minimum ($3,500) on FanDuel. FD also allows the lowest score to be dropped, reducing the risk if Wilson fails to reach value.
The Bucks' projected starting five has only logged 22 minutes together this season, but the lineup has produced an astonishing +70.5 Net Rating in the small sample.
However, the Mavs have been exceptional at home this season with a 19-7 record, and multiple Bucks players dealing with minor injuries in the first leg of a back-to-back is enough to warrant caution.
Suns SG Devin Booker (Hamstring) Is Questionable
Injury background: Booker missed the prior game with a tight right hamstring and is officially questionable to play on Friday. He was able to go through shootaround to the surprise of coach Igor Kokoskov, and Kokoskov admitted that Booker would start if healthy.
TJ Warren (ankle) and De'Anthony Melton (ankle) were briefly considered questionable after practicing on Thursday, but both players have since been ruled out.
Tonight's impact: With Booker out of the lineup on Wednesday, Dragan Bender entered the starting lineup alongside Deandre Ayton, as Kokoskov has been insistent on keeping Kelly Oubre Jr. off the bench.
The Suns' offense predictably struggled by scoring just 88 points, and the team lost by 28 points in its 12th straight defeat.
The Warriors are currently favored by 15 points and coach Steve Kerr stated that he's not planning on resting any players with a fully healthy team. As heavy favorites on Wednesday, Golden State obliterated San Antonio by 39 points and no starter exceeded 29 minutes.
The Suns acquired Tyler Johnson before Thursday's trade deadline, and acting general manager James Jones confirmed that Johnson will draw the start at point guard in his debut Friday.
Johnson is averaging just 2.5 assists per game this season, and prior point guards for the Suns have failed to add value in the assists category, as Booker often handles the ball and creates for the offense.
If Booker is unable to suit up, Josh Jackson, Ayton and Oubre Jr. are all worthy tournament options. Jackson exploded for a team-high 49.25 DK points in the prior game, Ayton benefitted from a +12% usage rate increase, and Oubre Jr. played 32 minutes while exceeding his salary-based expectation for the third straight game.