2018-19 NBA MVP Odds: The Revolution Against The King
Credit:
Cary Edmondson-USA TODAY Sports. Pictured: Anthony Davis and Kevin Durant
LeBron James (10-3 betting odds) is the favorite to win the 2018-19 MVP award, with Anthony Davis (4-1) and Giannis Antetokounmpo (9-2) behind him.
One thing we've learned in the past: Voters don't reward the best player in the league. If that was the case, LeBron James would've won a lot more than four MVPs.
With DeMarcus Cousins and Rajon Rondo both gone, Davis will have every opportunity to put up some monster numbers this season.
What's your definition of MVP?
Is it the best player in the league no matter what stats everyone puts up? Or is it an award that should be given to the player with the best single-season performance?
Honestly, there's no right or wrong answer.
We could argue this for an amount of time longer than it takes for Austin Rivers to make the extra pass or for Kentavious Caldwell-Pope to make a corner 3, and it won't solve anything.
One thing that can't be argued is that all of the MVP winners since 2010 –LeBron James, Derrick Rose, Kevin Durant, Steph Curry, Russell Westbrook, James Harden — have had a few things in common:
They were the best player on a playoff team.
They finished with a career-high Player Efficiency Rating (PER).
They have at least one signature "OK THAT JUST HAPPENED HE DESERVES MVP RIGHT NOW" moment.
They pass the eye test.
Notice how "was the best player in the league" wasn't on the list?
That's because LeBron James was, is, and will be (for the foreseeable future) the best player on Planet Earth.
Like it or not, Karl Malone won the award in 1997 instead of Michael Jordan for a reason.
Nobody actually thought The Mailman had surpassed MJ as the best ever, but enough people said he had the better season. And maybe voters also had fatigue from seeing Jordan already hoist the Maurice Podoloff trophy four previous times.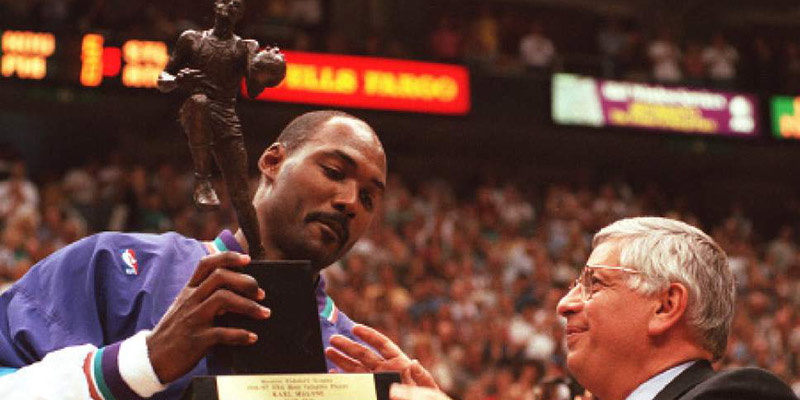 That's why I'm not picking LeBron to win MVP again — not because of the following reasons you'll hear from others:
"He played 82 games last season. SERIOUSLY, HE PLAYED EVERY DAMN GAME IN YEAR 15 OF HIS CAREER … there is just no humanly possible way he does that again in #16, right? RIGHT!?!!??"
"He's in the West and has stiffer competition"
"Father Time is undefeated"
Here's who I actually believe has a chance to take home the MVP in 2019.
Top of my list: Anthony Davis (4-1)
The most underrated storyline in the NBA right now: Who is going to overtake LeBron as the consensus best player in the world when James decides to finally hang them up?
The candidates:
Kevin Durant
Steph Curry
Anthony Davis
If we're being completely transparent here, Davis is probably the closest — despite Durant's historic quest to three-peat as both NBA champion and Finals MVP.
Davis, who's four years younger than KD, is a cheat code in every facet of the game.
He's as good, if not better, on defense than he is on offense.
He's a walking, breathing NBA Street Gamebreaker who has unfathomable athleticism and freakish physical attributes that help separate him from the rest of the field.
I know what you're thinking: If this is the case, why hasn't he won it already?
Because he can't stay healthy.
He may have played 75 games each of the past two seasons, but it seems like he's getting carried to the locker room for a different reason every time we look up during a Pelicans game.
He's like the NBA's version of Kenny from South Park. You know he will die every episode — it's just a matter of when and how.
I mean, look at how many different injuries pop up when you type "Anthony Davis hurt" into Google.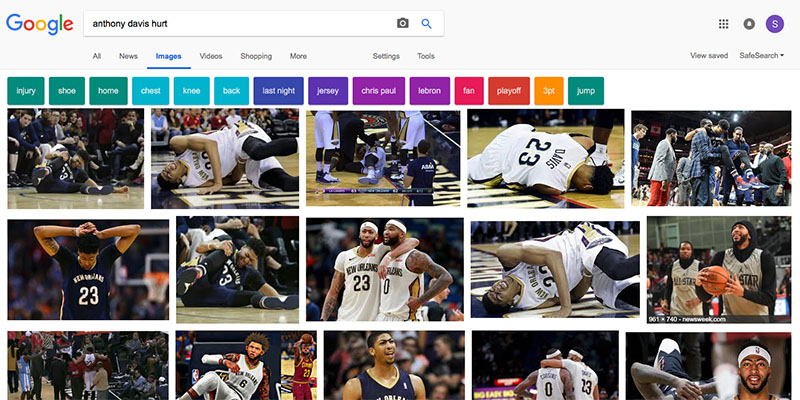 You can't make that up.
But if there's ever a season when The Unibrow will evolve into basketball Godzilla and lay waste to cities and mere mortals below — it's this one.
With DeMarcus Cousins and Rajon Rondo gone — yes, I know Julius Randle can step right in and Jrue Holiday showed out against the Blazers — the seas have parted for Davis to command the ball every time down the floor.
If he stays healthy, an unprecedented 30 PTS/15 REB/5 AST/3 BLK per game average suddenly becomes VERY feasible.
In a Western Conference so stacked that a team with LeBron James on it isn't a sure-fire lock to make the postseason, New Orleans will be relevant come May only if Davis finally fulfills his potential as "the one."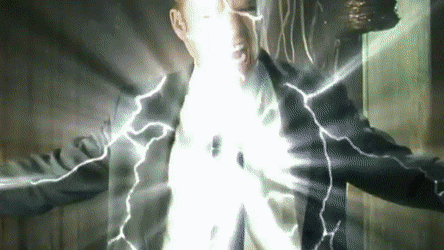 Now, there's one more "what it takes to win MVP" bullet point that I intentionally omitted:
Of course they do. They are NBA players who all strive to be the best.
But do they really want it?
Are they willing to play every single regular-season contest as if it's Game 7 of the Finals? Because that's what it takes to win this thing.
If you take nights off because you're playing the Phoenix Suns, you're not winning this award.
You're not winning this award because there are dudes named Russell Westbrook who are wired to snatch the soul out of their enemy's body and wear it around the court like a new fur coat — no matter the opponent.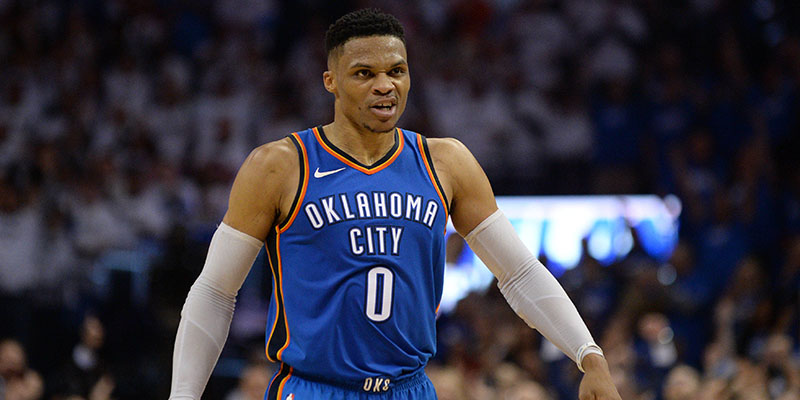 This fifth prerequisite disqualifies a majority of the favorites, including Steph Curry (15-1) and Kevin Durant (9-1).
They are two of the five best players in the league, but this Golden State Warriors core has played 102 playoff games (102!!!) since the beginning of 2012 — a stretch that includes a 73-9 campaign in which every regular-season game felt like World War III.
Durant and Curry know they don't need to bring their 'A' effort every night. (Remember that time in April when Steve Kerr and Draymond Green had an alleged altercation for this very reason?)
It doesn't matter if the Warriors are the No. 1 or No. 8 seed, they will wipe the Earth of anyone who stands before them once the postseason begins — and they know it.
For this reason, my money is on the four players who check every box AND play for a franchise whose regular-season success fully rests on their shoulders.
That includes:
Anthony Davis (4-1) 🏆
Russell Westbrook (15-1)
Damian Lillard (45-1)
John Wall (80-1)
For Davis: it's not a matter of "if" anymore …
… it's "when."