NBA MVP Poll: Voters Make It Clear the Race Between LeBron & Giannis Isn't Close
Editors note: This article was posted before the NBA season was halted and has been resurfaced with the news that NBA regular season awards will be based on performance through March 11, 2020.
LeBron James had himself quite the weekend. He took out the best team in the NBA (in terms of record) in the Milwaukee Bucks on Friday, and then Sunday beat the Clippers, who were then the title favorites and a supposed brutal matchup for the Lakers.
In those games, James scored 65 points with 16 rebounds and 17 assists and shot 50% from the field. (He shot just 41% vs. Milwaukee but got to the line 14 times to make up for it.)
As a result, starting Sunday night, the narrative machine rampaged. Podcasts and television shows, particularly on ESPN, highlighted James' season and the belief that he had taken the lead in the MVP race. Michael Wilbon tweeted that he would vote for James.
So The Action Network decided to do some election polling.
---
Odds via bet365. Get up to $100 in bet credits at bet365 today or see more offers and reviews for the best online sportsbooks.
---
In a poll conducted of 43 likely voters (or those whose work and experience are approximate to that of a likely voter), 35 respondents said they still believe as of right now that Giannis Antetokounmpo is the MVP. Three voters said they were undecided.
Statistically speaking, if our sample is representative, a response of 40 out of 103 gives us a 12.2% margin of error on our results. In other words, we can expect with a high degree of confidence that Giannis would be the MVP on between 75.3% and 99.7% of the ballots in June. That makes him a massive, massive favorite.
Let's put this a different way. MVP voting is not binary, but we can likely assume at this point that Giannis and LeBron will be in the top-two in some order on every ballot. That means the MVP needs 52 first-place votes out of the 103 to win this thing.
Since Giannis already has 35 votes out of 40, he needs only 17 votes from the remaining 63 panelists to nail down the MVP. That's not many more votes… only 26.2% of them.
Conversely, LeBron would need 47 first-place votes from the remaining 63 voters to win his fourth MVP. That means James would need to secure 74.6% of the remaining voters, after being chosen by only 12.5% of our panel so far.
Antetokounmpo was the favorite going into the weekend and remains so at sportsbooks after, but the numbers have shifted dramatically to under -300 for Giannis at some books, including Bet365 in New Jersey.
Five respondents said that James had in fact taken the lead, and three respondents said they were undecided.
Question: Who would be your vote for MVP right now?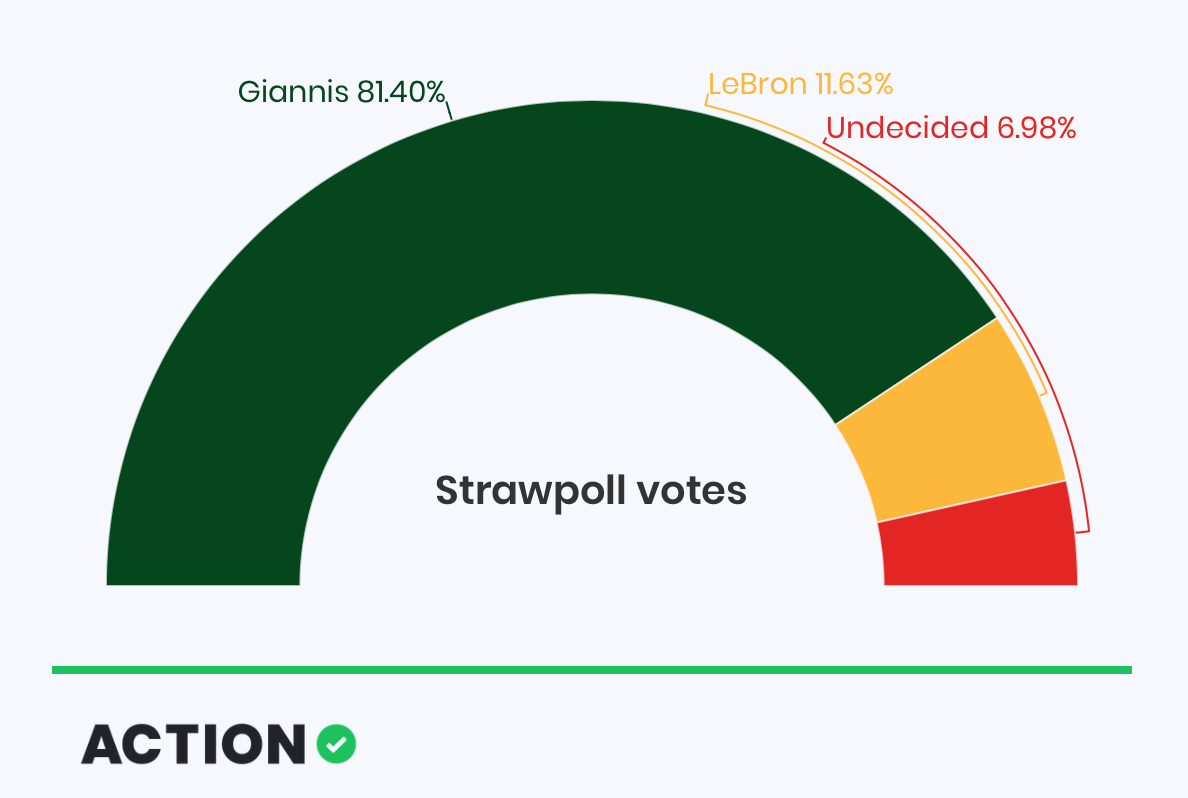 Polling Confidence
Respondents were also asked how certain they are of their vote with 20 games to go. An ongoing argument has been that even if James has not won the award with his performance in two games in March, that he has pulled within range to make it a close race down the stretch.
Respondents, apparently, did not agree. Of those polled, 31 (72%) said they were "certain" or "more than 50% certain" that their current vote would be their vote at the end of the season.
Question: How certain are you in your current vote?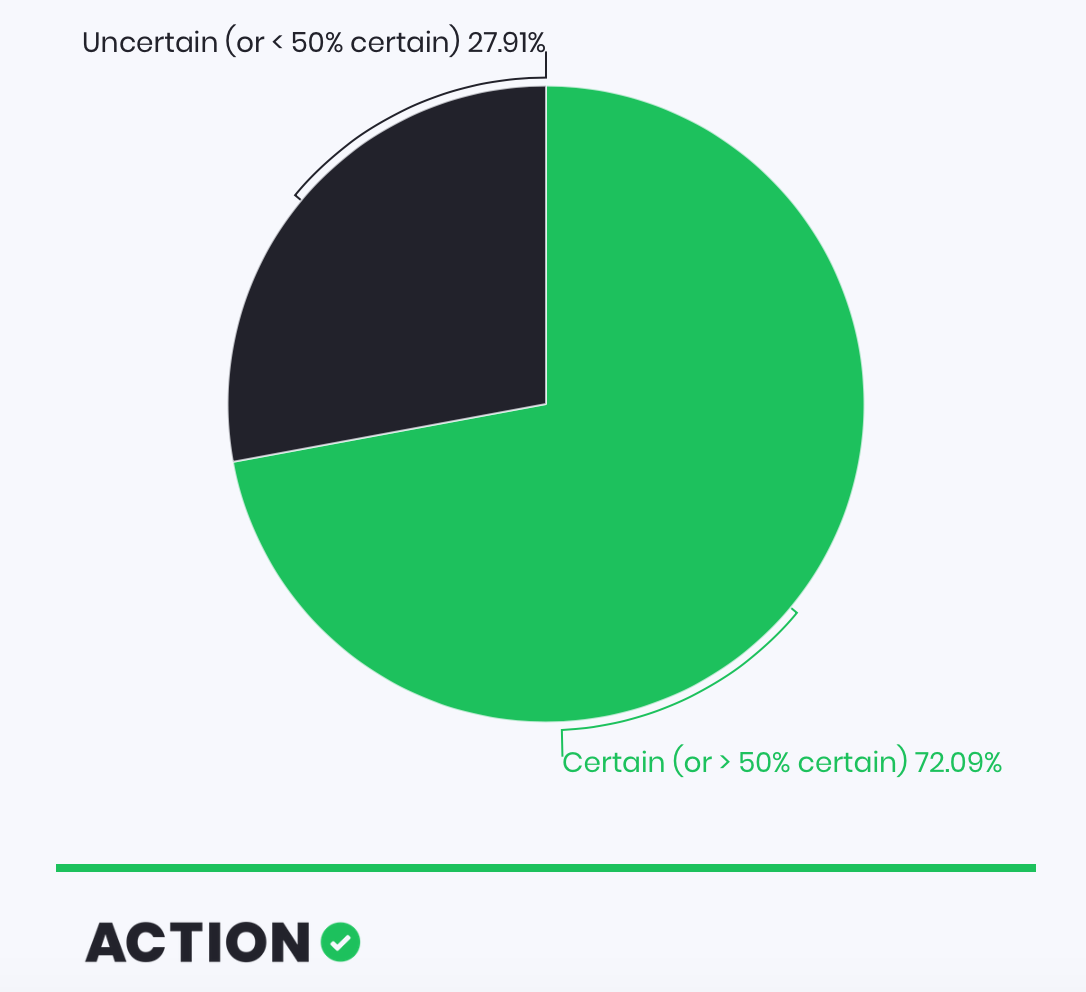 Final Notes
Some notes on the poll:
Responses were taken anonymously, as writers and media members often want to reveal their votes in a column at season's end.
As stated in the graphic above, there was an understanding with respondents that their vote could change between now and season's end. The goal of the certainty question was to ascertain the likelihood of such a situation. Most respondents replied with an 80-plus certainty percentage in their current vote; in particular, it was higher among Giannis voters.
The key here is to illustrate that while it will certainly frustrate some who are adamant voters need to wait to see what happens over the rest of the season, most respondents don't agree. The Bucks have played 79% of their season already. Most respondents feel that the body of work speaks for itself.
Speaking with respondents, a theme developed surrounding record. The Bucks were once on pace for over 70 wins; they would now have to win out to accomplish that goal. The Lakers are just three games back for home-court advantage throughout the playoffs, including the Finals. If the Lakers overcome the Bucks, there is a greater chance of some votes being siphoned off Antetokounmpo's considerable lead.
Injury was the other factor cited in uncertainty. Several respondents stated that if Antetokounmpo does not return this season from his sprained knee, and James continues his rampage through the rest of the schedule, that might swing their vote. The Bucks have stated that Antetokounmpo will be re-evaluated at the end of the week after missing Sunday and Monday's losses in Phoenix and Denver.
Perhaps most notable in the responses was a trend in the type of voters that leaned towards James. Including Wilbon's public response (he was not polled) and other indications from public figures, TV personalities were considerably more likely to vote LeBron, though not as a monolith. The beat writer vote was overwhelmingly Giannis. This makes sense, as writers are exposed to more analysis and stats, while TV journalists are geared towards the most commonly viable narratives.
Former players with votes were not polled but have expressed a preference towards James.
That voting bloc accounted for roughly 30% of the actual vote last season, with beat writers comprising between 40-50%, and the rest made of major media members like Bill Simmons and international media. Again, these blocs do not vote as a monolith, but that causes James' chances more harm. Any loss of his most consistent constituency (TV "talking heads") would offset any gains among the writers and analysts.
The Bucks' schedule is considerably tougher than the Lakers' for the remainder of the season. However, they have also been consistently excellent against great teams. (They lost a close game to the Lakers on a horrible shooting night when the Lakers had a free throw rate in the 96th percentile, as an example.)
The biggest takeaway for bettors is that this is likely the shortest odds you will get on Antetokounmpo, and it could be the longest you will get on James. LeBron still has to go out and take the MVP from a player with a considerable advantage and do so in the last 20 games as he prepares for the playoffs. Giannis simply has to not lose it.
James' MVP case is still on the table, but the hour is getting awfully late. Despite this weekend's heroics, he hasn't radically changed minds as the TV narrative has presented.
---
Rob Perez and Brandon Anderson contributed to this piece.
How would you rate this article?