Hawks vs. Wizards Odds & Picks: Bet on Plenty of Points in Washington
Credit:
Melissa Majchrzak/NBAE via Getty Images. Pictured: Trae Young.
The Washington Wizards host the Atlanta Hawks on Friday night in a matchup that is practically a must-win for the struggling Wizards.
Nick Alfano is honing in on the total for this game, which is not astronomically high due to Atlanta's improved defensive numbers.
Alfano previews Hawks-Wizards and shares his full betting analysis below.
Hawks vs. Wizards Odds
Hawks Odds
-5.5
Wizards Odds
+5.5
Moneyline
-210 / +175
Over/Under
232
Time
7 p.m. ET
TV
NBA League Pass

Odds as of Thursday night and via DraftKings.
This matchup gives me nightmares.
These teams played on Jan. 26 of last year, in a season where they both were terrible and played absolutely no defense. The total was 241, and I took the under.
At halftime, the score was 79-72. As you can imagine, I lost that bet and the Hawks won, 152-133.
From that moment on, I swore to never take another Wizards or Hawks under again. Then earlier this season, I took the under on a Wizards vs. Sixers game that Philly won, 141-136.
I have learned my lesson. The Wizards only play in high-scoring games and the Hawks typically play to their competition when it comes to totals.
Atlanta Hawks
The Hawks are improved on the defensive end compared to last season, though that's not saying much. They had a stretch earlier this season — albeit during a losing streak — where they played their hearts out on that side of the ball.
However, they rank 25th in Defensive Rating (115.1) in their last four games and are second to last in Defensive Rebounding Percentage over that same span, per NBA Advanced Stats.
Atlanta's biggest weakness on defense, especially recently, has been guarding the paint. They rank 27th in Opponent Points in the Paint on the season (49.2, NBA Advanced Stats). Typically, this wouldn't be a worry against the Wizards, but the return of Washington's Rui Hachimura may cause some problems.
On offense, we know how explosive this team can be with Trae Young at the helm. They are tied for 10th in Offensive Rating (110.9) and boast an impressive Offensive Rebound Percentage of 30.1%, good for third-highest in the NBA (NBA Advanced Stats).
In Friday's matchup, I'm paying close attention to the free throw line. I always try to highlight the biggest discrepancy in a matchup, and this is it.
The Hawks have the highest Free Throw Attempt Rate in the league (.297) and the Wizards have the second-highest Opponent Free Throw Attempt Rate at .315, per NBA Advanced Stats.
If the Hawks can draw fouls early in quarters to get into the bonus, we'll see a ton of points.
---
Washington Wizards
Other than trying to take over Wall Street, getting Bradley Beal some help or out of Washington seems to be of high priority for Twitter users this week. That, or they're just doing it because the memes are hilarious.
And if you're just a casual fan and don't know what's going on, basically Beal is playing out of his mind and the Wizards can't find a way to win. This is primarily because of their defensive ineptitude.
The Wizards rank 29th in Defensive Rating (114.6) and Opponent Effective Field Goal Percentage (56%, NBA Advanced Stats). Only the Kings are worse defensively.
Washington just gave up 124 points to New Orleans and Beal is showing visible signs of unhappiness on the court. It's a tough scene to watch.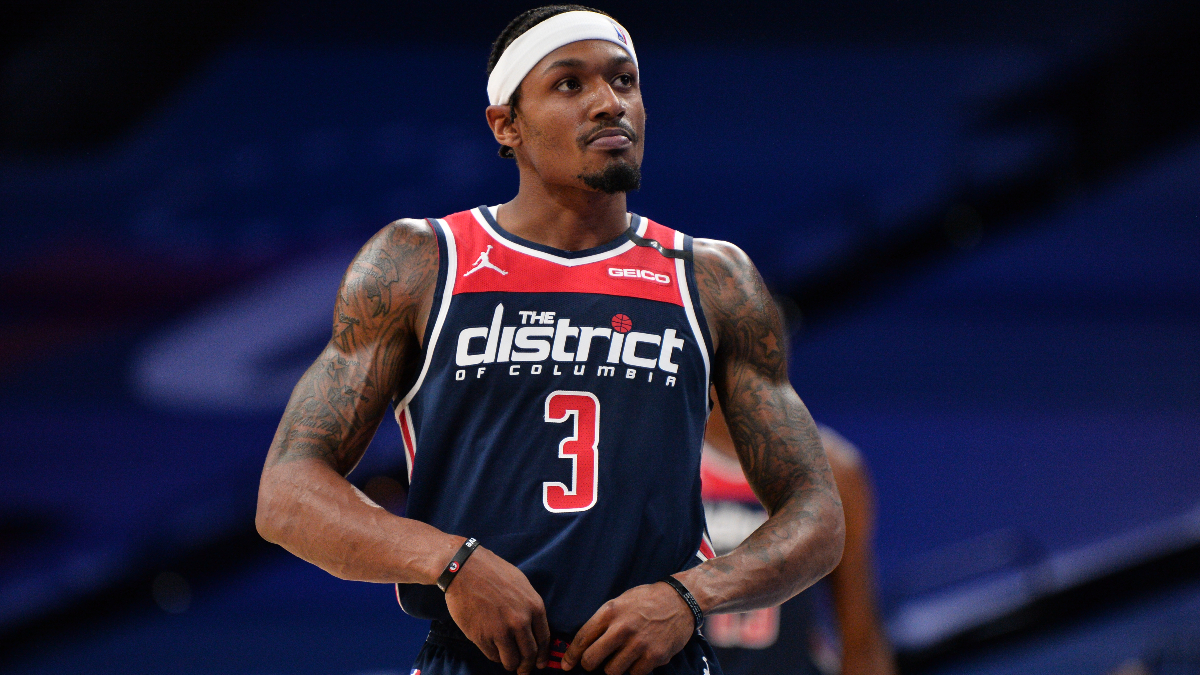 This team is only average offensively based on efficiency, but scores over 115 points per game because they play with the fastest Pace in the NBA (105.04, NBA Advanced Stats).
I love this spot for them to put up a hefty number. First of all, the Hawks are really struggling on defense right now. Secondly, Hachimura makes his triumphant return to the lineup.
Due to an eye injury at the beginning of the season and recent health and safety protocols, Hachimura has only appeared in seven games. But in those games, he's shot 50% from the field and the Wizards are 3-4.
As I mentioned above, the Hawks do not play defense in the paint. Getting Hachimura back will allow Washington to exploit a key weakness that they might not have otherwise.
And don't forget about Davis Bertans. The Latvian sharpshooter will provide a much-needed spark for this team against Atlanta, who defends the deep ball well. Bertans adds another dimension to this offense.
Hawks-Wizards Pick
The bottom line in this one is that the total is not astronomically high due to Atlanta's improved defensive numbers on the season. And I like that.
This spread and total is essentially calling for a 119-114 Hawks victory. However, Washington is going to allow more than 120 points and Beal balling along with Atlanta's recent defensive woes mean the Wizards will hit that 114 mark with ease.
As soon as I saw this game on the schedule this week, I knew I was taking the over.
I will not be bamboozled by these two teams again. POINTS, POINTS, POINTS!
Pick: Over 232, up to 234
How would you rate this article?