Pistons vs. Suns Odds & Picks: How to Live Bet Phoenix Friday Night
Credit:
Glenn James/NBAE via Getty Images. Pictured: Chris Paul.
The Suns are coming off their worst loss of the season, but the 5-16 Pistons could be the perfect elixir to help them bounce back.
Detroit tends to hang around in games this season, but can the Pistons pull off a late win against Phoenix?
Brandon Anderson previews Friday's matchup and shares his betting pick below.
Pistons vs. Suns Odds
Pistons Odds
+8.5 
Suns Odds
-8.5
Moneyline
+290 / -375
Over/Under
215.5
Time
9 p.m. ET
TV
NBA League Pass
Odds as of Thursday night and via BetMGM.
The Suns had a hot 5-1 start to the season but just can't seem to find their way since then. Phoenix has bounced its way through a whole heap of missing players due to injury and health and safety protocols, and the Suns haven't quite hit full speed after those opening weeks.
Phoenix is 6-8 since that start, and the Suns are coming off their worst loss of the season on Tuesday night, an embarrassing, 123-101 national TV loss to the Pelicans, who haven't even been playing very well.
Now the Suns get to play a team in even worse shape in the Detroit Pistons. The Pistons sit at 5-16, tied with the Minnesota Timberwolves for the worst record in the NBA. Detroit started 0-4 and never looked back, and the Pistons appear to be tanking in hopes of a top draft pick next season.
Is Detroit the elixir Phoenix needs to get the Suns back on track?
Detroit Pistons
The Pistons are not good, but they're probably also not quite as bad as their 5-16 record makes them look. Detroit is more bad than awful, for whatever that's worth.
The Pistons rank just outside the bottom-five in both Offensive and Defensive Efficiency. They're not particularly good at much, but they're also not horrendous.
Well, that's not entirely true. Detroit draws a bunch of fouls and gets a lot of easy points at the line, and the Pistons force heaps of turnovers on defense. Free agent addition Jerami Grant has been a big part of both of those areas. He averages 2.1 stocks (steals + blocks) per game and gets to the line 6.4 times a game, double anyone else on the team. Grant has been brilliant for the Pistons, even without much help. He's an All-Star and Most Improved Player contender and is averaging 23.7 points, 5.8 rebounds and 2.9 assists per game.
Grant isn't getting much help. Blake Griffin and Derrick Rose have each missed a handful of games and don't look particularly great when they do play. Both players typically sit out one of the two games on a back-to-back, and this is the first of a back-to-back for Detroit, so it wouldn't be a surprise to see Griffin or Rose scratched for this one.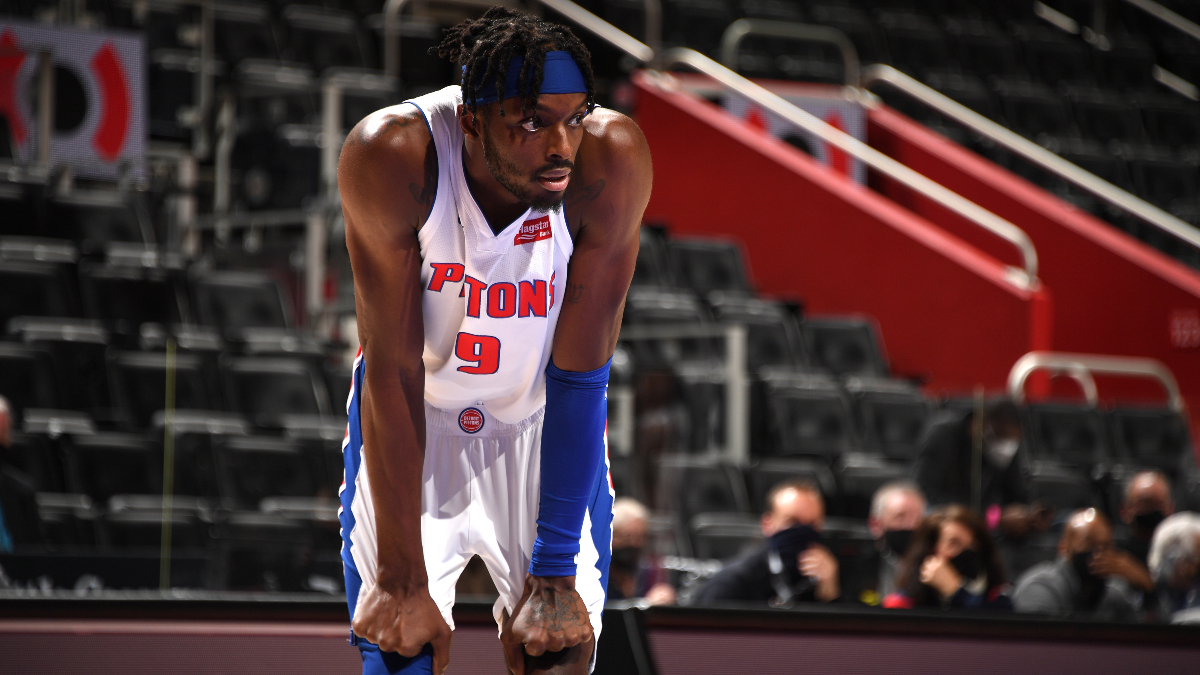 Delon Wright and Mason Plumlee are solid enough players, but they're meant to be role players, not at the top of the starting lineup. Detroit rookies Saddiq Bey and Isaiah Stewart have struggled thus far, and sophomore Sekou Doumbouya isn't doing much better.
The coaching does not appear to be helping. The Pistons rank third to last in both offensive and defensive effective field goal percentage. That paints the picture of a team that just isn't making life easy on itself. Detroit takes bad shots and gives up easy shots. When you do that and don't have much talent, you're going to lose a lot of games.
Phoenix Suns
The Suns are coming off that upsetting loss to the Pelicans, but the loss wasn't as bad as it looked. Phoenix shot 8-of-35 behind the arc. When you hit under 23% of your 3s and keep shooting that many, you're probably going to lose. It didn't help that New Orleans, typically a poor shooting team, hit over 42% of its 3s. That's just shooting variance, and in a make-or-miss league, nights like that will happen.
Still, that's starting to become a theme with this team. Phoenix ranks among the top 10 teams in the NBA in 3-pointers attempted, but ranks in the bottom 10 in 3-point percentage.
Mikal Bridges has come crashing back to earth after a blistering start. He made 48% of his 3s over his first 14 games but has plummeted to 14% in six games since, including 0-for-11 over his last two. Again, that's just shooting luck. Bridges was never going to make 48% of his 3s all year, but he's not a 14% shooter, either. These things will even out in time. The bigger concern is that no one else on the Suns roster is making shots. The other five Suns regulars are all at 36% or lower behind the arc.
Against the Pistons, the Suns should be able to find easier scoring opportunities, but they haven't always been good at pushing it. Phoenix ranks second in the NBA in free throw percentage but second-to-last at getting to the line. So they can't hit 3s but keep shooting them and can't miss free throws but never earn them.
The Suns also aren't grabbing many offensive rebounds or forcing turnovers, so that takes away easy scoring chances too. A team like the Pistons should be an easy problem to solve for good teams, but the Suns are making life harder on themselves right now.
It will help that the Suns are finally nearly whole again. Devin Booker is back after missing four games. He struggled a lot at the start of the season but has played much better more recently. Booker is playing far less on the ball this season with Chris Paul, and as great as the Point God is, it feels like Phoenix is still adjusting to life with CP3.
The pace has slowed way down, and Booker and Deandre Ayton aren't getting the touches they're used to. Both of them are four points per game lower than their average from a year ago and aren't any more efficient with touches. It feels like the Suns aren't making each other better right now.
The bench was great early but has struggled to find its way since all the absences piled up. Cameron Payne was terrific early on but hasn't played in almost two weeks, and Dario Saric is still out, too. Both should be back soon — maybe even in this one — and Jae Crowder is coming off the bench now after Cam Johnson's insertion into the lineup.
The Suns need to solve their bench and find the right lineups that work. They haven't done that yet.
Pistons-Suns Pick
The Pistons are not good, but the Suns are not playing good basketball right now, either. Phoenix is not greater than the sum of its parts, and that is a very odd sentence to type about a Chris Paul team. The Suns haven't won a game comfortably, by double digits, since December.
But the Pistons have already lost 12 games by at least eight points — right at this line. Detroit fights hard but just doesn't have enough. The Pistons have a tendency to hang around games, but they've been one of the worst teams in the league in the fourth quarter.
I'm looking to bet the Suns live in this one. If Phoenix gets everyone back and starts out well, I'll miss my opportunity. But if the Suns slog through another one and go cold for a stretch on offense, as they've been prone to do, I think there will be some value there. I expect the Suns to win because their defense alone should be enough, but I'm not confident they'll win by double digits and cover this line.
I'm looking to live bet the Suns as close to even odds as I can grab them. I'd be pretty happy playing anything below -3 if it gets there, but I'll play as high as -5 heading into the final period and trust Chris Paul to figure things out late against a team that doesn't have closing power.
Pick: Live bet the Suns heading to the 4th quarter if it's close
How would you rate this article?