Warriors vs. Nuggets Odds & Pick: Expect Offenses To Shine in High-Scoring Affair
Credit:
Ezra Shaw/Getty Images. Pictured: Warriors guard Steph Curry is among the all-time leaders in effective field goal percentage, among a see of big men.
Teams who aren't shy about attacking the basket go at it Thursday when Denver hosts Golden State.
The over has gone 9-2 in Nuggets' games this season, and Brandon Anderson thinks No. 10 is in the cards.
Anderson breaks down the contest and shares his betting pick below.
Warriors vs. Nuggets Odds
We've got a fun one to wrap up our Thursday slate, with the Denver Nuggets hosting the Golden State Warriors in a battle of two of the league's marquee and most watchable teams.
Surprisingly, it's the Warriors who have the better record right now at 6-5 versus the Nuggets with a 5-6 mark. Both franchises have been relied too much on their franchise players thus far, with Steph Curry and Nikola Jokic among the early leaders in the MVP race.
At the same time, both supporting casts have been unreliable and unstable.
The Warriors appear to be playing better since the return of Draymond Green, so will Golden State keep forging ahead or will the Nuggets get to .500 on the season with a home victory?
Golden State Warriors
The Warriors might be 6-5 so far, but their record actually flatters them. Golden State has a pair of one-point wins, with most of the Warriors' victories coming against weaker teams.
Golden State's five losses have been by seven or more points, with three of them via blowout. However, the last convincing defeat hasn't happened since New Year's Day.
The Warriors have fully been the Steph Curry show thus far. The rest of the players simply haven't shown up yet. Kelly Oubre's numbers are horrendous. Andrew Wiggins has his moments, like always, but isn't consistent.
Green is barely impacting the box score, though his performances go well beyond the numbers. James Wiseman is making more of an impact, but hurting the team with mental lapses as he adjusts.
There's just a serious dearth of talent on this roster, which is nothing like what it once was a few years ago. Curry has shown he can still hit those highs, but Wiggins and Oubre are a far cry from Klay Thompson and Kevin Durant, so it's simply not responsible to think of these Warriors in the same light anymore.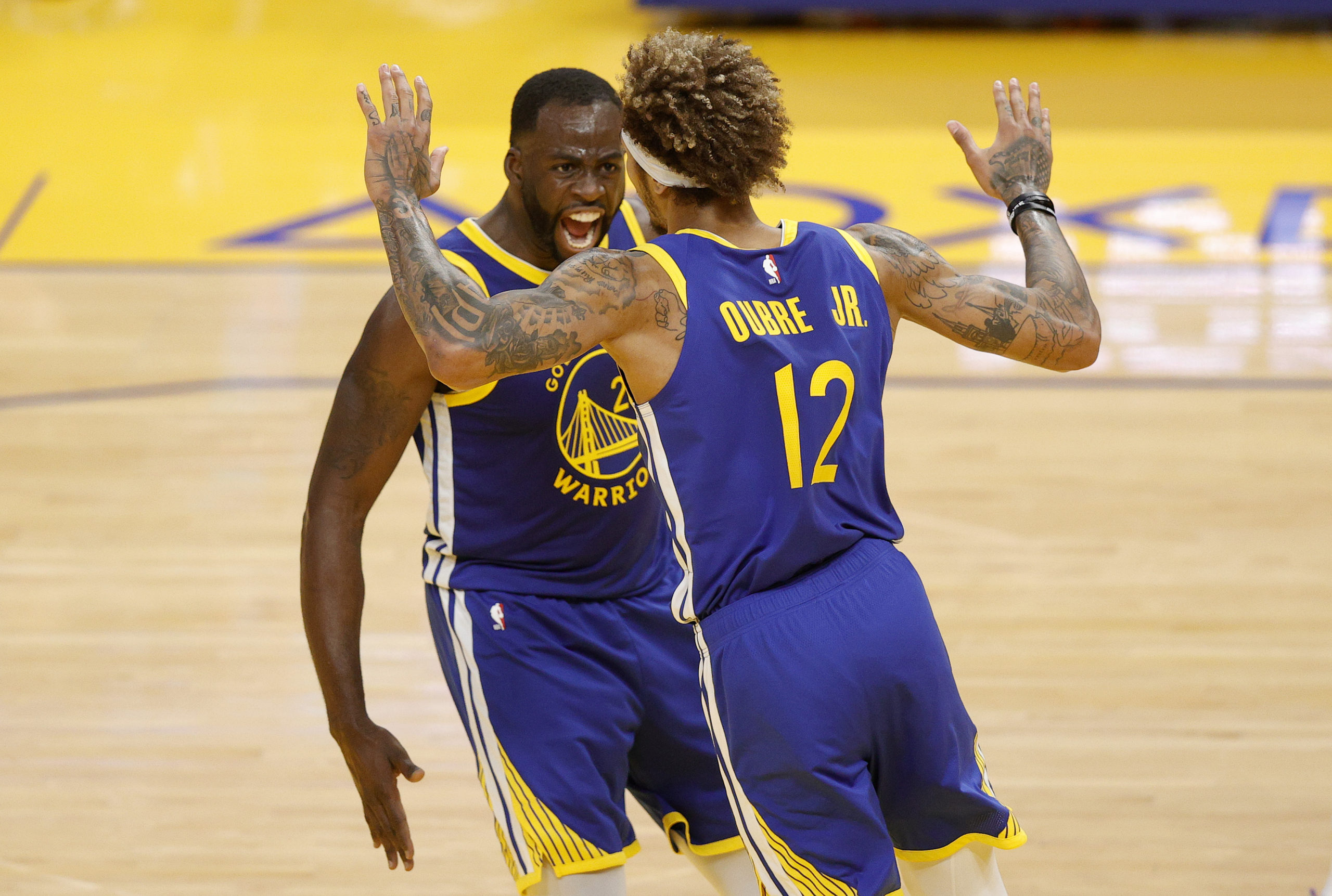 The way the supporting cast has been playing, this looks a lot more like last year's Atlanta Hawks, with one star point guard trying to carry a very underwhelming supporting cast.
The Warriors rank below average on both offense and defense. Do you realize how hard it is to have Curry on your team and rank 23rd in Offensive Efficiency? It might look like Golden State is still scoring a lot, but that's mostly because they're one of the league's fastest teams and you're remembering the Curry flashes. He has been a clear bellwether for the team's success.
When Curry hits 30 points this season, the Warriors are unbeaten in five games. In contrast, Golden State is 1-5 when he doesn't. Sometimes, it really is that simple.
Curry's points prop has typically been around 29.5 this season, so you can almost play that as a Warriors moneyline. In this case, you obviously would get far better juice on the actual moneyline with the Nuggets favored.
---
Check out our free NBA odds page, which automatically surfaces the best line for every game. Subscribe to our new NBA Insiders tool to beat the market with our cutting edge player projections, injury news and betting thresholds.
---
Denver Nuggets
The Nuggets are the team most fans think they are, even if they're not actually that team most of the time.
That is to say, Denver is all offense and no defense right now. The Nuggets rank second in the NBA in Offensive Efficiency, but bottom five on defense.
And you can put pretty much all of that offensive success on the shoulders of Jokic, who would be my MVP pick if the season ended today. Jokic is averaging a triple-double and scoring more efficiently than ever. Bottom line, he's the engine that does everything.
However, the problem is, he's just not getting much help.
Jamal Murray has been strangely muted this season, looking much more like "regular-season" Murray than the breakout star from the playoff bubble. His touches and shots are way down at the moment.
Michael Porter Jr. has been fantastic, but continues to be out. Gary Harris is having a miserable season and missed last game as well, so he's another question mark. Paul Millsap looks old.
And Jerami Grant looks great… for the Detroit Pistons.
Suddenly, a team that played in the Western Conference Finals three months ago feels like a one-man show. Denver's defense has been terrible. Grant and Mason Plumlee are vastly missed, and Jokic might well be their best defender right now. That alone is not an ideal situation.
Warriors-Nuggets Pick
The Nuggets play at one of the league's slowest paces, but still see almost 230 points in their games, thanks to their elite offense and lack of defense.
And it wouldn't be a surprise me to see Denver happily up the pace against the Warriors since the offense could be humming with plenty of easy looks. This really could a total back-and-forth game at both ends of the floor.
Needless to say, it's tough to predict a winner. The Nuggets are the better team, and the thin Rocky Mountain air is a real home boost. Yet, with both teams so reliant on one star, it makes the outcome unpredictable.
The Nuggets are on full rest and don't play again until Sunday, while the Warriors play in Phoenix on Friday. So, if this game starts to get away, it would be easy to see them wave the white flag.
I can talk myself into an easy Nuggets win, and I can talk myself into the Warriors ML at +200. It's easy to see Curry getting hot against a soft defense, and it feels like Golden State wins more than that 33-percent implied line.
In the end, I'm opting out of a side and playing the over instead. Denver game overs are 9-2 this season. This is an inflated line, because it's the Warriors and a national television game, but I still like the over 228 as the ideal number and will play it up to 230 points.
If it goes much further than that, I'll probably sit this one out and think about live betting an underdog ML in a game that could see many back-and-forth runs, giving either underdog a chance for a big run and comeback.
Pick: Over 228 (play to 230).
How would you rate this article?