NBA Player Props To Bet This Saturday: A Seth Curry Over & 2 More Picks (Feb. 27)
Credit:
Jeff Swinger/NBAE via Getty Images. Pictured: Jazz forward Royce O'Neale
Seth Curry and Darius Garland were two of the biggest surprises when the season opened in December, but then injuries sidelined them both, hurting their numbers and production.
Lately, Curry and Garland are looking much healthier, and the production has returned. These two are a reminder that season-long numbers may not always be as helpful as recent ones when there are injuries and changing minutes involved.
For those who are new to this article, we'll be using the Action Labs Player Prop tool to compare our NBA projections to the props posted at a variety of sportsbooks. Each bet is then graded on a scale from 1-10, with 10 being the best possible grade.
Below, I have laid out three prop bets that I'm playing, the case for each bet and the best books to find odds on those player props.
NBA Player Props & Picks
Seth Curry Over 16.5 Points + Assists (-104)
| | |
| --- | --- |
| 76ers vs. Cavaliers | 76ers -11 |
| Time | 7 p.m. ET |
| Best Book | FanDuel |
Tobias Harris is out for the 76ers on Saturday, leaving a serious hole in the lineup. The Sixers have a strong starting lineup but not much depth to speak of, and Harris has quietly had an All-Star worthy campaign. He's averaging more than 20 points a game along with seven boards and three assists, so that's a lot of shots and usage to soak up in his absence.
Curry is a great candidate to grab some of those available shots and passes. He's been a perfect role player for this team and remains one of the most lethal 3-point shooters in NBA history, and Doc Rivers has always had success with brilliant movement shooters like Curry.
Curry started the season absolutely scorching for eight games. He averaged 17.0 points, 2.3 rebounds and 3.6 assists on absurd 60/60/100 shooting splits. That hot shooting was never going to keep its pace, and it took awhile for Curry to get moving again after he returned from a long injury absence, with limited minutes and depressed counting stats that have hurt his overall season numbers.
But check only the last eight games and we see something much closer to the first eight: 14.9 points, 2.8 rebounds and 2.6 assists per game. He's played more than 34 minutes per game over that stretch, and he should be in line for big minutes with Harris out on Saturday, unless this game turns into a blowout.
Our tool projects Curry at 15.6 points, 2.5 rebounds and 3.0 assists, soaking up a few of those extra points and assists that Harris has left behind. And that's in only 32.3 projected minutes. If this game stays close, that could easily end up higher.
At 18.6 points and assists projected, that gives us an edge of more than two, and our tool likes all three Curry overs. I don't want to rely on his rebounding, so I'll take the points and assists combo and hope for a big Curry game — he's gone over this line in five of the last eight games and went over in six of those first eight. Let's hope these stretches better represent what Curry can do, especially with Harris out, and play for an over.
I'll play the over to -125, and if you can only play one, our tool definitely likes his points over best.
---
Darius Garland Over 5.5 Assists (-114)
| | |
| --- | --- |
| Cavaliers at 76ers | Cavs +11 |
| Time  | 7 p.m. ET |
| Best Book | DraftKings |
Sigh.
I am a glutton for punishment.
Cleveland guards hate me. They hate us. They hate money. Every time I finally talk myself into one of these fun young Sexland guards, they throw up a complete clunker and steal money from my wallet. And then I get scared away for a week or two, even though our tool keeps loving Garland and Collin Sexton, eventually fight my way back, play once more and lose again.
Well, I am ready, Darius. Hurt me again.
Garland's assists over is one of our top recommended plays of Saturday. We project him at 6.9 assists, well above this line and a better than 15% edge in our favor, so here we are again.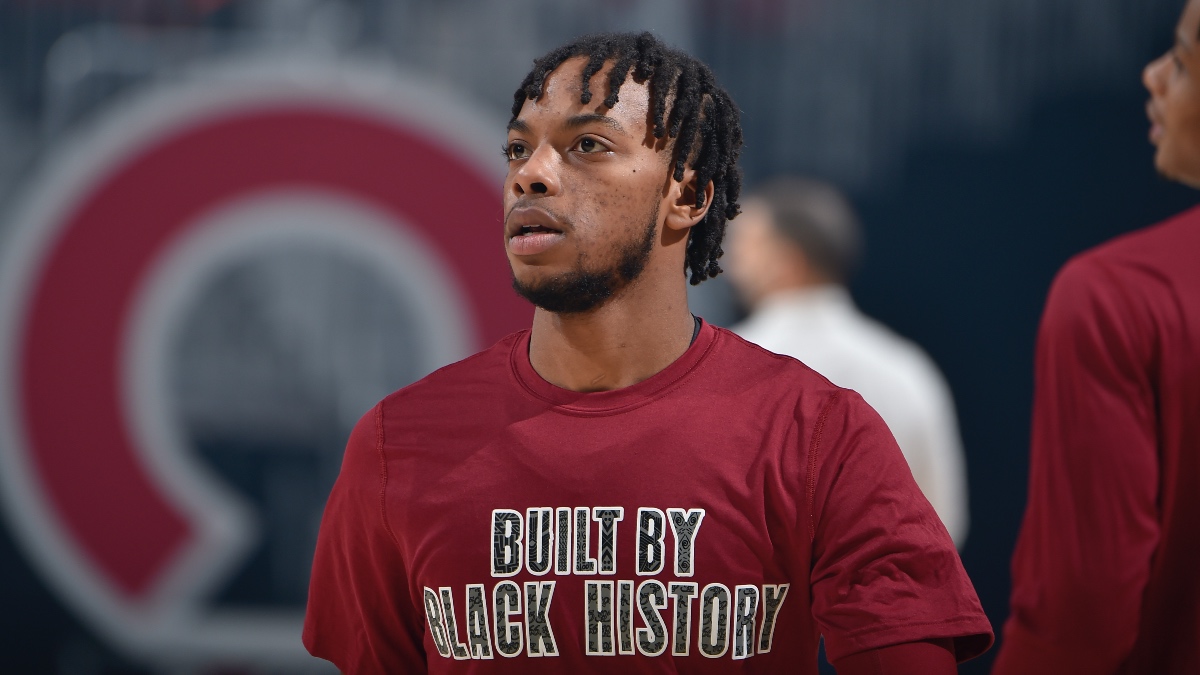 The logic is the same as it has been: Garland has really improved his passing as a sophomore. As a rookie, he looked downright lost at times. But he started the new season with aplomb, putting up 19.0 points and 7.2 assists per game over the first five games before rolling his ankle and missing a big chunk of January.
It took that back stretch to get Garland going again, but he's been playing super well again in February. In 13 games, he's averaging 16.3 points and 6.3 assists per game, going over this line seven times and in each of his last three. He's had eight, eight and 10 assists in those games — his best three-game passing stretch of the season.
This won't be easy against Ben Simmons and Joel Embiid, but I like Garland to keep passing here. If you ignore the injury-wrought January period, Garland has gone over 5.5 assists in 11-of-18 games, hitting the over 61% of the time with 6.6 assists per game. That's why our tool keeps playing this over, because the line is probably an assist too low.
Let's give the young man another chance. Win us our money back, Darius.
---
Royce O'Neale Under 3.5 Assists (-172)

| | |
| --- | --- |
| Jazz at Magic | Jazz -10 |
| Time | 8 p.m. ET |
| Best Book | DraftKings |
I love Royce O'Neale. I have always loved Royce O'Neale.
O'Neale is a wonderful glue guy. He's an outstanding perimeter defender who gets the top non-big man assignment for Utah every night. O'Neale has made 42% of his 3s on the season. He is the epitome of a 3-and-D player, and every bit as vital to this blistering hot Utah Jazz team as bigger names like Mike Conley and Jordan Clarkson.
Royce O'Neale is awesome. And this line is still ludicrous.
Sure, O'Neale is averaging a career high in assists. That's also just 2.5 assists per game, and it's only a career high because he's also playing his minute minutes ever. It's actually a career-low assist rate. And sure, O'Neale had a season-high six dimes his last time out. That's also recency bias at its finest. He has a few five- and six-assist games every season, but one of them has virtually no predictive value for the next.
O'Neale is a perfectly fine passer and moves the ball along well enough. He knows when he touches the ball on offense, his job is either to shoot if he's open or move the ball along to the next guy, and the ball is certainly buzzing around the perimeter for the Jazz as they hunt open 3s.
Even so, despite the Jazz being scorching hot all season long and barely losing over the last two months, O'Neale has gone over this line just eight times in 33 games (24%). He hits exactly assists a third of the time and has two or fewer 39% of the time.
The line should've been 2.5 and it already is at some books and may get there soon here, but as of 2 p.m. ET, the juice is jacked so we stay away.
Don't let that deter you.
The implied odds here are 63%, but O'Neale is hitting this under 76% of the time. That's a math equation in our favor, and it's still in our favor up to about -300, technically speaking. I'm just playing the math and grabbing this at almost any juice at 3.5 before the line disappears.
How would you rate this article?